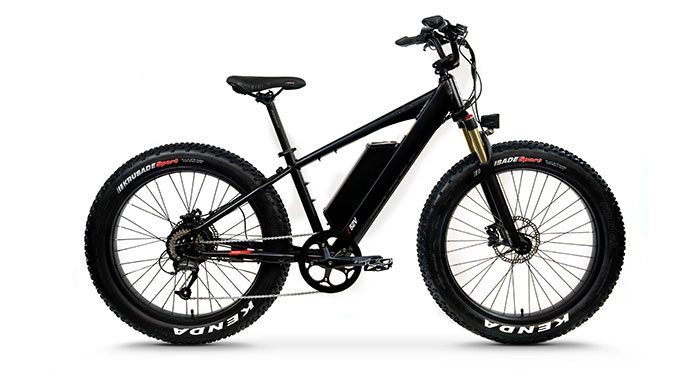 The Juiced RipCurrent is a hugely versatile fat tire e-bike designed for all-terrain riding. With a number of impressive features and electronic assistance, you can adventure for hours on the Juiced RipCurrent e-bike.
No longer constrained to city streets and bike paths, the Juiced RipCurrent merges fat tires into the electric bike world, creating a versatile ride with a powerful motor that will keep you going on all sorts of terrain.
With three different models, the Juiced RipCurrent fulfills every commuter's dream.
We're going to tell you more about the Juiced RipCurrent, and how it differs from the Juiced RipCurrent S and Juiced RipCurrent S Step-through.
Main Specs
The Juiced RipCurrent is a hefty electric bike designed for both on-road and off-road riding, with fat tires and a powerful motor that will last for more than 45 miles.
Juiced specializes in all different kinds of electric bikes. The RipCurrent models are designed for all-terrain rides, commutes, and even single-track trails.
Read More: Overview of Juiced Bikes
The RipCurrent is an adventure e-bike with plenty of room for adjustability, and a host of accessories and features that make all-terrain riding so much more enjoyable. A strong front headlight, solid rear rack, and adjustable handlebars make the RipCurrent as diverse as an electric bike can be, with the XL frame size fitting riders up at 6'5" tall.
Here is a quick rundown of the main specs for the Juiced RipCurrent:
Motor: 750W Bafang (1,300W Peak)
Battery: 52V / 15.0Ah Extended Range
Throttle: Thumb Throttle
Controller: 9 Transistor / 25 Amp Peak
Frame: Custom Aluminum Heat-Treated
Seat: Selle Royal | A306 URO
Range: 45+ miles
Top speed: 28mph
Assistance: Torque and cadence pedal assist
Bike weight: 70 (60lbs without battery)
Weight limit: 275lbs
Drivetrain transmission: 9-speed Shimano cassette
Brakes: Tektro hydraulic disc brakes
Tires: 26″x4″ All-Terrain
Extras: Coil suspension, 2Amp charger, Advanced LCD display, 1,050 Lum LED headlight
MSRP: Starting from $1,999
RipCurrent
Equipped with a 750-watt Bafang motor, the RipCurrent is a Class 3 electric bike capable of reaching 28mph using its cadence and torque pedal assist. That's pretty fast over the spectrum of e-bikes.
For an electric bike with fat tires capable of handling off-road terrain, that puts the RipCurrent a step above the rest.
See More: Best Electric Fat Tire Bikes
With a 52V / 15.0Ah Extended Range battery, the RipCurrent can go for 45+ miles. That is a solid starting point for an e-bike in this price range, but significantly less than the RipCurrent S.
The RipCurrent has a 9-speed Shimano cassette, which gives it a larger gearing range than most electric bikes in this category.
This is especially helpful for tackling steep climbs or slippery off-road terrain, which the RipCurrent has shown time and time again that it is fully equipped to handle.
The RipCurrent has a number of valuable extras including an Advanced LCD Display screen, thumb throttle, coil suspension, and Tektro hydraulic disc brakes. Many of these features are a must on modern e-bikes, and we're glad the RipCurrent has them. At the front of the frame is a 1050 Lum LED headlight, which is powerful for both nighttime exploring and riding in traffic.
While the front headlight is strong and powerful, the rear taillight on the RipCurrent has to be activated manually and isn't close to as powerful. The rear fender is also quite small, so you won't be completely protected from road spray, grit, or grime on the RipCurrent.
RipCurrent S
Both the RipCurrent and RipCurrent S have the same 750-watt Bafang hub motor, which is quite powerful for an electric bike in this price range. The RipCurrent S weighs in at 76lbs (65lbs without battery), which makes it a bit heavier than the RipCurrent, but nothing that the motor can't make up for.
However, one of the biggest differences between the RipCurrent and RipCurrent S is their different batteries. The RipCurrent uses a 52V/ 15Ah Extended Range battery, whereas the S model uses a 52V/ 19.2Ah Extended Range battery. This translates to a huge increase in the range for the RipCurrent S, which is 70+ miles versus the RipCurrent's 45+.
Same as the RipCurrent, the RipCurrent S has a 9-speed Shimano cassette, which gives it quite the large gearing range compared to other e-bikes.
The RipCurrent S has a rear rack pre-installed, which is one of the main differences between it and the RipCurrent. Additionally, the S model has front air suspension and a hydraulic lockout fork, which both help improve comfort and safety, especially on off-road terrain.
With all the upgrades considered, the RipCurrent S comes in at $2,299, or $300 more than the RipCurrent.
RipCurrent S Step-Through
The RipCurrent S Step-through is exactly the same as the RipCurrent S apart from the frame design.
To accommodate for easier mounting and dismounting, the step-through frame style eliminates the near-horizontal top tube. Instead similarly to other step-through models, there's a large gap in the middle of the frame.
As the name suggests, all you have to do is step through the frame, and you'll be able to tip-toe onto the saddle and start riding.
Along with the larger battery, the RipCurrent S Step-through is heavier than the RipCurrent, includes a rear rack, and also includes front air suspension as opposed to coil suspension.
With 26"x4" fat tires, its 750W Bafang motor, and a 9-speed Shimano cassette, the RipCurrent S Step-through is more than capable of tackling all kinds of terrain from city streets and high-speed descents, to mountain biking trails and gravel rides.
Interested in more options? See our list of the best electric commuters.
Main Differences: Which One to Get?
The main difference between the RipCurrent, RipCurrent S, and RipCurrent S Step-through is each bike's battery.
Factors such as weight, suspension, and the rear rack are only minor changes compared to how improved the battery is.
In both S models, the larger battery translates to getting 35 more miles out of your battery (45+ compared to 70+), which is a huge jump considering the small price increase.
The upgrade to the RipCurrent S models costs just $300, which is worth considering if you have a little wiggle room in your budget.
As previously mentioned, there are a few smaller upgrades too, including the suspension system and inclusion of the rear rack.
If you're planning on longer adventures and e-bike exploration, go with the RipCurrent S or RipCurrent S Step-through. And when deciding between those two, it all has to do with the frame.
If you value traditional frame styles, then the RipCurrent S is the bike for you. But if you'd rather have an easier time getting on and off your bike, go with the RipCurrent S Step-through.
Consider Also: Juiced Scrambler & CrossCurrent
Sizing
There are currently three sizes available for the Juiced RipCurrent set of electric bikes: Medium (M), Large (L), and Extra Large (XL).
Juiced recommends finding your frame size using the measurement of your inseam, and they even include a helpful sizing chart with everything you need to know.
In more basic terms, here is the sizing chart based on rider height for the Juiced RipCurrent:
Medium: 5'4" to 6'0"
Large: 5'8" to 6'3"
Extra Large: 6'0" to 6'5"
Final Thoughts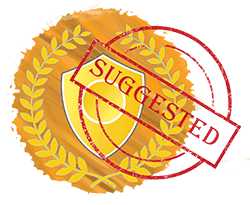 The Juiced RipCurrent is one of the most impressive electric bikes we've seen, especially at this price range.
The RipCurrent is almost in a league of its own. The combination of fat tires and a powerful motor and battery keep you riding for over 40 miles.
Pay just a small premium and you can upgrade to the RipCurrent S or RipCurrent S Step-through which features all of the same components as the RipCurrent plus a few upgrades.
The larger battery and 70+ mile life is the biggest change. The modest price difference will certainly make you think about the upgrade.
Overall, we're very impressed by the Juiced RipCurrent and the all-road adventures that it can provide.
There are no comments yet, add one below.