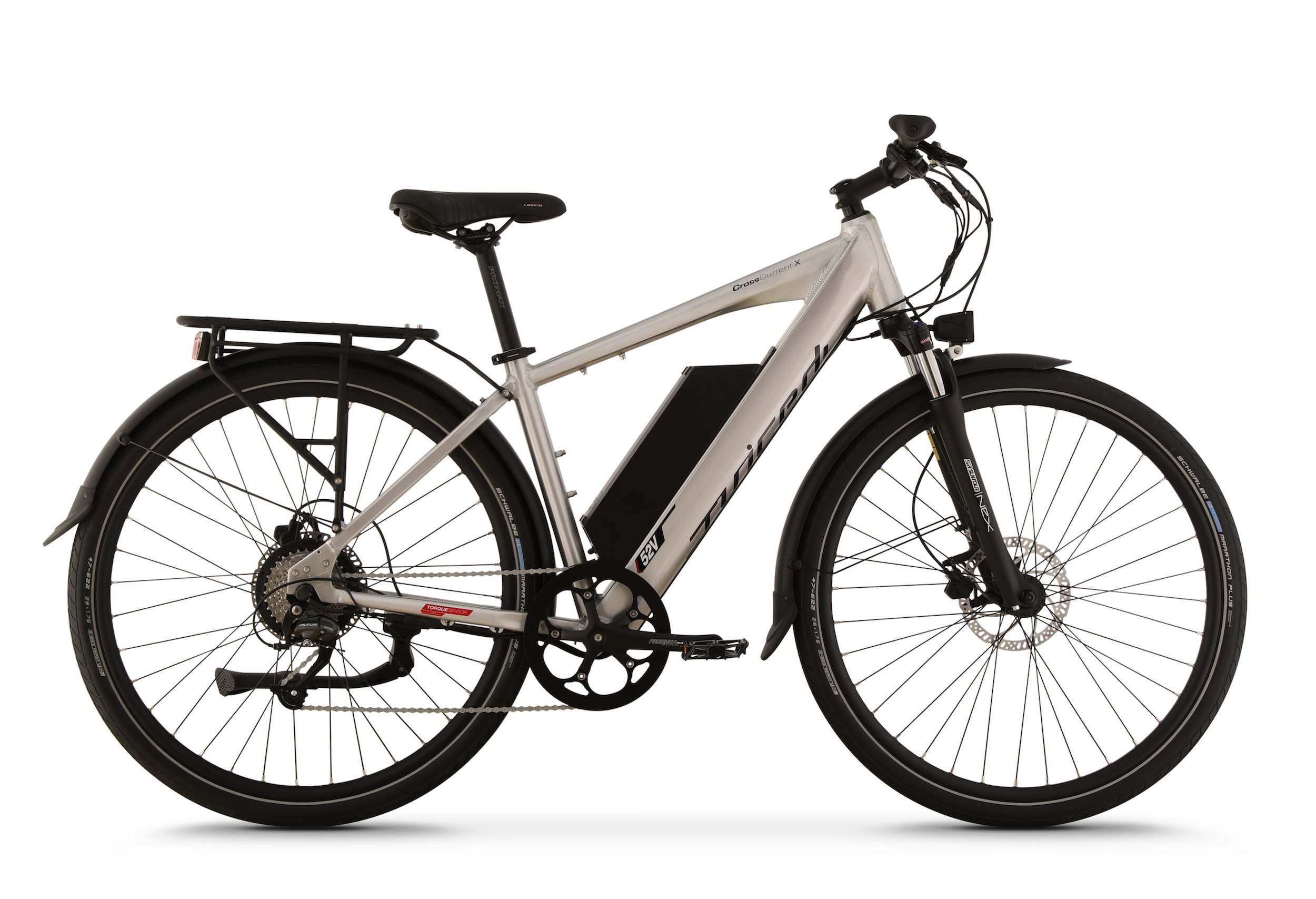 Juiced CrossCurrent is a high-speed Class-3 hybrid e-bike perfect for commutes, running errands, or riding across the city.
What are the top reasons people consider e-bikes? Being able to ride faster and further, maximizing the fun factor, while minimizing suffering.
With its 28 mph top speed, 80+ mile maximum range, thumb throttle, and feature-rich build, Juiced CrossCurrent hits all the right notes.
Find out more about this affordable car replacer in our Juiced CrossCurrent review.
Juiced CrossCurrent Main Specs
Juiced CrossCurrent is a high-power and high-speed hybrid electric bike available in three iterations:
CrossCurrent S2
CrossCurrent X
CrussCurrent X Step-Through
See More: Full Overview of Juiced Bikes
The S2 model is the most affordable and the most modest in terms of accessories. The CrossCurrent X and X Step-Through builds have a lot more accessories, meaning they are a better choice for commuting. However, they also cost more.
We recommend checking out the main specs these bikes boast below and then read the rest of our detailed review. It will help you determine if one of the CrossCurrent models is the right solution for you, or if you should keep looking further.
Motor: 750W
Battery: 780 Wh or 1000 Wh
Assistance: PAS & Throttle
Frame: Aluminum
Range: 65+ or up to 80+ miles
Top speed: 28mph
Sensors: Torque and cadence
Bike weight: 59-67 lb
Weight limit: 275 lb.
Drivetrain: 9-speed Shimano
Brakes: Hydraulic disc brakes
Tires: 28″ x 1.75″
Extras: Front suspension, advanced LCD display, bright front and rear lights, rear rack and fenders (CrossCurrent X), ergonomic saddle and grips
MSRP: $1,999 – $2,499
Full Review
---
CrossCurrent S2
Juiced CrossCurrent S2 is a budget-friendly commuter and one of Juiced's best-selling e-bikes.
It's built around a durable aluminum step-over frame available in one color (all black) and three sizes (medium, large, X-large).
You may rely on its 750W rear hub Bafang motor to assist you up to 28 mph with several PAS levels and a handy throttle.
Similarly, its 52V 15Ah 780Wh battery guarantees 65+ miles of range, which is more than enough for any average commuter or recreational rider.
CrossCurrent S2 doesn't offer a lot in terms of accessories, but it makes up for it with its low weight and powerful electric components.
This sleek e-bike also has an SR Suntour NCX suspension fork and versatile 28″ x 1.75″ tires. They're perfect for city streets, but they can deal with some hardpacked gravel and dirt as well.
Riders also love the 9-speed Shimano Altus drivetrain and hydraulic disc brakes, both of which are great mid-tier solutions and improve the bike's daily rideability.
When it comes to accessories, CrossCurrent S2 takes a minimalistic approach, offering just a headlight and a kickstand. If you want more features, the other two models might check more of your boxes.
We believe it's a good purchase for anyone looking for a fast commuter or fitness bike that keeps things simple and doesn't cost too much.
Consider Also: Juiced RipCurrent
CrossCurrent X
CrossCurrent X is the most expensive build in this series. However, it's also the best-equipped. If you want the most powerful electronics and all the bells and whistles, this is the route to take.
It features the exact same frame as the S2 build, but this time, it's jam-packed with accessories and extras.
Though the 750W rear hub motor is the same, the battery has a higher capacity—1000Wh. Therefore, this hybrid e-bike will help you reach speeds of up to 28 mph and help you maintain them for up to 80+ miles. With such a long range, most riders will forget when they charged the battery last time.
In addition to adding some practical features crucial for a commuter, such as fenders and a rear rack, CrossCurrent X boasts a few premium upgrades as well.
Namely, it rolls on Schwalbe Marathon tires, which are renowned for their durability. The saddle and the grips are also ergonomic and much more comfortable.
However, the 9-speed Shimano Altus rear derailleur and hydraulic disc brakes stay the same, which is expected considering that this model costs just $500 more than the most affordable one.
If you love leaving the car in the driveway and commuting to work by bike come rain or shine, at daytime or nighttime, you'll easily fall in love with Juiced CrossCurrent X.
CrossCurrent X Step-Through
The CrossCurrent X Step-Through model is Juiced's latest addition to this series of commuter e-bikes. It sits in between the other two models when it comes to price, range, and features.
The step-through frame was a much-needed upgrade to this e-bike, as many riders prefer it when shopping for city and commuter bikes. It's easier to ride and fits shorter riders better. Though, keep in mind that this build is available in one frame size only.
The electric setup includes a lower-capacity 52V 15Ah 780Wh battery and the familiar 750W rear hub Bafang motor. Therefore, expect a 65+ mile range and a 28 mph maximum assisted speed.
We like the fact that this model has all the bells and whistles available with the step-over CrossCurrent X bike. This includes fenders, a rear rack, bright lights, kickstand, ergonomic saddle and grips, and Schwalbe Marathon tires.
The well-known Shimano Altus 9-speed drivetrain and hydraulic disc brakes are a part of the package as well.
All things considered, if you're on the shorter end of the average human height range, this step-through CrossCurrent iteration is an excellent choice. It offers one of the best bangs for the buck on the market.
Consider Also: Juiced Scorpion & Scrambler
Main Differences: Which One to Choose?
If you're in two or three minds when it comes to choosing the right Juiced CrossCurrent e-bike, we can give you our two cents.
The most significant ways in which these three builds differ is in terms of the price, range, and accessories.
If spending as little as possible is your main priority, get CrossCurrent S2. You'll sacrifice some daily practically, but you can always upgrade accessories later on. This model is also the lightest of the three, but it has a lower 65+ mile range.
On the other hand, get CrossCurrent X if you want to go all-in. This e-bike has the highest range and all the features you could ask for. It truly has the ability to replace your car for town commutes and grocery hauls.
Related: How to Choose an Electric Bike
Finally, stick with the X Step-Through version if you want the best ease of use that a step-through frame guarantees. You still get all the premium features but at the expense of a slightly lower range.
Sizing
While CrossCurrent S2 and Step-Over X models are available in three frame sizes, the CrossCurrent X Step-Through comes in one size only.
Check out the table below to find the right size based on your height.
| | | | |
| --- | --- | --- | --- |
| | CrossCurrent S2 | CrossCurrent X | X Step-Through |
| Medium | 5'4″ – 6'0″ | 5'4″ – 6'0″ | |
| Large | 5'8″ – 6'3″ | 5'8″ – 6'3″ | |
| X-Large | 6'0″ – 6'3″+ | 6'0″ – 6'3″+ | |
| One-Size-Fits-All | | | 5'3″ – 6'1″ |
Final Thoughts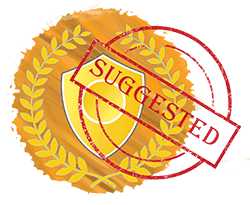 Concluding that Juiced CrossCurrent e-bikes offer great value for the money is a reasonable thing to do.
All three models are fast, have a respectable range, and we can easily see them being used instead of a car or as the preferred way of getting around town.
Is there any room for improvement? Of course. For example, there's no way to mount a water bottle due to the large battery and a few riders report shipping issues (bike arriving damaged).
That said, we'd still easily recommend Juiced CrossCurrent to any urban commuter of fitness rider, as there are few competitors that can match it in this price category.
There are no comments yet, add one below.