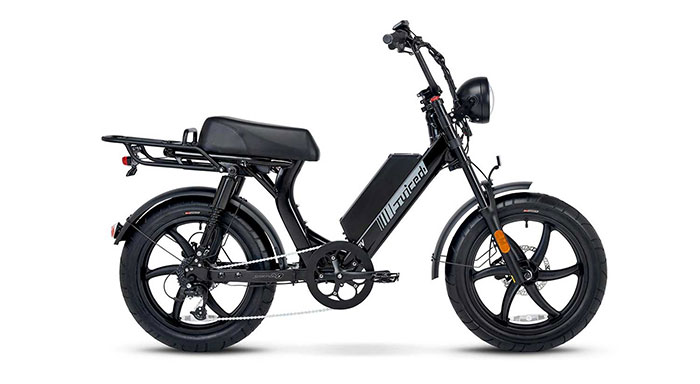 Juiced Scorpion blurs the line between an e-bike and an electric moped due to its unique design and 30+ mph speeds.
Actual electric mopeds are fun, fast, and super practical. However, they are a pain in the neck to register and comply with often dubious state laws and regulations.
On the other hand, a moped-style e-bike, such as the Juiced Scorpion, comes with all the aforementioned perks and zero hassle.
Get the experience of riding an electric moped at 30+ mph speeds, with 70+ miles of range, mirrors, turn signals, cargo storage, and more.
Read the Juiced Scorpion review below to learn about our perspective.
Juiced Scorpion Main Features
In this review, we want to look at the Juiced Scorpion series that consists of three distinct builds:
Scorpion X
HyperScorpion
HyperScorpion Express
These three high-speed electric bicycles are built around the same dual suspension aluminum frameset but come with different motors, batteries, and accessories.
See More: Full Review of Juiced Bikes
With that in mind, the price tags differ as well. Depending on the model you choose, you'll have to pay between $2,200 and $2,900 to ride away on a Juiced Scorpion.
Check out some of the main specs below and keep reading for a more detailed look.
Motor: 750W or 1000W
Battery: 780Wh or 998Wh
Assistance: PAS & Throttle
Frame: Aluminum
Range: 55+ or 70+ miles
Top speed: 28mph or 30+ mph
Sensors: Torque and cadence
Bike weight: ~100 lb (~45 kg)
Weight limit: 275 lb.
Drivetrain: 8-speed Shimano
Brakes: Tektro hydraulic disc brakes
Tires: 20″ x 4.25″
Accessories: Moto headlamp, turn signals and mirrors (HyperScorpion), dual suspension, USB power port
MSRP: From $2,200
Three Juiced Scorpion Builds
---
Scorpion X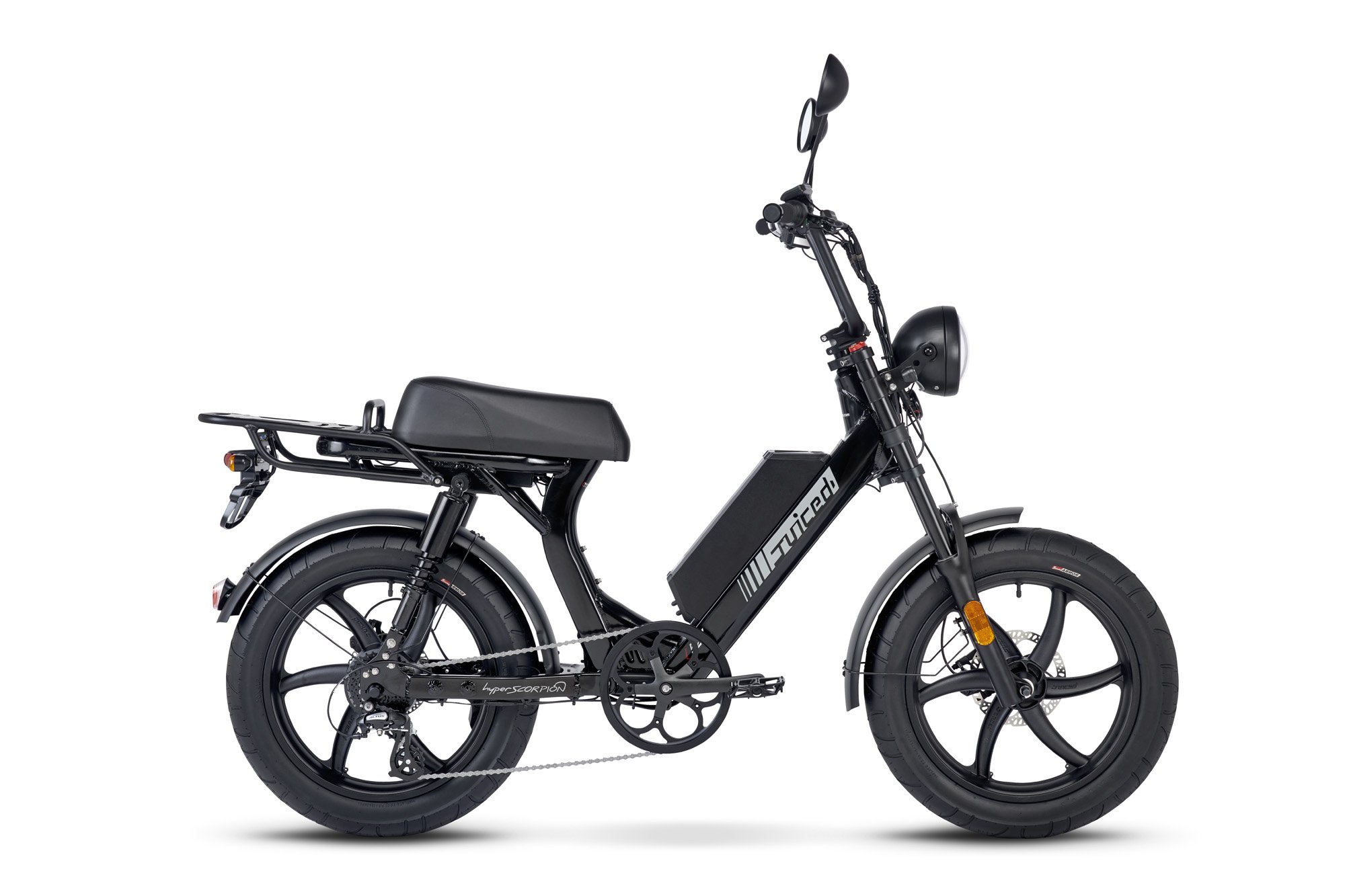 Scorpion X is the most affordable of the three builds. As a result, it lacks some oomph and extras that the HyperScorpion models offer, but it's still a potent urban traveler.
It uses a 750W RetroBlade Bafang motor combined with a 52V 15Ah battery to provide speeds up to 28 mph with PAS and throttle, and a range of 55+ miles.
Scorpion X, as well as other builds, prioritize comfort. Therefore, it comes with front and rear suspension and a plush moto-style seat. In combination with 20″ x 4.25″ tires, you'll get a smooth riding experience even if you abuse the throttle.
Keep in mind that you can limit Scorpion X to class 2 speeds if you need to comply with local regulations, but also that its 55+ mile range is realistic only if you stay in low PAS levels.
This bike also boasts an 8-speed Shimano drivetrain and hydraulic disc brakes that will stop you on a dime. Considering the geometry of the frame, the Scorpion is not built for long pedaling efforts, but it's certainly doable unless you have very long legs.
When it comes to extras (which Juiced Scorpion is all about), you get a bright headlamp, rear rack, fenders, and brake lights.
If you have an affinity for electric mopeds but you love the functionality and practicality of e-bikes, Juiced Scorpion is the best of both worlds.
Consider Also: Juiced Scrambler & CrossCurrent
HyperScorpion & HyperScorpion Express
The HyperScorion e-bikes are Scorpions on steroids. As their names imply, they are hyper in every sense of the word.
Scorpion X is powerful, but HyperScorpion and HyperScorpion Express are intimidating.
They come with 1000W RetroBlade rear hub motors and 52V 19.2Ah batteries that promise a range of up to 70 miles.
Twist the throttle to the max and you'll zoom around at 30+ mph, which is more than enough to stay in flow with the traffic around you or get to your destination ahead of time. But make sure that you're not breaking any laws and that you are keeping yourself and others safe!
Where Juiced HyperScorpion models really stand out from similar moped-style bikes is all the extras. These bikes are ready for daily urban struggles.
You get front and rear lights with a brake light, front and rear turn signals, as well as large rearview mirrors.
To help with your and your bike's safety, Juiced even added a 100 dB horn and an alarm. Therefore, you have audio protection on and off the bike. A USB power port is another nice touch, allowing you to keep all of your devices charged and ready.
The only difference between the HyperScorpion and HyperScorpion Express models is that the latter has a larger rear rack. It's advertised as an Electric Delivery Bike, but its cargo-hauling capability can come in handy for grocery shopping and running errands as well.
Juiced HyperScorpion e-bikes do a lot to justify their $2,800-$2,900 price tags. If you want as much speed, comfort, and daily functionality on a moped-style e-bike as money can buy, this is a big no-brainer.
Interested in more? See our list of the best fat tire electric bikes.
Main Differences: Which One to Choose?
Choosing between the Scorpion X and a HyperScorpion e-bike is not hard at all. Even though they look very similar at first glance, these are pretty unique beasts.
If money was not an issue, we'd always go for one of the HyperScorpion builds. For not much more money, you get a lot more power, significantly more range, a higher top speed, and lots of cool extras.
If you mainly ride on city streets (which most people interested in this type of bike will do), you'll appreciate having turn signals, rearview mirrors, and a super loud horn.
Car drivers will pay more attention to you and give you more room when overtaking (thinking you're riding a moped), even though other cyclists might give you a few odd looks when they see you on a bike path (again, thinking that you're riding a moped).
However, even if you decide to get Juiced Scorpion X, you'll still get a lot of value for your money. Its 750W motor pulls hard and the 55+ mile range is more than most e-bikers need. If you want more functionality later on, you can retrofit it with accessories of your choice, readily available on Juiced's website.
Related: How to Choose an Electric Bike
Sizing
All three Juiced Scorpion e-bikes are built around the same aluminum "one-size-fits-all" frame.
According to the company, these bikes are suitable for riders 5'2″ and above. We'd say that the upper limit is somewhere around 6'2″.
If you're taller than that, we don't recommend it. You'll be able to zoom around on it, but you'll have your knees dangerously close to your jaw if you try to pedal it.
FAQ
The most affordable Juiced Scorpion build costs around $2,200. However, if you want one of the more powerful HyperScorpion models, you'll have to pay between $2,800 and $2,900. But even with the cheapest option, you get powerful electronics, lots of comfort, and practical accessories.
Juiced Scorpion is a Class 3 e-bike with a 28 mph maximum speed. The HyperScorpion models have more powerful motors and a 30+ mile top speed. However, all three builds can be limited to class 2 or class 3 speeds (20 mph or 28 mph) to comply with local regulations.
To start a Juiced Scorpion e-bike, first you need to press the power button on the battery and then turn the LCD on by holding the power button on the back of the display. You are now all set to choose your PAS level or twist the throttle and ride away.
Final Thoughts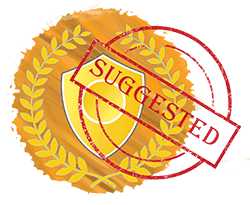 If you're an electric moped aficionado but you're looking for e-bike practicality (legal and real-world), then Juiced Scorpion will check most of your boxes.
This is the right type of e-bike for urban riders who want to get from one place to another fast, enjoy a reliable range, and feel safe in rush hour traffic.
Juiced Scorpion's unique design won't appeal to everyone, but it also won't leave anyone indifferent.
Get it if you want premium features at an affordable price and don't mind the burly build and the ~100 lb weight.
There are no comments yet, add one below.