Juiced Bikes is a SoCal e-bike manufacturer that produces fat-tire, commuter, and moped-style electric bicycles that boast 52V batteries, powerful motors, and 30+ mph top speeds. 
Part of Best Bike Brands & Best E-Bike Brands
Just as the lawmakers created regulations that recognized three classes of e-bikes, a few companies decided to push the boundaries and take things a step further. Juiced Bikes is one of them.
"We believe in fearlessly pushing boundaries and boldly disrupting the status-quo," the company says.
That makes a lot of sense as its powerful electric bikes are often hard to distinguish from electric mopeds or motorcycles.
These electric speed demons are ideal for commuters, leisure riders, and urban dwellers who want maximum practicality and power at a reasonable price point.
Overview of the Company
Juiced Bikes was founded in California in 2009 by Tora Harris. He graduated from Princeton University with a degree in Mechanical and Aerospace Engineering. On top of that, he is also a record-breaking high jump champion, five-time American Champion, and a 2004 Olympian.
Juiced Bikes offers high-performance e-bikes with innovative technologies at a reasonable price.
This is a consumer-direct brand, which means it eliminates redundancies in the supply chain. That allows it to sell its products directly to customers with much lower margins.
Originally, Juiced Bikes started as an importer of Lithium-ion batteries. However, in 2010 it decided to make its first electric bicycle as well.
Today, the company takes the most pride in its moped-style e-bikes called Scorpion and Scrambler. Though it also makes RipCurrent off-road-ready e-bikes and CrossCurrent electric commuter bikes.
Its products were tested and praised by some of the most successful websites in the industry. Some of these include Insider, Bicycling, Wired, Forbes, The Verge, and many others.
RipCurrent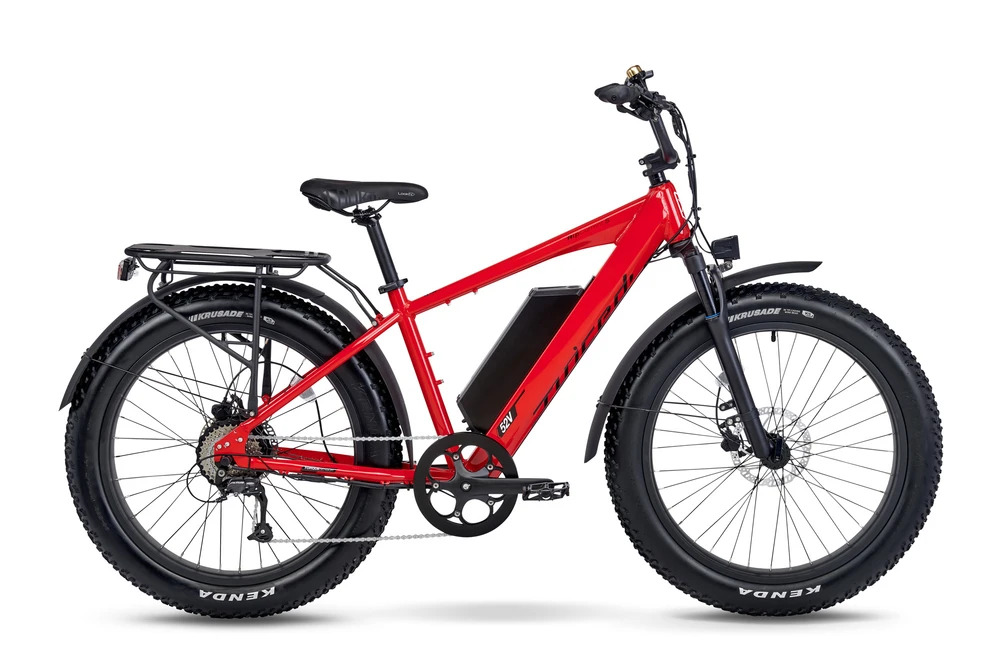 RipCurrent is the ultimate do-it-all electric bicycle. This is a lineup of fat-tire bikes with front suspension, wide-range gearing, and relaxed geometry. At the moment, this series consists of two models:
RipCurrent
RipCurrent S (step-over and step-through)
Juiced RipCurrent bikes are famous for their power and versatility. They're equipped with 750W rear hub motors that will easily propel you up to 28 mph with pedal-assist or throttle.
The budget-friendly RipCurrent model gets a 45-mile range from a 52V 13Ah battery. On the other hand, the more expensive model promises 70+ miles thanks to a 52V 19.2Ah powerpack.
The electric assistance feels very natural as Juiced bikes use both torque and cadence sensors that measure your pedal force 1000 times a second.
However, RipCurrent bikes have a few things in common as well, such as the front suspension, hydraulic disc brakes, and super-versatile all-terrain fat tires.
These fun e-bikes also have 9-speed Shimano drivetrains, bright headlights, and an advanced LCD display that shows loads of information. The more expensive models also feature fenders and a rear rack for even more practicality.
Related: Best Electric Bikes
If you need a bike to ride on light trails, dirt and gravel roads, or just enjoy the stability and comfort provided by wide tires, Juiced RipCurrent models will meet your needs.
Scorpion
The Scorpion is a lineup of step-through moped-style e-bikes with extremely powerful motors and batteries, as well as game-changing accessories for city riding and commuting.
These are tiny electric monsters that pack a strong punch thanks to 1000W or 750W rear hub motors, depending on the model. At the moment, the three models in the series are:
HyperScorpion
Scorpion X
HyperScorpion Express
The HyperScorpion models have impressive top speeds of 30+ mph and an expected range of 70+ miles. Frankly, that's more than most riders need for daily use, but the more the merrier. The weaker Scorpion X model will assist you "only" up to 28 mph for up to 55 miles.
Like all other Juiced bikes, these ones feature both pedal assist modes and throttle. Though, keep in mind that pedaling for a long time on one of these quirky beasts is not very practical due to the saddle height and saddle shape.
Scorpio e-bikes are also known for their super-bright headlights that easily illuminate the road in front of you, as well as a host of other accessories and features. These include front and rear fenders, blinkers, a rear rack, and even rearview mirrors.
Get it if you want a technologically advanced e-bike that looks amazing and you don't mind the weight penalty that comes with it.
Scrambler
The Scrambler series has a lot of similarities with the Scorpion as both are moped-style e-bikes. However, the Scrambler e-bikes are built around step-over aluminum frames that make them resemble a motorcycle even more.
And that semblance does not end with the looks. Namely, the HyperScrambler 2 is Juiced Bikes' most powerful e-bike that blurs the lines between a bicycle and a moped.
It has an intimidating 1000W (1500W peak) rear hub motor supported by two 52V 19.2Ah batteries. Therefore, the total battery capacity is close to 2000Wh and the maximum PAS range is in excess of 100 miles. These are truly impressive stats.
The less powerful Scrambler e-bike has a 28 mph top speed, a 750W motor, and a 52V 13Ah battery. You'll get a 45+ mile range depending on how you ride.
You can enjoy these features with a friend as these bikes come with a long passenger seat. They also boast lights, hydraulic disc brakes, front suspension, and 7-speed geared drivetrains.
Urban riders will also appreciate having a stoplight and blinkers, a loud horn, and a USB charging port that will make everyone happy.
CrossCurrent
CrossCurrent models are commuters' dream bikes that come equipped with everything you need to get from point A to point B quickly and effortlessly. They boast powerful motors and batteries, great accessories, aluminum frames, and quality components.
Related: Best Electric Commuters
At this moment, there are three models you can choose from:
CrossCurrent X
CrossCurrent X Step-Through
and the CrossCurrent S2
These are Class 3 e-bikes that will assist you up to 28 mph with pedal assist modes or thumb throttle. Depending on the model, you can expect a range of between 65 and 80 miles, which is more than enough for a week's worth of commuting for most people.
Considering these are commuters, Juiced put comfort and practicality at the top of the priority list. The aluminum frame has a relaxed upright geometry and comes equipped with fenders, a rear rack, front suspension, and a kickstand.
All models also sport front and rear lights, hydraulic disc brakes, and 9-speed drivetrains. Therefore, you'll be able to travel faster, further, and make short work of any hill.
It's obvious that we like Juiced Bikes and believe that you'd like them too. The only problem we see is the weight, though that shouldn't be an issue for most people as long as you keep the battery charged.
Didn't find what you were looking for? Take a look at our list of the best electric bike brands.
Sizes
When it comes to sizing, Juiced has made the process as simple as possible. Its moped-style and step-through models are available in a single frame size only, whereas the step-over models come in three sizes.
The company provides a detailed size chart for each model, along with a height range that will help you find the right frame size based on how tall you are.
Therefore, before making a purchase, make sure to take all of this information into consideration, and don't hesitate to contact Juiced support if you happen to have any questions or doubts.
FAQ
Our Thoughts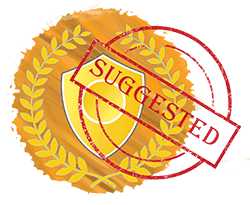 Juiced Bikes definitely takes a completely different approach to building e-bikes. Naturally, this comes with advantages and disadvantages.
On the one hand, these are some of the most stylish and unique e-bikes we've reviewed so far.
They're also insanely powerful, pack loads of battery capacity, and sport quality components and a plethora of accessories.
The price tags are also quite reasonable, you'll get plenty of juice for the price range of $1,800 to $3,000.
On the other hand, all of these extras come with a weight penalty, meaning Juiced Bikes are quite hefty. The moped-style models are also not the most practical for pedaling, though that's not what the intention was in the first place.
All in all, if you want a powerful e-bike that does the electric part of the job perfectly well and serves as a great conversation starter, you won't regret buying a Juiced bike.