Cycling apps are a phenomenal way to track your rides, analyze your progress, motivate yourself to ride harder, and compete with friends and strangers. We round up the best ones you should install!
Long gone are the days when you had to keep track of your training metrics and ride info by writing it all down in a notebook.
Whether you want to monitor your training, record your rides, improve your nutrition, stay safe, or stay away from bad weather, there's an app you can download to do it for you.
Below is our selection of the best cycling apps every cyclist should install and try out. Many of them are completely free to use, though some allow you to unlock premium features by paying a subscription fee.
We made sure to include different types of apps, for Android and iOS, beginners and pros, commuters and performance riders. Start installing and go for a ride!
#1 – Strava
Best for Ride Tracking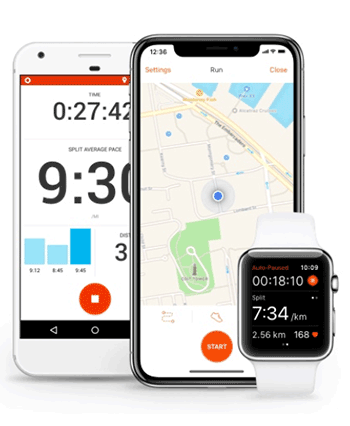 Strava is one of the most popular sports tracking apps in the world for a good reason. It offers a plethora of handy options to track your rides, share them with friends, compete against other riders, analyze your training, and so much more.
Strava can be downloaded for free for Android and iOS devices, but the free version does not include some of the most important features.
The free version will allow you to track your ride metrics, such as speed, distance, time, elevation, route, calories, and so on. When you finish the ride, you can also see whether you set a record on one of the Strava segments.
In the paid version, you can take a look at your HR and Power stats, analyze advanced ride metrics, personal training log, live segments, route builder, heat maps, beacon, complete segment leaderboards, and a lot more.
You can use Strava as a stand-alone cycling computer on your smartphone, or you can connect your GPS computer to record rides and then upload them on Strava.
One of the best aspects of this app is its social side that lets you follow friends, give them kudos, comment on their activities, post photos, and compare your efforts to those of others.
Related: Best Indoor Cycling Apps
Who should install: Anyone who wants to record and analyze their rides on their smartphone.
Price: Free (Premium: $6/month; $59.99/year)
Rating: 4.8/5,115.3K ratings (Apple); 3.8/5, 576.8K ratings (Google)
#2 – Endomondo
Best App for Cycling and Multi-Sport Tracking
Endomondo is one of the best multi-sport tracking apps that you can download and use completely for free. It's straightforward, has a wealth of features, and supports around 40 sports, including cycling.
If you install the free app, you can use it to record basic ride data such as route, duration, distance, speed, elevation, calories, and so on. However, you will not be able to analyze that data by comparing it to your previous efforts. Plus, you'll have to endure ads, which is how the app is monetized, but these are not too aggressive.
If you decide to pay a monthly subscription fee, you'll get access to more detailed data metrics, as well as to personalized training plans. This is the biggest advantage of Endomondo, as it is designed to be your personal trainer. You can also activate the "Audio encouragement" feature to allow the app to motivate you during your activity.
We'd say Endomondo is a phenomenal app for beginners and intermediate riders, as it is incredibly simple to use and gives you access to all the necessary data. However, if you're riding more competitively and want more options to analyze your efforts, Strava is still the king.
Who should install: Fitness-oriented individuals and cyclists with a knack for multi-sport training.
Price: Free (Premium: $5.99/month; $29.99/year)
Rating: 4.2/5, 1.3K Ratings (Apple); 4.5/5, 750.7K Ratings (Google)
#3 – First Aid by American Red Cross
Best for First Aid

As avid cyclists, we need to be responsible and admit that cycling can be a dangerous sport. Even though we try to avoid them, accidents do happen sometimes. Luckily, the number of cycling fatalities has dropped by 89% since 1975.
When they do happen, it's good to know what you should do to help yourself and others and potentially save lives.
The First Aid by American Red Cross app has been created with the aim of making it easier to complete first aid procedures in the event of an emergency.
The app will help you identify the type and the severity of an injury and give you step-by-step instructions on how to provide first aid support for those injuries.
Of course, make sure to call an ambulance as soon as you can and share as much detail as you can with the operator. The app should help you to deal with the emergency in those critical moments before an ambulance arrives.
Who should install: Anyone who does not have knowledge about or experience with first aid procedures.
Price: Free
Rating: 4.3/5, 277 Ratings (Apple); 4.4/5, 10.6K Ratings (Google)
#4 – Komoot
Best for Planning New Routes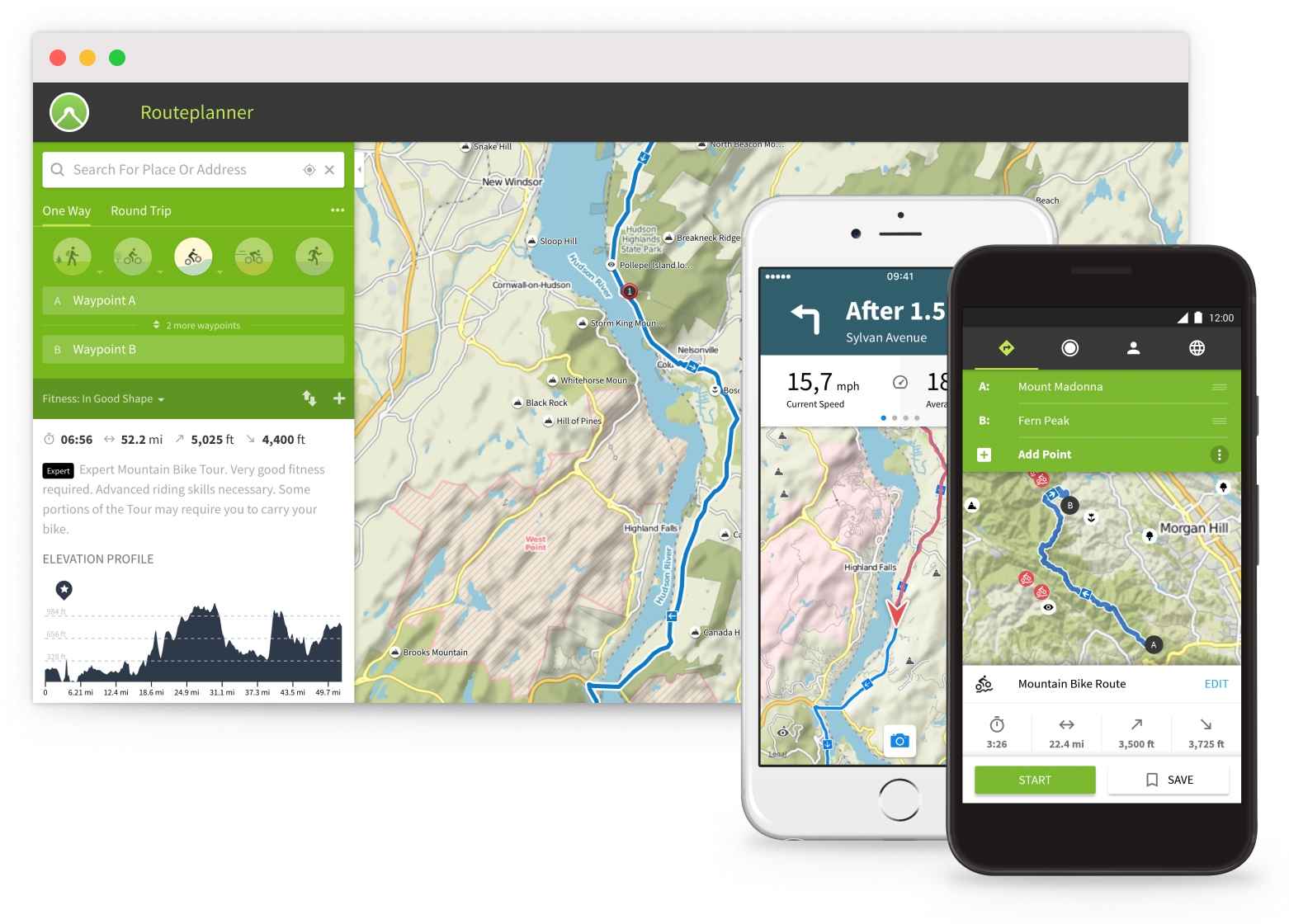 A lot of cyclists use Google Maps as a go-to app/website to plan new routes. However, there's an even better option you should try — Komoot.
Komoot lets you plan routes based on the type of surface and your fitness level. Therefore, the app will show you road, mountain bike, or gravel routes and indicate what level of performance you need to complete them. Elevation gain and elevation profile are shown as well.
There are over 10 million users around the world who feed the system whenever they record a ride. You can use these pre-recorded routes to plan your own adventures.
To plan a route, you need to choose start and endpoints, select the riding style, and wait for Komoot to do its magic. An additional handy feature is called "Highlights" which will let you know if there's anything worth stopping for, such as a cool cafe.
Once you start riding, Komoot will track your distance, speed, time, elevation, and allow you to change routes on the go.
The app is free to use, but the basic package only includes your local region. To unlock a new region you need to pay $3.99, or you can make a $29.99 one-time payment to unlock the whole world.
Who should install: Riders who need help planning cycling routes based on the surface type and fitness level.
Price: Free (Pay to unlock subsequent regions)
Rating: 4.7/5, 1.8K Ratings (Apple); 4.6/5, 151.1K Ratings (Google)
#5 – Rain Alarm
Best for Dependable Weather Forecast
How many times have you been caught in a shower even though the local weather forecast showed sunny weather ahead? Countless, probably.
If you're tired of getting drenched, consider using Rain Alarm, a weather forecast app that provides you with accurate live weather data. It will help you plan your route based on the weather to avoid cycling in the rain.
Rain Alarm uses real-time data and sends you notifications when there's a chance for rain near your location. By checking the map, you can alter your route to avoid bad weather and stay dry.
According to the developers, this system is much more reliable than the standard weather forecast.
Who should install: Riders who don't like rain (basically everyone).
Price: Free (contains in-app purchases)
Rating: 4.4/5, 60 Ratings (Apple); 4.4/5, 40K Ratings (Google)
#6 – Cyclemeter
Excellent Cycling Fitness Tracker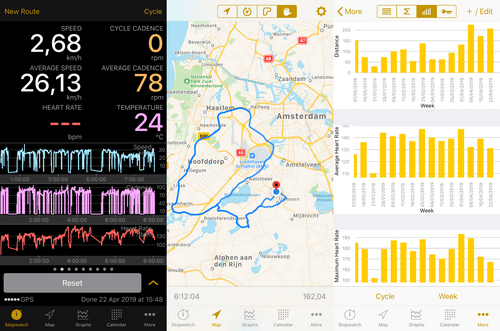 Cyclemeter is another powerful fitness app that has simplicity going in its favor. It uses your smartphone's GPS to track your activity and show you a plethora of statistics during and after the ride. It can also be used for running, hiking, and many other sports.
The good news about Cyclemeter is that it is a secure and private app, as all data about your fitness activities is stored on your phone, rather than on a cloud. If you wish, you can share your achievements with your friends on social media.
Cyclemeter is pretty advanced when it comes to the metrics it tracks and the statistics it offers. It will record your speed, distance, time, elevation, and such. If you have sensors, you can also record heart rate, power, and cadence.
The app also has built-in announcements that can motivate you along the way, and you can use cyclemeter to create training plans or use pre-made plans.
Once your training is done, you can upload the data to Strava and other ride-sharing websites so you can get kudos and support from the community.
Who should install: Cyclists who need a light, secure, and private fitness tracking app with a lot of power.
Price: Free (Elite upgrade: $9.99)
Rating: 4.6/5, 2.9K Ratings (Apple); 3.7/5, 516 Ratings (Google)
#7 – TrainingPeaks
Best Cycling Training Tracker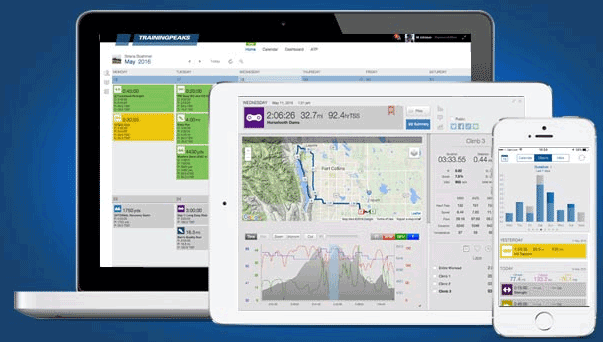 TrainingPeaks is the one app you can't live without if you're interested in racing, performance-oriented cycling, and structured training.
Almost all cycling coaches use it to create training plans and share them with their clients. Additionally, even if you don't have a coach, you can use the app to create your own plans, track your progress, get in touch with coaches on the platform, or use pre-made plans.
The TrainingPeaks app is considered as an addition to the website, which is where the full functionality is. The app will just let you keep track of your workouts and stay in touch with your coach.
If you're OK with just having basic training tracking, you can use the app for free. Otherwise, you can pay $19.99/month or $119.99/year for Premium. Plus, if you want to work with a real coach, you'll have to pay their respective fees.
Who should install: Cyclists interested in racing and structured training.
Price: Free (Pay for Premium and for coaches' training plans)
Rating: 4.8/5, 6.8K Ratings (Apple); 4.6/5, 18.5K Ratings (Google)
#8 – My Windsock
Best App for Avoiding Headwind
If there's one thing that cyclists just can't stand (apart from aggressive motorists), it's a headwind. You go out on your bike, planning to do a fast tempo ride or a long endurance ride, only to be utterly destroyed by headwind in the first miles of your effort.
MyWindsock is a website that lets you upload the GPX file of your route and gives you real-time data regarding wind conditions along your route.
Unfortunately, an app is still not available, but the website works well. Apart from uploading a GPX file, you can also enter a Strava segment URL and see if it's the right time to go out for a KOM/QOM or not. The site will also show you the weather conditions next to each Strava leaderboard time.
The website is free to use, but you can pay to get access to advanced features. With the free version, you can see wind conditions, update one file a day, and see the top 10 Strava leaderboard conditions.
Premium membership costs £19.99/year or £2.99/month and gives you unlimited file uploads, as well as numerous in-depth metrics and charts.
Who should install: Anyone who's not friends with the headwind
Available for: Desktop (mywindsock.com)
Price: Free (Pay for Premium features)
Rating: N/A
#9 – Zwift
Best for Indoor Training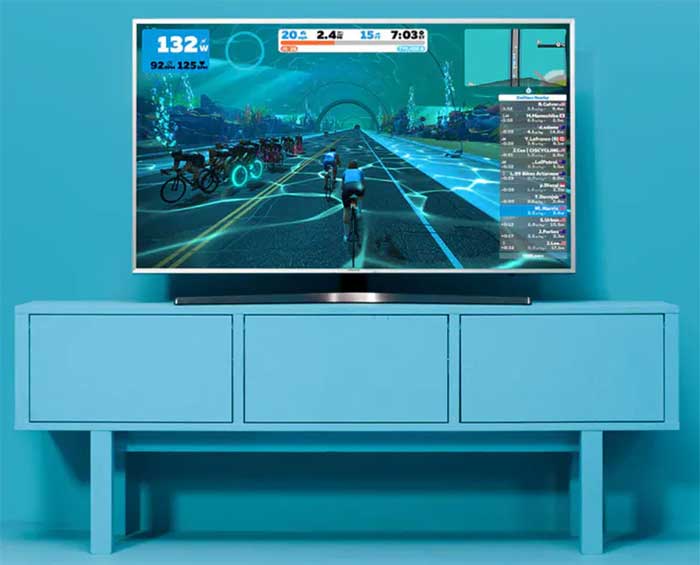 Zwift is an indoor cycling app that allows you to connect your indoor trainer and enter the competitive world of Zwift — Watopia.
See our full review of Zwift
Zwift basically blends the fun of video games with serious cycling training, making it more bearable to train inside when the weather outside is bad.
Apart from encouraging social interaction in the virtual world, Zwift is also a training app as it comes with workouts and training plans that you can follow.
To use Zwift, you should first invest in a good-quality indoor trainer and a power meter/speed and cadence sensor with ANT+ or BLE connectivity.
Best of all, you'll be riding on real cycling routes that have been digitized, so you can try out famous climbs such as Alpe d'Huez, Passo Dello Stelvio, Muro di Sormano, and so on.
Who should install: Riders struggling with motivation to train indoors.
Price: $14.99 per month
Rating: 4.6/5, 3.6K Ratings (Apple); 4.5/5, 5.2K Ratings (Google)
#10 – Ride with GPS
Great for Planning Routes and Worldwide Adventures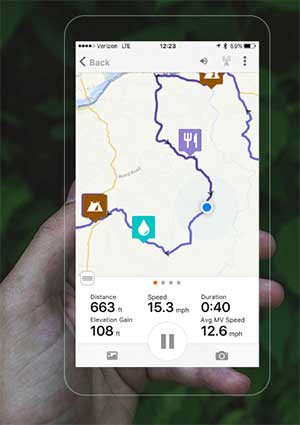 Ride with GPS is one of the best apps for planning new routes and adventures and then tracking them online or offline. That makes it extremely useful if you're, for example, going on a bikepacking trip and you're going to be in the wild.
The data this app provides includes route details, elevation, and all other standard ride metrics. A feature many like is that you can zoom in on your route and see where the biggest climbs are, to prepare yourself mentally and physically.
Ride with GPS also lets you share your rides in real-time and it can read aloud any comments your friends make to motivate you when the going gets tough.
Who should install: Cyclists who need advanced route planning features online and offline.
Price: Free / Basic $6 a month / Premium $10 a month
Rating: 4.7/5, 3.9K Ratings (Apple); 4.4/5, 8.1K Ratings (Google)
#11 – Wahoo Fitness
Fitness Tracking App with the Best Connectivity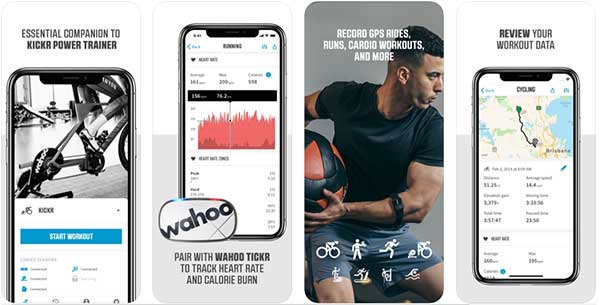 At first glance, Wahoo Fitness is just another fitness tracking app that will record your rides and show you distance, time, speed, elevation, and other important data.
While that is true, it's also true that Wahoo Fitness offers a lot more than that. Its interface is completely customizable, so you can choose which metrics are most important to you and see those first.
The app's biggest selling point (even though it's free) is that it works really well with other apps and sensors. Therefore, if you have Bluetooth sensors such as speed sensors, progressive power meters, heart rate monitors, and such, Wahoo Fitness will easily connect to them.
If you have an ANT+ device, you can get a Wahoo Key Plugin and pair it with those as well.
Moreover, Wahoo Fitness is also compatible with Strava, TrainingPeaks, and MyFitnessPal, so you can share your rides there as well.
Who should install: Riders with Bluetooth and ANT+ sensors who need a reliable fitness tracker.
Price: Free
Rating: 4.6/5, 17.9K Ratings (Apple); 4.3/5, 13.7K Ratings (Google)
#12 – Cyclemap
Best for Finding Bike Paths

Cyclemap is a simple and light app that does a very important job. You can use it to plan cycling routes with a preference for low-intensity roads and bicycle paths.
If you're tired of being honked at by motorists and worrying about traffic, this is the right app for you.
Apart from suggesting the route you should take from point A to point B, Cyclemap will also give you turn-by-turn instructions, show you the elevation profile of your route, as well as keep track of your distance, speed, elevation gain, and so on.
Cyclemap also lets you create complex routes with multiple waypoints. Plus, once you've completed a route, you can save it and ride it again in the future.
Who should install: Cyclists who prefer low-intensity roads and bicycle paths.
Price: Free (Premium $9.99)
Rating: 3.9/5, 90 Ratings (Apple); 4.3/5, 10.6K Ratings (Google)
#13 – Viewranger
Best for Planning Mountain Biking Routes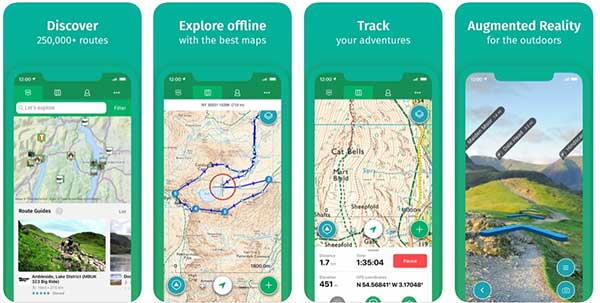 If you're a mountain biker and you need a dependable app to plan off-road routes and share them with your friends and other cyclists, Viewranger should be your go-to choice.
You can download it for free and gain access to an OpenCycle map of the entire world that's jam-packed with fun routes that you can use. You can also map your own routes and share them with the community.
If you're willing to pay some money, you can get large-scale topographical maps that are stored on your phone, so you can use them even when you don't have service.
A nice feature we especially like is called "Skyline VR" which shows you the names of the peaks around you by using your GPS position and phone camera.
Live tracking is available as well, but you need to have service at all times for it to work properly, which is often a problem when you go off the beaten path.
Who should install: Mountain bikers and hikers who want advanced route planning features.
Available for: iOS, Android
Price: Free (In-app products: $0.99 – $249.99 per item)
Rating: 4.5/5, 1.2K Ratings (Apple); 4.3/5, 41.4K Ratings (Google)
#14 – Maps.me
Best for Planning and Tracking Routes Offline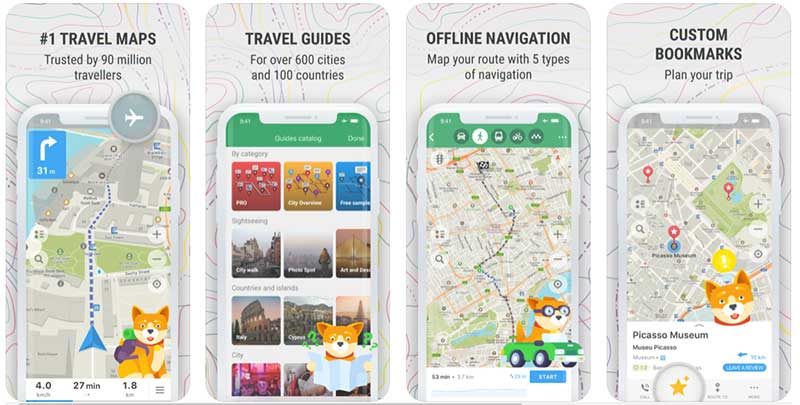 Maps.me is one of our favorite apps on the list, even though it is not strictly cycling-specific. Instead of relying on 3G/4G signal, Maps.me lets you download map data for entire regions and countries on your phone and then use them while you're offline.
What we especially like is that there's an option to select cycling as your preferred mode of transportation and the app will create a route for you that prioritizes bike paths and low-intensity roads.
Maps.me is ideal for multi-day trips in countries where you can't use mobile data because of roaming or in areas with poor connections where you will not have service.
The maps are VERY detailed and include even the smallest roads and paths that are often not shown even on Google Maps.
You can use this app even if you're traveling by car, hiking, or exploring an area or a city on foot. With 3G/4G data on, you also get information about nearby restaurants, landmarks, cafes, hotels, hostels, supermarkets, and so on.
Who should install: Cyclists who need detailed offline route planning and tracking.
Available for: iOS, Android
Price: Free (Pay to remove ads)
Rating: 4.8/5, 16.6K Ratings (Apple); 4.5/5, 1.16M Ratings (Google)
#15 – Trailforks
Best for Exploring New MTB Trails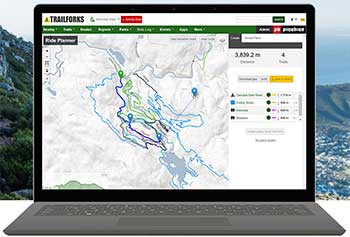 If you're an avid mountain biker and you love exploring new trails and routes, Trailforks will help you stay on the right track and avoid getting lost.
Trailforks has more than 160,000 trails everywhere in the world, mapped by crowd-sourced information. You can use those maps for free and you can add your own routes to contribute to the community.
To find new routes, just hover over an area of interest and click "Discover." The app will then show you all mapped trails, along with the skill level you need to ride them.
Apart from routes, Trailforks offers additional features such as live tracking, condition reports, and points of interest. You can also view photos and videos that other riders have made along the trail.
Trailforks can also be used offline by downloading maps to your smartphone.
Who should install: Mountain bikers who love exploring new trails in unknown areas.
Price: Free
Rating: 4.3/5, 322 Ratings (Apple); 4.2/5, 2.5K Ratings (Google)
#16 – Map My Ride (by Under Armour)
Great for Tracking and Sharing Rides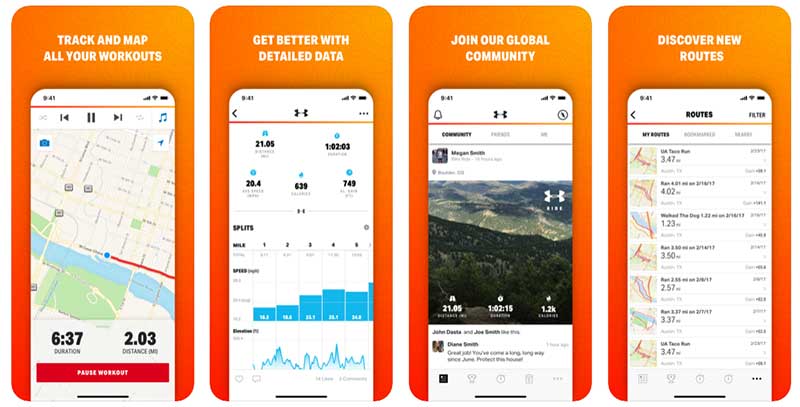 Map My Ride is one of the oldest activity trackers and it is still very popular. It is currently owned by Under Armour and offers a host of handy features.
In a sense, Map My Ride is very similar to Strava. You can use it to track your activity and record data such as route, speed, distance, elevation, and so on. You can then upload it to the Map My Ride site to analyze the data and share it with other riders.
Another similarity with Strava is that Map My Ride has "Courses," which are basically timed sections like Strava's "Segments" where you can try to set the fastest time.
The app can be used for free, but if you get the Premium version, you'll get rid of ads and get access to training plans, live tracking, and advanced routing.
Who should install: Anyone who wants to track their fitness activities, share them with friends, plan routes, and compete.
Price: Free (Premium: $5.99/month or $29.99/year)
Rating: 4.8/5, 162.6K Ratings (Apple); 4.6/5, 152.2K Ratings (Google)
#17 – MyFitnessPal
Best for Tracking Nutrition Goals

If you really want to reach your fitness goals and become a stronger and faster cyclist, keeping track of your nutrition is a must.
MyFitnessPal is an app that will make it easy and quick for you to track your eating habits. Its database contains more than 8 million entries, so it's highly unlikely you will not find some food that you are eating. Just scan packaged food to add it to your diet or search for fruits and vegetables in the database.
All of the food entries contain detailed macro- and micronutrient info, so you'll know if you're getting enough protein, vitamins, minerals, and other essentials.
If you're eating at a restaurant or you're making a complicated recipe, you can still track your nutrition. MyFitnessPal can analyze a recipe directly off of a website and give the low-down of the nutrients in it. Moreover, you can search for restaurants you're eating at and meals on their menus and MyFitnessPal will analyze the meals based on the ingredients the restaurant has shared.
You can also track progress through charts and graphs, add progress photos, create nutrition reports, and share all of that with your friends and family if you wish.
Who should install: Athletes who want to analyze and improve their nutrition and eating habits.
Price: Free (Premium: $9.99/month or $49.99/year)
Rating: 4.7/5, 1.1M Ratings (Apple); 4.5/5, 2.3M Ratings (Google)
#18 – Road ID
Best App for Safety and Emergencies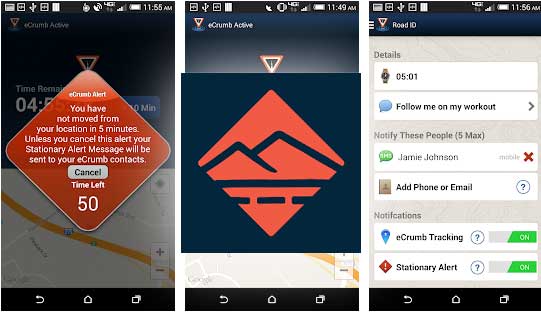 Unfortunately, cycling accidents sometimes happen, and when they do, it's better to be prepared.
Road ID is a very useful app that sends alerts to your emergency contacts in case something happens to you mid-ride with a Stationary Alert Notification.
You can also send your friends and family eCrumbs that will let them see your location while you're out on a ride, hike, walk, run, or any other adventure.
Road ID also lets you create a personalized lock screen that can include up to three emergency contacts, as well as information about allergies, blood type, medical conditions, and so on.
It's an app that you will hopefully never have to use, but it's better to have it than not, just in case.
Who should install: Fitness enthusiasts who want added safety on their adventures.
Price: Free
Rating: 3.6/5, 61 Ratings (Apple); 2.8/5, 701 Ratings (Google)
Looking for a way to reach your cycling goals? Take a look at our Cycling Workouts Guide.
What cycling apps do you use? Share your favorite apps with us in the comments, and let us know if we should include them on our list!