The Pro's Closet is the biggest online marketplace for used bikes and gear. It's the go-to place for cyclists who want to sell their old bikes and gear or buy certified pre-owned ones with the benefit of a guaranteed buy-back program.
Have you ever had to settle for a bike that was holding back your progress just because you couldn't stretch your budget enough to get a new one? I know I have. Your answer is probably 'yes' as well.
Buying used bikes online or locally is a shot in the dark if you don't know what you're doing, but that's not the case with The Pro's Closet.
The Pro's Closet is a website that purchases pre-owned bicycles and gear, inspects and certifies them, and puts them up for sale for reasonable prices.
Today I'll show you how you can sell or trade your bike at TPC and buy awesome pre-owned road, gravel, and MTB bicycles and cycling gear.
The Philosophy Behind The Pro's Closet
The Pro's Closet has been established around 10 years ago by Nick Martin, a former professional mountain bike racer who was struggling to make ends meet.
To earn some extra cash, he started selling his unwanted bike gear and helped his friends sell their bikes and gear on eBay as well.
That's where he got the idea to start The Pro's Closet. It's a company that aims to change the way cyclists buy and sell bikes, allowing them to upgrade their garage more often than ever before.

Today, they sell certified pre-owned bikes that have been inspected by professional technicians to make sure all of the items advertised for sale on the website are in pristine condition and ready to be used and abused.
Cyclists also get the benefit of an 18-month Guaranteed Buyback program that enables them to get a different bike year after year.
How to Sell Your Bike on The Pro's Closet
One difference that sets TPC apart from other used bike marketplaces is that they don't sell any old bikes.
If you want TPC to buy your bike from you, you need to make sure it meets the following criteria:
The bicycle must not be more than 5 years old.
Bicycle must have had a $1,500 minimal MSRP. 
Only performance road, gravel, and mountain bikes are taken into consideration.
Frames, wheels, and other components must be free of structural damage.
Bicycle suspension has to be less than 5 years old and in good working order.
Now that you've made sure that your bike meets these minimum requirements, you can head over to the Sell/Trade section and fill in the information that's required from you.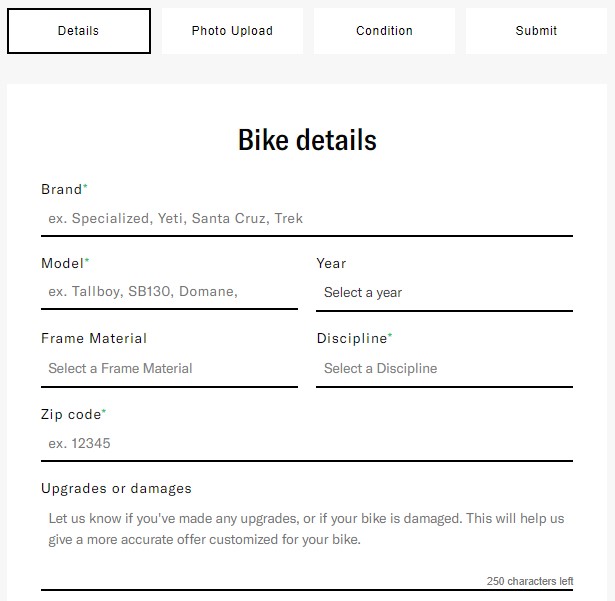 If The Pro's Closet likes the bike you want to sell, they'll offer you a quote that you can receive in one of three ways:
Store Credit
Trade-UP
Cash Offer
Store Credit can be used on TPC's website to buy another bike or spend it on gear. The Trade-Up option lets you buy a new bike from one of TPC's partners with the credit you receive from selling your old bike. Additionally, you can simply ask for cash and spend it in whatever way you want.
Certified Pre-Owned Guaranteed Buyback
The Certified Pre-Owned Guaranteed Buyback program is a unique offer designed by The Pro's Closet. It's made to help you experience riding more bikes and change your bike more often.
Basically, every bike you see posted up for sale on the website is Certified Pre-owned. That means that the bicycle has been inspected by professional technicians who scrutinized its condition, quality, and integrity.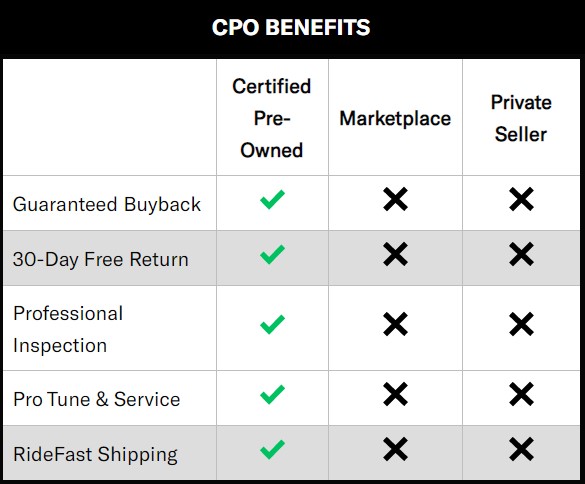 That allows The Pro's Closet to be confident that the bikes they sell are in pristine condition and that they still have a lot of life and miles in them.
As a result, TPC offers Guaranteed Buyback for any bike you buy from them. This system allows you to sell your bike back to TPC within 18 months from your purchase. The value of your bike is updated on a monthly basis until the offer expires.
You can choose to get store credit to spend toward another bike advertised on the website, or cash. However, the cash offer is 13% lower on average, according to TPC.
In order for your bicycle to be eligible for the CPO Guaranteed Buyback program, it must meet the following criteria:
The bike must not have sustained any structural damage.
Original paint and decals must be preserved.
Any upgrades and downgrades to the bike will be taken into account.
Keep in mind that the buyback value in your account is just an estimate. You'll receive the final offer only after your bike has been thoroughly inspected. All positive and negative factors have to be taken into account.
How Does TPC Inspect the Bikes?
Before putting it up for sale, every bike you see on The Pro's Closet has been inspected by professional technicians.
They go through a 141-Point Inspection list to make sure that the bike is free of structural damage or repairs and that it is in good cosmetic shape.
All bike parts are inspected individually (including the ones you don't see, such as brake fluid and cables), derailleurs, brakes, and wheels are tuned up and worn out parts are replaced with new ones.
After the technicians are done with the inspection and servicing, each bike receives a condition rating between 7 and 10, presented in an easy-to-read visual chart.
The reason why The Pro's Closet uses a 7-10 scale is that they do not sell bikes that rate 1 to 6. As we've mentioned before, TPC is only interested in performance road, gravel, and mountain bikes. The bikes shouldn't be older than 5 years old. They have to be in excellent overall condition.
The Pro's Closet Bikes
The Pro's Closet is the largest online pre-owned bike store in the world. It does not surprise then that the offer of complete bikes on their website is pretty impressive.
At the moment of writing this review, there was a total of 575 bicycles in one of the seven available categories:
Cyclocross bikes
Gravel Bikes
Mountain Bikes
Road Bikes
Triathlon Bikes
Track Bikes
Electric Bikes
These are priced from around $1,000 in the cheapest category to around $12,000 in the most expensive categories. Therefore, every type of rider can find a bike that suits their needs — beginners and pros included.
There's every kind of bike you could be looking for. It doesn't matter if you're aiming to ride recreationally or compete in Cat 1 races.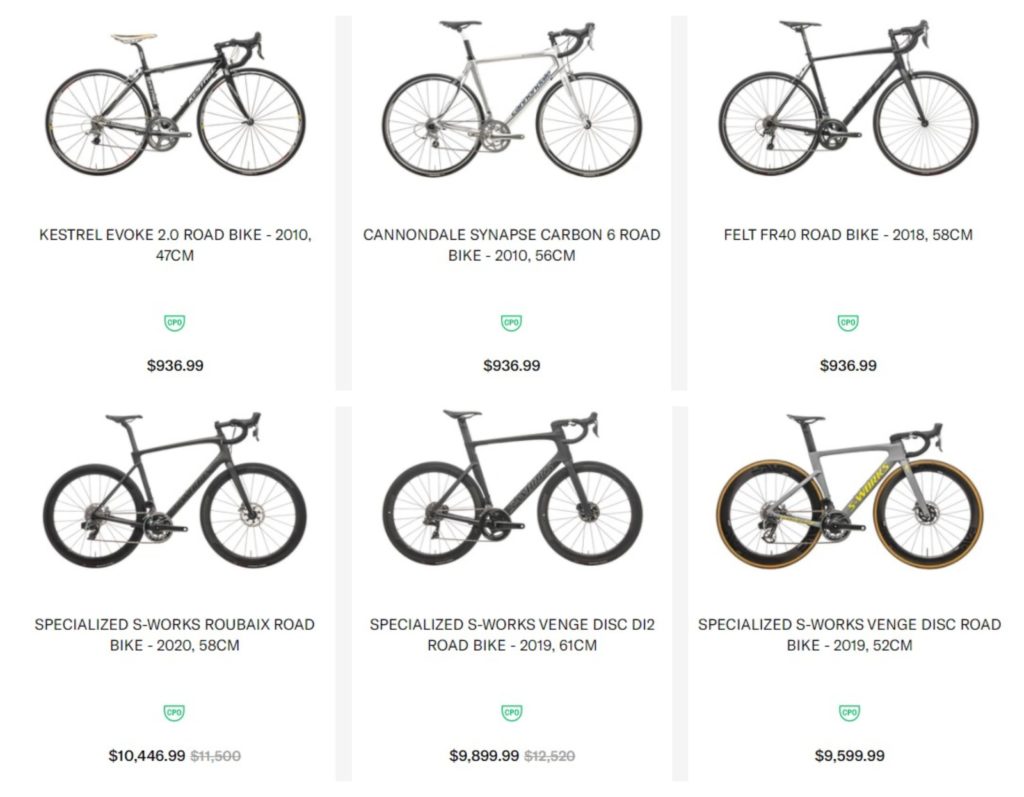 The Pro's Closet is not interested in Kids bikes, BMX bikes, cruisers, 26-inch mountain bikes, and other previous generation specs, which is why only performance road, gravel, and mountain bikes can be seen on the website.
If you want to find exactly what you're looking for more easily, you can use one of the numerous filters such as size, gender, brands, frame material, brake type, wheel size, and so on.
All bikes feature high-quality photos that depict the exact condition of the bike. Every single scratch is shown in a high-res image, so you'll know exactly what you're buying and what to expect.
Brands
The Pro's Closet sells bicycles and gear made by almost every performance-oriented cycling brand in the world. The list is pretty impressive with more than 165 brands you can choose from at the moment.
All of the most popular companies in the cycling industry are there, such as Santa Cruz, Cannondale, Zipp, Giant, Canyon, Rockshox, Orbea, Specialized, Bianchi, and so on.
Of course, the list of brands, just like the list of bikes, changes all the time as dozens of bikes are sold and put up for sale every day.
Other Categories in the Shop
In addition to complete bikes, The Pro's Closet also sells used frames, wheels, and all other types of components, accessories, and cycling gear you can think of.
TPC is a great resource if you want to upgrade your bike without spending hundreds of dollars.
You can scan the website for quality:
Frames
Wheels
Components
Accessories
Apparel
Same as with complete bikes, all cycling items are thoroughly inspected by TPC's technicians before being put up for sale.
For example, if you need a new drivetrain, you can rest assured that there's plenty of life left in the chainrings and the cassette you have your eyes on, even though they've been used by someone before.
The function and adjustability of suspension is also inspected by professionals before being advertised on the website. So far, I have seen no negative comments online about buying used gear from TPC on Reddit, bike forums, or similar sites.
However, if the item you purchased is not really what you've expected to get, you can always return it within 30 days and get a refund.
"In the Stand" Section
Haven't found something you like in The Pro's Closet Shop? Then check out "In the Stand" section, which is a selection of bikes that are still not up for sale but are coming soon.
You can browse the incoming inventory of bikes that are still in the rigorous service process. If you find something that you potentially like, you can click "Watch" and TPC will notify you when the bike becomes available.
Even though you've clicked "Watch", you're not obligated to buy it — you're still just window shopping. This lets you be the first one to get to the bike once it's in the store and avoid losing it to another faster cyclist.
Final Thoughts — Is TPC a Good Resource for Used Bikes?
If you're in the market for a used bike, there's no reason why you should not give The Pro's Closet a try. This is the biggest online store for pre-owned bikes in the world. They have one of the largest selection of products for sale.
Their prices are a bit steeper compared to eBay, Craigslist, and other online markets, but you should keep in mind that you get a bicycle that is inspected by professionals and is guaranteed to be in the best possible condition, ready to ride.

The only negative comments I've seen about TPC were from people who we're not happy with the quotes they received for the bikes and parts they wanted to sell. However, keep in mind that TPC needs to make money and the condition of those items is taken into consideration.
Overall, I love the idea behind The Pro's Closet and find it to be a valuable resource for cyclists who need a new bike but want to obtain it in an affordable and environmentally responsible way.
Related: All Bike Shops
FAQ