Though local bike shops are having a hard time reaching customers in the era of online shops, they are still an important part of the cycling ecosystem. The best bike shops, like the ones we'll show you below, will never go out of business.
We decided to make a list of the most popular bike shops to help you find a reliable place where you can ask for advice, meet likeminded people, and purchase quality bikes and cycling gear. To find out which criteria we used while making the list, you can read how we chose below.
Obviously, we can't include ALL of the bike shops we like, but we made a selection based on search volumes, cool factor, variety of bikes and gear, quality of brands, reputation, and so on.
So, without further ado, here are our favorite bicycle shops!
Most Popular Bike Shops
Most searched bike shops online
Below, you will see a list of bike shops that have done such a good job with branding that people are searching for them online quite a lot.
Brand: A brand is an identifying symbol, mark, logo, name, word, and/or sentence that companies use to distinguish their product from others. A combination of one or more of those elements can be utilized to create a brand identity.
It means that they've built their services and products like nobody else. I've seen tens, if not hundreds of bike shops in my life, and I can say there's a big difference between average and very good bicycle shops.
You can read what makes a good bike shop below if you want to know more.
1. Erik's Bike Shop
Location: USA (30 shops)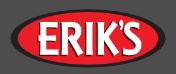 Since: 1977
Monthly searches: 26,000
Webpage: eriksbikeshop.com
Erik's bike shop is by far one of the biggest and most well-known brick and mortar bicycle shop in the USA. It was established back in 1977 by Erik, a 13-year-old kid who bought a bunch of used bikes, repaired them and sold them one by one.
Today, Erik's bike shop has 30 locations around the USA and employs more than 450 people. That's pretty impressive growth.
Erik's bike shop specializes in selling bicycles and cycling gear, but they also sell skiing and snowboarding gear, as well as skates and scooters. They offer services such as bike repair, bike sizing, bike fitting, and so on.
When it comes to bicycles, Erik's stocks all types of bikes you can think of — road, mountain, hybrid, gravel, BMX, kids', electric, fat, and the list go on.
They partner with the biggest brands in the world, such as:
Bianchi
Santa Cruz
Pivot
Raleigh
Haro
In terms of cycling gear, writing out everything they offer would take too much time. Simply speaking, if you need it they have it.
If there's an Erik's bike shop near your location or you'll be driving by anytime soon, pay them a visit to update your gear or at least just to look around.
2. The Bike Shop
Location: Canada (3 shops)

Since: 1972
Monthly searches: 6,000
Webpage: thebikeshop.com
The second shop on our list is simply named "The Bike Shop". This is a popular location in Calgary, Alberta in Canada, as it has been around since 1972. Therefore, it is an integral part of the cycling community that has helped shape it.
The Bike Shop has three storefronts in Calgary, called North, Central, and South, all of which are nicely stocked with bikes, components, accessories, and apparel.
They offer ALL types of bicycles from brands such as Trek, Specialized, Cervelo, Giant, Rocky Mountain, Electra, and Liv.
Components, accessories, and apparel are all nicely organized into intuitive categories, so you'll find whatever you're looking for in the beat of an eye. You can order everything online, but do pay them a visit if you're in the area to experience the history and tradition.
One of the reasons why The Bike Shop has been around for so long is that they stand behind the products they sell. If you're not satisfied with your purchase, you can set up a return and negotiate a replacement or a refund. Moreover, they have free shipping in place for all areas of Canada for orders over $120.
3. Eddy's Bike Shop
Location: USA (4 shops)

Since: 1940
Monthly searches: 5,400
Webpage: eddys.com
Eddy's Bike Shop is by far one of the oldest shops on our list. They are based in Ohio, USA where they operate at four locations.
Eddy's is a cycling-oriented shop, meaning they don't sell gear and props for other outdoor sports. If you visit them, you can purchase bikes, apparel, parts, accessories, wheels, helmets, shoes, bike trailers, car racks, and a lot more.
When it comes to the bikes, they supply their store from brands like Trek, Specialized, Surly, All-City, Electra, Pinarello, Pivot, Ritchey, and a few others.
One of the reasons why they have been around for 80 years and still going strong is that they have possibly the best customer support and satisfaction policies.
For example, Eddy's Bike Shop does not ship bikes in order to ensure the best possible fit and riding experience. A few other services and features they offer include:
Price match guarantee
Returns and refunds
Preferred customer program: 10% OFF most accessories for one year after buying a new bike
Grow with Eddy's: Trade your child's old Eddy's bike for credit towards a new kids' bike
1 year free adjustments program for new bikes
So if you're in Ohio, you need a new bike or new cycling gear and you want the best possible service and expertise, Eddy's Bike Shop is probably where you should go.
4. Mr. Bike Shop
Location: USA (1 shop)

Since: N/A
Monthly searches: 2,900
Website: mrbikeshop.com/
The fixed gear culture boomed at the beginning of the previous decade, but it is still alive and well. The popularity of Mr. Bike Shop is a solid proof of that.
This is a brick and mortar bicycle shop located in Los Angeles, California, the mecca of new trends and free-spirited people.
Mr. Bike Shop specializes in selling track, fixie, and BMX bikes, but they have a few road bikes on offer as well. Basically, if you want to go fast and get the adrenaline going, they'll outfit you with the right tool for the job.
Apart from bikes, they also sell unique and colorful wheels, all types of bike parts and accessories, as well as scooters, which are getting more and more popular nowadays.
If you love fixie, track, and BMX bikes, you've definitely heard about some of the brands that Mr. Bike Shop stocks:
Uptown
Throne
Aventon
Poseidon
Elite Bikes
Cult Bikes
Contender Bikes
Mr. Bike Shop also accepts 7-day returns in case you're not satisfied with the product, as well as a 1-year warranty on all bicycle frames and forks they sell.
If you love doing tricks on BMX bikes or going fast along city boulevards, you might want to check out what they have.
5. Mike's Bike Shop
Location: USA (12 shops)


Since: 1964
Monthly searches: 2,400
Website: mikesbikes.com
Mike's Bike Shop is another very old bicycle shop, established back in 1964. It is believed that it is one of the first Schwinn shops in Marin County and one of the first shops in the country to sell mountain bikes back in the day.
Today, Mike's has 12 very successful stores around San Francisco, San Jose, and Sacramento. They only sell bikes and other cycling-related stuff, because that's what they know most about. They don't stock snowboards, kayaks, tents, and such.
If you need a high-end bike from a reputable brand, Mike's Bike Shop is probably a place you should stop by. You can find bicycles from companies like:
Specialized
BMC
Salsa Cycles
Electra
You can also browse their selection by categories, as they sell all types of road, gravel, adventure, MTB, fitness, comfort, folding, and even tandem bikes. Of course, components, accessories, and apparel are part of the deal as well.
Mike's Bike Shop also organizes frequent rides and events and provides repairs and services. If you're looking to save some money, check out the Clearance section of their website where the biggest discounts are.
6. Earl's Bike Shop
Location: USA (1 shop)

Since: 2010
Monthly searches: 1,600
Website: earlsbicycle.com
Earl's Bike Shop is a fairly new store located in Bellingham, Washington. The shop was established in 2010 and specializes in selling bicycles and cycling gear.
Earl's Bike Shop is a project started by Craig Earl and Stacy May, with the idea of becoming a local hub for cyclists who want to get a new bike or service and repair their existing bikes.
At the moment, they mainly stock road bikes, but other types are available as well, such as MTB, CX, commuter, cruisers, hybrids, etc.
When it comes to the brands you can find, the list has some pretty resounding names:
Apart from new bikes, Earl's Bike Shop also sells parts and accessories, but consignment bikes as well. That means you can advertise your used bike through them or buy a used bike that they've put up on their website.
They also have a professional service department that works on all bike types and brands, so you can keep your bike in mint condition with their help.
Finally, Earl's Bike Shop also has a Kid's Trade-In Program in place that lets you save when buying a new bike for your kid by trading in the old one bought at their shop.
7. Joe's Bike Shop
Location: USA (2 shops)

Since: N/A
Monthly searches: 1,300
Website: joesbikeshop.com
Who better to advise you about purchasing a new bike or servicing your old bicycle than a fellow cyclist and cycling enthusiast? That's who Joe is. He rides his bike and then works in his own bike shop.
Joe's Bike Shop is available in two locations in Baltimore, Maryland, so if you're in the area you can pay them a visit to purchase a bike, find some new accessories, or get help with maintenance.
Joe's does not stock just any bikes, they stock bicycles from some of the best brands in the world, such as Salsa, Trek, Pivot, Specialized, Surly, All-City, Seven, and others.
Unfortunately, you can't see their inventory online, so you'll have to visit the shop to see what they have on offer. While there, you can also get bike fitting services and repair services.
If you're a brand-new cyclist and you're still confused about what to do and what not to do, check out the "New Rider Resources" section on Joe's Bike Shop website where you can find interesting and helpful videos made on different topics by cyclists.
8. Powers Bike Shop
Location: USA (1 shop)

Since: 2004
Monthly searches: 1,300
Website: powersbmx.com
Is BMX your two-wheeler of choice? Then you'll love Powers Bike Shop. It's owned by a group of BMX enthusiasts and specializes in selling both freestyle and race bikes.
If you want to learn more about BMX bikes, they also have a museum within their store in Richmond, Virginia. Plus, the entire shop is actually supervised by a dog called Pedals Powers, who loves pets and treats.
Powers Bike Shop offers complete bikes from big BMX brands like Cult, DK, GT, Subrosa, Kink, We The People, Fit Bike Co., Mongoose, and a few others.
Apart from bikes, you can also shop for other BMX-related items, such as:
Freestyle parts
Race parts
Soft gear & accessories
Pre-owned bikes
Chad, the owner of Powers Bike Shop has raced BMX bikes for more than 15 years, so rest assured that you'll be in good hands if you ask for advice or recommendations when you visit the store.
9. Reno Bike Project
Location: USA (2 shops)

Since: 2006
Monthly searches: 1,300
Website: renobikeproject.org
How do you feel about buying a new bike or upgrading your gear and helping the local community at the same time? That's what the non-profit community bike shop Reno Bike Project allows you to do.
Reno Bike Project sells some affordable cruiser bikes and tricycles, as well as bike accessories. The offer is limited, but the proceeds from whatever you buy go toward their community projects.
According to their website, Reno Bike Project advocates "for a sustainable cycling community through education, collaboration, and accessibility for everyone in the Truckee Meadows."
Some of the main ways through which they try to better the local cycling community include:
Accessibility
Education
Events
Advocacy
Community
Flexibility
Reno Bike Project often organizes various programs and events where you can educate yourself about bicycles and maintenance, connect with like-minded people, or just ride bikes and have fun.
It's a unique organization on a noble mission, so help them out any way you can.
Online Outdoor Shops That Sell Bikes

Here are the most popular stores you can visit to buy bikes online. What makes them different from typical bike shops is the fact that they are mainly online oriented and sell different kinds of outdoor gear.
Still, they have an excellent offering of complete bikes, cycling parts, gear, accessories, and apparel as well.
1. REI
Other activities: Hiking, camping, climbing, paddling, running, snow sports, traveling, yoga.
Brands: Cannondale, Co-op Cycles, Salsa, Electra, GHOST, etc.
Website: rei.com
FULL REVIEW: Buying From REI
When it comes to online shopping for cycling equipment, REI is the go-to place for most cyclists in the USA. They are an outdoor-oriented store, selling equipment and gear for different types of outdoor activities, but a good chunk of that is intended for cycling.
Regarding complete bikes, there's an almost equal selection of road and mountain bikes, along with hybrid, electric, and specialty bicycles.
REI stocks popular brands such as Cannondale, Salsa, and GHOST, but they also have their own brand called Co-op Cycles, which produces entry-level and mid-range mountain and gravel bikes.
All types of spare parts, tools, accessories, gear, and cycling apparel from high-profile brands like SRAM, Shimano, RockShox, SR Suntour, etc. are available as well. Plus, you'll get free shipping for orders over $50, so it's a good idea to buy in bulk.
With the current covid-19 situation making it hard to visit physical shops, REI is a great solution that can quickly outfit you with whatever you need.
2. Jenson USA
Other activities: Hiking and camping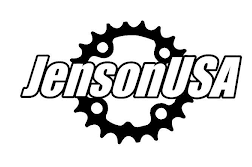 Brands: Ibis, Niner, Devinci, Santa Cruz, Orbea, etc.
Website: jensonusa.com
FULL REVIEW: Buying From JensonUSA
Jenson USA is our second pick, but it's almost equally as good as REI in terms of the selection of items that they have for sale.
Even though they sell some camping gear and a few items that can be used for both hiking and cycling (hydration packs, for example), Jenson USA is an almost exclusively cycling-oriented online store.
Jenson USA specializes in mountain and gravel riding, so you'll find dozens of mountain, gravel, and CX bikes in all price categories, intended for different purposes. You can find a few purebred road bikes as well, but they are scarce.
The majority of road bikes they sell are made by Colnago and Orbea, whereas the off-road bikes are sourced from Santa Cruz, Ibis, Devinci, Norco, Marin, Rocky Mountain, Yeti, and many others. For all orders over $60, you'll get free shipping.
An interesting product line that is specific for this online shop is Jenson USA Exclusive Builds. These are usually limited selections of custom-made bikes, designed and built by cycling specialists at Jenson USA, in collaboration with the biggest brands in the industry.
The result is bikes with handpicked parts that aim to meet the unique requirements a lot of customers have, but don't get met by traditionally built bicycles.
If you want to get a good idea of what Jenson USA offers and what other cyclists think about it, check out the Gear Stoke section of the website.
3. evo
Other activities: Ski, snowboard, wake, skate, surf, camp, etc.
Brands: Santa Cruz, Juliana, Marin, Yeti, Devinci, etc.
Website: evo.com
Evo is another outdoor-oriented online store that sells equipment and gear for a variety of sports and activities. If you want to spend more time outside and take up an outdoor hobby, you're likely to find all the props you need on evo.
When it comes to cycling, they only sell mountain, gravel, urban, commuter, and e-bikes. At the moment of writing this review, they have no road bikes on offer. It's clear that they specialize in off-road and MTB cycling.
Check out evo if you love mountain and gravel riding and you enjoy combining your cycling hobby with other outdoor sports.
It might be unnecessary to mention that, apart from complete bicycles, evo also offers a plentitude of components, accessories, tools, apparel, and other stuff cyclists will love.
Evo also offers free shipping for orders over $50 and lets you buy electronic gift cards for your friends and family if you don't know what to get them for holidays.
4. Competitive Cyclist
Other activities: None
Brands: Santa Cruz, Yeti, Pivot, Cervelo, Ibis, etc.
Website: competitivecyclist.com
Competitive Cyclist, as you might be able to guess from the name, is a cycling-only online shop. They sell EVERYTHING related to bicycles, plus they also have several interesting services worth exploring, such as the Bike Trade In program.
No matter what type of bicycles you prefer, you're likely to find what you're looking for at Competitive Cyclist, including MTB, Road, Gravel, Cyclocross, Triathlon, Fat, and other types of bikes.
However, if you don't find something you like, it's good to know Competitive Cyclist is one of the rare shops that let you build a custom bike from scratch. Start by choosing the frame and the groupset, and then tweak all other components to your liking.
If you have an old bicycle and you want to update your garage, you can trade it in on The Pro's Closet and get a discount when purchasing a new bike from Competitive Cyclist.
Also, CC offers free shipping on orders over $50 and accepts returns within 30 days of your shopping. Definitely give them a try if you're a hardcore cyclist and don't want to make compromises when buying your next dream bike.
5. GovVelo
Other Activities: Running
Brands: Marin, IZIP, Diamondback, Bianchi, etc.
Website: govvelo.com
GovVelo is an online bike shop with a wide variety of bikes on offer. In their range, there's something for both beginners, experts, and everyone who falls between the two.
What started off as militarycyclist.com, has grown into a successful online store by today. GovVelo currently sells bikes from 11 well-known bike brands, plus their range of components and gear is nearly endless.
6. The Pro's Closet
Other activities: None
Brands: Specialized, Cannondale, Cervelo, Giant, Pinarello, etc.
Website: theproscloset.com
The Pro's Closet is a unique website that lets you buy quality used bikes at very attractive prices. They advertise all types of bicycles from dozens of well-known and less-known brands.
Namely, if you have an old bike that's in good shape, you can sell it to The Pro's Closet, and they'll resell it on their website. But, they'll first make sure that it's mechanically pristine and that it's safe to be ridden.
If you're looking to buy a used bike, The Pro's Closet is one of the best resources for a variety of reasons. The descriptions of bikes on the website are very detailed and the images are high-quality.
All bicycles are given a rating on the condition and all faults, dents, and scratches are documented and described. Therefore, you know exactly what you're buying.
Apart from complete bikes, TPC also sells frames, wheels, components, accessories, and apparel, so you can get great deals on whatever you need to become a better cyclist.
7. Aventuron
Other activities: Camping, hiking, Overlanding, fly fishing, hunting, etc.
Brands: Cannondale, Salsa, Surly, Niner, All-City, etc.
Website: Aventuron.com
Aventuron is a smaller online outdoor shop compared to other stores we reviewed above, but they still have a more than decent selection of bicycles and cycling gear on offer.
Apart from cycling-related stuff, Aventuron also stocks camping, hiking, and fishing gear. So, if you like combining your cycling trips with camping and bushcraft, this is where you'll probably find everything you need.
If you're looking to buy a mountain bike, you're lucky because Aventuron has a large selection of hardtail and full-suspension bicycles from brands like Surly, Salsa, Cannondale, Pivot, Yeti, and so on.
There's also a rich offering of all-road and gravel bicycles that are mainly made by Salsa.
Apart from these, Aventuron also offers road, fat, touring, electric, cargo, city, track, and kids' bikes. However, the selection of these is limited compared to mountain bikes.
A few additional reasons why you should shop at Aventuron include:
Family business
Brick and mortar storefront in Sheboygan, WI
Lowest price guarantee
Free shipping over $100
8. Planet Cyclery
Other activities: None
Brands: Look, Cannondale, Early Rider, Felt, Museeuw
Website: PlanetCyclery.com
Planet Cyclery is a good resource for cyclists looking for all types of bikes. However, at the moment, possibly because of the coronavirus situation, the selection of bikes on their website is rather limited.
There are 20 complete bikes to choose from in total, mostly road bikes from Look and Cannondale. Hopefully, the situation will improve in 2023 when the production in Asia is expected to reach previous levels again.
The situation is a bit better when it comes to other cycling-related items such as wheels, tires, tubes, forks, groupsets, cockpits, and so on. Most items are in stock, so you should be able to find what you're looking for.
If you're visiting Planet Cyclery's website, it's worth checking out the Specials section as well, which is where you can find brand-new arrivals and get the biggest discounts on closeout items.
If you're in Bloomfield, Colorado you should also visit their physical store and get whatever you need without waiting for your items to arrive or paying for shipping.
9. Gravity Coalition
Other activities: Ski, snowboard, backcountry gear, trail running, skating, camping, etc.
Brands: Cannondale, Surly, Devinci, SE Bikes, Burley
Website: gravitycoalition.com
Last but not least on our list of the best online outdoor shops we'd like to recommend is Gravity Coalition — a small shop with big dreams and a phenomenal service.
They don't limit themselves to cycling, as they also sell equipment and gear for other outdoor sports such as skinning, snowboarding, running, camping, and so on.
When it comes to bikes, the selection is limited but the models on offer are very high-quality. You can mainly get mountain (hardtail and full sus) and gravel bikes, but there are a few BMX, touring, and e-bikes as well.
Components, accessories, tools, and cycling apparel are included on the website as well, and most items are in stock.
Gravity Coalition will give you free shipping on orders over $50 and you can also get a $10 discount on most items on the website with a special code you can get from them.
---
How Did We Choose?
We did our research and tried to find the best and coolest bike shops in the world. To do that, we looked at search volumes online (According to SemRush) and made this list. But we're not done yet and need your help.
If you know of any other good bike shops, kindly contact me and I'll add it to the list.
What Makes a Good Bike Shop?
In my opinion, the following factors are the ones that separate good bike shops from average bike shops. If you're a bicycle shop owner, keep these values in mind if you want to take your cycling business to another level.
Trust – Keeping promises towards customers is what builds trust and long-lasting relationships.
Time – Respect your customers' time. Tomorrow means tomorrow. Tomorrow afternoon is acceptable but the day after that isn't. It's always better to be one minute early than one minute late.
Brand – Building a brand takes a lot of resources and by that I mainly mean time. Invest whatever it takes to build a recognizable brand that stands out and that people recognize, recommend, and believe in.
Price – You get what you pay for is half right here. You can't expect good service at below-market prices. Good mechanics deserve to get good salaries. On the other hand, if there are always extra fees for "surprises" when customers get their bikes serviced, then these are not pleasant surprises. Yes, unpredictable things occur, but if these look like upselling, then it might ruin your reputation.
Availability – Location, opening times, and online shopping. A bike shop should be everywhere. More and more people like to do things online – be available online for those who want to book their maintenance appointment online or buy bikes and components from your shop while on their mobiles. Not to mention the fact that if you're not on Facebook, then you're losing lots of clients. The same happens when you close your doors at 5 PM.
FAQ