Pinarello is one of the most iconic cycling brands, manufacturing some of the most sought-after bikes in the world and winning numerous Grand Tour races with the world's best teams.
Part of Best Bike Brands
Pinarello is not the oldest Italian bike company, but it is certainly one of the most successful ones.
Its bold design innovations have shaped the industry as a whole and redefined what a racing bicycle should look like and how it should perform.
Ever since its beginnings, Pinarello has mostly focused on award-winning road race bikes. That hasn't changed to this day, though the company also offers a few TT, gravel, urban, and e-bikes as well.
Simply speaking, if you need a bike to win any race, Pinarello is a good place to start.
Begin here by learning more about the brand's history and its breathtaking range of bikes.
Pinarello's Rich Racing History
Pinarello was established in 1952 by Giovanni Pinarello who was an avid, yet semi-successful racer at the time.
Interestingly, the most iconic moment of his racing career was winning the Maglia Nera (Black Jersey) for placing last in the 34th Giro d'Italia.
Giovanni's team decided to replace him with a younger rider for the next Giro but paid him 100,000 lire in compensation, which was a small fortune at the time.
He decided to invest that money into a small bike shop and the rest is history. Pinarello started working with small teams and the company kept steadily growing. In 1975, it won its first Giro d'Italia and the first Tour de France win came in 1988.
The 1990s were the golden era of cycling for Pinarello, as its teams won every Tour de France from 1991 to 1997. Later on, a new era began when the company teamed up with team Sky/Ineos in 2010, winning seven additional Grand Tours since.
Road Competition
---
Pinarello's road competition bikes are lightweight, aerodynamic, and fast road bikes intended for racing. This range also includes TT, track, and cyclocross bikes. Some popular model series include Dogma, Prince, Paris, Gan, Bolide, Maat Italia, and Crossista.
Prince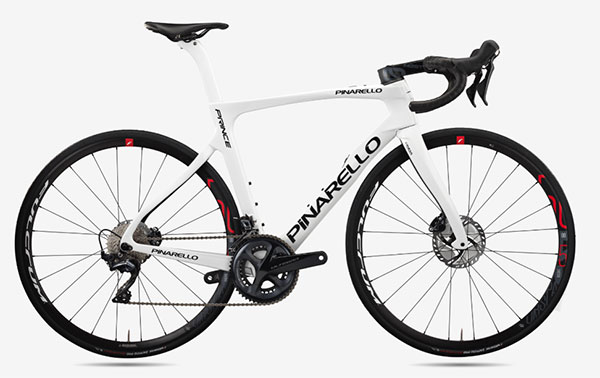 Pinarello Prince is advertised as an alternative to the brand's flagship Dogma models. Prince used to be the company's most premium model around two decades ago. It was then discontinued for a few years but reappeared again in 2018.
At first glance, Pinarello Prince looks almost the same as Dogma. However, this is a more budget-friendly race road bike with a lower-grade T700 carbon frame that's slightly heavier compared to Dogma's T1100.
Other than that, Prince shares a lot of technologies and design solutions with its pricier cousin.
It has an asymmetric frame, race geometry, ONDA fork, TiCR cable routing, and a FlatBack profile.
The aero profile of the tubing is enhanced by fully internal cable routing through the cockpit, fork, and frame.
At the moment, Pinarello offers this bike with an Ultegra or Ultegra Di2 groupset, available with rim or disc brakes. You can also choose between four color schemes and nine frame sizes.
Even though the company advertises this model as tame, don't be fooled into thinking that Prince is slow, boring, or sluggish. This is a fast and exciting aero race bike that's just slightly heavier than Dogma.
For more information, see our review of Pinarello Prince.
Bolide TR
Pinarello Bolide is a triathlete's dream bike. This beast is made from T700 carbon material and comes designed specifically to meet the needs of triathlon competitions.
The T700 carbon strikes the perfect balance between comfort and stiffness which makes it ideal for long efforts required by triathlon events. In addition to that, the frame has clearance for 28c tires, which will further improve comfort.
Pinarello's engineers also equipped it with object holders positioned in such a way as to maximize aerodynamic gains. The bike was tested in a wind tunnel to ensure aero dominance on the road.
Apart from these features, Bolide TR also boasts an Italian BB, race geometry, fork flaps, and a FlatBack profile. It also sports hydraulic disc brakes which are a must on a bike that's frighteningly fast.
Related: Different Types Of Road Bikes
This bike also has a concave downtube that further improves aerodynamics by keeping the rider's bidon out of the wind. It's a feature that's now available on all Bolide models.
In addition to Bolide TR, Pinarello also makes Bolide TR+ for Ironman athletes, Bolide TT for time trials, and Bolide HR for track hour record attempts.
Road Endurance
---
Road endurance bicycles are fast and lightweight and share a lot of features found on Pinarello's road competition models.
However, these bikes have a more upright geometry that prioritizes comfort for longer rides. The most popular models are called Paris and Gan.
Paris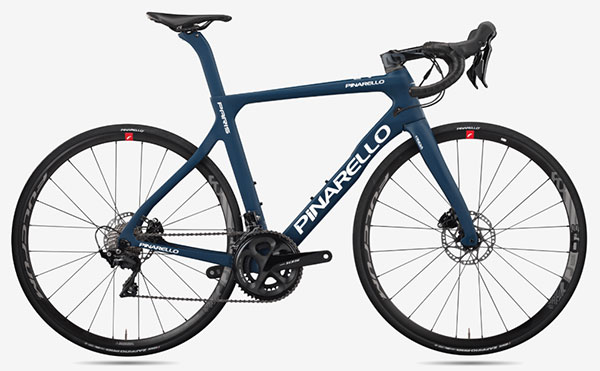 Pinarello Paris is a comfort-oriented endurance road bike with a racy temperament. It is the company's answer to riders who love spending long hours on the saddle without necessarily giving up speed to gain comfort.
The Paris frame is made with more budget-friendly T600 Toray unidirectional carbon fibers, which keeps the price down. However, this frame is still decently lightweight considering that it weighs 980g in 53cm size.
Paris features comfort-specific geometry thanks to conservative stack and reach measurements.
That does not stop it from abounding in aero features, such as the ONDA fork and flat tubing throughout.
As a true endurance road machine, Pinarello claims that Paris is compatible with up to 30mm wide tires. However, in reality, there seems to be a lot more clearance in the fork and the frame—42mm and 45mm, respectively. So there is definitely some room to play around.
Other modern features and technologies on Paris include an asymmetric frame, fork flaps, FlatBack tube shapes, and an Italian BB.
If endurance adventures are why you love cycling, Pinarello Paris will make you fall in love with bikes over and over again.
Gan
Pinarello Gan is an endurance road bike inspired by Dogma F8, which is clear once you take a closer look at the tube shapes. It offers the speed and attractiveness of a Dogma on a platform that ensures comfort on long rides.
Gan models are made with the T600 carbon which is slightly heavier than other types and lacks a bit of stiffness. However, it offers unprecedented comfort and is more resilient to damage if you happen to crash.
The main features that Gan inherited from Dogma F8 are the frame asymmetry, Onda fork, FlatBack tubing, and internal cable routing. In addition to that, this bike also boasts FlexStays at the rear and offers clearance for up to 25mm wide tires.
If you want to run wider tires, you'll have to opt for Gan K that can fit 28c tires, or go for the Paris endurance bike with even more clearance.
Pinarello Gan's only downside is that it comes only with 105 components. That wouldn't be such a big problem if the price wasn't so high. You'll also get MOST bars, stem, and saddle, as well as Fulcrum Racing 600 rims.
Didn't find the right bike? See our list of best road bike brands for more.
Gravel
---
Pinarello makes gravel bikes for competitions and for endurance purposes. Their race-oriented model is called Grevil and comes with several gravel-specific groupsets.
The endurance models feature electric motors and batteries, so they're ideal for recreational riders and commuters.
Grevil
Pinarello did not remain immune to the gravel craze that swept the cycling world. It probably didn't even want to. Instead, it entered the gravel world in grand style by introducing the Grevil bike.
Related: 8 Reasons Why Gravel Is the Hottest Trend in the Cycling World
Grevil boasts T700 Toray UD carbon that maintains performance and reactivity but maximizes comfort and vibration dampening. That's exactly what you want from a gravel race-ready bike.
This bike will accept both 700c and 650b wheels, with up to 42mm or 2.1″ wide tires, respectively. Pinarello's tagline for this model is "Full gas everywhere!" and such wide tires will definitely make this possible.
Grevil also comes with flat-mount disc brakes, 12mm thru-axles, and an asymmetrical frame design that maximizes tire clearance and power transfer. In true Pinarello style, this gravel grinder also gets you an Onda fork and FlatBack tubing.
In terms of components, this bike is available with Campagnolo Ekar, Shimano GRX, or SRAM Force and Force eTap AXS. Therefore, it's ready to take any challenge, recreational or competitive.
The only thing to consider regarding Grevil is its stiffness. The frame is aero and fast, which is excellent, but it might be too unforgiving on everything but hardpacked gravel routes.
Nytro Gravel and Grinta
If you love exploring scenic gravel roads but your legs usually suffer too much, then you'll be happy to know that Pinarello also makes electric gravel bikes.
Nytro Gravel and Grinta are the brand's two electric gravel grinders equipped with Fazua Evation mid-drive motors and batteries that are seamlessly integrated into the downtube.
The motor develops 250W of power and up to 55 Nm of torque, whereas the battery has a 250 Wh capacity. The system operates in three pedal-assist modes:
Breeze: Up to 100W of added power.
River: 210W of added power.
Rocket: All-out 250W of added power.
Nytro Gravel and Grinta are on a similar mission, but they are different bikes. The gravel model has a T700 carbon frame, whereas Grinta has an aluminum frame and carbon fork. Therefore, the latter is more suitable for budget-conscious riders.
However, both bikes have powerful disc brakes and 700C x 40mm tires. If that's not extreme enough for you, the Gravel model lets you fit 700c x 42mm or 650b x 2.1″ wide tires.
Even though these are e-bikes, they still offer Pinarello's recognizable sporty performance. They are fast, light, fun, and capable.
E-bikes
---
Pinarello's e-bikes allow you to ride these bikes the way they were designed to be ridden—full gas all the time! The e-bike range includes road, gravel, and urban bicycles. At the moment, there is one urban model, called the Urbanist, which is perfect for daily commutes and casual rides on the weekend.
Nytro Urbanist
Pinarello is best known for its race-worthy road bikes. There's no doubt about that. However, that's not the only discipline where this brand excels. The Nytro Urbanist is the perfect example of that.
This is an electric commuter bicycle that's perfect for day-to-day city riding or for weekend adventures. It's made around a durable and lightweight 6061 aluminum frame coupled with a stiff carbon fork.
Pinarello Urbanist is powered by the Fazua Evation Ride 50 motor and a 250Wh battery. They are perfectly integrated into the down tube and bottom bracket, so they are hard to spot at first glance. This drive unit offers three levels of pedal assistance that deliver between 100W and 250W of supplemental power.
The bike has an active geometry that will put you in a comfortable upright riding position, which will allow you to relax and enjoy the ride a bit more.
As a true city bike, Urbanist comes equipped with a heavy-duty rear rack and front and rear battery-powered lights. Therefore, you can easily carry all of your necessities and commute safely during the nighttime.
At the moment, this bike boasts an 11-spd Shimano Deore drivetrain, Deore disc brakes, thru-axles, and 40mm all-road tires.
Get it if you want to transform your city mobility!
Related: How Much Should I Pay For A Bike?
Dyodo
Pinarello Dyodo is an electric road bike that will help you finally experience the speeds at which the pros ride their Pinarellos. No matter if you're a cycling beginner, a seasoned rider, or you're dealing with an injury, Dyodo will help you keep up.
This electric marvel is made around a T700 Unidirectional Carbon frame with geometry and tubing inspired by the award-winning Dogma. Therefore, despite the electric drive unit, Dyodo still rides and feels like a Pinarello.
The 250W Ebikemotion motor offers three assist modes that you can control via a single button located on the top tube. The 250Wh battery is hidden inside the downtube and charges fully in just four hours.
However, Dyodo will ride like a fast road bike even if you run out of battery. Pinarello bejeweled it with a host of aero features, such as FlatBack tubes, Onda fork, fork flaps, and more.
In terms of components, this e-bike boasts a SRAM Force groupset, hydraulic disc brakes, Mavic Aksium Tubeless Disc wheels, and a MOST cockpit. Frame and fork clearance allows for up to 28c tires, so you can enjoy some comfort as well.
Get this state-of-the-art e-bike if you want to ride like a pro without training as hard.
Didn't find what you were looking for? Take a look at our review of Cervelo bikes.
FAQ
Our Thoughts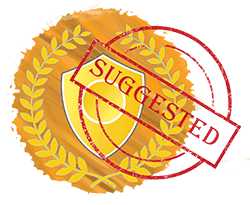 If you're on a mission to find the fastest, most efficient, and most technologically advanced road bike on the market, you can stop your search here and buy a Pinarello. The only potential problem is that you'll have to pay top dollar for it.
There's a good reason why so many world-class cyclists choose Pinarello bikes, including the Ineos Grenadiers—the claims that the company makes have been proven time and again in the real world.
That said, this might not be the best choice for a complete beginner. You can get more value in components elsewhere, without risking a crash on a higher-end bike.
But if you want to spend more time taking photos on podiums, we say go for it!