Fixie, single-speed, hybrid, beach cruiser, folding, city… Retrospec has it all. Read our detailed Retrospec Bikes Review to find out more about this modern budget brand!
Retrospec (Former name Critical Cycles) makes simple and affordable bikes anyone can enjoy. Because, as they put it, the outdoors is for everyone.
They are one of the leaders in the fixed/commuter bike category and the go-to choice for people who simply want to have a more active and healthy lifestyle.
Retrospec bikes are not necessarily about performance but more about the experience.
The company puts a lot of effort into comfort and style, so you're bound to get a bike that you'll love to spend time on.
We'll tell you more about the brand and its lineup in our Retrospec Bikes review below.
About Retrospec Bikes
Retrospec is a multi-sport brand launched in 2009 and based just outside of Los Angeles.
It specializes in manufacturing entry-level fixie, single-speed, and commuter bicycles, but serves other categories as well.
Retrospec's lineup also includes kids' bikes, beach cruisers, geared hybrids, e-bikes, and even folding bikes.
In addition to bicycles, the company also produces skates, paddles, alpine gear, and exercise accessories. Therefore, they are completely devoted to the outdoor lifestyle.
The company started with a small investment of $16,000 but quickly rose to the top by providing excellent value through direct-to-consumer shipping and a 50-day return policy.
Retrospec bikes are ideal for casual and leisure riders, joyriders, commuters, and even some fitness riders.
However, the best thing about the brand is the price range of the products.
Part of our Best Bicycle Brands write-up
Retrospec Single-Speed Bikes
---
Harper Fixie Bike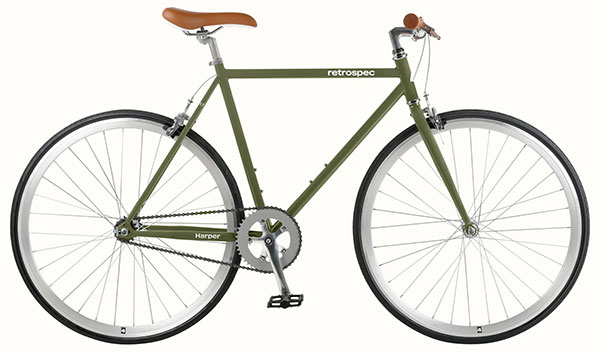 Flip-flop hub
Hand-built steel track frame
Kenda City Tires 700x28C
Retrospec Harper is a simple and stylish fixie bike built around a streamlined track-style steel frame.
It's available in as many as 11 color combinations, so it's easy to pick the one you'll fall in love with.
Harper is super-easy to maintain as it doesn't have any gears. Instead, it has a flip-flop hub that lets you ride it as a fixed or single-speed bike.
Related: Best Fixed Gear Bikes
You also get trusty front and rear rim brakes and 700 x 28c Kenda City tires that feel fast on smooth roads.
Retrospec Harper is ideal for riders who cherish the simplicity of a retro look.
Harper Coaster Single Speed Bike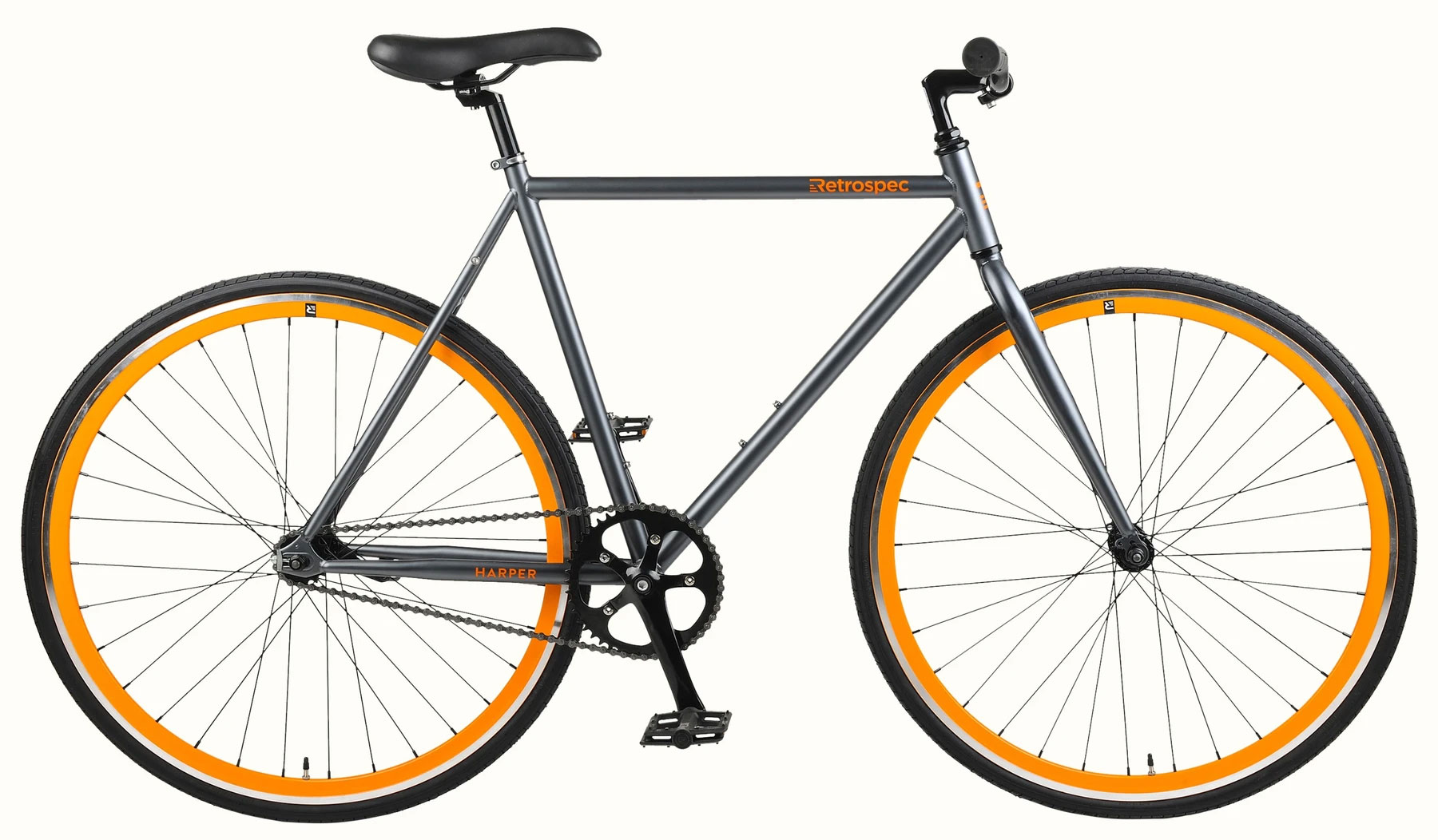 Single-speed drivetrain
Coaster brake
Kenda Tires 700x28C
Retrospec makes the Harper model in the single-speed-only variation as well. It's called the Harper Coaster.
See More: Best Single Speed Bikes
If you don't like fixies, you can get this version for less money, as it comes without a flip-flop hub.
However, what it does come with is a super practical and fun coaster brake.
You can have a blast skidding and remembering the good old days when you were a kid.
The track-style steel frame has room for two water bottles in the front triangle and comes with a narrow handlebar that's perfect for city riding.
Get it if you hate maintenance but love riding.
Retrospec Folding Bikes (Compact)
---
Judd Folding Bike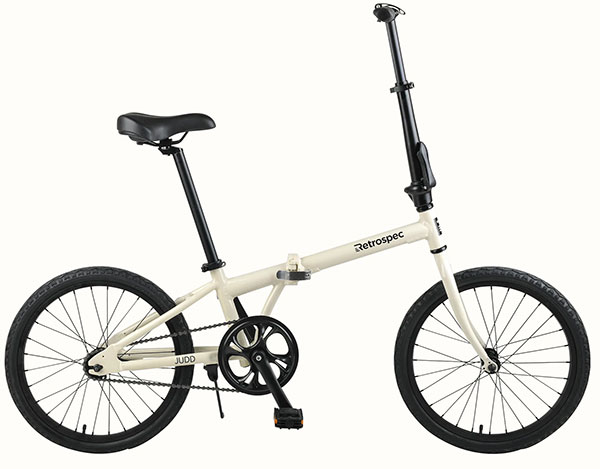 Lightweight folding frame
Coaster brake
Single-speed drivetrain
Do you want to cycle more but you don't have enough room to store a bike at home?
Then the Retrospec Judd folding bike is the right choice for you.
Related: Best Folding Bikes
You can easily fold the frame in a small bundle of tubes to put it in a corner, in a car trunk, or take it on a train.
The bike rolls on tiny 20″ wheels with Kenda Kwest Commuter tires and has a fun coaster brake.
The single-speed drivetrain requires almost zero maintenance, apart from cleaning and lubricating the chain from time to time.
Surprisingly, despite its small size, Retrospec Judd has a 250 lbs. weight limit. It's a fast, fun, and zippy little bike to ride to work or around the city.
Retrospec Bikes Hybrids
---
Atlas Hybrid Bike
Step-through aluminum frame
21 gears
Front and rear rim brakes
Retrospec has turned building single-speed bikes into an art, but that's not all this brand is good at.
The Retrospec Atlas hybrid bike has 21 gears and a lightweight step-through aluminum frame.
It's equipped with entry-level Shimano Tourney derailleurs and rolls on multi-surface 700x35C tires.
Another big plus is the front and rear V-brakes, as they will stop you on a dime anytime.
The only downside is the fact that the only water bottle mounts are located under the downtube.
Therefore, they're a bit hard to reach.
Other than that, Retrospec Atlas is a phenomenal city hybrid bike that costs little and suits both male and female riders.
Mantra City Bike
Attractive 40mm deep-V section rims
7-speed drivetrain
700x32C all-season tires
If we could choose just one Retrospec bicycle based on looks, it would have to be the Mantra city bike.
This is a breathtakingly beautiful bike with 40mm deep-V section rims, an attractive finish, and all-season tires.
It's one of the best commuter city bikes for the money as it comes with a simple and durable steel frame and a 7-speed drivetrain.
Mantra features 700x32C tires that you can ride year-round, on smooth or bumpy roads.
In addition to that, it features powerful front and rear rim brakes, so you'll have plenty of stopping power any time.
You should buy it if you're looking for a sleek commuter bike that has everything you need and nothing you don't.
Barron Hybrid Bike
Relaxed upright geometry
21 speeds
Kickstand
The Retrospec Barron hybrid bike is built for hedonists whose only worry is comfort.
This bike comes with a lightweight aluminum frame that features an upright geometry that will reduce back strain and keep you relaxed.
On top of that, it features a front suspension fork and multi-surface Retrospec 700 x 38C tires that will make the ride so much smoother.
Barron's intended use is for commuting and everyday city riding.
It boasts a 21-speed drivetrain, front and rear V-brakes, and even a kickstand for quick stops.
We also love that it has a comfy saddle and you can fit it with two water bottles to spend a day out on the roads.
Retrospec Bikes Beach Cruisers
---
Chatham Beach Cruiser
Cruiser-style steel frame
Single-speed drivetrain
Relaxing upright geometry
Imagine this: a sunny day, the smell of the ocean, the sound of the waves and the seagulls, and you on a Chatham Beach Cruiser, just causally rolling along the beach.
Sounds good, right?
That's exactly what this bike is made for.
Plus, Retrospec makes both a step-over and a step-through model, so men and women can enjoy it alike.
The Chatham Beach Cruiser comes with a comfortable steel frame, upright cruising geometry, swept-back handlebars, and a single-speed drivetrain.
It also ensures a smooth ride with 26 x 2.125 comfort tires
When you want to stop and take a photo of the sunset, just use the coaster brake by pressing back on the pedals. There's no better way to spend a warm Sunday afternoon!
Sully Klunker Bike
BMX-inspired steel frame
Rear hand brake
Single-speed drivetrain
Retrospec Sully Klunker is a BMX-inspired bike built for adults! It's your childhood dream bike, but it comes with 26″ wheels and a more practical build.
Sully Klunker is made from hi-tensile steel, which is a strong, durable, and comfortable material.
It features a unicrown fork and BMX-style handlebars for upright riding.
You can slow down, stop, or skid with a Promax rear brake and enjoy riding even on imperfect asphalt thanks to Kenda K-Rad 26" multi-purpose tires.
The child in you deserves this bike!
Interested in more similar bikes? State Bicycle Co. has some Klunker styles available as well.
Retrospec City Bikes
---
Beaumont
7-speed drivetrain
Retro design
Fenders and a sturdy rear rack
The Beaumont city bike is one of the best-equipped models Retrospec makes.
Ride it to enjoy your commute to work and back home, carry a massive grocery haul, or just go outside more with friends.
This is a comfortable steel city bike that rolls on 700C wheels. Great looks are its main selling point, but that's not all it offers.
Beaumont comes with a versatile 7-speed drivetrain, front and rear rim brakes, and smooth 700 x 35C tires.
In addition to that, it also features front and rear fenders and a sturdy rear rack to carry stuff.
Cruise and commute in style on a modern city bike with the old-school-cool design.
Kinney City Bike
7-speed drivetrain
Front and rear rim brakes
All-season 700C x 32mm tires
Kinney is an affordable city bike that marries minimalism to modern aesthetics.
This is a comfortable city commuter with 7 speeds that will help you conquer tricky terrain and get to your destination in time.
It does not have any accessories, but you can easily fit it with fenders, a rear rack, and two water bottle cages.
However, what it does have are reliable front and rear hand brakes, as well as smooth-rolling 700C x 32mm all-season tires.
Retrospec Kinney is available in two colors, with leather-like saddle and grips that add to the overall positive impression.
Buy it to get from point A to point B or to enjoy the journey.
Venus City Bike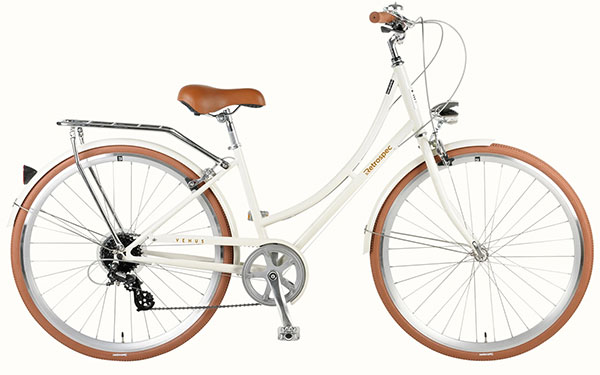 Step-through steel frame
Front and rear lights
Fenders and a rear rack
Retrospec Venus is a unisex city bike built for women or for men who want to discover their gentler side.
It comes with a step-through steel frame available in three attractive colors.
Therefore, it's easy to mount and dismount the bike and you can comfortably ride it in a skirt or shorts.
Moreover, the Venus city bike is equipped for all conditions.
It features a versatile 7-speed drivetrain, front and rear brakes, fenders, a rear rack, and even front and rear lights.
In addition to that, Venus is also built for comfort, thanks to wide 700c x 32mm tires and a soft saddle.
This model is ideal for commuting, taking your kids to school, or just riding more.
Retrospec Kids' bikes
---
Cricket Baby Walker Balance Bike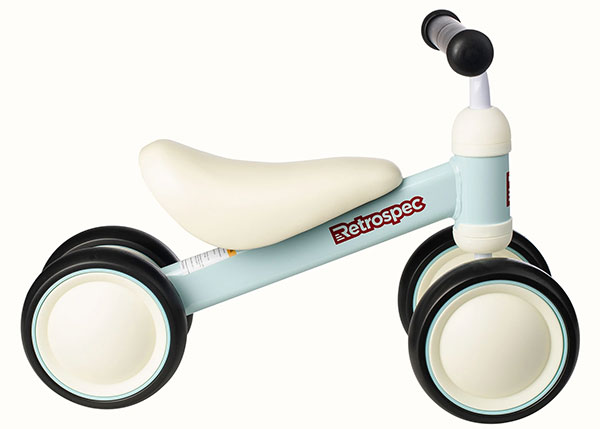 Lightweight construction
Rounded components ensure safety
Soft saddle and handlebars
Training wheels on kids' bikes are so 1990s. Balance bikes are a much better and more natural way for kids to learn how to ride.
The Retrospec Cricket Baby Walker is the perfect choice for your toddler.
It's available in lots of colors to choose from and suits boys and girls between 12 and 24 months young.
Plus, soft handlebars and a cushy seat keep your child safe at all times.
The bike is super-lightweight, so it's easy to control and maneuver.
If you want to make riding a bike fun for your toddler and teach them how to balance on two wheels in an intuitive way, we recommend the Retrospec Cricket.
Cub Kids' Balance Bike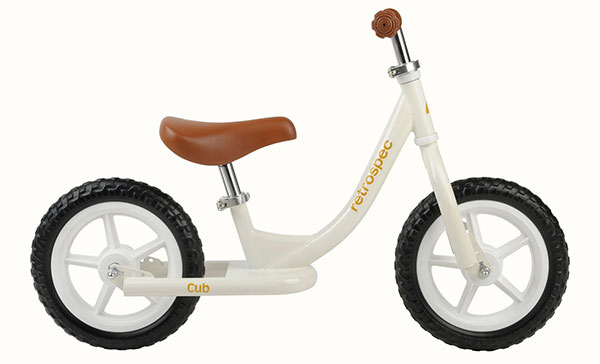 Grippy airless tires
Adjustable saddle and handlebar height
Low standover height
The earlier they start the better, but it's never too late to learn how to ride a bike.
Retrospec Cub is a balance bike made for 2-3-year-old kids who are ready to set off on their own adventures.
Related: Balance Bikes Explained
It rolls on knobby, airless, pop-resistant tires that provide both comfort and grip.
They roll with ease on different types of terrain, including concrete, grass, and dirt.
Retrospec Cub has no pedals or brakes. Your child will learn how to ride in a natural and intuitive way, by controlling the speed with their legs.
Also, the saddle and handlebar height is adjustable, so the bike grows with the child.
The Cub has all it needs to be your kids' favorite toy!
See More: Best Balance Bikes
Chatham 20″ Kids Beach Cruiser Bike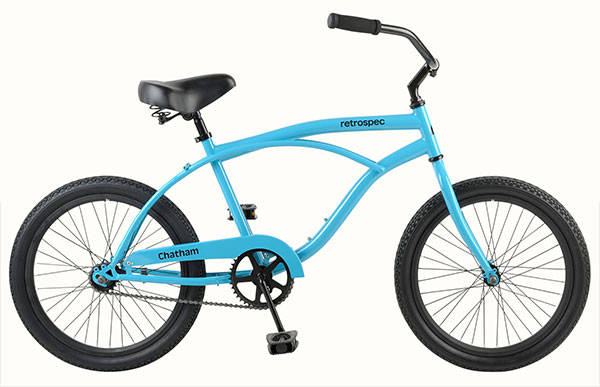 20″ wheels
Fun cruiser-style frame
Excellent comfort features
Are you looking for your kid's first real pedal bike? The memories we make on a bike as children are often the moments we remember for the rest of our life.
The Retrospec Chatham kids' beach cruiser is the perfect candidate for such an important task.
This funky cruiser kids' bike has 20″ wheels and a super simple single-speed drivetrain.
Related: Kids Bike Sizes – How to choose the Right One
It's really comfy thanks to a dual spring saddle, sweptback handlebars, and wide multi-surface tires.
Retrospec Chatham is perfect to go to the park, ride to school, or cruise around and explore the neighborhood.
It's available in six colors suitable for both boys and girls!
Retrospec Bikes Sizing
---
Retrospec offers a wide variety of bikes so the sizing differs from one category to another.
Typically, most models are available in either one, three, or five sizes.
On average, Retrospec bikes fit riders between 5 ft. and 6+ ft. tall, with some models going as far as 6'4″.
Step-through models are usually offered in just one size, and the same goes for specialty bikes, such as folding and BMX.
However, finding the right size is super easy since Retrospec provides a size chart for every model you consider.
Therefore, if you know your height and/or inseam length, you can quickly find the right fit.
Our Thoughts
---
In retrospect, Retrospec Bikes does a phenomenal job of catering to the needs of urban folks who want to commute or ride for fun.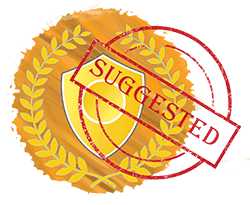 Through a little bit of magic and excellent logistics, Retrospec manages to pack loads of value on its bikes, sell them insanely cheap, and still be able to make a profit.
Beats us how they do it but we like it!
So if you want a simple, well-equipped, and good-looking bike that costs a trifle and is a blast to ride, you'll be hard-pressed to get a better deal somewhere else.
Looking for more comfort bikes? Take a look at our review of the Best Comfort Bikes