Nutcase helmets are bold, funky, colorful, and a bit nutty. These USA-made skater-style helmets are a piece of art intended for kids and adults. They will protect your head and make you stand out wherever you go.
One of the main reasons people avoid wearing helmets is that they believe they look dorky when they do so. This is true for adults and kids alike.
Nutcase, a company based in Portland, Oregon is determined to change that by making high-quality helmets that are fun and unique.
Michael Morrow, a former Creative Director at Nike and the founder of the company, works with artists to come up with helmet designs that are all but boring.
Learn more in our Nutcase Helmet review below.
A Quick Overview
Nutcase makes four main categories of helmets, intended for different age groups:
These are affordably priced skater-style helmets that come in different sizes and different designs.
Of course, safety is paramount, so all youth, toddler, and baby helmets feature MIPS technology that provides added protection from rotational impact when crashing. Adult helmets are available in two lines, with or without MIPS.
Overall, we love the concept and the idea behind Nutcase helmets, but there are a few points of improvement that should be pointed out as well.
| | |
| --- | --- |
| What we love | What can be better |
| Huge variety of colors and designs | Breathability can be better on some models |
| MIPS technology included on most models | Helmet shapes lack variety |
| Can be used for multiple sports | |
| Easy to fit and adjust | |
| Affordable prices | |
---
Nutcase Adult Helmets
Nutcase bicycle helmets for adults are available in two options — with or without MIPS technology. At the moment, the model w/ MIPS is priced at $80, whereas the one without MIPS costs $70, which is not a big price increase considering the improvement in safety.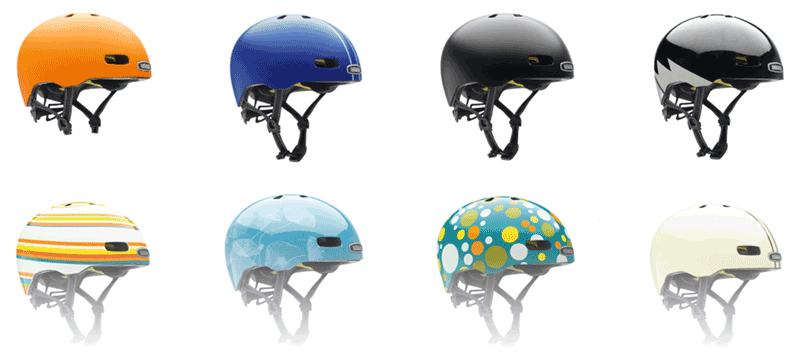 They're called Nutcase Street Helmets and both models are available in a plethora of unique colors and designs, so you'll easily find something that fits your style perfectly.
Both helmets are made using high-performing injection-molded ABS shell with EPS foam that has crumple zones to protect your head.
Adjusting the position of the helmet and securing it on the head is super-easy thanks to the Fidlock magnetic closure system and an adjustable dial on the rear. Three sets of foam pads are also included for an even more comfortable fit. Plus, Nutcase adult helmets are available in three sizes that fit small and big pumpkins:
S: 52cm – 56cm
M: 56cm – 60cm
L: 60cm – 64cm
The shape of these two types of Nutcase bike helmets differs slightly, but both are certified for cycling, scooting, and skating.
Nutcase Youth & Toddler Helmets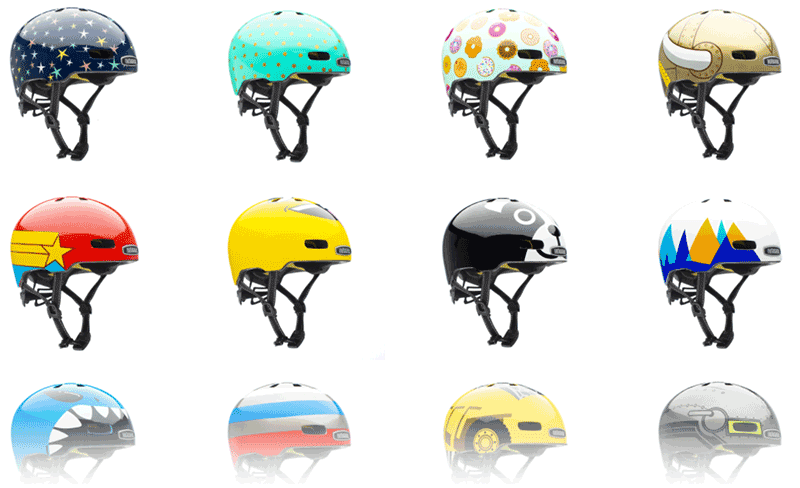 At first glance, Youth helmets and Toddler helmets look pretty much the same as the Adult line. Fittingly, they're called Nutcase Little Nutty helmets.
The shape of the helmet and the technology that goes into it to make it safe is completely the same. A few things that differ include the colors, the sizes, and the fact that all youth and toddler helmets feature MIPS. Kids' heads and brains are more delicate, so this is a crucial safety measure.
In total, your little cyclists and skaters can choose from 14 colorful designs at the moment, all of which are really fun and suitable for both boys and girls.
These Nutcase kids' helmets are made with injection-molded ABS shell and an engineered Crumple Zone EPS protective foam for maximum protection.
They feature a no-pinch/no-cry Fidlock magnetic closure, rear dial fit, and a 3-piece pad set.
Toddler models fit 48cm – 52cm heads, whereas Youth models fit 52cm – 56cm heads.
Happiness, smiles, and safety are all pretty much guaranteed!
Interested in more? See our top picks for kids' helmets.
Nutcase Baby Helmets

Thanks to balance bikes, even babies can cruise along on two wheels, but they have to do it in a safe manner as well. That's what the Nutcase Baby Nutty helmets are for.
These are fun helmets with MIPS technology that are engineered, tested, and certified for 1 year of age and older. At the moment, seven fun designs are available, featuring flowers, baby sharks, dinos, and more. Your baby will love them.
Of course, Nutcase baby helmets do not lack any safety features either. They are built with a lightweight polycarbonate shell that's lined with EPS foam, so the helmet is pretty light.
The magnetic Fidlock will eliminate unfortunate pinches and dramas, and the dual-fit system and 3-piece pad set make it easy to fit the Nutcase Baby Nutty helmet perfectly.
Cycling safety is non-negotiable, no matter the age, so it's a good idea to get your kids a helmet they will be happy to wear.
Nutcase Sale Section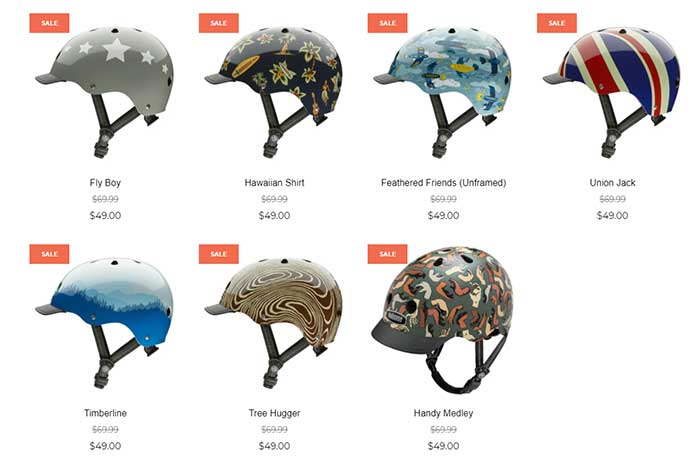 Nutcase bicycle helmets are pretty cheap, but if you want to save even more money, make sure to check out the Sale section on the official website.
This is where the best deals are shown. You might be able to save a decent amount of money if you visit at the right time.
Additionally, you can use this money to get some Nutcase accessories, such as a colorful bell, and make cycling even more fun for yourself or your children.
---
Are Nutcase Helmets Safe?
Nutcase helmets are 100% safe. Don't think that they lack in safety just because they overdeliver when it comes to design.
All Nutcase bike helmets have CPSC 16 CFR 1203 and ASTM F1492 certifications, which makes them suitable for multi-sport applications in cycling, scooting, and skating.
They're suitable for all age groups, from babies, through toddlers, to teens, and adults.
Where to Buy Nutcase Helmets?
Nutcase helmets can be bought directly from the company, on their official website, or on Amazon.
This is a safe and secure way to get a Nutcase helmet and purchase it for the best possible price.
The website is easy to navigate and is well-organized into sections, so you'll quickly find the perfect nutty helmet for you or your young rider/skater.
Final Verdict: You're Not Nuts If You Get a Nutcase Helmet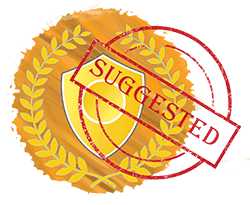 I'll wrap up this Nutcase helmets review by saying that you're not nuts if you get a Nutcase helmet… just a little nutty.
These are truly unique helmets that make cycling fun and exciting for adults and kids and take away the "boring component" of wearing a bike helmet.
If you're looking to buy a reasonably priced helmet, packed full of safety measures and modern technologies, such as MIPS, one of the Nutcase models will definitely put a smile on your face.