Wilier is one of the most successful Italian bicycle companies and one of the oldest bike manufacturers in the world. Read about its game-changing technologies, as well as racing, endurance, and leisure product lines.
Part of Best Bike Brands
There's something mesmerizing about Italian bicycles that's hard to explain. Is it tradition, design, passion, or attention to detail and high quality that make us obsess over them?
Whatever the reason, Wilier Triestina has been winning races and hearts of racers for almost 120 years with its fast, modern, and technologically advanced bicycles.
The company offers racing, endurance, and leisure bikes in road, MTB, TT, and gravel categories, including electric models.
If you want to find out more about the secrets behind Wilier's success and learn about its most popular models, we recommend reading the rest of our review below.
Overview of the Company

Wilier Triestina was established back in 1906 by a trader from Bassano called Pietro Dal Molin.
The name Wilier is actually an acronym for "W l'Italia liberata e redenta," where 'W' stands for 'Viva!'. The entire phrase translates to "Long live Italy, liberated and redeemed". Whereas the word 'Triestina' refers to the Italian city of Trieste, which is where the company was originally founded.
In 1947, Wilier partnered with cyclist Fiorenzo Magni who became an important name in the world of cycling by winning the Tour of Flanders and Giro d'Italia in 1948.
Sadly, the company had to close in 1952 due to a decrease in demand caused by the popularization of scooters and motorbikes.
The brand quickly became famous for its red copper-colored bicycles and started winning important races.
Wilier Triestina got a second chance in 1969 thanks to the Gastaldello brothers from Rossano Veneto. They bought the brand and decided to bring it back to its glory days.
The company's headquarters have stayed in Rossano Veneto to this day, where all of its bikes are developed and assembled before being shipped to cycling enthusiasts and professional racing teams around the world.
Wilier is best-known for its high-end carbon road bicycles, but also makes mountain, gravel, hybrid, triathlon, and electric bikes. Apart from carbon frames, Wilier offers a few aluminum and steel bikes as well.
Industry-Changing Technologies Developed by Wilier
Over its long existence, Wilier has pioneered or incorporated numerous technologies that gave its products an edge over the competition in top-level races and in retail stores.
Wilier's top priorities have always revolved around improvements in aerodynamics, stiffness, weight savings, integration, and the overall rider experience.
Some of the technologies that Wilier is best known for include:
Asymmetric Rear Arms: A design that modifies the drive-side chainstay to better facilitate the forces applied to it.
BB 386: An oversized bottom bracket designed in collaboration with FSA to improve stiffness and power transfer.
Monocoque Carbon Frames: Wilier makes some of the strongest, stiffest, and most responsive monocoque frames in the industry, called 46 Ton and 60 Ton.
Floating Shock Suspension: A suspension system in which the shock absorbers float between two links connecting the rear stays. This technology improves power transfer when pedaling and climbing, in or out of the saddle.
Integrated Fork and Cables: Wilier's top-tier road bicycles have an integrated fork design that improves aerodynamics, stiffness, and handling of the front end. All models also have integrated cables that reduce drag and achieve a streamlined appearance.
Wilier's high-end bikes, such as Filante SLR, Cento1NDR, or Cento10NDR, come at a premium because they incorporate all of these and many other technologies into the design.
The end result is breathtaking bicycles that meet and exceed the requirements of high-demand enthusiasts and top-level teams and athletes, such as Team Astana and Team Total Energies.
Overview of Wilier's Top Models
Even though the first thing that springs to mind when you hear the name Wilier is performance road bikes, this company is also famous for MTB, hybrid, gravel, triathlon, and electric bikes.
Wilier divides its lineup into three main categories:
However, the models in these three categories overlap, depending on how versatile they are.
The prices start with mid-range models that go for around $1,500 and go up to $15,000 for premium race-ready bikes.
Check out our overview of the most popular models below.
Filante SLR
Light, stiff, and aero carbon frame
Shimano, SRAM, or Campagnolo groupsets
Hydraulic disc brakes
Filante SLR is the crème de la crème of Wilier's offering. This is a high-performance race road bike made from the lightest and stiffest carbon available. It comes with top-shelf components made by Shimano, SRAM, and Campagnolo.
Some of the most mouthwatering features that characterize Wilier Filante SLR include aerodynamic properties, lightweight and responsive design, integrated handlebar, balanced design, thru-axles, and a lot more.
It's no surprise that this is the bike of choice for Astana Premier Tech and Total Direct Energie teams. It delivers an unprecedented stiffness-to-weight ratio and industry-leading aerodynamics.
Depending on your budget and preferences, you can get Filante SLR with one of 10 available build kits, including SRAM Force eTap AXS, Shimano Ultegra Di2 or Dura-Ace Di2, SRAM Red eTap AXS, Campagnolo Super Record EPS… you get the point.
The lowest-priced models come with aluminum wheels, whereas all other variants roll on lightweight carbon rims. On the other hand, all builds get hydraulic disc brakes, which have become a given feature on high-end road bikes.
Related: Different Types of Road Bikes
If you want to win races or see how it feels to ride the supercar of the bike world, get the Wilier Filante SLR… If you can spare $9,000 to $15,000 for a complete bike, that is.
GTR Team
Shimano 105 and Ultegra groupsets
46 Ton carbon monocoque frame and fork
Rim brakes
GTR Team is a race road bike with a price tag that's not out of reach of the common people. With a starting price of $2,200, it's suitable for beginners, recreational cyclists, and even amateur racers.
This bike is built around a 46 Ton carbon monocoque frame that comes with a brazed-on front derailleur holder and that's Di2/EPS-ready. It offers clearance for up to 28mm tires, which is usually the maximum width most roadies go for.
The combined weight of the frame and the fork is around 3.4lbs, which is as light as it gets in this price range.
Unlike Wilier's high-end models, GTR Team lets you choose between hydraulic disc brakes or good old rim brakes. You can also get this bike in two complete builds with Shimano 105 R7000 or Shimano Ultegra R8000 components.
Both builds have Shimano RS100 wheels that weigh around 4.3lbs, built with trickle-down components from some of Shimano's top-level road wheelsets.
The total weight of the bicycle is around 19lbs, which is decently lightweight. If you want to reduce the weight even more and improve GTR Team's climbing prowess, swapping the wheels would be your best bet.
Get it if you want an affordable superbike that you can ride for years as is or upgrade it in the future.
Montegrappa
Aluminum frame and carbon fork
Shimano Tiagra groupset
Endurance geometry
Montegrappa is one of Wilier's least expensive models, intended for endurance riding. It has a more relaxed geometry, so it's ideal for riders who are still learning the ropes of road cycling.
Its frame is made from double-butted 6061 aluminum, whereas the fork is made from monocoque carbon. This is a pretty usual combination for bikes that cost around $1,400. At 21lbs, Montegrappa is not a super-lightweight bike, but it's not heavy either.
Wilier Triestina offers this model only with Shimano Tiagra components and a 2×10 drivetrain. This is a workhorse groupset that is extremely resilient and price-efficient, yet offers smooth and precise performance.
The only downside is that the rear brake cable is not integrated into the frame but runs under the top tube, which means you'll feel it while lifting or carrying a bike.
Wilier Montegrappa also sports trusty Shimano R-312 rim brakes and Wilier's MRX-30 double-wall aluminum wheels.
The wheels are wrapped with Vittoria Zaffiro Pro 4 700 x 25mm tires, but there's enough clearance in the frameset for up to 28mm wide tires. That's perfect for endurance and leisure riders.
So if you don't want to spend a fortune to see what Wilier bikes stand for, Montegrappa is the perfect model for you.
Jaroon
Steel frame and carbon fork
1x and 2x drivetrains
Mounts for fenders and front/rear racks
When it comes to gravel riding, improving comfort is one of the main priorities. That's why the Wilier Jaroon gravel bike comes with a steel frame and all-carbon fork that provide excellent vibration dampening and stiffness.
Related: 8 Reasons Why Gravel Is the Hottest Trend in the Cycling World
The frame is available in three colorways, all of which are works of art. It also has front and rear thru-axles for better rigidity and a 27.2 mm diameter seat post for better comfort.
Another feature that's very important for gravel riding is tire width, so Wilier Jaroon has clearance for up to 700 x 42mm tires.
For maximum practicality, there are also fender mounts and mounts for front and rear racks, so you can use this bike to go on unforgettable bikepacking adventures.
When it comes to the components, Wilier Jaroon is available in two complete builds, with Shimano GRX 1x or 2x drivetrains. Therefore, you can choose the setup that suits your needs and style of riding better.
Of course, a gravel grinder would not be complete without disc brakes. Therefore, this bike sports a pair of GRX RX 400 brakes.
Get Wilier Jaroon if you want to ride scenic roads away from traffic and enjoy the crunch of gravel under the wheels.
110FX
Carbon frameset
Eight builds
100mm of travel
There's no doubt that Wilier has made a name for itself by producing race-ready, high-performance road bikes. But its mountain bikes are hugely successful as well.
The 110FX is the lightest full-suspension carbon cross-country bike that Wilier has ever made. It's a bike used by top-level athletes to win championships and dominate podiums.
Built around the 60 Ton carbon monocoque frame that weighs just 3.7lbs, 110FX is light, agile, and fast both on straights and on tough climbs.
The rear boost hub is increased to 148mm, which makes the rear end a lot stiffer. This also increases the clearance, so you can fit up to 29″ x 2.3″ tires between the rear stays.
Wilier 110FX has 100mm of travel with different levels of Fox and RockShox suspension, depending on the build you choose.
Wilier offers this bike in eight complete builds with Shimano XT or SRAM GX AXS groupsets with prices between $3,900 and $5,500.
Related: Best Mountain Bikes
Therefore, Wilier 110FX is a no-brainer if you wish to do XC racing or love riding hardpacked singletracks with lots of climbing and fast straights.
e903TRN Pro
Shimano EP8 motor and 630Wh battery
Shimano XT 1×12 drivetrain
150mm of travel w/ RockShox suspension
Electric bicycles are taking the world by storm, so Wilier has jumped on the e-bandwagon as well. Even though e903TRN Pro sounds like the name of one of Elon Musk's children, it's actually a rowdy full-suspension all-mountain bike.
Its double-butted aluminum frame packs 150mm of travel with a RockShox Revelation fork and Deluxe Select rear shock. As a result, you can easily conquer enduro and all-mountain routes consisting of technical descents, rooty sections, and rock gardens.
If you're struggling to keep up on climbs, Wilier e903TRN Pro will give you a much-needed push with a Shimano EP8 mid-drive motor with 85 Nm of torque and a 15.5mph top speed. The oversized battery has a 630 Wh capacity, which translates to hours of fun on trails.
Other bike parts include a Shimano Deore XT 8100 1×12 rear derailleur and powerful Shimano BR MT520 hydraulic disc brakes.
Wilier e903TRN Pro also features Shimano's sturdy MT620 aluminum wheels and massive Vittoria Zoma 29″ x 2.4″ tires. They'll give you all the grip you need whatever the surface.
In simple terms, this is an electric mountain bike that will take your adventures to the next level and make them last longer.
Cento1 Hybrid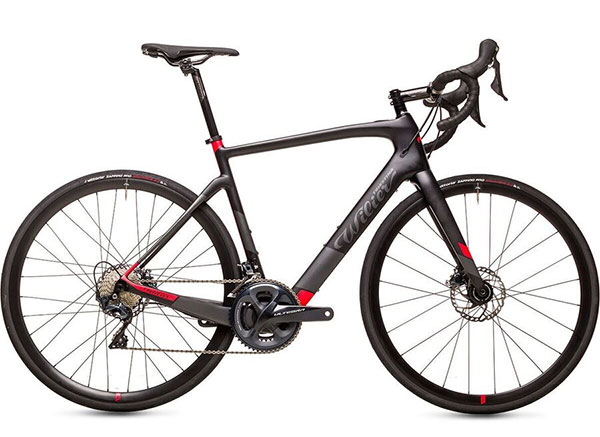 Up to 210W of additional power
Carbon 46 Ton frameset
Shimano 105 or Ultegra components
Wilier Cento1 Hybrid is a proper racing road bike with electric assistance. It will supplement your power and allow you to stay out on the road longer than ever before.
Related: Best Electric Road Bikes
Despite the electric motor and battery, this e-bike weighs just 26lbs, which is very impressive. This is possible thanks to the Mahle Ebikemotion X35+ rear hub motor that weighs just around 8lbs together with the battery, cables, and controller.
This system will give you up to 210W of extra power and help you reach and maintain speeds of a maximum of 15.5mph. The 250Wh battery is seamlessly integrated into the down tube and ensures hours of riding if you use low PAS levels.
Wilier Cento1 Hybrid is available with Shimano 105 or Ultegra components, packed on a carbon monocoque 46 Ton frame and fork. It also features powerful flat-mount hydraulic disc brakes, and one build even comes with Wilier's carbon wheels.
Even though this is an electric bicycle, riding it feels like being on a lightweight race road bike. That's because the PAS system only enhances your effort, rather than taking over completely.
Didn't find what you were looking for? Take a look at our reviews of Pinarello and Cervélo for similar road bikes.
FAQ
Wilier Triestina is one of the most successful bicycle companies in the world. It is renowned for making high-performance road race bikes, as well as high-end mountain, gravel, and electric bicycles. Wilier's bikes come at a premium, but they also pack top-shelf components.
Wilier manufactures its frames in Asia, which is what almost all manufacturers do. This way, they can offer lower prices and stay competitive. However, the complete bikes are then assembled in Wilier's factory in Rosseto Veneto, Italy. This is also where all new models are developed and engineered.
Wilier is an acronym for "W l'Italia liberata e redenta," where 'W' stands for 'Viva!'. The entire phrase translates to "Long live Italy, liberated and redeemed". The word 'Triestina' refers to the Italian city of Trieste, which is where the company was founded back in 1906.
Final Thoughts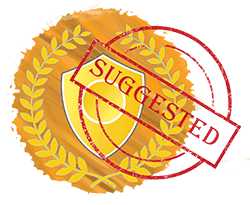 Wilier Triestina is a name that stands for a lot more than just a bundle of metal, plastic, and rubber rolling around on two wheels. It represents recognizable Italian design, racing history, and traditional cycling values.
Wilier's products are not the cheapest, but they're more accessible compared to some other Italian brands such as Colnago or Pinarello.
Therefore, they're a great choice for riders who want a high-quality Italian road bicycle but don't like paying the top-dollar price.
Also, depending on your needs, you can get a Wilier bike for as little as $1,400 or you can go all-in and spend upwards of $15,000.
Either way, with a Wilier, you'll get recognizable quality and design, a 5-year warranty, and all the bragging rights on group rides.