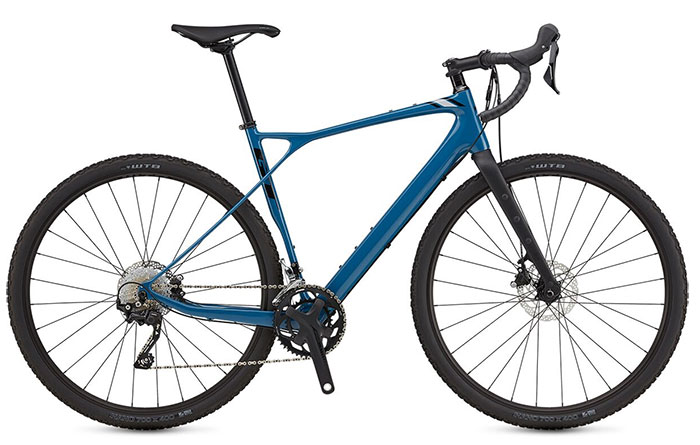 The GT Grade Carbon Elite is one of the best gravel bikes we've ever tried, without an eye-popping price tag. This build features some great components and even a better build, using lightweight carbon material and a few unique design features that make the GT Grade one of the lightest and most compliant gravel bikes on the market.
For a bike at this price range, the GT Grade offers a whole lot more than you might be expecting.
The carbon frame has more than one impressive design feature, some of which are exclusive to GT Grade frames.
If you're a beginner or experienced gravel rider looking for an upgrade, you've come to the right place.
In this GT Grade review, we're going to tell you everything you need to know about the GT Grade gravel bike and who it's designed for.
Main Specs
The GT Grade is truly a top-end bike. This ride comes with a list of high-end components that make it one of the best gravel bikes in the business, without a price tag that breaks the bank.
See More: Full Review of GT Bicycles
Frame: Grade Carbon
Fork: Grade Carbon
Drivetrain: Shimano GRX
Number of Gears: 10-speed, 11-34t cassette with 46/30t front chainrings
Brakes: Shimano GRX 400 Hydro Disc
Tires: WTB Nano TCS Light 700 x 40c
Perhaps the only letdown in this list is the WTB Nano tires. While these tires aren't bad by any stretch of the imagination, they struggle to match the top quality of the GT Grade Carbon frame, as well as its Shimano GRX components.
The GT Grade comes with 700 x 40c tires, but it is actually compatible with much more thanks to a unique frame design.
Frame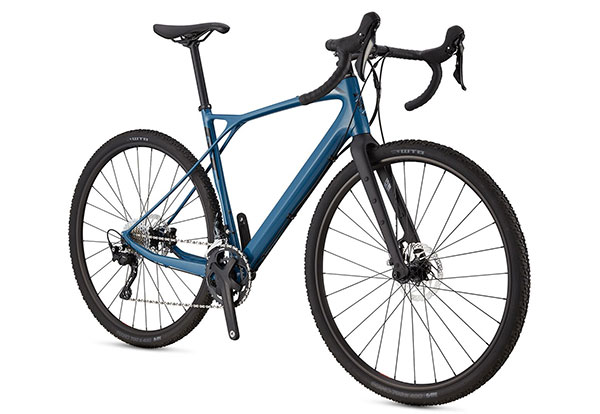 The Grade Carbon frame is designed to be both durable and light. It is capable of handling rough gravel roads and steep switchbacks, all in the same ride.
Under the saddle, you may notice the floating seat stay that looks both unique and intriguing.
The design is GT's own, and the floating seat stay is designed to increase compliance during your ride.
It is also designed to increase comfort and confidence over challenging terrain along with the GT Grade's Triple Triangle.
This is what separates the seat stays from the seat tube. The low-hanging seat stays completely free from the seat tube itself.
The feeling provided by the floating seat stays is like something you would find in a road bike's decoupler, but the solution here is much simpler, and it also saves a significant amount of weight.
Read More: Road Bikes vs Gravel Bikes — The Main Differences
In fact, the GT Grade is one of the lightest gravel bikes ever, with the entire frame weighing just 980g.
This, despite the fact that the floating seat stays are actually solid in construction, using DFD technology which combines glass fibers with carbon fibers.
This model of the GT Grade features somewhat aggressive frame geometry, with a head tube angle of 70.5 degrees (48-51 cm frame sizes) or 72.3 degrees (55-61 cm), a wheelbase of 105.5cm (58 cm), and a fork rake of 5.5 degrees across all frame sizes.
There is even additional tire clearance compared to previous GT models. It leaves plenty of space for extra-wide gravel tires and different wheel sizes.
What's the limit, you may ask? 42c tires for 700c wheels, and a mammoth 47c tires with 650b wheels. The GT Grade is ready to handle whatever adventure you throw at it.
Components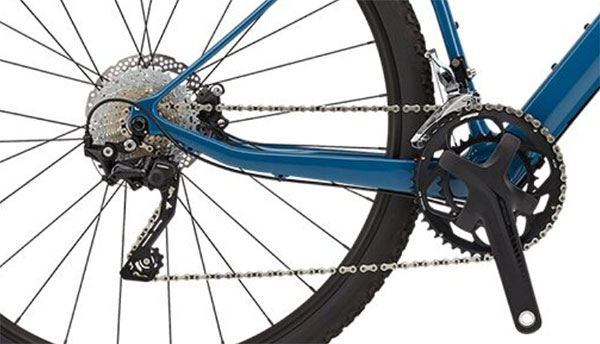 The GT Grade comes with Shimano GRX components, which is the gravel-specific set from Shimano. GRX is a mid-to-high range groupset that offers quick and precise shifting.
The Grade is set up with adventure-style gearing, which is a fairly wide gearing range with two front chainrings.
As for the shifters, a Shimano Tiagra controls the front derailleur, while a Shimano GRX RX400 takes care of shifting the rear derailleur.
On the GT Grade Carbon Elite is a 46/30t front chainring set, which will give you options for the fast tailwind sections, as well as the steep off-road climbs. The rear cassette is an 11-34t with a KMC X10, 10-speed chain. The smallest 11-tooth cog will keep you motoring, while the large 34-tooth cog will help you traverse steep switchbacks.
The Shimano GRX groupset continues onto the brakes with Shimano GRX 400 hydraulic disc brakes with 160mm RT30 Rotors which provide lots of stopping power for a gravel bike.
An FSA Omega Adventure crankset is a mid-level component that matches the level and feel of the rest of the bike.
Sizing
While the GT Gravel doesn't have its own specific sizing guide, GT does offer a few different guides for their hardtail mountain bikes, full-suspension mountain bikes, and road bikes.
This bike follows the GT Road Bikes size guide since the GT Grade closely resembles the shape and feel of a GT road bike. The GT Grade has a maximum rider weight limit of 280 lbs.
Frame sizes:
XS 48-50cm: 4'11-5'3"
S 52cm: 5'3"-5'7"
M 54-56cm: 5'7"-5'11"
L 58cm: 5'11"-6'2"
Other GT Grade Models
GT is one of the most diverse bike manufacturers in the world. They boast a wide range of models including electric bikes, BMX bikes, full-suspension mountain bikes, hardtails, road bikes, women's bikes, and kids' bikes. And then, of course, there is the GT Grade designed for gravel.
For the GT Grade, there are actually five different models to choose from, from low-end to high-end. The models are called Grade Elite, Grade Expert, Grade Carbon Elite (this bike), Grade Carbon Expert, and Grade Carbon Pro.
Grade Elite: the cheapest GT Grade costs just $1,200. It comes with a Grade Alloy frame, Shimano Claris components, and 700 x 37c WTB Riddler tires.
Grade Carbon Pro: at the high-end of the GT Grade range is the Carbon Pro which has the same Grade Carbon frame as the Carbon Elite. It includes upgraded shifters, an 11-speed Shimano XT cassette, and a Praxis M30 PressFit bottom bracket.
Final Verdict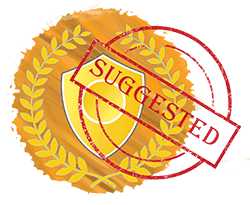 At this price point, it would be difficult to find a gravel bike with as many high-end components and design features as the GT Grade. You even get a full-carbon frame and carbon fiber fork, along with the Triple Triangle. This is a standout feature of this frame.
The floating seat stays and DFD tech make the GT Grade frame one of the lightest gravel bikes. It is also comfortable and compliant, with slightly aggressive geometry. The frame can take on super-wide tires and can fit either 700c or 650b wheels, making it a great all-rounder.
Its Shimano GRX components are a great finish on the GT Grade, providing quality shifting and braking, as well as plenty of gearing options. The FSA crankset is a mid-level buy that matches most bikes. None of this will add a huge amount to the price tag.
For beginner gravel riders, all-day adventurers, and elite gravel racers, the GT Grade could be the perfect fit.