Cycling sunglasses protect your eyes from harmful UV rays, debris, and the wind, and they also make you look good. But choosing the best cycling sunglasses is harder than you think.
Cycling sunglasses seem like a trivial matter that should not get as much attention as it gets. If you think that way as well, you might be wrong — they are pretty important.
While there's no need to spend hundreds of dollars on the latest pair of Oakley's just because Peter Sagan and Chris Froome are wearing them, a pair of specialized cycling sunglasses can go a long way.
A good pair will protect your eyes from the wind, debris, flies and bugs, as well as offer the necessary UV protection.
Moreover, well-designed bike sunglasses will divert sweat away from your eyes, which is a godsend on a scorching hot day.
Below, we'll tell you all you need to know about cycling sunglasses, guide you through the selection process, and share the 15 best cycling sunglasses out there, in our opinion!
Bicycle Guider TIP: Dear cyclists, use common sense! There's no need to chase after the latest cycling fashion trends. MAMIL (Middle-Aged Men In Lycra) with radical cycling trends seen on TdF just look funny. Such "fast" glasses don't make you faster nor do they have any practical use. Traditional sports sunglasses work pretty well. That's why we're showing you different types below.
Different Types of Bike Sunglasses and Lenses
The selection of sunglasses on the market is truly bewildering. There are hundreds of manufactures offering thousands of models, so how does one choose without the fear of missing out?
Generally speaking, the sunglasses in this article can be separated into two groups: Cycling-Specific Sunglasses and Traditional Sports Sunglasses.
Cycling-specific sunglasses feature an authentic look that's hard to ignore. They're usually massive, have huge lenses that cover half of your face, and more and more of them have a futuristic design.
Traditional sports sunglasses can be used across a variety of sports. If cycling is not the only sport you do, but you also like running, hiking, water sports, etc., they are a great choice. Even if you're just cycling, you won't be lacking in anything if you get a traditional pair.

In terms of lenses, we can differentiate between Double Lens Sunglasses and Shield-Lens Sunglasses.
The first type comes with two separate lenses, which offers less wind protection, but they're usually lighter and less prone to fogging.
On the other hand, shield lenses are massive and cover your entire field of vision. They offer excellent protection from the wind and debris, but they could feel more uncomfortable after hours of use.
Bike sunglasses and sports sunglasses in general also come with either interchangeable or fixed lenses. More and more manufacturers opt for the first option, which allows you to put different types of lenses, depending on the weather and the type of riding you're doing.
If you go for a pair with fixed lenses, you're basically stuck with just one type, which might only be suitable for riding in very sunny weather and not for riding when it's cloudy outside.
Prescription Cycling Glasses
If you have poor vision, riding without your prescription glasses is dangerous and, quite frankly, not very fun. Therefore, a lot of manufacturers nowadays offer prescription lenses that you can fit on your cycling sunglasses.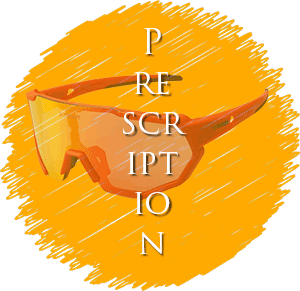 There are a few options that you can choose from here. You can either order original prescription lenses from the manufacturer that fit the frame of your bike sunglasses, or you can get a clip-on insert that sits behind your sunglass lenses and holds your prescription cycling glasses.
These come at a higher price, but they're worth it if you consider the alternatives — layering cycling sunglasses over your prescription cycling glasses or riding with contact lenses. Both options are dangerous and not very practical or comfortable.
What Are Photochromic Lenses?
Photochromic lenses are special lenses that change their tint depending on the external conditions. They become darker in bright sunlight and clear in cloudy weather or in the dark.
If you live in a part of the world with changing weather conditions, photochromic sunglasses for cycling are a great choice. They change their tint pretty quickly, so you'll get excellent visibility at all times.
Their only downside is the price and the range of tint. They're generally more expensive than traditional lenses and they don't provide you with the same level of "darkness" that most interchangeable lenses do.
What to Look for When Buying Cycling Sunglasses?
Buying bike glasses seems like a simple thing, but there are actually many different things you need to know about to get the best cycling sunglasses.
Some of the most important features and parts that you should be more knowledgeable about include the frame, arms, lenses, and the bridge.
Frame
The frame is one of the most important parts of any pair of cycling sunglasses. It will determine how well the sunglasses will fit you and how comfortable they feel in the long run.
The three main types of frames you will find on the market include full frame, half frame, and frameless. Each type has some distinct advantages and disadvantages, including weight, coverage, lens type, and so on.
The appearance is also an important factor for many riders, which is mostly influenced by the type of the frame. However, this should definitely not be your most important criterium.
Arms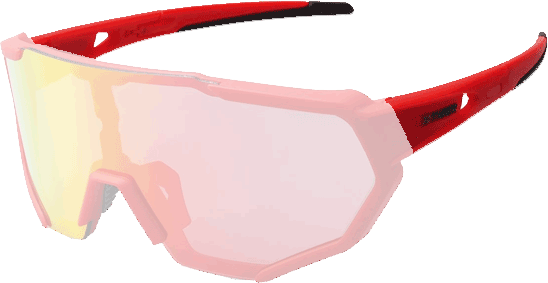 The arms of cycling sunglasses are the most fragile part, so you want to make sure they are built to last. Their shape is also important because it will influence the overall comfort significantly. That's why many manufacturers cover them with soft rubber inserts.
Look for a pair with stiff arms and solid hinges that will not become loose of fall apart after some use, but sit firmly on your head when sprinting and riding hard.
Lens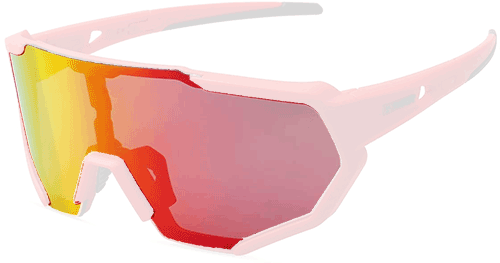 Lenses are obviously the most important part of bike sunglasses. There are many different types and shapes you can choose from, so make sure to find out what you need before you start shopping around.
Cycling sunglasses can come with either single or double lenses, which can be interchangeable or not. Moreover, they're clearer or darker by design, so figure out in what kind of weather you're usually riding. Alternately, get photochromic lenses suitable for a variety of conditions.
Other types of lenses you should consider are hydrophobic (repel water), oleophobic (smudge resistant), polarised (eliminate glare) and Prizm (Oakley cycling sunglasses that amplify clarity and improve the depth of field).
Bridge
Everyone's shape of the head and the nose is different, which is why you want bike glasses with an adjustable or interchangeable nose bridge. If the nose bridge does not fit you well, the glasses won't feel comfortable.
Moreover, if you get a pair of sunglasses with a very bulky frame, a bad nose bridge will affect your field of vision, which can become annoying or even dangerous at times.
Features
Apart from the most important features that we've mentioned above, there are other things that you should consider when looking for the best cycling sunglasses for yourself.
Ideally, the pair you buy should come with a hardcase that will offer protection when traveling and a soft microfiber cloth to keep the lenses clean. If you have poor vision, look for a pair of prescription cycling sunglasses or at least a pair that allows inserts
Having more than one lens included in the package is also a big plus because you won't need to buy separate pairs of bike sunglasses if you ride in summer and in winter.
What's the Difference Between Cheap and Expensive Cycling Sunglasses?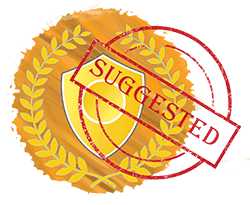 When it comes to cycling sunglasses (as well as other cycling gear), more money usually guarantees better quality and better features. Therefore, aim for the best sunglasses brands only.
Very cheap bike glasses are made with cheap and low-quality parts that break easily. The frame is often made from rigid plastic that's quite fragile. The anatomy of the frame is not always dialed correctly, so the glasses might feel uncomfortable after prolonged use.
Cheap lenses also go foggy more easily and smudge easily as well. Most of the time, they don't provide the same anti-glare properties, nor the same level of UV protection as more expensive ones.
If you go for a pricey model of cycling sunglasses, you can expect better materials and an overall better build. The frame will be made from a combination of durable plastic and rubber, designed to fit well and feel comfortable.
More expensive bike sunglasses usually also look a lot better and come with many useful extras such as interchangeable lenses, prescription lenses, a hard case, straps, and so on.
Related: Cycling Advice Section
Bicycle Guider TIP: There's no need to spend hundreds of dollars on a pair of cycling sunglasses unless you're a pro. However, it's also not wise to purchase the cheapest Chinese model you find online either. A mid-range model with quality materials and a few extra features will meet the requirements of most riders out there.
---
Cheap Picks
---
Suncloud Slant Polarized
Most Affordable Multi-Sport Pick
MSRP $20.73
Lens Type: Polarized
Suncloud Slant is a pair of traditional sports sunglasses that are perfect for cycling and any other sport you like. This is one of the cheapest models we've decided to show you, but don't let that fool you — The Suncloud's are packed with features.
The frame is made from Grilamid, which is a strong material used by the military. It is durable, extremely flexible, and it comes with nose and temple pads, so they're comfortable as well.
These glasses come with a spare pair of rose lens for low light. They are polarized cycling sunglasses that also provide 100% UV protection. Such lenses are seen on much more expensive glasses.
Suncloud Slant is available in two variations, with different frames and lenses, so it's suitable for sunny and cloudy weather.
X-Tiger Polarized
Best Cheap Multi-Lense Choice
MSRP Check on Amazon
Lens Type: Polarized, Multiple colors, 3 lenses in the package
X-Tiger is another pair of very affordable cycling-specific sunglasses that surprised us when we found out about them in a lot of positive ways.
First of all, the frame is made from TR90 nylon and weighs just 19.2g. You won't even feel it on your head. It looks really nice and has excellent impact resistance.
The lenses are high-quality as well. They're polarized cycling sunglasses and offer complete protection against the harmful UVA and UVB rays.
Best of all, the X-Tiger glasses are available in 12 different frame and lens color combinations. Every package contains one lens of your choice, one transparent, and one dark lens.
You'll also get a hard case, soft bag, microfiber cloth, polarized test card, and inner prescription cycling glasses frame. All of that for $27.
Neff Brodie Wrap Around Sport Sunglasses
Most Stylish Sunglasses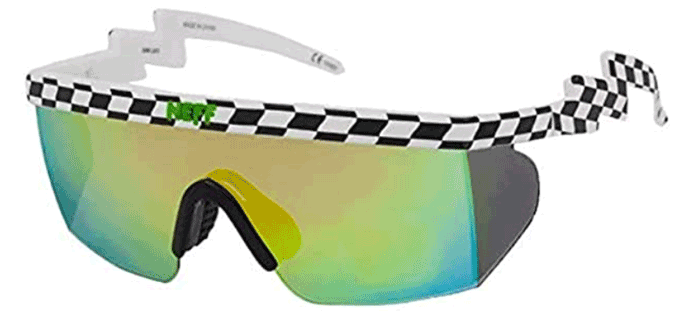 MSRP Check on Amazon
Lens Type: Interchangeable shatter-resistant polycarbonate lenses, 100% UVA/UVB protection,
Neff Brodie is one of the most stylish pair of sunglasses you can get. They're available in 11 unique designs and the most expensive one costs under $50.
The frame is made completely of durable and flexible plastic, so it will last for a long time even with daily use. The lenses are available in different colors, which makes them suitable for different types of weather.
What's best about these sunglasses is that they are fashionable enough to serve as your day-to-day shades as well, when you're not going for a ride. They're pretty wide, so they will protect you from the sun, wind, and debris.
Neff Brodies are worn by the rapper Riff Raff and the NFL superstar Richard Sherman, so you'll be in good company if you get them.
Tifosi Aethon
Best Multi-Sport Photochromic Shades
MSRP $79.95
Lens Type: Photochromic, interchangeable
If you need just one pair of glasses to rule them all, you need a photochromic lens. Tifosi Aethon can be used both during the brightest part of the day and when it gets pitch dark outside.
They come with one photochromic lens, but the design is interchangeable, so you can fit other types of lenses as well.
The frame is small-to-medium-sized, which makes these sunglasses suitable for all sports in general. They sit snuggly on your face so you can use them for cycling and cross-training.
Apart from the frame and the lens, the package also includes a hard case and microfiber bag to keep your Tifosi Aethon glasses as good as new.
Tifosi is one of the best sunglasses brands, so you can't go wrong with it.
---
Best Cycling Sunglasses
---
Oakley Radar EV Path Cycling Sunglasses
Widest Rimless Field of View
MSRP $204
Lens Type: Multi Lens, Blocks out UVA, UVB, and UVC rays
Cycling glasses are so underrated! I hate the feeling when riding in the forest, especially in the evening, when the sun is flashing behind the threes. It kills all of your concentration. Good cycling sunglasses can solve that problem.
Oakley Radar EV Path is a pair of high-quality multi-sport sunglasses that are suggested for cycling. The frame is made of O Matter without any rims, so the field of view is huge.
Moreover, the earsocks and nosepads are made from unobtanium, so they feel comfortable, don't slip, and grip well.
However, the lens is the star of the show. These are multi-lens sunglasses for cycling that adapt to light conditions and block all harmful radiation the sun sends your way.
All of this translates to serious Oakley cycling sunglasses for riding and other activities and sports.
Smith Parallel 2
Simple and Unobtrusive Design
MSRP $139
Lens Type: Interchangeable, one additional lens included
If you're a fan of cycling-specific sunglasses with great design and excellent performance, you should check out the Smith Parallel 2.
Their frame is made from TR90 nylon and comes available in four colorways to perfectly match the rest of your cycling kit.
The package includes two interchangeable lenses. These are Ignitor lenses that maximize an object's definition and enhance depth perception in low light. All lenses resist water and oils, but they're not photochromatic.
No need to worry about the fit either, as the nose bridge is adjustable. Overall, these are medium-sized glasses, so they're suitable both for men and for women.
Get these Smith cycling sunglasses if you want cycling-specific shades that are not too outrageous in design.
Tifosi Optics Tsali
Best Multisport Solution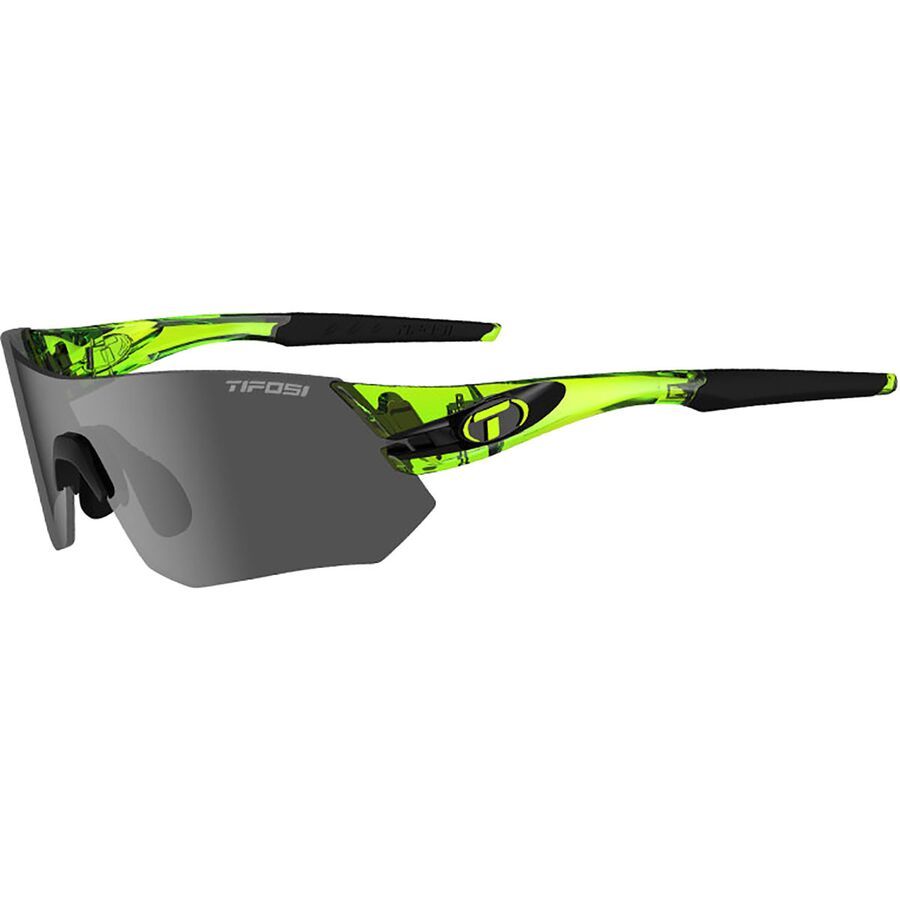 MSRP $79.95
Lens Type: Lifetime warranty, polycarbonate lens, interchangeable lens
Best cycling glasses should look good on your face, but they should primarily offer protection from wind, debris, sun, etc. Thanks to its design, Tifosi Tsali does both of those things.
These are medium-to-large sunglasses intended for riders with a slightly bigger head than usual. The large and wide lens serves as a solid shield against bugs and dust when riding.
The lenses are made from polycarbonate material, which makes them very durable and impact resistant. The design is interchangeable, so you can fit different colors and tints if you like.
Finally, the frame is solid, durable, and flexible, so it should be resistant to scratches and falls. Plus, you'll get a hard case and a soft bag in the package to keep the glasses safe.
Get Tifosi Optics Tsali if you want a reasonably-priced pair of cycling sunglasses that get the job done.
OAKLEY
Sutro Prizm
Best for Performance-Oriented Racers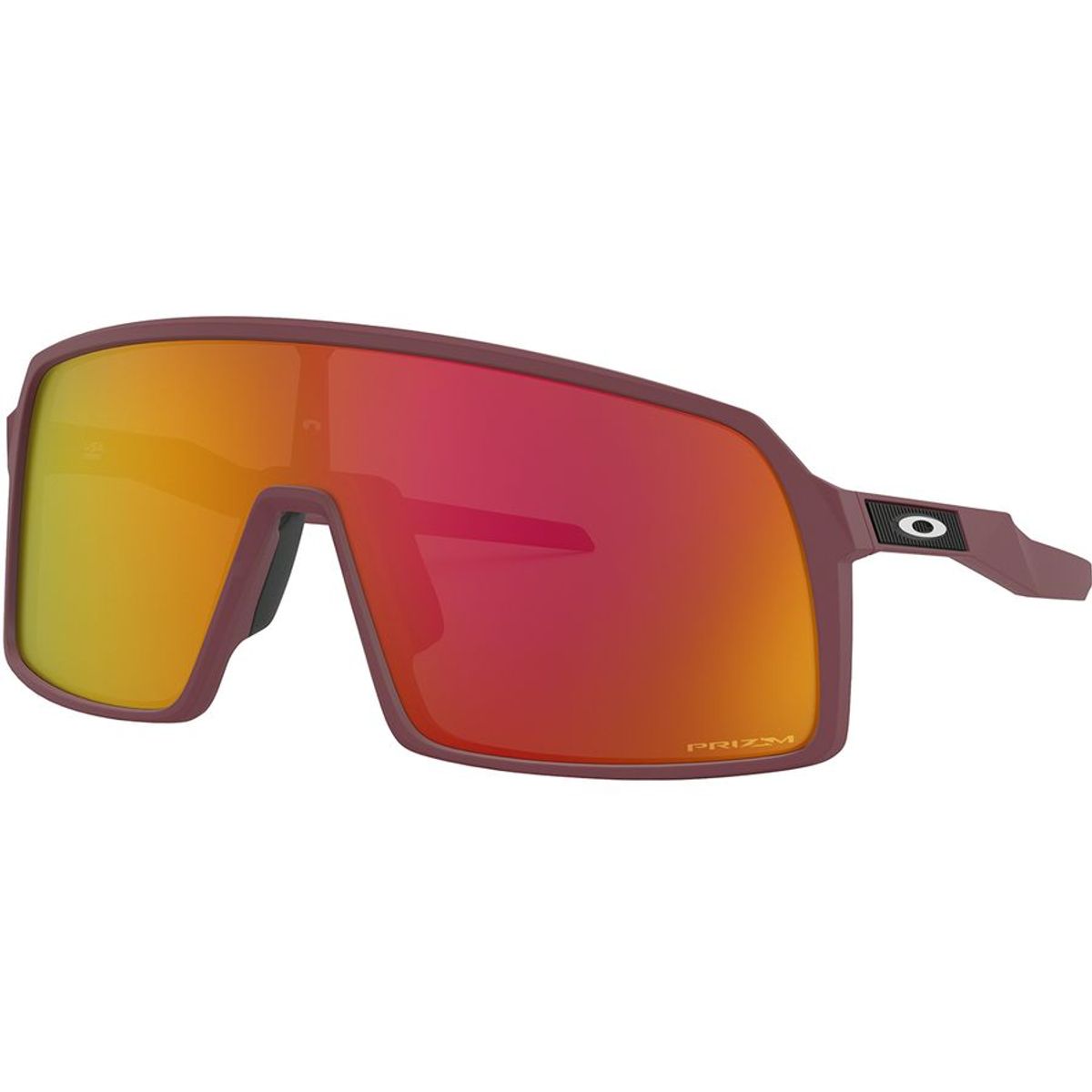 MSRP $173
Lens Type: Prizm Plutonite
Oakley Sutro Prizm is a pair of high-performance cycling sunglasses intended for racing, group riding, or long solo riding — whatever comes to your mind.
The lens is wide and rounded, so it protects your eyes from the front and from the sides. It's made using Oakley cycling sunglasses Prizm technology, which means it enhances colors and improves vision. Plus, it features plutonite filters, so it filters out 100% of UV rays up to 400nm.
Oakley Sutro Prizm looks good both on and off the bike, so you can easily wear them to the cafe after your ride. The frame features sport-specific nose pads that will feel comfortable even after all-day use.
Do consider getting them if you appreciate both performance and looks.
Sunski Couloir
Best Model for All-Day Use
MSRP $89
Lens Type: Solid polarization TAC
Sunski Couloir is one of the most practical sunglasses you can get from this best sunglasses brand. They look good, fit well, and perform perfectly for any type of sport you might do.
The frame is made from recycled superlight plastic, which is a highly durable material resistant to scratches and impact. Plus, the design features magnetic, removable side shields that offer additional protection whenever you need it.
Of course, the star of the show on any Sunski sunglasses is the polarized lens. It will enhance contrast and vividness of the colors, especially when the visibility is low. It's also 100% UVA, UVB, and UVC protected.
These are the best cycling glasses if you want a casual pair of shades that you can use for cycling, hiking, running, or as everyday wear.
100% Speedcraft Air
Unique Nasal Dilator Tech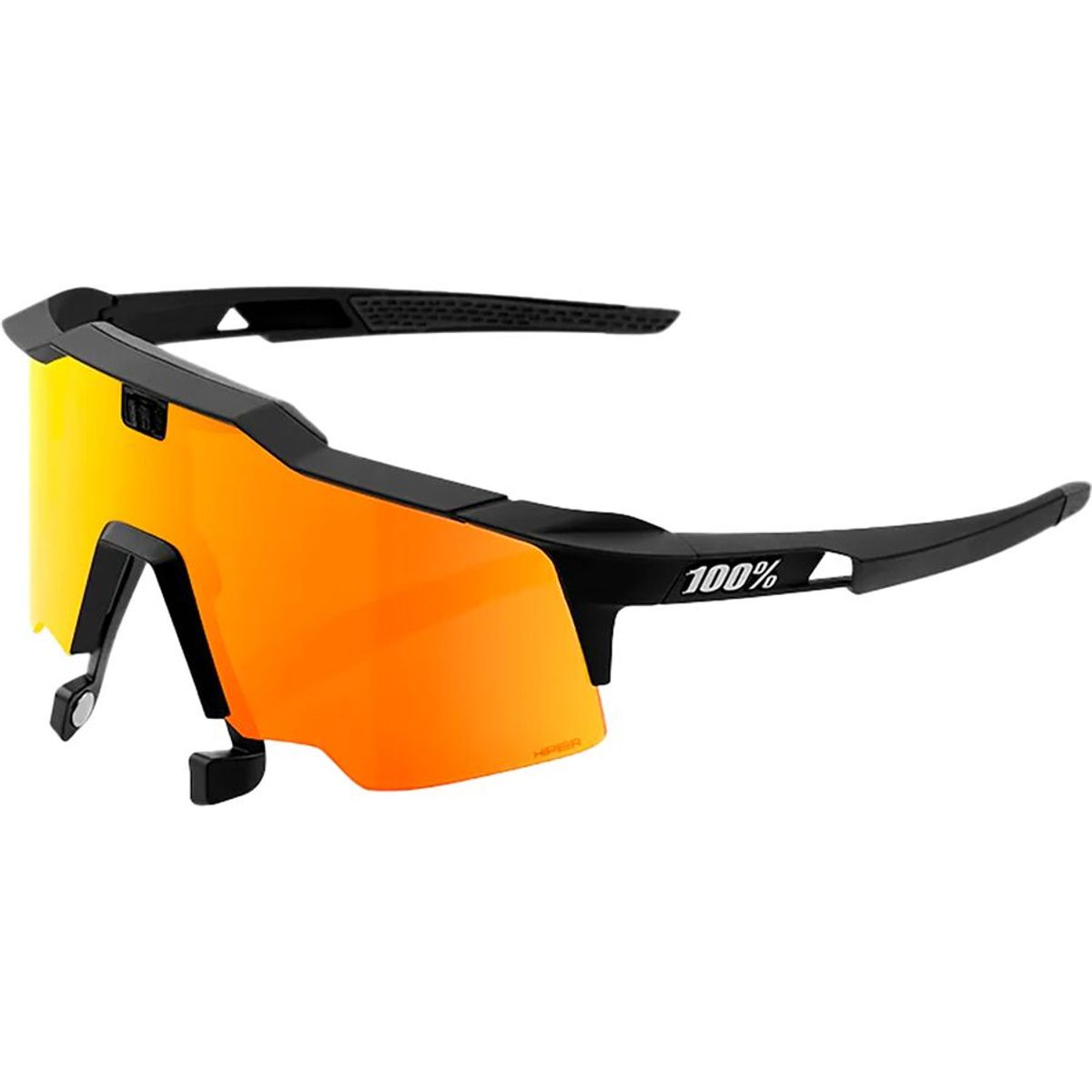 MSRP $185
Lens Type: Interchangeable, 100% UV protected, HiPER lens
The brand 100% is one of the best sunglasses brands out there. The Speedcraft Air model is the perfect example. This pair was the go-to choice of cycling world champion Peter Sagan, which tells a lot about their performance.
These sunglasses are unique because they feature a magnetic nasal dilator that can be adjusted from 31mm to 47mm wide via a central dial. You stick a pair of magnets on your nose and the magnets on the sunglasses stretch your nasal cavity to increase airflow. How cool is that!
Moreover, the lens features HiPER technology that provides a boost in optical quality and colors and it features 100% UV protection against the harmful sun rays.
If you want the best cycling sunglasses technology, don't hesitate to break the bank and get 100% Speedcraft Air. You will be 100% satisfied.
SMITH
Redding Glass Chromapop Polarized
Excellent for Triathlon Athletes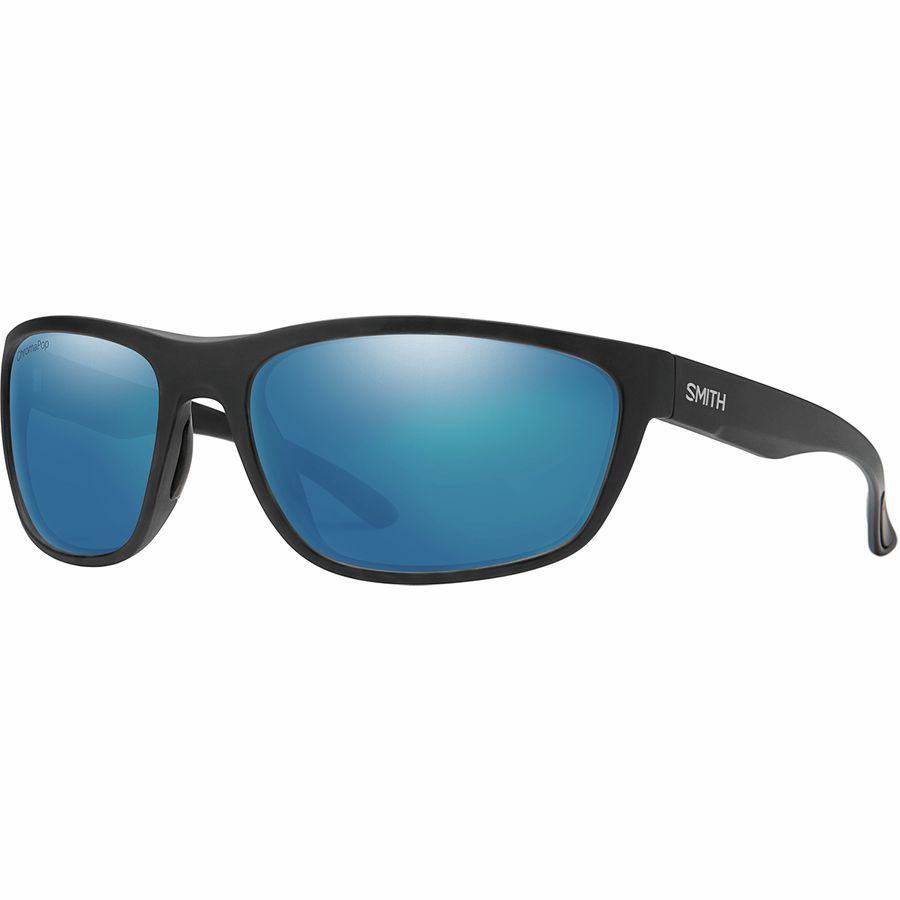 MSRP $259
Lens Type: Glass, Polarized ChromaPop lens,
Sunglasses don't have to look outrageous in order to be considered good for cycling. Smith Redding is a pair of traditional-looking shades which is why we love them so much. They're ideal for cyclists who love doing other sports on the side.
These Smith cycling sunglasses are unique because they feature glass lenses with unprecedented vision quality. The lenses are polarized and feature ChromaPop technology that improves contrast, colors, and overall visibility. Glass cannot be compared to any other material when it comes to eyewear.
The frame is excellent as well, as it is made from the Evolve eco-friendly material that is lightweight, durable, and good-looking.
These glasses have a medium fit and offer small but snug coverage, so they're ideal for riders with a smaller nob.
Julbo

Rush REACTIV Performance Photochromic

Best All-Side Coverage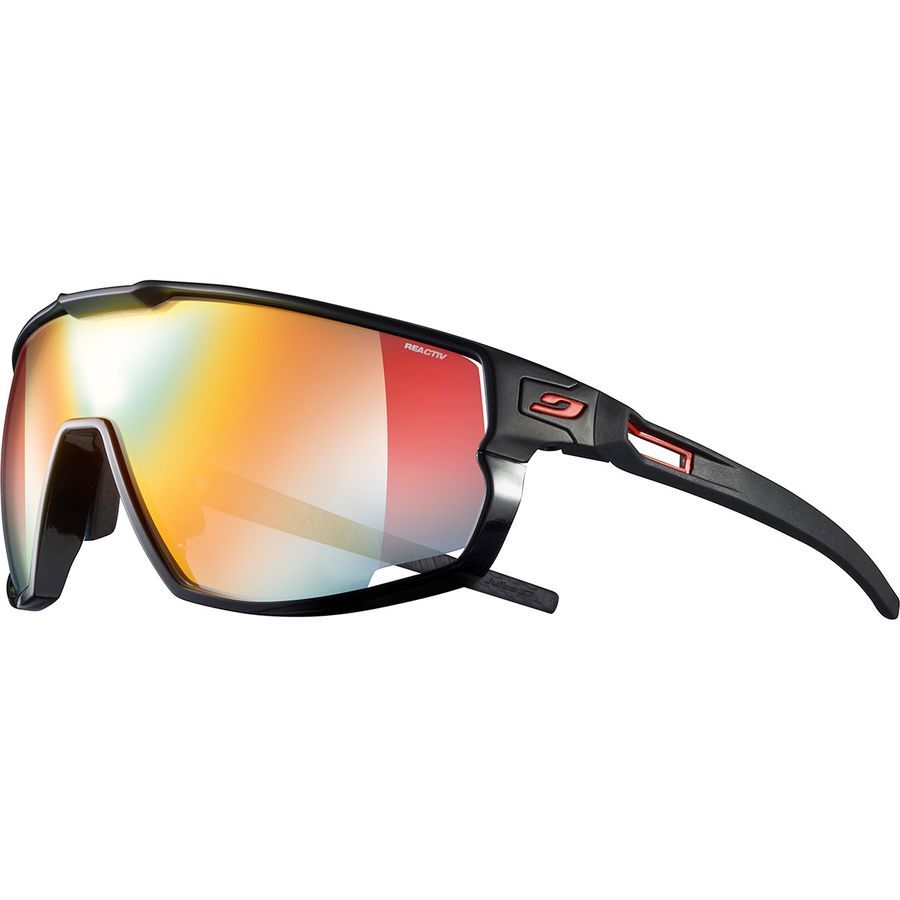 MSRP $229.95
Lens Type: Photochromic, Polycarbonate
Julbo Rush REACTIV are wide-profile cycling sunglasses that provide excellent coverage, protection, and look pretty sweet.
These sunglasses are phenomenal for speed sports such as cycling because they offer good ventilation, and the nose and temple pads are grippy, so the glasses don't slide.
Julbo Rush is a pair of photochromic sunglasses for cycling that adapt to light conditions to ensure the best possible visibility at all times. The lens is made from durable polycarbonate, whereas the frame is made from a strong plastic material.
The glasses themselves are available in three color combinations, with differently colored lenses and frames.
If you like large sunglasses that hide your suffer face, you'll love the Julbo Rush REACTIV.
Tifosi Crit Interchangeable Sunglasses
Modern Sleek Design
MSRP $69
Lens Type: 100% UV protection, Interchangeable
Sleek design is in fashion, and we love it! The Tifosi Crit have an excellent design that also works great for cycling and other sports.
The result is a pair of high-coverage smooth looking cycling sunglasses with a modern twist. The frame is made from the super-durable Polycarbonate material which is durable and shatterproof.
The Crits come with multi lenses and offer 100% UV protection, so you can get the best possible vision in all conditions. You also get an excellent protective case to keep everything inside.
If you're a fan of sleek design and you want the ultimate protection when going fast, Tifosi are the best cycling glasses for you.
Oakley Radar EV Path
Best Color and Contrast Enhancement
MSRP $205 – $235
Lens Type: Prizm lens, 100% UV protection, Interchangeable
Oakley Radar EV Path are high-end sunglasses that utilize high-tech solutions to protect your eyes and improve your vision.
The lens is made from a shatterproof polycarbonate material and features several vents that will keep your head cool on hot summer days.
The Prizm technology in the lenses enhances colors, which significantly improves your visibility. Plus, the lens is interchangeable, so you can fit other colors and types.
Another reason you will like the Oakley Radar EV Path is the non-slip Unobtainium nose pieces that prevent slips and enhance grip when you start sweating like mad.
We recommend these Oakley cycling sunglasses to anyone who wants quality cycling shades without spending hundreds of dollars.
100% S2
High-Performance Shield Design for Road Racing
MSRP $195
Lens Type: Polycarbonate, Interchangeable, Hydroilo
The reason why 100% is one of the best sunglasses brands in the cycling eyewear industry is that they are bold and not afraid to try out new designs and test new technologies.
The S2 cycling sunglasses have a rimless cylindrical shield design that offers the best possible field of vision and the best possible protection at all times. The lens even has small vents to improve airflow.
The shades offer superior fit thanks to nose and temple rubber inserts that prevent slippage even when you're sprinting.
The package includes a spare clear lens that you can wear when the sun is hiding behind the clouds. You can safely store your spare lens and the glasses in a hard case you get in the package.
Opt for the 100% S2 cycling sunglasses and choose one of the three frame colors: black, white, and yellow.
Oakley M2 Frame XL
Inspired by the legendary Oakley M2 frame design
MSRP Check on Amazon
Lens Type: Plutonite Lens, 100% UV protection, High Definition Optics, Interchangeable
The Oakley M-frame design was popularized by Lance Armstrong who used to wear them on the Grand Tours to hide his suffer face. While Lance did not really age well, the Oakley M2 cycling sunglasses certainly did.
This is a legendary frame design featuring plutonite lenses that offers clarity and protection against bugs, wind, and debris.
The lens features the High Definition Optics (HDO) technology that improves optical clarity and gives you 2020 vision in all visibility situations.
The M2 sunglasses are made with an O-Matter frame that's durable and strong. It's coated with unobtanium to provide unprecedented grip no matter how slippery things get.
These are the best cycling glasses on Amazon if you want one of the most popular designs ever in the cycling eyewear world that has been proven to work.
---
Best Oakley Cycling Sunglasses
Here's a selection of the best Oakley cycling sunglasses in our opinion.
Oakley

Sutro Prizm

— Excellent all-around sunglasses for cycling and other sports available at a reasonable price.

Oakley Portal Prizm — Funky cycling sunglasses jam-packed with technology that look good both on and off the bike.
Oakley EVZero Path — Best rimless photochromic sunglasses for cycling from Oakley.
Why You Should ALWAYS Wear Cycling Sunglasses?
If you think cycling sunglasses are an optional piece of cycling kit, think again. They are absolutely essential because of the following reasons.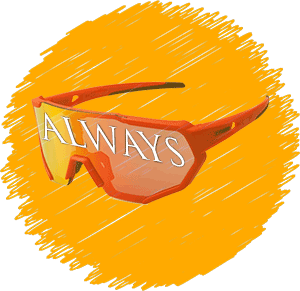 1. Protection From Obstacles and Debris
Cycling glasses are important when you're riding both on and off-road. This is something that people often don't think about. When riding in a forest, branches and other obstacles can hit your eye if you're not careful.
But not only that, flies, bees, mosquitos and other critters easily find their way into your eye if you're not wearing sunglasses. Not only can they harm your eye but you'll also lose valuable time by getting them out.
Cycling sunglasses are not just a fashion statement—they're an essential part of cycling safety gear.
On the open road, there are different forms of debris such as small stones, dust, sand, and other garbage your tires can lift up and send directly into your eyes.
Any of this can be really dangerous also because you can easily lose your balance and fall when you reach to protect your eyes with your hands.
2. Protection From Dangerous UV Rays
Did you know that UV rays are not harmful only for your skin but for your eyes as well? To protect your skin, you should use sunscreen, but to protect your eyes you should wear cycling sunglasses with strong UV protection.
Such sunglasses are especially important when spending hours on the saddle in the summer when UV radiation is high. It can seriously damage your eyesight and even cause blindness after years of not having any kind of protection.
3. Hiding Your Suffer
In serious competition, cycling sunglasses with huge shield lenses can give you an edge over your competitors. They will hide your tired eyes and make you appear fresh as a daisy on the outside. This can give you a serious psychological advantage.
However, on Sunday group rides, such sunglasses might just be a bit awkward.
4. Fashion
Some cyclists would put this in the first place but perhaps I am too practical to understand it. In recent years, cycling sunglasses have been shifting from being a protection accessory to becoming a fashion statement.
Fashionable cycling sunglasses are important, but it's better to get a basic pair and spend the extra money on upgrading your bike.
Road cyclists and especially MAMILs are constantly trying to get the latest cycling gear, no matter the cost. If a pro cyclist has worn it on the Grand Tour, they need to have it.
Just to be clear, I'm not judging anyone. If it makes you feel good, go for it. However, I'd encourage the average cyclist to wear whatever fits well and gets the job done. Fashion trends shouldn't be the deciding factor.
FAQ
There are no comments yet, add one below.