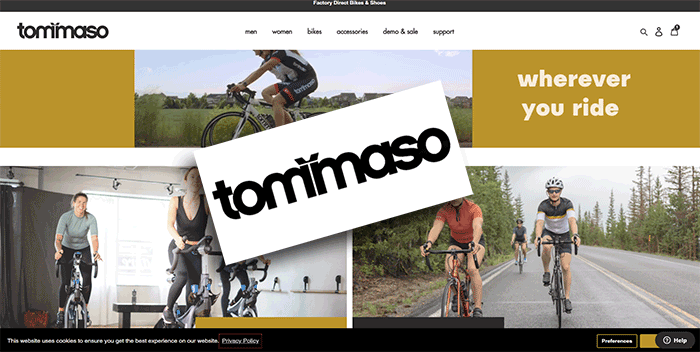 TommasoCycling is a cyclists' treasure trove full of attractive goodies that can be purchased at very reasonable prices. This is a US-based online retailer that specializes in selling only cycling-related goods.
The inventory on Tommaso's website consists of complete bicycles, shoes, pedals, parts, accessories, and apparel. Basically, there's everything the average cyclist out there needs to keep going strong on the roads.
This cycling retailer aims to stand out from the pack by offering quality bikes and components at competitive prices, but also by offering:
7 Day Risk-Free Test Ride
Lifetime Frame Warranty
Bikes Delivered to your doorstep "Ready to Ride"
Same-day or next-day shipping
Responsive Customer Service
Tommso meets the needs of beginner, intermediate, and professional cyclists since they offer bicycles, parts, and gear in different quality and price categories.
Road cyclists will find a better choice of bikes and parts than mountain bikers, as the majority of bicycles on offer are road bikes with some folding bike models.
Let's take a closer look at Tommaso and their selection to figure out whether or not there's something for you!
Tommaso's DTC Model
Tommaso operates on the basis of the so-called DTC model. DTC stands for "Direct To Consumer", which means that the products go from the manufacturing facility straight to the end consumer.
In this case, Tommaso is the exclusive US online dealer for Tommaso and Oyama bikes, which eliminates the typical distributor and retail markups that increase the prices unnecessarily.
Tommaso receives bikes at factory direct pricing, covers their low overhead costs, and ships them to you at prices that are hard to find anywhere else.
Bikes
Tommaso currently offers complete bicycles from two different brands — Tommaso and Oyama. Most of these are road, hybrid, and folding bikes, but there are adventure and MTB categories on the site as well.
Tommaso
Tommaso is an Italian-based brand that builds quality and attractive bicycles. They're famous for their good-looking aluminum and carbon frames with curved tubing and full-Shimano drivetrains on all price points.
Tommaso mainly produces road bikes, but they have a few hybrid and gravel bikes as well. From time to time, a MTB loses its way and ends up in the selection as well.
Because they are still not a "major" brand, their bikes usually have remarkable value for money.
Tommaso Imola
MSRP $600 – This is one of the company's most famous models so far.
It combines a lightweight aluminum frame with a traditional steel fork and comes with a full Shimano Claris drivetrain.
It's available in three phenomenal colors. Our in-depth overview of Tommaso Imola.
Tommaso Forcella
MSRP $825 – An aluminum road bike with a light and stiff carbon fork, equipped with Shimano Claris components.
It comes with rim brakes and weighs 22.7 lbs. Our in-depth review of Tommaso Forcella.
Tommaso Monza
MSRP $950 – One of the best endurance road bikes this Italian company makes.
Perfect for road enthusiasts looking for a mix of aluminum and carbon with a full Shimano Tiagra group. Our in-depth review of Tommaso Monza.
Tommaso Forza Disc
MSRP $600 – This affordable hybrid bike is built around an aluminum frame and steel fork. It has entry-level Shimano Tourney components and capable mechanical disc brakes.
Tommaso Siena Disc
MSRP $650 – Ride gravel roads all day long with this cheap aluminum/steel adventure bike with wide tires and mechanical disc brakes.
Tommaso Sorrento
MSRP $700 – An all-around reliable hybrid bike for commuting or fitness riding. It sports aluminum frame and a steel fork, as well as Shimano components.
Tommaso Sentiero Disc
MSRP $750 – Ultra-wide tires and endurance geometry come together to turn Sentiero into the ultimate beginner road bike.
Tommaso Sterrata Disc
MSRP $800 – Advanced all-road bike with a carbon fork, 40mm tires, and dependable Shimano components. It will enable you to jump on the gravel bandwagon.
Tommaso Illimitate Disc
MSRP $1,050 – This gravel bike brakes the limits of traditional road riding with its wide tires, disc brakes, and capable components. Ideal for versatile riders.
Shoes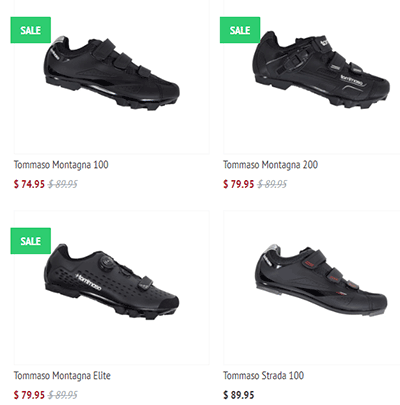 Apart from bikes, TommasoCycling.com is a good place to look for cycling shoes. The selection is not as big as on some other websites, but the
diversity
is pretty good.
Related: How to Choose Cycling Shoes & Best Cycling Shoes
Tommaso sells cycling shoes for mountain biking, road biking, urban rides, and even for the triathlon. Most models are sourced by Tommaso, so they feature attractive Italian designs. However, there are a few other manufacturers available as well, such as Shimano, Vertice, and Venezia.
Pedals
Even the best cycling shoes are no good without a quality pair of bike pedals. Tommaso sells both flat and clipless pedals, for road and mountain biking.
Related: Best Bike Pedals
If you're on the lookout for quality SPD or SPD-SL Shimano pedals, it's worth taking a look at TommasoCycling.com. Most models are entry-level, so the prices are very attractive.
Those who cannot decide between staying flat or going clipless can check out one of the dual-sided models.
Parts, Accessories & Apparel
You can be completely new to cycling, have no gear or cycling clothes, and you can buy all of it on Tommaso's website.
This online retailer is a good resource for all kinds of bicycle parts that you want to replace or upgrade, including the wheels, handlebar, tape, tires, stems, and so on.
If you're looking to accessorize your bike and make it more practical, TommasoCycling is a good place to look for tools, bottles, locks, lights, pumps, computers, and much more.
Finally, riding a bike is a lot more comfortable with cycling clothes on, so we recommend buying a pair of cycling bibs and a jersey for starters. Don't forget about wearing a helmet as well!
Risk-Free Testing
Tommaso is one of the rare online retailers who stand behind the products they sell 100%. As a result, they offer a 14-day risk-free test ride to all of their customers.
If you are not sure whether or not you will like the bike you've set your eyes on, you can take it for a spin for a few days and see whether or not it works for you.
If you end up disliking it, you can return it risk-free and get a full refund, and they'll even pay for return shipping.
Free Shipping & Warranty Terms
When it comes to shipping, Tommaso has no hidden costs that might unpleasantly surprise you at checkout. All orders over $50 come with 100% free shipping.
No matter if you are buying a bike or cycling clothes if it costs more than $50 you'll receive it for free. However, free shipping only applies to the continental USA — Alaska and Hawaii are excluded.
The free shipping orders are delivered by FedEx Ground or Smartpost. If you want to speed up your delivery, you can choose a faster (and pricier) method at checkout.
Financing
If you need a new bike but you can't pay for it in cash straight away, you can take up Tommaso's Financing offer through Affirm.
You can pay off your purchases through easy 3, 6, or 12-month installments. According to GN, getting approved is simple and takes a few minutes.
The payments are offered at a rate between 10–30% APR simple interest based on the customers' credit.
If You Find It Cheaper, You'll Get -5%!
If you remember, we mentioned that Tommaso has a Direct To Consumer business model that allows them to have the lowest possible prices.
Because of that, they guarantee that any item you buy on their website will have the lowest price anywhere. If you find the same item cheaper elsewhere, Tommaso will beat the competitor's price by 5%.
For example, if they sell a bike for $1,100 and you find it for $1,000 someplace else, they'll sell it to you for $950!
Assemble By Yourself or Let Them Handle It
If you are not a skilled bike mechanic and you don't know much about bike assembly, you can let them do it for you.
Their "Ready to Ride" assembly option delivers the bike to your front door almost 100% assembled. All you have to do is put the front wheel on, attach the handlebar, and attach the saddle. This takes just 10 minutes.
Tommaso's mechanics make sure that the derailleurs are shifting perfectly, the brakes are adjusted and not rubbing, and that the wheels are trued.
It's a premium service that lets you start riding just 10 minutes after your bike is in front of your door.
Pros
DTC Model guarantees the lowest possible price
14-day risk-free test period
Premium ready to ride assembly option available
Free shipping on all orders over $50
Cons
A very limited selection of bikes and parts
Limited choice of brands
Other bike shops you might want to consider
Do We Recommend Buying From TommasoCycling.com?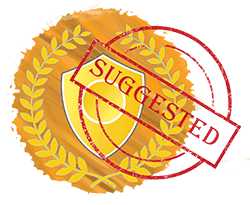 Yes, we do recommend TommasoCycling.com to cyclists looking to buy bikes or gear. If you want to get a Tommaso bike or accessories, you'll get the
best prices
here!
Tommaso is still a budding online retailer, so they do their best to leave a good impression on customers with risk-free test periods, ready-to-ride assemblies, and free shipping.
There's no reason why you shouldn't take advantage of that, save some money in the process, and simplify your online shopping experience.
To get even better prices, have a look at their Super Sale Category to find some massive discounts.