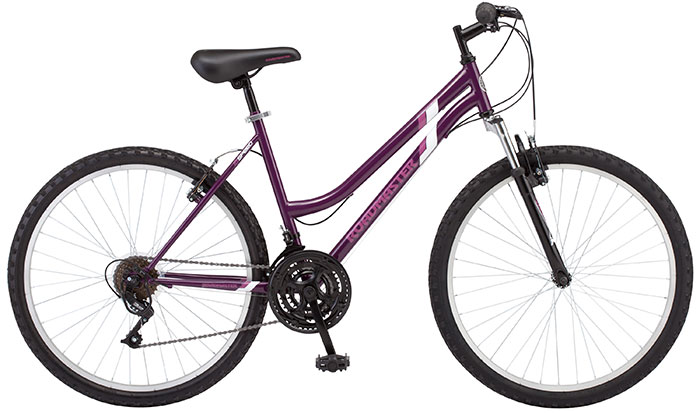 Roadmaster Bikes is a USA-based manufacturer with a long tradition and a large selection of models. Learn more about these affordable two-wheelers ideal for beginners and casual riders.
Do you want a new bike but you don't want to spend hundreds or thousands of dollars on the big brands?
Then you should read what we have to say about the Roadmaster bikes.
Cycling can be expensive, but you don't need to break the bank to enter the sport, get healthy, fit, and ride more.
Roadmaster bikes are American-made and super cheap. But are they too cheap? Let's find out.
Short History of Roadmaster Bikes
---
Roadmaster Bikes has a long tradition of making everyday bicycles and other cycling-related products.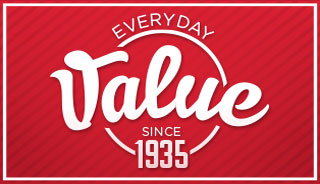 The brand was established by the Cleveland Welding Company in 1935 in Cleveland, Ohio.
After a rather long series of sales and acquisitions, Roadmaster was finally bought by Pacific Cycle Inc. in 2000, with headquarters in Madison, Wisconsin.
Pacific Cycle has maintained the distribution and sales of the brand ever since.
Roadmaster has never stopped manufacturing bicycles from day one, despite some rough periods throughout its history.
Today, it is still one of the most popular manufacturers of entry-level bicycles for men, women, and kids who want to ride every day, commute to work or school, or simply spend more time out and about.
Roadmaster Bikes Models
---
Roadmaster has a solid selection of models, including bikes for men, women, and kids.
The lineup mainly consists of hybrid and mountain bicycles built around step-over and step-through frames, with or without front suspension, and different size wheels.
The best thing about this brand is the incredibly low pricing, so let's take a closer look at some of the models to see what these low price tags get you.
Roadmaster Granite Peak Mountain Bike — Men's & Women's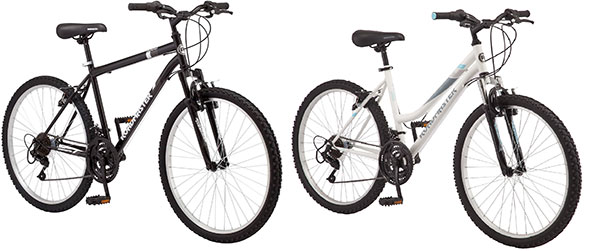 Steel step-over and step-through frames
26″ wheels
18-speed drivetrain
Fits riders 5'4″ to 6'2″
The Roadmaster Granite Peak mountain bike is the most popular and best-selling model made by this brand.
It's a simple and affordable MTB that will get the job done if you intend to use it for light trails, casual riding, and short commutes.
Granite Peak comes with a bulletproof steel frame painted in black (men's) or purple (women's) colors.
The men's model has a step-over design, whereas the women's is easier to mount and dismount thanks to the step-through shape.
The bike has 18 gears with simple-to-use grip shifters. That's a solid range of gears for climbing moderate hills and riding efficiently on flat roads.
You also get a set of front and rear V-brakes and a suspension fork that will improve your overall comfort.
The Roadmaster Granite Peak also has a wide, comfy saddle and knobby multisurface tires that can tackle paved and unpaved roads.
Roadmaster Granite Peak Kids' Mountain Bike — Boys' & Girls'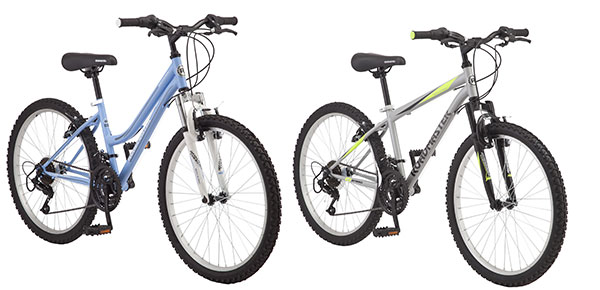 24″ wheels
18 gears
Boys' and Girls' colors
If you want to get your kids to join your cycling adventures, you could be rocking the same bikes.
Namely, the Roadmaster Granite Peak mountain bike is available with 24″ wheels as well, suitable for both boys and girls.
You can get it with a step-over and a step-through steel frame and components that are comparable to the adult model.
This bike is suitable for riders ages 8 and up, or 4'8″ to 5'6″ in height.
The Kids' Granite Peak sports 18 gears, dual V-brakes, and knobby MTB tires.
It's a fun and affordable bike that looks good and that can take a lot of abuse.
It's also equipped with a suspension fork that will make the ride smoother and eliminate vibrations when riding on dirt and gravel roads or light trails.
We recommend this bike to budget-mindful parents and adventure-seeking kids!
Roadmaster Adventures Hybrid Bike — Men's & Women's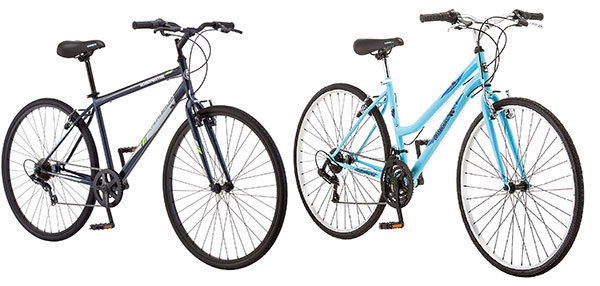 Steel frame
700c wheels
18 gears
If you prefer riding on smooth city streets and paved roads, a bike with 700c wheels, such as the Roadmaster Adventurers Hybrid is a much better choice.
This model boasts a strong and durable steel frame, just like the other Roadmaster bikes.
However, it does not have front suspension, which is a good thing because you don't need it if you ride on smooth roads, so it would just add weight unnecessarily.
It rolls on 700c wheels with narrower tires perfect for paved roads, but capable of short dirt road detours as well.
In terms of components, it offers 18 gears that you can go through with simple grip shifters.
It also features trusty V-brakes, a comfy-looking saddle, and platform pedals.
You should buy it if you need a cheap bike to run errands, cycle to work, ride around the neighborhood, or explore some light local trails.
Different Wheel Sizes
---
Roadmaster bikes are built to be enjoyed by the entire family.
These cheap and attractive two-wheelers are available with a variety of different wheel sizes, including 24″ wheels, 26″ wheels, and 700c wheels.
Therefore, they're suitable for kids, men, and women, as well as for road and off-road riding.
Though, you should keep in mind that these are budget bikes, so if you care about speed and performance you should invest a bit more money and get something with better components.
Roadmaster Bikes Sizing
---
Roadmaster bicycles typically come in just one frame size, which is not ideal.
However, this is common for affordable steel bikes sold on Amazon and in Walmart.
Here's a quick guide that you can use to ensure the proper fit.
26″ Mountain Bike: 5'4″ to 6'2″
24″ Kids' Mountain Bike: 4'8″ to 5'6″
700C Hybrid Bike: 5'4″ to 6'2"
FAQ
---
Roadmaster bikes are of decent quality considering the prices, but there is room for improvement, especially in terms of components.
These bicycles are only suitable for beginners and casual riders who don't do too many daily miles and don't care about speed and performance.
Roadmaster builds cheap bikes for casual everyday riding. The company's lineup includes mountain bikes and hybrids made for men, women, and kids.
The selection also offers models with 24″, 26″, and 700c wheels, so you can ride them on different types of roads.
According to user reviews that we could find online, Roadmaster bikes weigh between 30 lbs and 40 lbs, depending on the model.
This weight is influenced by the steel frames, heavy suspension forks, and basic components, but it's not too high considering the pricing.
Our Thoughts on Roadmaster Bikes
---
Roadmaster bikes are cheap and basic, so you should keep your expectations realistic. These bicycles are not made for serious cyclists, but for people who cycle.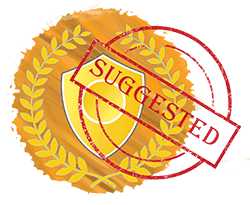 We love the fact that you can buy a brand-new mountain or hybrid bike for less than $500.
But that comes with some downsides.
Namely, the frames are heavy, the components are basic, and the looks won't take your breath away.
But, with those things in mind, most people who love riding a bike to commute, run errands, do grocery shopping, or stay active will love Roadmaster bikes.
We recommend them to new riders who are still building their fitness and casual riders who don't care about average speeds, Strava KOMs, centuries, and other pro-sounding babble.
Want to learn more about affordable bikes? Check out our review on The Best Cheap Bikes.