Founded in Minneapolis in 2007, All-City Cycles is a brand dedicated to building bikes that will stand the test of time.

At first glance, they are more similar to a small frame-building outfit than a larger production brand, as they focus on delivering beautiful bikes that perform well year after year.
They are inspired by the urban landscape and produce a range of road, all-road, city, and race bikes.
All their bikes promote All-City's mission of making a 'significant contribution to the culture and machinery of urban cycling'.
A light-hearted yet passionate brand, an All-City bike will serve you well on any journey you take – whether it be commuting, racing, or riding with your friends.
---
Road
---
Zig Zag
All-City's road bike offering is the Zig Zag – an endurance model built for speed and comfort on all-day rides.
Constructed using their custom-extruded A.C.E. steel tubing and with a carbon-bladed 'Whiskey No.9' fork, the Zig Zag is designed for long-distance comfort and speed.
The brand offers two variations, the Zig Zag 105 and the Ultegra. Both come with flat mount disc brakes, making them perfect for all-weather riding, and wide tire clearances – up to 35mm without fenders (32mm with) and respective 11-speed groupsets.
---
All-Road
---
The All-City All-Road bike collection embodies comfort, speed, and durability in capable all-round packages.
Cosmic Stallion
Envisioned as an ideal bike for riding through gravel, fire roads, and ambitious riding, the Cosmic Stallion is a capable and nimble bike ideal for racing as well as training.
All-City produces three versions, two of which are constructed using their own custom A.C.E. steel tubing, and one using titanium.
All-City offers two groupset choices, the Cosmic Stallion Force 1, which features a one-by 11-speed SRAM Force 1 drivetrain, or the Cosmic Stallion GRX, which uses a two-by Shimano GRX 11-speed mixed groupset.
Gorilla Monsoon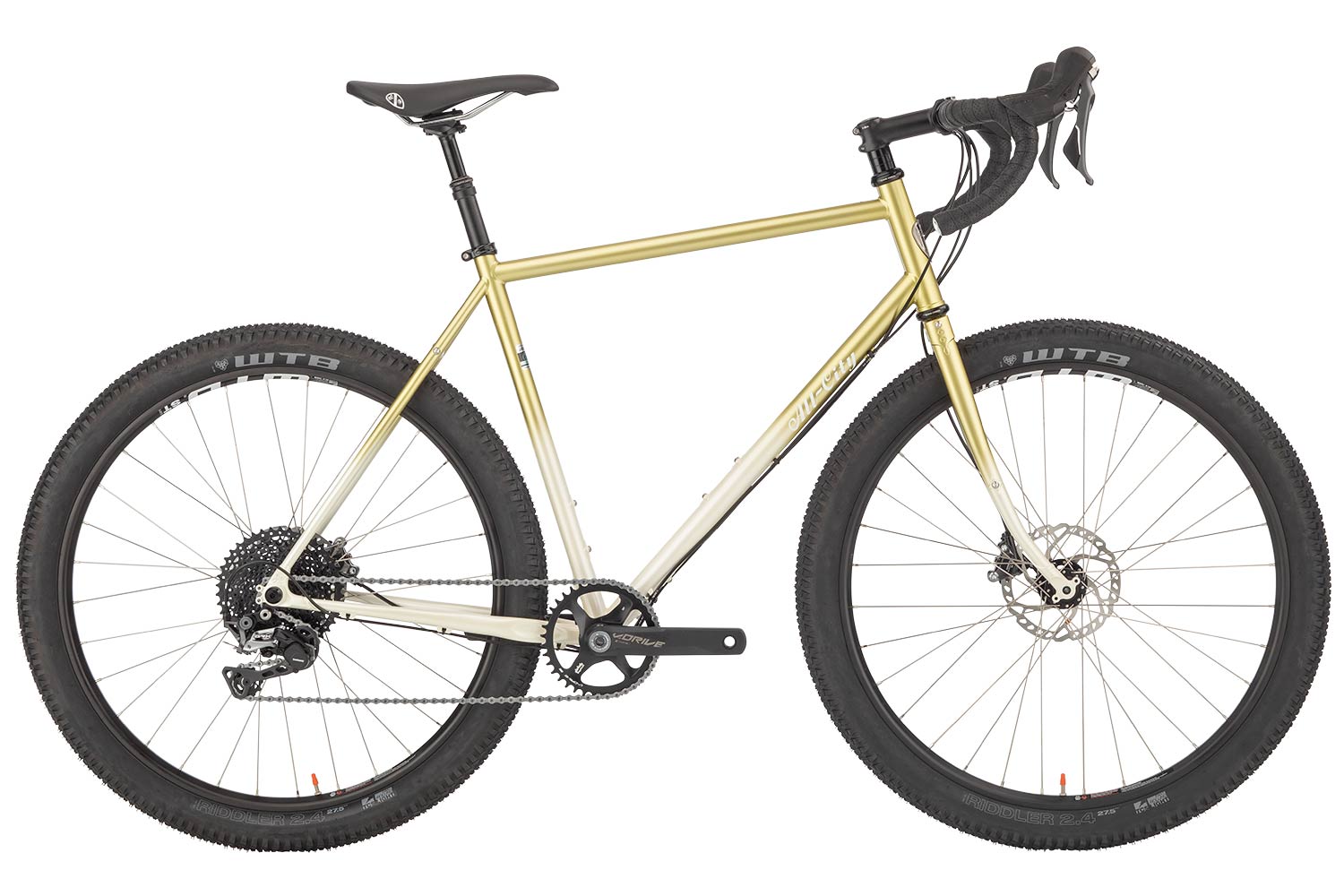 Gorilla Monsoon bikes are ideal for people who want to have a good time on the bike. They have been designed with cross racers and dirt track seekers in mind.
Made using 612 Select Chromoly Steel, these bikes come with wide tire clearances of up to 42mm for 700c wheels so you can tackle any terrain confidently.
There are two variations of the Gorilla Mansoon, the GRX and the Apex.
The Apex edition comes in a bronze fade colorway and a SRAM Apex one-by 11-speed groupset equipped bike. The GRX comes with a one-by Shimano GRX 11-speed groupset in a golden fade colorway.
Space Horse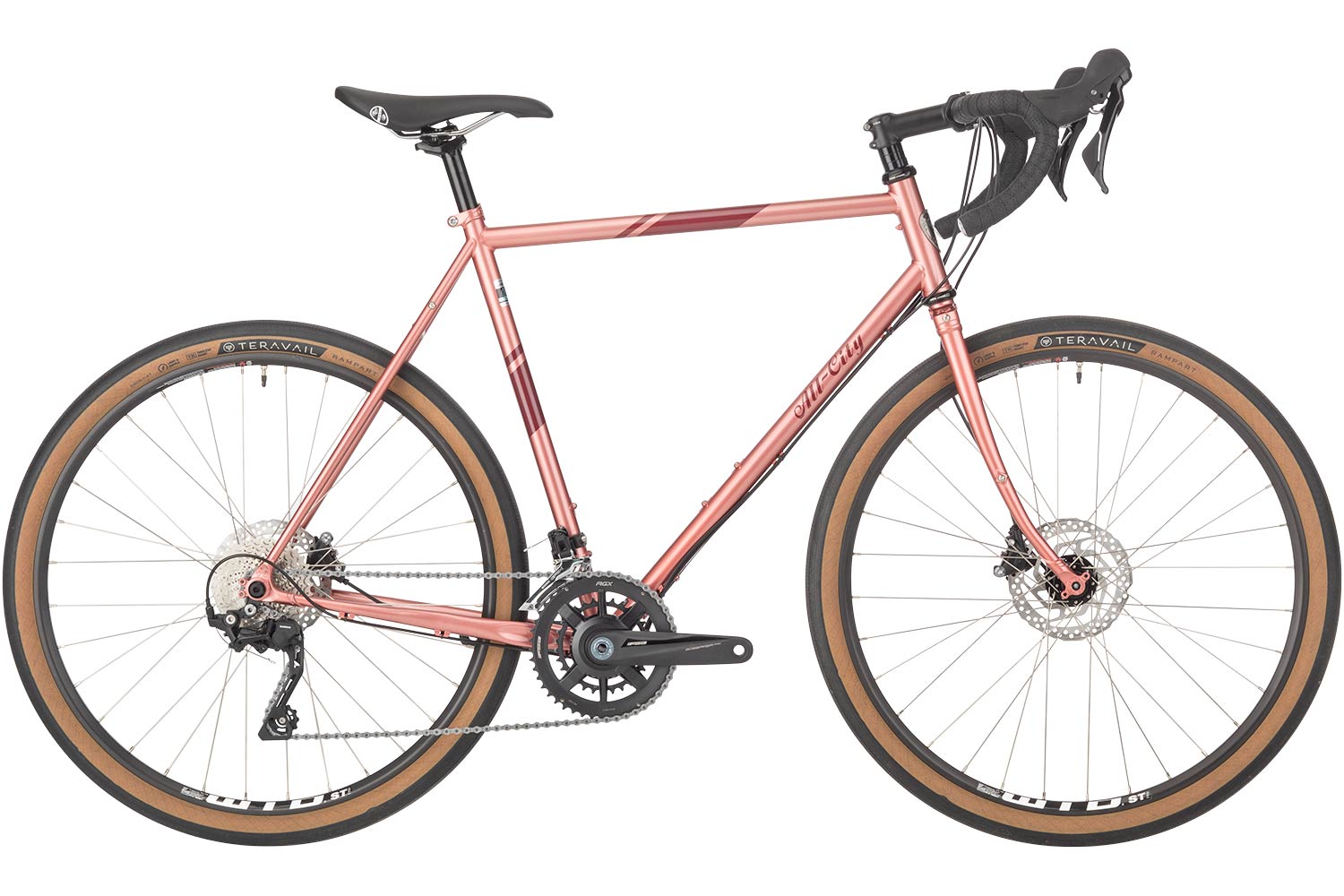 The Space Horse is one of All-City Bikes' most versatile bikes.
Promoted as a lightweight touring bike, the 612 Select Chromoly Steel frames contain plenty of mounting points for bottles, fenders, and other storage solutions.
The wide tire clearance allows for tires up to 45mm on 700c wheels (only available on frame sizes 49-61cm), or 47mm on 650b wheel.
There are two variations of the Space Horse, the Space Horse GRX, and the Space Horse Tiagra.
The GRX version comes in a dusty pink colorway, and a Shimano GRX 10-speed groupset. The Tiagra version comes in a dark blue colorway with a Shimano Tiagra 10-speed groupset.
The Space Horse is also the subject of one of the most incredible pieces of bicycle marketing you're ever likely to see.
---
City
---
All-City's city bikes challenge traditional urban bike designs and give the rider the chance to create a unique riding experience.
As you can tell from the name of the company, this is where the original inspiration came from.
Big Block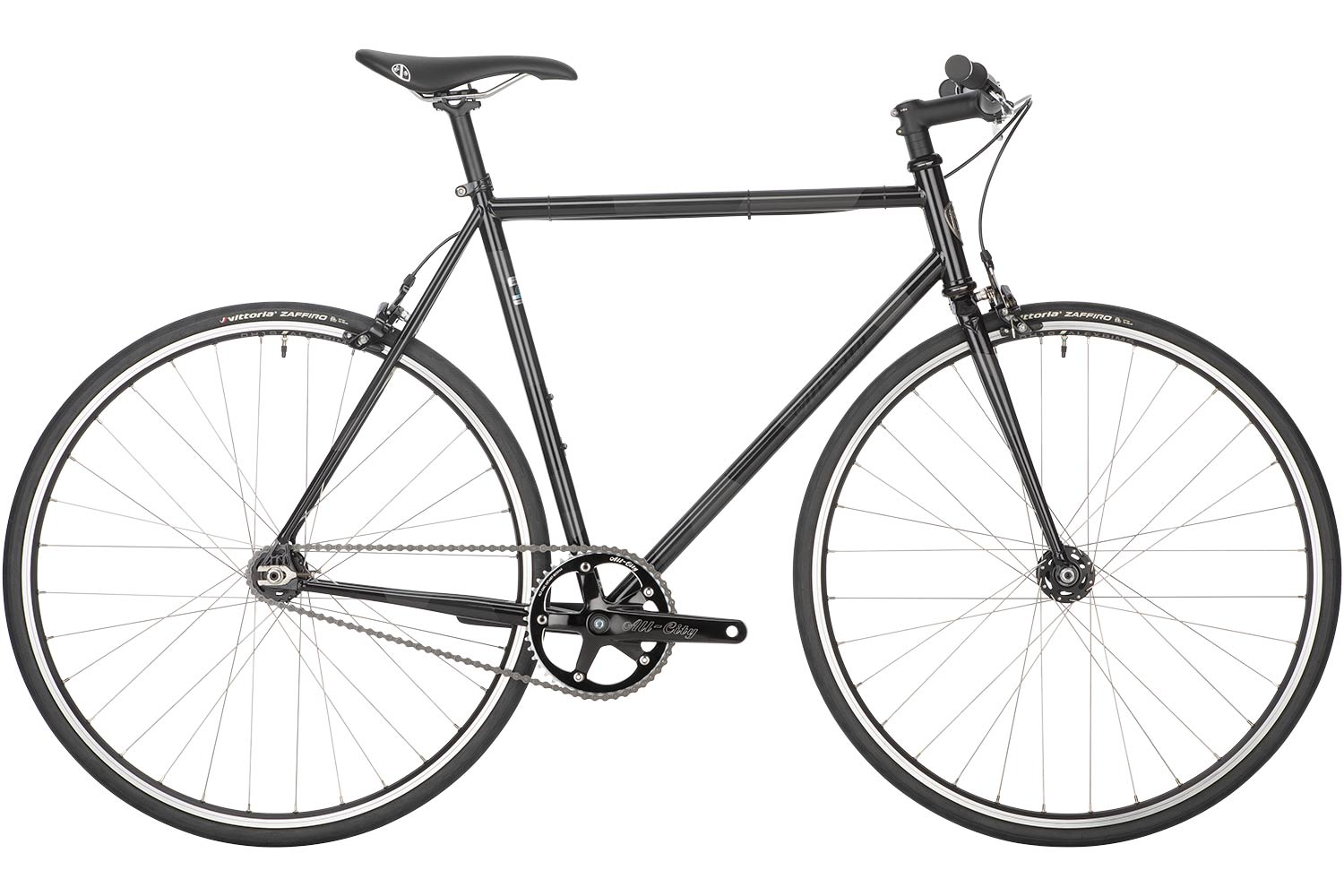 A street-legal track-inspired bike, the Big Block is a fixed-gear modern interpretation of traditional velodrome bicycles.
The steel frame dampens road buzz. It helps turn it into a comfortable ride whether you're riding along the city streets or thrashing it out in a fixed-gear criterium race.
It's drilled for brakes making it street legal and versatile so you can ride it to the velodrome and back without the need to take a car.
Max 32c tire widths make it a good choice for urban riding on untamed streets.
Super Professional
A cyclocross bike built for the streets, the Super Professional comes in two variations, single speed and geared. It is possible to set the bike up from single speed to geared in a simple move. All thanks to All-City's Master Dropout technology.
Using a 612 Select Chromoly Steel frame, wide tire clearances (up to 45mm with 700c wheels) this bike will take you from your commute straight to the trail without skipping a beat.
The Super Professional Apex 1 version comes in a striking blue colorway and an 11-speed SRAM Apex groupset. The Super Professional Singlespeed version comes in a speckled dark colorway.
---
Race
---
The heartbeat of the brand is felt in their racing bikes. With track and cyclocross offerings, there's a bike for versatile racers in the All-City arsenal.
Nature Cross
The Nature Cross is All-City Bikes' dedicated cyclocross racing bike. It comes in two variations, geared and single speed. Both crafted using All-City A.C.E Steel, making it a bike that will last a lifetime of races.
The bike is built to take tires up to 42mm wide, although optimized for 33mm with 700c wheels.
The Nature Cross Geared version comes equipped with a SRAM Rival one-by groupset with a SunRace 11-36 cassette so you can tackle most climbs with ease.
Thunderdome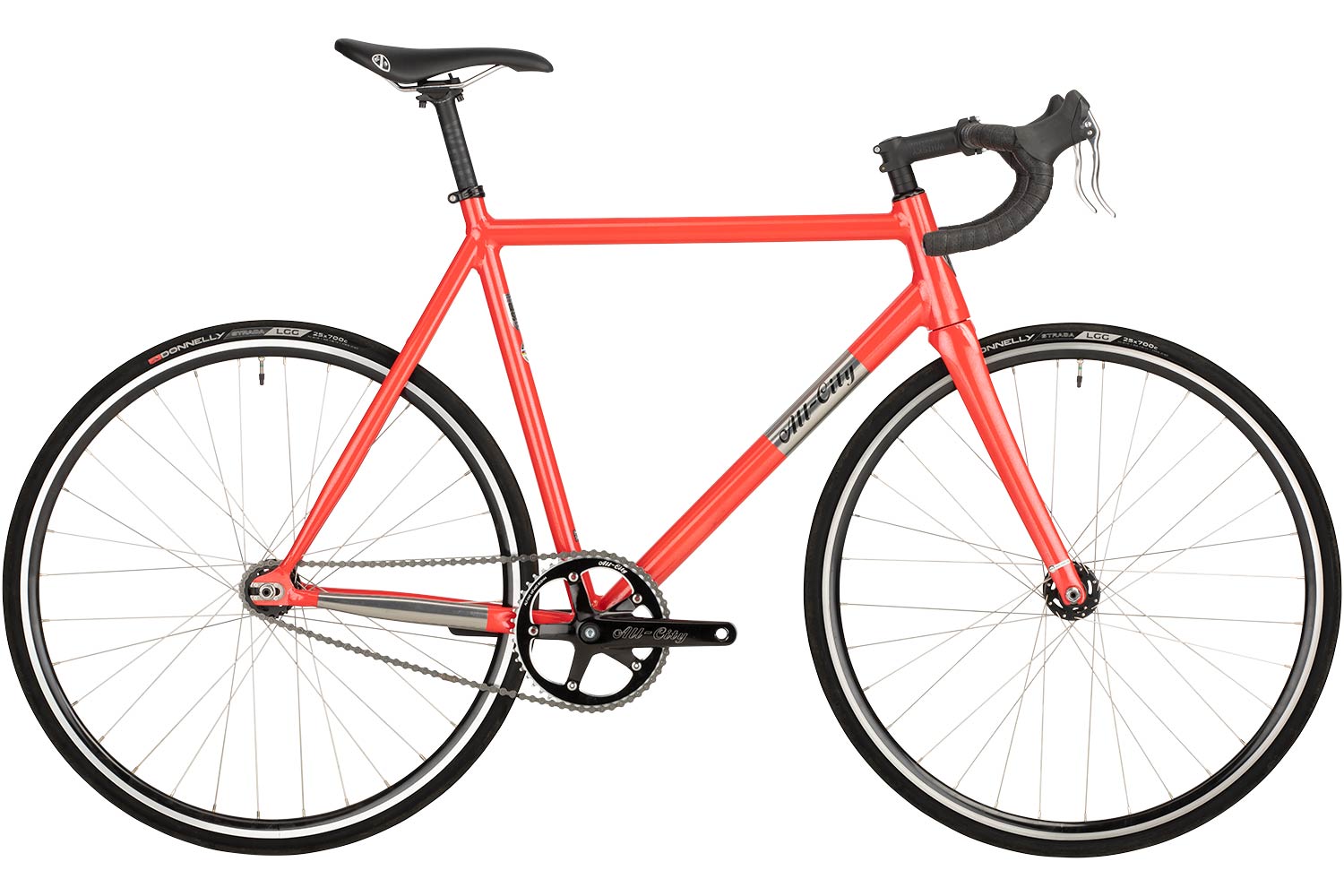 The Thunderdome is All-City's fixed gear race bike.
The bike is UCI-Certified so you can race it in the velodrome or fixed-gear criteriums.
It is drilled for front and rear brakes making it street legal but with an All-City Alumasonic frame and carbon fiber forks, you'll want to go super fast on it making it the perfect race bike.
See also: Best Gravel Bikes
---
Sizes
---
All-City doesn't really offer suggested heights for each of their bike sizes. They recommend getting in touch with your local bike shop that stocks their bikes.
It's not uncommon for riders to choose a bike one size down than their usual size. All-City bikes have been sized according to the seat tube length rather than the top tube.
Each bike has its own frame measurements – make sure you check that out on the individual product page!
---
Our Thoughts on All-City Bikes
---
All-City Cycles is a brand that takes pride in the aesthetic and function of their bikes. The company has built an impressive display of bikes that can be ridden anywhere and be relied on for years.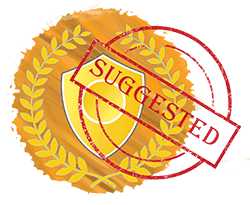 They have taken it upon themselves to beautify production bicycles and their attention to detail is easy to see.
With their own A.C.E. Steel and Titanium tubing, they take the craftsmanship seriously in an attempt to reduce the waste in bike industry produces with its current fast-moving model.
They have created bikes that inspire you to ride and enjoy riding. It's a brand that represents fun and getting back to enjoying what riding a bike is all about.
All-City does make racing bikes but they maintain their ethos of providing quality bikes that will last a long time over quick marketing claims.
Looking for the best city bike? Take a look at our Co-op City Cycle Review!