QuietKat was founded by twin brothers Jake and Justin Roach in 2016 in Eagle, Colorado. The brand was formed to build electric bikes specifically designed for the needs of hunters, anglers, and outdoor explorers.
By creating long-range electric bikes that have the capabilities of off-road vehicles, the QuietKat Ranger allows hunters to access their favourite spots without leaving a scent or damaging the environment.
If you're the sort of person who enjoys outdoor pursuits, and wants to move quickly through the natural world without leaving a major impact, then an e-bike from QuietKat could be the perfect solution for you.
The QuietKat Ranger epitomises what the brand is about and is a hardtail electric bike with wide tyres and a powerful motor, allowing riders to travel further into the countryside to bring home that big prize.
The Ranger sits alongside the Apex and Warrior models in the QuietKat range as fellow hardtail electric bikes. It's the cheapest of the three making it an attractive option as a first off-road specific electric bike.
QuietKat Ranger Key Features
QuietKat Ranger is a capable off-road electric bike that is designed to be the perfect companion for your next hunting trip.
Powerful 750W or 1,000W motor and max assisted speeds of above 20mph will take you exploring unapproachable locations.
The company redesigned the frame – the new main focus on weight distribution for a more balanced ride. This year they have included the option of an adjustable dropout. You can choose between a single-speed or 7-speed SRAM drivetrain.
They've also included a built-in cargo rack, which is compatible with their accessories.
You can also add a dropper post into the build. It is ideal for technical descents or when you need more control over the bike.
The weight of the bike is 65lbs and it has a load capacity of 325lbs.
Closer Look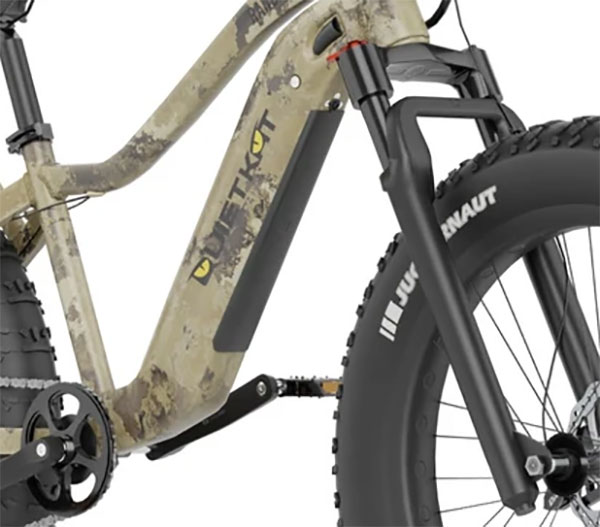 The Ranger comes equipped with an integrated 11.6Ah/48V Panasonic battery, which carries a range of up to 48 miles depending on the modes used.
Charging time is quite long, with it taking 6-8 hours to charge fully on a standard or solar charger, although QuietKat does sell a compatible rapid charger which reduces charging time by almost half.
You can also buy compatible extra batteries if you require more range. The battery is paired with either a 750W or 1,000W hub motor which can assist with speeds up to 20mph.
Using a hub motor rather than a mid-drive motor reduces the need for maintenance and can also extend the lifespan of your drivetrain as it acts independently of it and doesn't put any strain on the chain.
Frame
The frame design has been refined for 2021 after a larger redesign for the 2020 model.
QuietKat has updated the geometry to be more balanced, with the hub motor in the rear and the battery integrated into the downtube, the weight distribution has been improved.
This leads to what they claim is more optimized ride quality and improved handling.
The Ranger also includes adjustable dropouts, which means you can switch between single speed and geared systems, as well as adjusting the wheelbase for your terrain.
Groupset
The 2021 Ranger includes a 'performance level component package'. This includes a 7-speed SRAM groupset and two-piston Tektro mechanical disc brakes with 203mm disc rotors.
The large disc rotors offer reliable stopping even when the bike is at full load.
They have also included a Mozo coil suspension fork with 100mm of travel making it capable on light to medium terrain.
Additions
An integrated cargo rack is new for the 2021 model. It's welded to the frame at the rear and is compatible with many of the QuietKat pannier accessories.
The brand sells a wide range of optional extras making it easy for you to build your bike to your own needs.
They also sell dedicated kits, such as an angler's kit, a hunter's kit, and an overland kit. These include anything from lights to cargo trailers making carrying your game home after a hunt easy.
Related: Best Electric Bikes For Hunting
Sizing
The bike comes in three sizes. The three current options are 15.5″ (small), 17″ (medium) and 19″ (large) frames.
Small – < 5'6″ ( < 167cm)
Medium – 5'6″ – 6'0″ (167 – 183cm)

Large – 6'+ (183cm+)
Final Thoughts
The QuietKat Ranger is a capable bike for those who want to go further to hunt. You can do so without damaging the environment and leaving a scent for animals to find.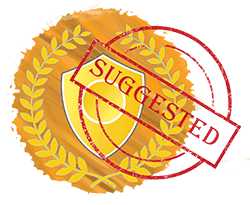 The 100mm suspension is somewhat lacking if you want to go over tricky terrain, but the price point of $2,799-$3,099 is attractive to those wanting to dip their toes into the world of off-road electric bicycles.
It comes in a choice of two colourways, Sandstone and Veil Poseidon dry camo so you can personalize your experience.
The additional extras and extra kit packages QuietKat offer makes this bike an exciting option for hunters or those who want to explore the great outdoors without leaving a trace.
Want more information? Read our review on QuietKat Bikes.