Cyclocross racing is not just about fitness. It's about skill and knowing how to pick the correct lines. It's one of the most exciting cycling disciplines.
In this article, we are going to tell you about the best cyclocross bikes to hit the market and give you reviews of each, so you know exactly the bike for you.
Cyclocross bikes have been harder to find in recent years, even though the discipline is more popular than ever.
Many companies are focusing on different types of bikes, such as gravel and road, which make cyclocross bikes very challenging to find.
Typically in the off-season, many road bike professionals take to cyclocross so they can keep their fitness all year round. Mathieu Van Der Poel is one of the most famous cyclocross riders who also compete in road racing.
What Makes CX Bikes Special?
CX bikes are very unique compared to other types of bikes. Although they look very similar to road and gravel bikes, they are very unique in subtle ways.
Typically on a cross bike, you get an aggressive road bike geometry. This is because races are short and they are made to keep you going quickly and in an aerodynamic position.
The next thing to mention is tires. Officially cyclocross tires range from 28c to 33c. The official UCI rules state 33c is the maximum, but in local races, many riders go larger.
Cyclocross is short course off-road racing, so typically, these tires are made for grip but also to be very light.
The final thing to mention is brakes. Modern cyclocross brakes typically have disc brakes, but some earlier bikes have cantilever road bike brakes. These are rim brakes but designed to work well even when covered in mud.
Most CX bikes have a large fork clearance to compensate for the amount of mud clogged up on the wheels.
Best Cyclocross Bikes
---
BMC URS LT 2
URS Premium Carbon frame and fork
SRAM Rival eTap AXS
Micro Travel system
BMC URS LT 2 is one of the most sought-after bikes for gravel and cyclocross racing. The premium carbon frame and fork are super lightweight and feature micro-travel technology.
The micro travel fork offers 20mm travel so it can take the edge off bumpy roads and help you roll over those obstacles. It has a low-slung geometry and a small A-Frame to help you with maximum control.
The BMC URS LT 2 is the only bike on this list with SRAM Rival eTap, one of SRAM's flagship groupsets. This is a 1x wireless electronic system that offers huge efficiency and range.
Learn more: Bike Groupsets
SRAM Rival eTap is one of the best groupsets currently on the market and is heavily used in cyclocross. It's paired with the SRAM Rival Hydraulic brakes, which are great for stopping quickly on tough courses.
The DT Swiss wheelset comes with a 25mm rim width ready for those cyclocross or gravel tires. As standard, it comes with WTB Raddler 40c tires, but these can be swapped out for whatever you want to change it to, including tubeless tires.
BMC URS LT 2 is one of the best bikes for cyclocross, and definitely deserves its place on the podium.
Trek Boone 6
600 Series OCLV Carbon frame and fork
Shimano GRX 1x groupset
Iso Speed System
If you're in the market for a performance cyclocross bike, then look no further than the Trek Boone 6. The Boone has seen a lot of podium finishes in the professional racing world.
The lightweight OCLV Trek Carbon frame and fork are ready to tackle any course. It not only has race-winning geometry, but it even features the Iso Speed suspension system for extra control and comfort.
Trek Boone has Shimano's GRX 810 1x groupset, and this is the perfect pairing and ready with a smaller 11-34 cassette on the rear made for riders that want to go fast. This bike is also equipped with hydraulic disc brakes.
The Bontrager Paradigm 25 Comp wheelset is 25mm wide and seats 33c cyclocross tires perfectly. It's tubeless-ready and designed for cyclocross racing as its main focus.
The Boone is a good example of a great cyclocross bike, and weighing only 8.3kg, it is a serious contender in any race.
Giant TCX Advanced Pro 2
Giant Carbon Fiber frame and fork
Shimano GRX 1x groupset
D Fuse seat post
The Giant TCX Advanced Pro 2 is an excellent cyclocross bike ready to tackle the distance. It has proven itself in many pro races and often sees podium positions.
The latest model is 17% lighter so this bike is faster than ever. The frame and fork are made from Giant's Advanced-Grade Composite carbon fiber. It will feel stiff and super responsive and made to go fast on mud and the road.
Giant TCX Advanced Pro 2 boasts a Shimano's GRX gravel groupset. It's a mix between GRX 600 and GRX 800, so you're looking at a high level of shifting here.
This groupset provides a wide range of gears and works on a 1x system, so it's easy to navigate through the gears quickly.
Shimano GRX groupsets are designed to work in muddy and wet conditions, so they are perfect when it comes to cyclocross.
The Giant TCX is equipped with Giant own P-X2 tubeless wheelset. It comes with 33c Maxxis tires, and these are strong when it comes to grip and control.
The bike also comes with a D Fuse suspension seat post system and Shimano hydraulic disc brakes to give you excellent stopping power no matter what the course throws at you.
All-City Space Horse GRX 650b
Steel frame and fork
Shimano GRX 2x groupset
650b WTB wheelset
Space Horse is one of All-City's flagship models. It is a cyclocross/gravel bike with a very classic look. It's a bike you can take to the mud, trails, and even road, and it is going to give you a pleasant experience.
The frame and fork have a relaxed geometry and are made of steel for maximum comfort. This is a bike that's going to be excellent for local events, not so much professional racing.
Shimano GRX 400 2x groupset is perfect for many different riding types.
All-City Space Horse is perfect for off-road and even on the road with 20 different gear options and a large range of climbing and descending gears. It is also paired with Shimano's GRX hydraulic disc brakes. These are the go-to brakes for many gravel bikes as they are powerful and easy to maintain.
The wheelset isn't a conventional cyclocross wheelset. It's the WTB i19 made by Wilderness Trail Bikes and is 650b, not 700c, so it is slightly smaller.
It does make up for that smaller size in its tires which are 47mm. These will need to be changed if you plan to race professionally.
The All-City Space Horse's wheels are paired with Vee Speedster tires which are excellent for all-round riding.
Orbea Terra H30 1X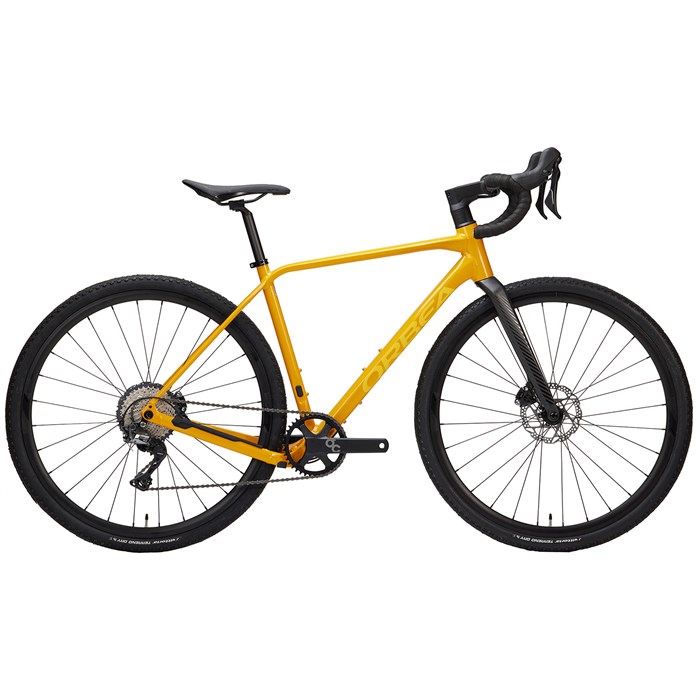 Hydroformed aluminum frame and carbon fork
Shimano GRX 1x groupset
Orbea GR wheelset
Orbea Terra H30 1X is one of Orbea's great inventions. What makes this bike worthy of this list is the attention to detail.
The aluminum frame is very unique, with dropped chainstays to help control, fully internal routed cables, a bent top tube, and an out-front carbon fork.
This bike has had a lot of thought and time put into the design. All these details are going to reflect on a technical course and give it amazing ability.
Orbea Terra H30 1X is paired up with a GRX 1x 11-speed groupset which has a great range and is quick to get from your low to high gears. It comes with hydraulic brakes, which will help stop you quickly even if you're in thick mud.
The Terra has a set of Orbea's own wheels. It's tubeless-ready and made for wide tires but will work with that 33c cyclocross tire profile very well. It's strong, lightweight, and going to last.
As standard, it comes with Vittoria Terrano 38c mixed terrain tires which are excellent for all types of riding.
Santa Cruz Stigmata Carbon CC GRX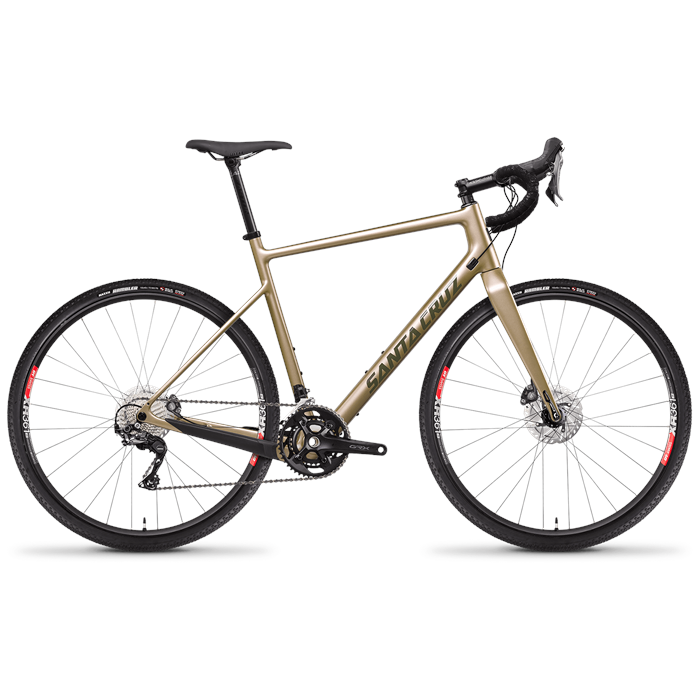 CC-Grade Carbon frame and fork
Shimano GRX 2x groupset
Stigmata is Santa Cruz's flagship model when it comes to gravel/cyclocross bikes. The quality and design that Santa Cruz offers are next-level compared to many other companies.
The CC-Grade carbon fiber frame and fork are very light and are a great base for a bike. It comes in clean gold, and the geometry is perfect for going fast but also still holding a decent level of comfort.
Not only can the frameset perform, but it also comes with a lifetime warranty.
The Santa Cruz Stigmata has Shimano GRX 810 which is an 11-speed groupset and runs a 2x system. It's going to be great for anything from road riding to days out on the gravel tracks. It comes paired with hydraulic disc brakes, and the GRX 810 comes with servo wave technology.
As far as the wheels go you have an aluminum DT Swiss XR361 wheelset. This is designed for tires of all shapes and sizes, and this bike can accommodate small cyclocross tires and large gravel tires.
Overall the Santa Cruz Stigmata doesn't miss a beat. It offers everything you need to be cyclocross racing, road riding, and even hitting gravel tracks.
How to Choose the Right Cyclocross Bike?
---
When it comes to finding the right cyclocross bike, it can be very challenging as there's a lot to think about. What kind of riding are you doing? Is the bike going to be used for other disciplines? Do you need electronic gearing?
In this next part, we'll discuss what you need to think about when searching for a cyclocross bike so that you can get the best bike for you.
The best way to do this is to break the bike down and explain what to look for.
Intended Use
If you're looking for a cyclocross primarily for racing and need it to be UCI legal, then going for a bike solely for cyclocross is the way to go.
It will be stiff, aggressive, and hit the specification needed for racing.
If you are going to be bikepacking and doing road riding too, you might want to use a gravel/cyclocross bike instead as it will be more comfortable, and you will have more options to use bigger tires and in more disciplines such as gravel, light mountain biking, bikepacking and more.
Frame and Fork
The frame and fork have a huge impact on the bike's characteristics when being ridden.
The first thing to mention is materials. On the best cyclocross bikes, you will find either carbon fiber or aluminum. These materials are stiff and light.
Aluminum is the cheaper one of the two but is slightly heavier. You get the odd steel bike that is definitely made for comfort.
The next thing is geometry. Racing bikes are made to go fast, they will be aggressive, and you might find those longer rides much more challenging.
If you are planning to race, then go for an aggressive bike. For social and long-distance riding, a more relaxed geometry will be better.
Groupset and Gearing
Having the right gearing can make or break a ride. When it comes to gearing and the best cyclocross bikes, they all have something in common – they all have low-range gearing.
In a cyclocross race, you have very steep inclines and mixed surfaces such as roads, mud, and trails, and you never hit super high speeds.
We advise going for bikes with either a 2x on the front and a medium size cassette on the rear or a 1x system with a large cassette on the rear.
This will give you lots of low gears to choose from and make climbing hills easy work no matter what your ability on the bike.
Do you need electronic gearing? As amazing as it is, it's not necessary and is very costly, but it makes the work easier.
Wheels and Tires
On a cyclocross bike, you will typically have road wheels. So they will be 700c and have smaller off-road tires.
Cyclocross bikes typically only go up to a 33c maximum tire. What a lot of modern companies are doing is giving them larger clearances up to 38c and above.
We recommend going for a bike with a large tire clearance because then it opens you up to gravel riding and means the bike can have other uses.
Read more: Gravel vs Cyclocross Bikes – The Main Differences
Brakes
On modern cyclocross bikes, you normally get disc brakes. These are great for all conditions, have incredible stopping power, and are easy to maintain.
They come in two types, mechanical and hydraulic. Mechanical uses cables to apply pressure to the pads, and hydraulic uses fluid.
Our list of the best gravel bikes only features bikes with hydraulic disc brakes. They are much better than mechanical and we advise everyone to use them.
FAQ
There are no comments yet, add one below.