From complete newbies to experienced Ironman triathletes, we've put together a list of the best triathlon bikes in 2022.
Triathlon bikes look daunting at first sight, but it's all for a reason.
These aerodynamic frames come with time-trial-specific aero bars, comfortable saddles, and ultra-fast wheels.
Whether you're training for your first sprint triathlon or trying to qualify for Kona, we might have the perfect triathlon bike for you.
In this article, we're going to take a closer look at the best triathlon bikes for all levels of triathlon. This includes bikes for triathletes from complete beginners to experienced ago-groupers. These triathlon bikes are suitable for any distance, from a sprint triathlon all the way up to a full Ironman.
Here, we've made a list of the best triathlon bikes.
What Are Triathlon Bikes?
Triathlon bikes are bicycles specifically designed for a triathlon, which is a three-sport endurance event involving swimming, biking, and running. Triathlons range in distance from Sprint to Ironman, which is said to be one of the toughest endurance tests in the world.
The biking portion of a triathlon typically lasts from 20 minutes to six hours and is ridden as an individual effort.
As opposed to criterium or road racing like we see in the Tour de France, triathlon biking is typically an individual time trial where drafting is not allowed. That means that your bike speed is determined by only you – your aerodynamics, power output, and speed.
Most triathlon bike courses are flat and straight, with some (if any) corners or hills to navigate. This is one of the reasons that triathlete bikes are heavier and more aerodynamic than road bikes.
With more aerodynamic tubes and aero bars, triathlon bikes sacrifice some cornering and climbing ability. But on most triathlon courses, the extra straight-line speed is well worth the sacrifice.
In triathlon, the run portion always follows the bike, which means that triathlon bikes need to be comfortable.
You wouldn't want to step off the bike and go straight into a 10km run with a sore back, cramping glutes, and fiery quads.
Especially in long-distance triathlons (half Ironman and Ironman distances), it is crucial to ride a triathlete bike that is equally fast and comfortable.
That's why you'll see extreme-looking saddle and handlebar positions on most of these triathlon bikes. It takes some getting used to, but these triathlon bikes are actually quite comfortable, even while riding in the aero position.
Let's jump into our list of the best triathlon bikes which includes bicycles for every level of triathlon and which are suitable for any triathlon distance.
Best Triathlon Bikes
---
Canyon Speedmax CF 7 Disc
Best Overall Triathlon Bike
Bento box and toolbox included
Lightweight (9.4kg)
Crankset includes 4iiii Precision power meter
It is almost impossible to beat the combined value and quality of the Canyon Speedmax CF 7 Disc. Many iterations of the Canyon Speedmax have made their way into the triathlon world in recent years, and the quality continues to rise.
At a fantastic price point, you can get one of the most popular triathlon bikes for beginners and professionals alike. Weighing in at 9.4kg, the Speedmax CF 7 Disc is also lightweight for a triathlon bike, making it a great choice for hilly terrain.
The hardshell Bento box on the top tube is a Canyon Speedmax staple, and it is perfect for storing gels, bars, and more. There is also the practical toolbox located just above the bottom bracket. Its design actually increases aerodynamics while also storing tools and parts like spare tubes or a multi-tool.
Canyon CFD-optimised seat stays further increase aerodynamics, sticking out like wings just above the rear wheel.
This bike comes with a Shimano 105 R7000 4iiii Precision power meter and Selle Italia Watt Superflow saddle, both bargain add-ons at this price point.
The Shimano 105 components decrease the bike's value, but anyone but elite triathletes will truly be bothered by them. Disc brakes are included, as well as 11-speed shifting and 2X gearing, giving the Canyon Speedmax CF 7 Disc a big range of gearing for hilly routes.
Scott Plasma 6
Best Pro-Level Triathlon Bike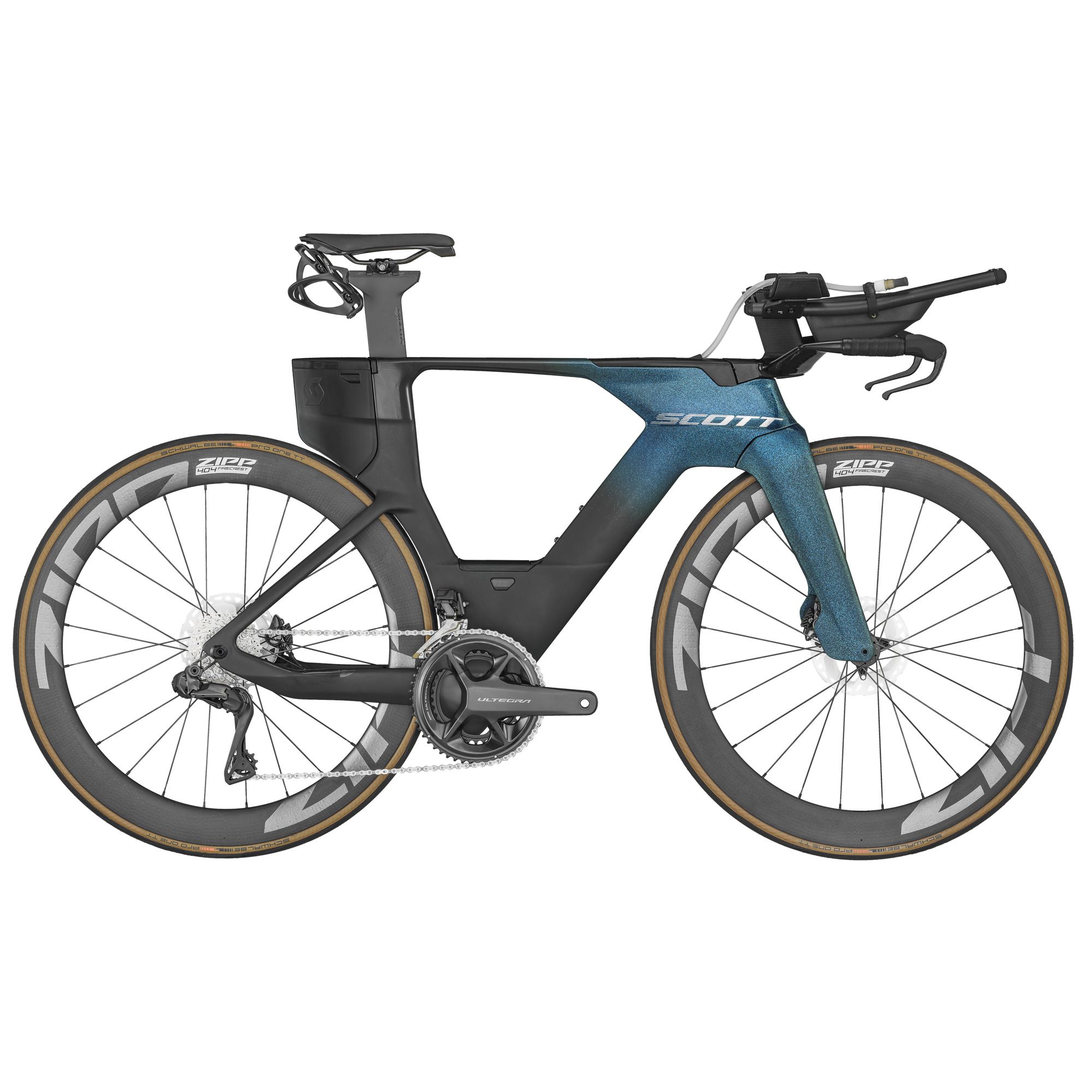 Shimano Ultegra Di2 components
Plasma 6 Disc Carbon, HMX frame
Schwalbe PRO ONE TT TL tires
Scott Plasma 6 is one of the best triathlon bikes in the world for professional-level racing. Its Plasma 6 Disc Carbon, HMX frame has fully integrated cables, a hydration system, and storage boxes.
Built for triathlon-specific speed, the Scott Plasma 6 is perfect for all triathlon distances from sprints to full Ironman.
The frame includes Shimano Ultegra Di2 components and 24 speeds. This gives you tons of range to cover flat terrain, fast downhills, and steep climbs. The entire bike weighs just 9.8kg.
Up front is a Shimano Ultegra 52/36T crankset, while the rear sports an Ultegra 11-30T cassette. Designed with TRI geometry and plasma HMX seatpost, the Plasma 6 is specifically engineered for triathlon.
Schwalbe PRO ONE TT TL tires provide a healthy balance of grip and speed, while the Shimano RT-CL800 160mm disc brake rotors provide plenty of stopping power.
The biggest downside of the Scott Plasma 6 is the price tag. But if you're a competitive triathlete with a healthy budget, the Scott Plasma 6's performance is next to none.
Felt B
Best Entry-level Triathlon Bike
Shimano Ultegra drivetrain
Tubeless-compatible aluminum wheels
For an entry-level triathlon bike, the Felt B doesn't sacrifice as much performance as you might think. Its frame is made with lightweight carbon fiber, and the aerodynamic frame is built for straight-line speed.
Unlike other triathlon frames, the Felt B has limited tire clearance, fitting a maximum of 23mm wide tires into its frame.
As you'd expect from an entry-level triathlon bike, the Felt B has rim brakes instead of disc brakes, and a mechanical drivetrain instead of electronic.
While the carbon frame is great for racing, the Felt B comes with tubeless-compatible aluminum wheels that are significantly heavier than carbon wheels.
The Felt B's price will appeal to first-time triathlon bike buyers, as well as the 2×11 gearing range. For beginner triathletes, the carbon fiber frame and triathlon-specific geometry are ideal.
At this price point, it's hard to find a better triathlon bike than the Felt B.
Cannondale Supersix Evo Carbon Disc Ultegra
Best Road Bike for Triathlon
Shimano Ultegra groupset
Lightweight BallisTec carbon frameset
HollowGram 35 carbon wheels
Road bikes are perfect for beginner triathletes and cyclists who race more than just triathlon. With drop bars and more relaxed geometry, road bikes are ideal for group rides and road races in addition to triathlons. Cannondale Supersix Evo Carbon Disc Ultegra is the classic race machine, according to Cannondale.
Its lightweight, low-drag BallisTec frameset is made of carbon fiber, and the entire bike weighs just 8.2kg, which is lighter than just about every triathlon bike.
Shimano Ultegra components are present throughout the frame, both reliable and versatile. Supersix Evo Carbon Disc comes with 11-speed shifting and an 11-32T cassette.
Like top-end triathlon bikes, the Supersix Evo Carbon Disc comes with hydraulic disc brakes with 160mm rotors, and 25c tires. Specifically, the Supersix Evo Carbon Disc comes with Vittoria Rubino Pro tires which are both grippy and fast.
Overall, the Supersix Evo Carbon Disc has relaxed geometry compared to triathlon bikes, which makes it slower in time trials but much more versatile.
You can comfortably spend five hours on the Supersix Evo Carbon Disc, whereas you'd be much more limited on a triathlon bike.
The Cannondale Supersix Evo Carbon Disc is ideal for beginner triathletes and cyclists who don't want to go all-in on a triathlon-specific bike yet.
Cervelo P Ultegra
Best Value 2X Triathlon Bike
Shimano Ultegra 8000 shifting
160mm disc brakes
52/36T crankset
The P Series is Cervelo's most popular line of triathlon bikes, and for good reason. With three different bikes on offer, there is a range of quality and price points for every level of triathlete. For beginner triathletes, there is the Cervelo P Ultegra.
With a Cervélo All-Carbon frame, the P Ultegra keeps weight down whilst maximizing aerodynamics, both crucial features for any triathlon bike.
Cervelo P Ultegra includes the same Riderever RS02 disc brakes with 160mm as all P series models, providing great value at this price point.
There is a big range of gearing on offer thanks to the Shimano Ultegra 8000 52/36T crankset and 11-30T, 11-speed rear derailleur. This makes the Cervelo P Ultegra better suited for beginner triathletes.
There is a little bit of weight added on with the Zipp Vuka Alumina handlebars, but the built quality is still high.
Made for triathletes, there are three different nutrition and hydration pockets on the Cervelo P Ultegra: Smartpak 400, Aerobottle 500, and a rear hydration mount.
For competitive triathletes looking for the best starter triathlon bike, the Cervelo P Ultegra could be the perfect fit.
Giant Defy Advanced 1
Most Versatile Road Bike for Triathlon
Shimano Ultgera hydraulic disc brakes
D-Fuse seatpost and handlebars
Tubeless 700x32c tires
The Giant Defy Advanced 1 is an endurance road bike that is perfect for all types of road riding. Though it is not the fastest in a straight line, it is much more comfortable and versatile than triathlon-specific bikes.
Overall, the Defy Advanced 1 is perfect for beginner triathletes and those who want to explore, train, and race on the same bike.
Giant's Advanced Composite frame is specifically engineered for endurance road riding, promoting smoothness and comfort on long rides.
Related: Full Review of Giant Bikes
There is even a D-Fuse seatpost and handlebars which absorb shocks and vibrations from the road. For an affordable road bike, these kinds of features are hard to come by.
Impressively, at this price point, the Defy Advanced 1 also has seamless disc brake integration, flat mounts, and 12mm front and rear thru-axles.
The most unique features of the Defy Advanced 1, compared to the other bikes on this list, are its endurance and versatility features.
The frame has huge tire clearance at up to 35mm, and disc-brake integration which helps the Defy Advanced 1 tackle everything from triathlon pavement to gravel mountain roads. Defy Advanced 1 comes with Giant Gavia Fondo 1 tubeless 700x32c tires, and Shimano Ultegra components with 11-speed, 11-34T shifting.
Even at this price point, the Giant Defy Advanced 1 comes with hydraulic disc brakes with 160mm (front) and 140mm (rear) rotors.
Argon 18 Gallium CS Disc Rival 22
Best Lightweight Road Bike for Triathlon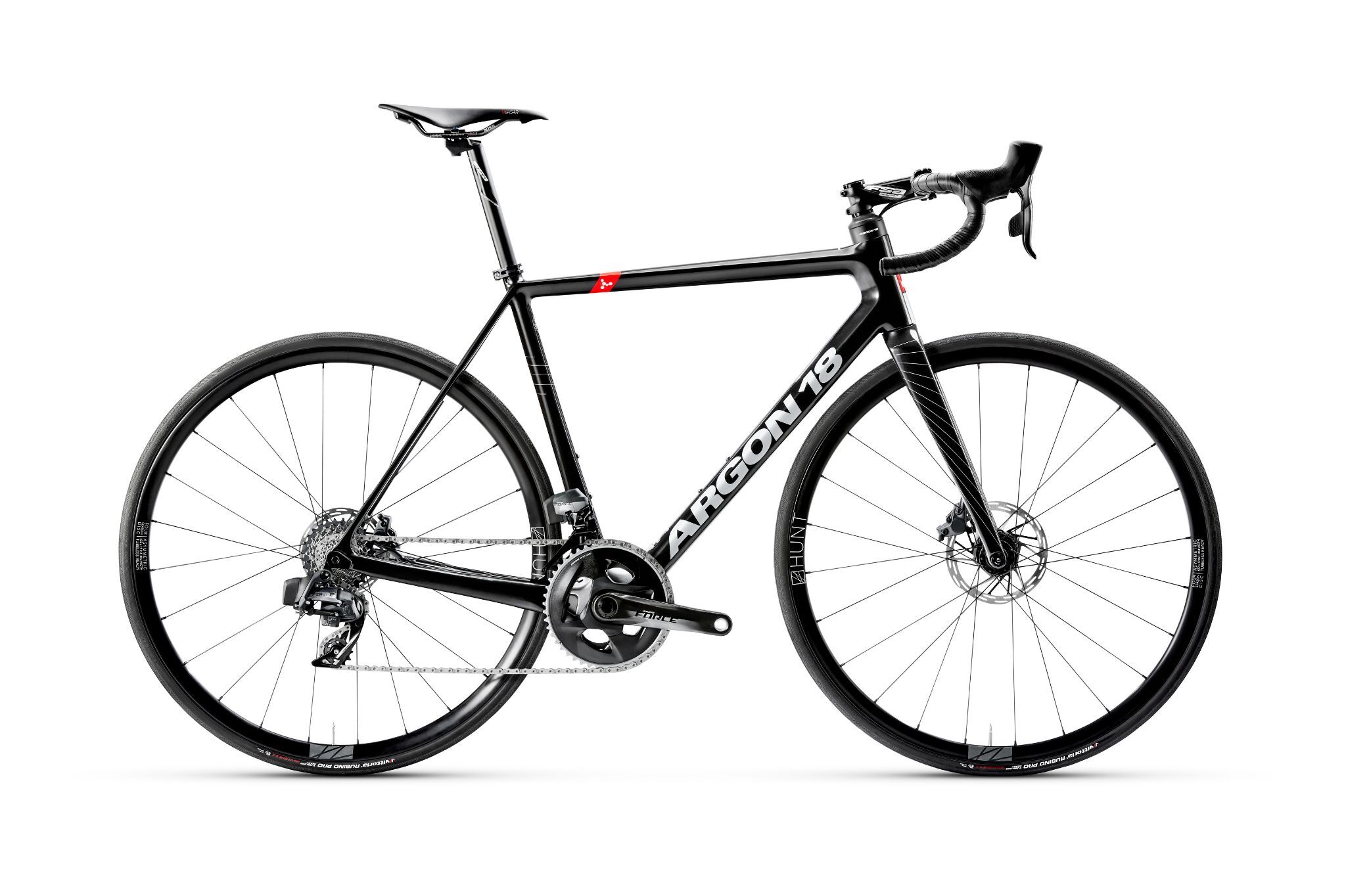 Lightweight at ~8kg
SRAM Rival 22 components
ARgon 18 3D System offers comfort and versatile position changes
The most affordable of the Argon 18 Gallium CS series, the Gallium CS Disc is perfect for a wide variety of road riding and triathlon.
Its relaxed geometry is ideal for climbing, long endurance rides, and beginner triathletes. A pair of clip-on aero bars can be attached to the handlebars for beginner triathletes looking to improve their straight-line speed.
Gallium CS Disc has a frame that uses Cyclosportif level carbon layups and road race geometry designed for quick reflexes and precise handling.
Argon 18's own 3D system is present through the headset to offer a wide variety of fit positions.
SRAM Rival 22 components offer 11-32T gearing and a 50/34 crankset which is quite small by road bike standards. This is yet another reason that the Galium CS Disc is ideal for beginner triathletes and road cyclists, especially those who are nervous about climbing.
The entire bike weighs about ~8kg, which makes the Argon 18 Gallium CS Disc Rival 22 the lightest bike on this list by a significant margin.
Vittoria Zaffiro 700x28c tires offer a good mix of straight-line speed and versatility, but are not as capable off-road as >30c tires. This makes the Gallium CS Disc one of the better road bikes for triathlon and competitive group rides.
Cervelo P Rival eTap AXS 1
Best Mid-Tier 1X Triathlon Bike
SRAM Rival eTap AXS shifting
160mm disc brakes
46T crankset includes power meter
The best Cervelo P Series bike available is the Rival eTap AXS 1. This bike has the same Cervélo All-Carbon frame as the Cervelo P Ultegra but features upgraded components across the board.
This includes SRAM Rival eTap, which is electronic shifting that is among the best in the business.
P Rival eTap has 12-speed shifting with a 10-30T cassette, and SRAM Rival AXS 1 46T crankset with a power meter. This provides a large range of gearing for triathletes, but one that might not be suitable for beginner triathletes on hilly routes.
Out front, the P Rival eTap has Zipp Vuka Alumina handlebars. For fueling, you can find the Smartpak 400, Aerobottle 500, and rear hydration mounts on the Cervelo P Rival eTap, making this bike a perfect fit for long-distance triathletes.
Powerful disc brakes are at the front and the rear of this bike, each with Riderever RS02, 160mm rotors.
How to Choose The Perfect Triathlon Bike
Unless you're a professional bike mechanic, it can be hard to see the difference between many of the most popular triathlon bikes.
Even among the best triathlon bikes in our list, the differences may seem only marginal. Do 15 grams even make a difference?
When choosing the perfect triathlon bike, there are three things you must consider: aerodynamics, weight, and value.
Your bike's straight-line speed is arguably its most important feature. Next to that is weight, which matters more or less depending on your training and racing terrain.
Lastly, and most importantly for some, is the value of your triathlon bike. We'll tell you how to get the biggest splash for cash when choosing the perfect triathlon bike.
Aerodynamics
Triathlon bikes are all about straight-line speed. After your body position (which is crucial for speed), your aerodynamics are next determined by the profile of your triathlon bike's frame and wheels.
In the triathlon world, the better your aerodynamics, the faster you go. In some cases – windy days, hilly routes, or technical courses – the most aerodynamic frame is not always the best.
But in most triathlons, you'll want the most aerodynamic triathlon frame and wheels.
Generally, you can look at a triathlon bike and wheels and see how aerodynamic they are.
The more material the better, and the most aerodynamic frames have thick frame tubing, deep sectioned wheels, and a rear disc wheel. This is the fastest straight-line setup that is suitable for most triathlons.
But, as we'll see in a minute, it's also the most expensive.
Weight
There was a long-held belief in cycling that lighter was always faster.
And while this is true on an hour-long climb, it is not always true on the flat.
In fact, power and aerodynamics are far more important than the weight on flat roads, which covers the majority of triathlon racing.
During a flat, 40km time trial, it does not matter if your bike weighs 18 lbs or 28 lbs. But as soon as the road tilts up and down, weight becomes a factor.
The steeper and longer the climbs, the more important weight is to triathlon performance. Consider your training roads too: are they flat, hilly, or mountainous?
On hilly or mountainous terrain, a lightweight triathlon bike may be better than a heavier but more aerodynamic triathlon bike. In addition, the faster you go, the more aerodynamics matters than weight.
Thus, beginner triathletes are more apt to use lightweight triathlon bikes, while elite-level athletes will be faster on a heavier aerodynamic frame.
Value
Perhaps the biggest obstacle to purchasing a triathlon bike is the price. While baseline models may cost around $2,000, higher-end triathlon bikes can cost upwards of $10,000 when you include aerodynamic race wheels.
When choosing the perfect triathlon bike, you want to get the biggest bang for your buck. The answer is a combination of your current ability and future triathlon goals.
In the sport of triathlon, the better you are, the narrower the margins are between first and last.
This is when high-end race equipment becomes even more critical when the difference between 1st and 10th could be just a few minutes. For competitive triathletes, it makes sense to invest more into getting the perfect triathlon bike.
But for beginner triathletes, the difference between competitors is more often down to fitness and experience than their equipment choices.
As a beginner or intermediate-level triathlete, you will benefit more from structured training and minor equipment purchases like a new helmet, running shoes, or carbon race wheels.
A special note for long-distance triathletes such as Ironman competitors: due to the extra long training hours, it is best to invest in a triathlon bike right away.
The more time you spend in the saddle, the more important it is that you have an excellent frame, a comfortable saddle, and aero bars that you can spend hours in.
Just as Ironman athletes invest more time into their training, it makes sense to invest more into your triathlon bike to maximize comfort and performance.
Frequently Asked Questions
There are no comments yet, add one below.