Track bikes look somewhat different from other bike types. At first sight, it' certainly looks odd, but when we take a closer look, the aggressiveness shines through.
Riders are racing around a short oval with steep turns and doing it all without brakes. They sprint at 40mph and swing up and down the banking while looking over their shoulder.
One of the lesser-known cycling disciplines, track racing has a rich history dating all the way back to the 1800s.
Today, track cycling and track bikes have reached heights at the peak of sports with events in the Olympics and the UCI World Championships.
In this article, we'll explain what track bikes are and what makes them unique. Plus we'll talk about the sport itself and how it works.
Track Bikes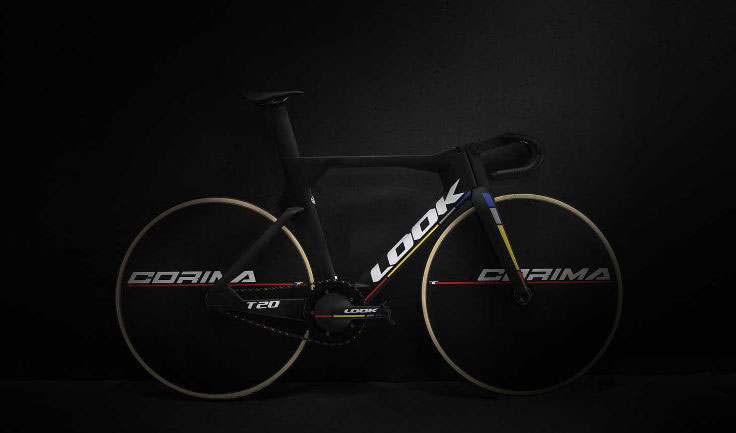 Track bicycles are one of the most interesting types of bikes because they instantly blow peoples' minds. They have no brakes!
The only way to stop a track bike is to let off the pressure, or reverse the pressure on the pedals so that the cranks turn slower and eventually come to a stop.
Experienced 'fixie' riders will actually stop and skid the rear wheel to come to a quick stop, although we'd never recommend doing this on a track bike because of the narrow and fragile tires.
Track bikes have a similar shape to road bikes. They are lightweight, aerodynamic, and designed for straight-line speed.
The cornering that you do on a velodrome has more to do with the steep banking of the corners rather than actually turning your front wheel.
Thus, you won't need much grip on your tires for tight cornering, as opposed to road bike tires which are designed to grip in the rain, on variable pavement, and at high speed on off-camber descents. Track bikes are much simpler because they are confined to the velodrome.
With a fixed gear bike, it's as simple as it sounds. The gear is fixed, meaning that there is no flywheel, derailleur, or multiple cogs. Instead, there is one front chainring and one rear cog.
It is quite a laborious process to change gears on a track bike, involving removing the rear wheel, changing the cog or chainring and reinstalling the wheel, and remounting the chain.
Geometry
Track bikes have drop bars that are usually narrower than road bars. Track bars can measure as narrowly as 33mm wide, for example, while road bars will be 42mm or 44mm wide.
In terms of frame geometry, track bikes typically have a shorter reach and shorter top tube compared to road bikes. They also have a higher bottom bracket which helps increase pedal-to-ground clearance for pedaling on the banked corners.
The different geometry and build of a track bike make them quite stiff and better with handling at high speeds.
Track cycling is all about racing, with little worry for cornering, climbing, descending, or anything else that you'd need to do on a road bike.
These are built for speed, and their lightweight carbon track bike frame is designed exactly for that.
There is a whole other category of track bikes involved in time trials and the Hour Record – these are aerodynamic time trial track bikes.
While the track bike frames are almost identical to other track bikes, aero TT track bikes often have customized aero extension handlebars and double-disc wheels.
These are the bikes that you see in the Individual and Team Pursuits, as well as the Hour Record. You'll see track riders with their forearms pressed together, their hands out in front of their bike, and their head tucked tightly into their shoulders. This creates an extremely aerodynamic position that is as fast as possible.
What Sets Track Bikes Apart?
Track bikes are very different from your normal bikes. The first thing to mention is they are made to be very aggressive. This is to improve aerodynamics as much as possible as races can be won and lost by as little as 100th of a second in track racing.
The bikes are extremely lightweight and are made of either aluminum or carbon fiber. They can cost as little as $300 all the way up to $10,000+ for a professional bike.
You'll also find different wheel styles at the velodromes, included tri-spokes, thick spokes, and full-on disc wheels. These wheels are extremely aerodynamic, though they are significantly worse in corners.
However, in the enclosed spaces of a velodrome, these wheels are commonly used because racing is much less affected by road conditions and weather.
Like we already said, track bikes use a fixed-gear drivetrain which is used to accelerate and brake, and they do not have the ability to freewheel or coast. That's probably the biggest difference that sets track bikes apart from other types of road bikes.
They don't come with brakes, so slowing down depends on the fixed gear drivetrain too, which can be challenging and tough work on the legs. These bikes shouldn't be used on the road or anywhere but on a track.
Track Bike Manufacturers
Various manufacturers make track bikes, and many of them are well-known brands that also make other types of bikes.
The main accessible brands are Cervélo, who has made track frames for Olympic teams, Fuji, whose elite track frame is currently the go-to for many professional riders, and even Pinarello, who recently 3D printed the hour record bike, which was used on the track.
Some other great brands to mention are Dolan, Moda, Look, BMC, and Vitus.
When looking for a track bike, it's good to go with a well-known brand whose bikes are commonly used on the track and avoiding unbranded parts and components.
What is Track Cycling?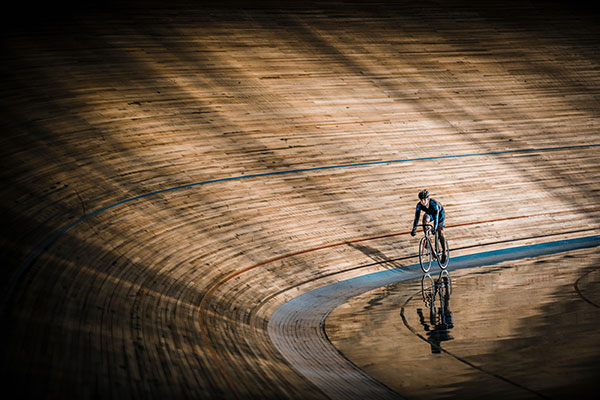 So, we know the basics of track bikes. Now it's time to talk about the sport itself.
Track cycling is a unique cycling discipline. It takes place on a closed track called a velodrome, where cyclists race. Let's start with the venue.
A velodrome is a purpose-built cycling track usually made of wood or concrete. They can be built indoors or outdoors, with most built outdoors because of the savings in cost.
In order to house an indoor velodrome, you need to create an entire building and facility around it.
Velodromes vary in length from 133 to 333 meters for most tracks (145 to 364 yards). They're measured in this way because it makes it easy to count the number of laps for a 10km or 20km race. The defining feature of a velodrome that scares most cyclists is the steep banking in the corners.
Velodromes are cambered, which means that they are banked in a way that assists the rider as they turn through the corner.
Track cycling always turns left (counterclockwise) around the velodrome. The banking helps riders lean to their left as they go flying through the corner.
The steeper the banking, the higher the minimum speed is required to stay on the track. At low speeds, your tires are at risk of slipping down the banking. There's a whole lot of physics behind this that I won't dive into in this article.
Velodromes are unique to cycling because they don't share space with anything else. Road cycling, criterium racing, cyclocross racing, and mountain biking all share space with society.
Whether it be public roads, local parks, or shared forest areas, you are always sharing space with someone else. Track cycling, on the other hand, has its own dedicated space.
Racing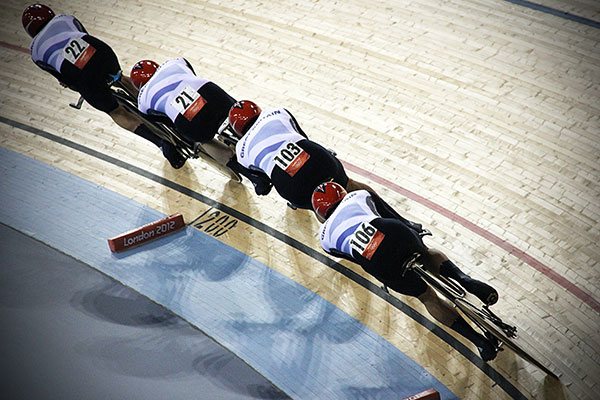 A velodrome doesn't take up a lot of space, especially smaller tracks. That means that you can put them almost anywhere, including busy cities.
While the roots of track cycling are in Europe – the oldest velodrome is in Preston Park in the UK. You can find velodromes all around the world from the United States and Mexico to France, Jamaica, Malaysia, and China.
Racing has always been at the heart of track racing, as the allure of speed is undeniable on the cambered corners and smooth track.
Unlike road racing, there are a number of different races run on the track, including the Scratch, Points, Elimination, Madison, Keirin, Individual Pursuit, Team Pursuit, Sprint, Team Sprint, Kilometer, and 500m time trials, and Omnium.
Here's a quick breakdown of the track races that you will see at the Olympics.
Scratch race: like a criterium or road race, riders compete over a specified distance and the first rider across the finish line wins
Points: points sprints are assigned to a specified number of laps (every tenth lap, for example), with a certain number of riders earning points in each sprint. At the end of the race, the rider with the highest number of total points wins
Elimination: at the end of each lap, the last rider across the finish line gets eliminated. This continues until there are two riders left who then sprint for the win on the final lap
Omnium: an overall-style competition where riders compete in all the events above, earning points for their placing in each event. At the end of the Omnium, the rider with the most points wins
Time Trial Events
In addition to mass start track racing, there are a number of time trial events. These include the Individual and Team Pursuits, Kilometer Time Trial (men) and 500-meter time trial (women), and the Team Sprint.
The most unique and widely-known track cycling time trial – and also one of the most coveted records in cycling – is the Hour Record.
Many of the sport's greatest names have attempted the Hour Record including the great Eddy Merckx.
The race is simple: complete the furthest distance possible in one hour on the track. The UCI (professional cycling's international governing body) has stepped in recently to set technical regulations and requirements on the effort, but otherwise, the Hour Record is as simple as it gets.
Filippo Ganna currently holds the Hour Record with an astonishing distance of 56.792 kph.
Frequently Asked Questions
Final Thoughts
Track bikes are a part of one of the purest and most entertaining forms of cycling.
There are few other moments in cycling that will leave your jaw on the floor like a 75kph shoulder-to-shoulder track sprint, a lightning-fast exchange in the final round of a Team Pursuit, or a chaotic sea of Madison slings at the Olympics.
Held on velodromes with track bikes, there is no other cycling discipline like track racing. While the sport may be intimidating at first, riding on a velodrome is a fun skill that is easy to learn in a couple of short track sessions.
Track bikes can be surprisingly affordable and easy to maintain. That makes them reachable for pretty much every cyclist. But it's up to you if you want to search for the nearest velodrome!
There are no comments yet, add one below.