Diamondback dates right back to 1977 so they know all about bikes. It is true that a few years ago Diamondback was only known for budget mountain bikes but ever since they launched their Podium series which started to gain popularity and good feedback, they have been unstoppable. Today, the average Diamondback road bike is beautiful and, in most cases, very reliable too.
They offer a multitude of road bikes ranging from those for entry-level riders to high-end professionals. In all classes, they aim for the best possible quality while maintaining price balance. What you will notice is that Diamondback is focused mainly on online sales and the other thing you have probably seen is the tremendous trend of Diamondback bikes on the streets.
So, let's have a look at what we need to know about these.
Diamondback Road Bikes
Let's have a look at the main categories available from Diamondback. This is the current offering of Diamondback road bikes, which will likely change in the future. Our goal is to make a comprehensive guide for all of our readers and help them make a better choice when buying a road bike. If you still have any questions, feel free to contact us or write to us in the comments section.
Note, that many Diamondback road bike lines have been discontinued. Thankfully some of them are still available on Amazon.
---
Haanjo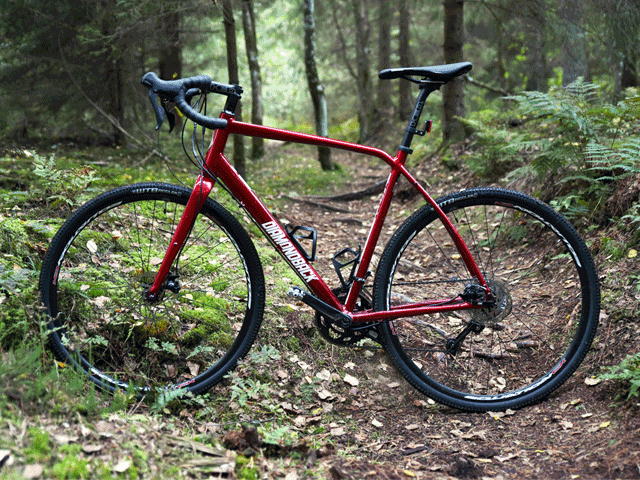 Alternative Haanjo / Haanjenn series bikes are meant for riders who mainly enjoy riding many miles on hard unpaved roads. But not only that, if you feel like it, you could turn to a forest and enjoy the trails.
This is one category that I did an in-depth overview of as a separate subcategory. If you're not familiar with the cycling scene then you might be wondering what this is? Let me explain.
These bikes are similar to hybrid bikes, which you can use both on gravel and on the tarmac, but they are not completely the same. This is something like a 50% road bike – 50% mountain bike. Its price scale is quite friendly and offers both aluminum and carbon frames.
Main Features
Ideal for road and off-road racing
8 diverse models
Aluminum and carbon frames
A wide range of components and classes
Affordable pricing
Related: Full Diamondback Haanjo 3 review
Of course, this bike isn't equally capable on both tarmac and the trails. But, you can do both with it, which makes it great for numerous purposes. If you like radical design, then you will love this series.
You can choose from one of the 8 models
The Haanjo series is characterized by a frame design that looks like the one seen on road bikes. However, the geometry is more upright, like the one seen on hybrid bikes. It also has a combination of drop bars, disc brakes, and wide tires, which are perfect for stability off the beaten track.
Note, that the Haanjenn models are currently unavailable, but if you're a woman and a bit confused in you need a women-specific bike, don't worry. Men's and women's bikes are not that different.
Read More: Men's vs Women's bikes — the main differences explained
Models
Haanjo 1
Haanjo 1 is a great choice for commuting. You can ride it in the harsh urban environment and take it off-road as well.
It has flat handlebars, Shimano Acera components, and mechanical disc brakes. The wider 38c tires will offer you plenty of grip on any terrain.
Haanjo 2
If you are an average cyclist, with the Haanjo 2 model, all you need is just one bike. It will serve you both as a road and as a mountain bike. It has entry-level Shimano Claris components, drop bars for more stability and additional grips, and 16 speeds. It's all you need to commute or do some training to lose some weight.
Haanjo 3
You can get an upgraded version of the Haanjo 2 bike with a bit more. It's worth every dollar. Haanjo 3 is a full-aluminum bike that runs on Shimano Sora parts. It's the perfect choice if you plan to spend as much time as possible outside and you need something reliable and affordable.
Haanjo 4
From Haanjo 4, the price rises significantly, but the quality of components jumps as well. This model has an aluminum frame and a carbon fork, plus Shimano GRX groupset. You can comfortably ride it on the tarmac and on the harsh gravel roads
Haanjo 5
Are you tired of the well-known roads and you want to explore more off the beaten track? Haanjo 5 is the right tool for the job. It has a full-carbon frame, Shimano GRX components, and powerful hydraulic disc brakes. It's everything that you need for a challenging off-road ride
Haanjo 6C Carbon
The carbon frame along with SRAM Rival components is sure to put a smile on your face. The only possible downside is, that the bike comes with mechanical disc brakes, instead of hydraulic brakes.
Haanjo 7C Carbon
Shimano GRX components, reliable brakes, sleek looks, what more is there to wish for? This bike is a dream come true for a cyclist!
Haanjo 8C Carbon
Finally, the Haanjo 8C Carbon is the most expensive and the most advanced model in the Haanjo series. It's intended for serious riders who are not afraid to challenge themselves and the bike. It comes with a full carbon frame, Shimano GRX components, and hydraulic discs. It's worth the money when you see what you can get and how much fun you can have.
---
Century (Discontinued)
The Diamondback Century series is meant for entry-level riders who want to try out road biking, as well as for cycling enthusiasts.
From entry-level to enthusiasts – Endurance. Prices from $700 to $3,250
Century is the most popular class of Diamondback road bikes. It includes 6 different models.
Talking about the frame materials, there are 3 aluminum and 3 carbon frames. The most basic road bike in the series with a carbon frame costs $1,900. However, the Century 3 model has a carbon fork and costs $1,700.
Since it's the most popular road bike class that Diamondback makes, let's take a more in-depth look. This class starts with Shimano Claris components. If you're doing your first rides on a road bike, then this groupset can be fine. Groupsets go up from Sora on Century 2, to Shimano 105 on Century 3, to Ultegra on Century 6C with a carbon frame. The prices end somewhere around $3,250.
The big advantage is that all of these models come with disc brakes. If we talk about the frame geometry, which is basically the main aspect which tells you whether a bike is comfortable or not, the Century series has a taller headset which makes the position much more upright, so it's more comfortable.
It's not as aerodynamic, but to achieve that you'd need a different bike class altogether.
Main Features
Six different models
High-spec'd 4C, 5C and 6C models
Race-oriented carbon frames on higher models
Six sizes
Disc brakes on all models
If you're interested in road biking but not sure whether or not you will like it after a few years, then you can start with a low-end century series bike.
However, if you want something more reliable for your training, you can pick something with a carbon frame. In this case, you won't overpay, in case you don't plan to race a lot.
Models
Century 1 is the cheapest model of the six. It costs just $750 and comes with a high-quality aluminum frame, Shimano Claris components, and 28c tires. It's perfect as the first bike for all beginner riders.
Century 2  is a slightly more advanced model that could be described as an upper entry-level bike. It has a better Shimano Sora groupset and mechanical disc brakes. These improvements make a big change on the road, so it's worth the additional money.
Century 3 is a race-ready aluminum model from the Diamondback Century series. It comes equipped with the Shimano 105 groupset, which offers incredible value at a great price. It has a better set of rims compared to the other two and a carbon fork, which are very important upgrades for the quality of the ride.
Century 4C Carbon is the cheapest of the three full-carbon bikes in the series. Due to the carbon, it has a lower Shimano Tiagra groupset compared to Century 3. However, it comes at a very affordable price, so you can easily upgrade it in the future.
Century 5C Carbon is the ideal bike for racing since it has a combination of a lightweight carbon frame and the racing-optimized Shimano 105 components. It has a decent set of Continental tires as well, and it's painted in the attractive Diamondback Gunmetal blue color.
Century 6C Carbon is the best and the most expensive model of the six in the Century series. However, it is well worth the money. It has a full-carbon frame and fork, fantastic Shimano Ultegra components, and hydraulic disc brakes. You can go fast on the flats and take more risks on the descents!
---
Arden (Discontinued)
The Arden series is meant for women who are really into road biking. You can choose to make your first steps in road biking with the Arden 1 model or go for the more expensive Arden 5 Carbon model, depending on your needs.
Proper road bikes for women. Prices go from $700 to $2,500 for the top model.
Diamondback's Arden series is specially designed for women who want to get an authentic road biking experience. There are 5 different models in the Arden series
Arden's most basic model, Arden 1, has an aluminum frame with Shimano Claris components. The groupsets go up to Shimano 105 on the Arden 5 Carbon model. Of the two available carbon models, the Arden 5 carbon is the better one. It weighs somewhere around 19.4 pounds.
Main Features
High-quality Shimano components
Aluminum and carbon frames
Made for different types of riders
Attractively priced even at the top level
It's not the lightest, considering it's made from carbon, but you can easily upgrade it by changing the components to lighter ones.
With each price increment in this series, you will get a bike that weighs less and has better parts. You can use this series to go quickly from a road cycling beginner to making some remarkable results.
Models
Arden 1 is the cheapest of the five models which makes it a fantastic choice for beginners on the road. It features Shimano Claris components and mechanical disc brakes.
Arden 2 is a women's entry-level aluminum road bike with mechanical disc brakes. It's equipped with Shimano Sora components that offer 18 speeds on a 2×9 drivetrain. It's perfect for beginners and weekend warriors.
Arden 3 is much better than Arden 2 if you're willing to pay a little bit more. It has Shimano 105 components, which are two classes higher, and a carbon fork which makes a lot of difference on the road. The HED rims are better and lighter too, so it's a bargain overall.
Arden 4 Carbon If you're interested in buying a full carbon women's road bike from Diamondback, this is the cheapest you'll get it. This lightweight and durable frame comes fitted with Shimano Tiagra components, which are great for recreational riders and fitness enthusiasts. It has a 2×10 drivetrain, so it offers more than enough gears to get by.
Arden 5 Carbon is the best and the most expensive women's road bike you can get in this series. Apart from the full-carbon frame and fork that you'll get, you'll also be working with Shimano 105 components. Apart from setting personal records on fitness rides, this groupset can be used for racing as well. It costs $2,500, which is a great price.
---
Haanjenn (Discontinued)
Basically, the Haanjenn series is the same as the Haanjo series for men. It is meant for those who like to ride on different kinds of roads.
Women's gravel bikes — Priced between $600 and $1,000.
To me, it differs from a hybrid bike in that it has a more aerodynamic position. Not too low, but a more performance-oriented frame geometry.
The Diamondback Haanjenn series is meant for female road bike enthusiasts who like to make a detour to the forests too. Basically, this series is similar to hybrid bikes, but with a much better upright position.
Main Features
Three attractive models
Wide tires for added off-road support
Comfortable upright position
Nimble handling with drop bars
Attractive prices
The Haanjenn series has three models at the moment, all of which are great for entry-level female riders who enjoy a variety of terrain. They are not intended for competitive riding and racing, but they are perfect for weekend warriors. You can take them on moderate recreational rides, commutes, or even on multi-day bike tours.
Models
Haanjenn 1 is the ideal women's bike for beginners. If you need a bike to commute around your area, go on recreational rides, enjoy the weekends outdoors, you cannot go wrong with this one. It's great both on and off-road.
Haanjenn 1 has flat bars, Shimano Acera components, and 9 wide-range gears.
Haanjenn 2 is a great choice in-between the 1st and the 3rd model. It's equipped with Shimano Claris components, mechanical disc brakes, drop bars, and 38mm wide tires. It's painted in a stealthy-looking matte black color.
Haanjenn 3 is an improved version of Haanjenn 2, intended for women riders who already have some experience and who are aware of their love for cycling.
For a bit more money, you'll get drop bars, which are much more comfortable, and more suitable Shimano Sora road components. They are also much better than the MTB Shimano Acera. Finally, it comes with 18 speeds and powerful Tektro mechanical disc brakes.
---
Andean (Discontinued)
These models are currently unavailable.
Andean series is meant for Time trial (TT) and triathlon rides and as the name says, it is the best choice for a serious rider.
Diamondback Andean series for triathletes – Priced between $4,500 and $12,000.
This is the highest-end category of bikes that Diamondback makes. This series is meant for TT races, so it has gone through hundreds (if not thousands!) of hours of testing in a wind tunnel. I probably don't have to emphasize it, but these bikes look super-fast too! The engineers who came up with these bikes definitely smile when they look at this series because it's one of the fastest and best-looking ones on the planet!
Main Features
Three fast models
Top-notch SRAM and Shimano components
Lightweight carbon frames
Aero frame design and geometry
Ready for TT and triathlon races
Components and Customization
Put together with the best components and a well-built carbon frame it can easily take you to the next level. There are three models in this series called Andean 1, Andean 2, and Andean 3. If you want to roll with the help of the best aerodynamic solutions, then this series is definitely meant for you.
The Andean Series is like Lamborghini in the automotive scene. If you do not like the stock models, you can also make your own Andean series bike in the Custom Studio. It allows you to choose the colors, the design, and the components.
This series is equipped with all the best possible components on the market. The team of engineers tackled the problem of the drag so that you would not have to deal with it on the road.
It's said that these might be the fastest TT and triathlon bikes out there. Well, you must try and see for yourself.
Models
Andean 1 is the most affordable of the three Andean models, but that does not make it bad.
Far from it. This space shuttle-like bike has an aero carbon frame, fitted with Shimano Ultegra components. It has a 2×11 drivetrain which will help you beat your former PRs.
Andean 2 is very similar to Andean 1, but it has some important differences. Andean 2 comes with Shimano Ultegra Di2 R8050 components. These are electrical components, so the setup is lighter and more efficient than the traditional one.
Andean 3 If you want the best of the best, go for the Andean 3 model. This one will not just help you set personal records, but win TT and Triathlon races as well. It has SRAM Force eTap AXS components, which are as good as you'll get.
---
---
Diamondback Road Bikes on Amazon (Unavailable)
There are also some out-of-production models that they offer on Amazon. These are models from previous years, but they are definitely worth checking out. Nothing is wrong with them, but they needed to be removed from the website to make room for the new models.
Amazon has some current bikes as well. It seems like Diamondback has discontinued most of their road bikes. The only drop-bar line Diamondback currently offers is Haanojo.
There's a chance that you can get a great setup at a very affordable price.
Sizes
Diamondback offers a pretty wide range of sizes. Typically 4-5 sizes for everyone. You can read this anywhere, the geometry is comfortable even with the entry-level models.
There might be some issues depending on your leg and hand length which could make you want to change the stem. This is to give you a better riding position. However, the sizing charts show pretty well, what size you need.
Simple As That
First of all, you need to find the proper type for your riding preferences (Ordinary road bike, alternative or race bike.
Pick the right class – Are you a trainer or you take part of the races.
Pick the right size
Buy & RIDE! – Enjoy
Bottom Point

Now that we have reviewed the whole Diamondback's selection of road bikes, we can make some conclusions. Diamondback leaves nobody behind! They have a really rich choice of different types of bikes aimed towards different groups of riders. The price points differ and go from very cheap to very expensive.
Plus, there are different series for different uses. No matter if you just want to relax with a breeze in your hair or do TT and Triathlon races, you will find a bike for your needs on this page.
Related:
Have a question? Feel free to ask below!