Rad Power Bikes' Black Friday deals are here! We all know and love Black Friday, and Rad Power Bikes has a lot to offer us this year.
This is the best time of the year to purchase a new electric bike or new gear – you can find deals on just about everything on Black Friday. Electric bikes are more affordable than ever, and you can save even more on Black Friday.
Here, we've put together a list of the best electric bike deals from Rad Power Bikes for Black Friday.
Rad Power Bikes makes some of the best high-quality, yet affordable e-bikes for city riding, off-roading, commuting, and transporting cargo.
There are bikes for everyone, from busy parents to city dwellers, and everyday commuters.
Using a calculated mix of quality parts and intentional design, Rad Power Bikes offer some of the best electric bike features, yet they cost an average of just $1,500. Each model comes with a 750W motor, powerful battery, extra wide tires, and throttle among other features.
This list will be updated, so keep coming back so you don't miss out on the best Black Friday electric bike deals.
Best Black Friday Rad Power Bikes Deals
RadCity 4 $1,399 $1,599
Sold Out!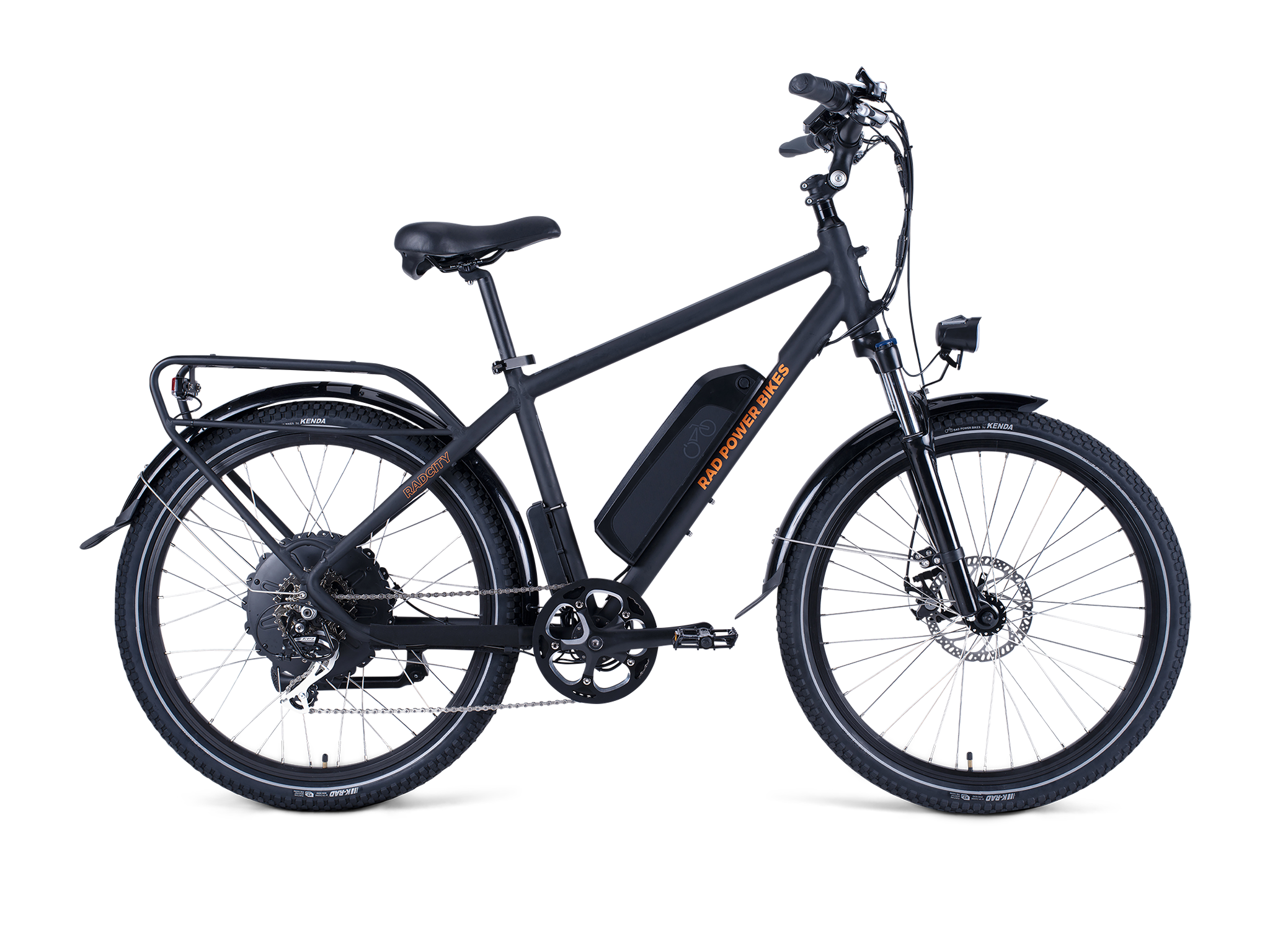 RadCity 4 is one of the best city e-bikes on the market. At a discounted price of $1,399, you won't find a better deal with the same high-quality as the RadCity 4.
Designed for urban riding, commuters, and casual fitness riders, the RadCity 4 can handle off-road riding as well thanks to its 26" x 3" tires. Like other Rad Power Bikes, RadCity 4 has a 750W motor and powerful battery. There are step-over and step-through models available, another reason that the RadCity 4 is perfect for a wide variety of riders.
Despite the casual look and pristine comfort, RadCity 4 is fast and powerful, complete with an SR Suntour suspension fork with 80mm travel. Combined with its 3" tires, the RadCity 4 is more than capable of handling off-road trails such as dirt or gravel.
Additional features include front and rear fenders, a rear rack, and front and rear lights. RadCity 4 is a stylish blend of urban city cycling and off-road riding designed for all kinds of riders.
RadCity 5 Plus $1,699 $1,999
RadCity 5 Plus is the improved version of RadCity 4.
Let's face it, RadCity 5 Plus has the looks. The original version is not too shabby either, but this model just looks sleek and shiny. Overall, this bike is a classic Rad Power Bikes model.
750W motor, good quality components, a range of up to 50 miles – there's not much more to ask for.
This bike is perfect for commuters who want to take their commutes to a whole new level. The Radcity 5 Plus can carry up to 275lbs, and the sturdy rear rack is ready for cargo.
RadMission $899 $1,199
Sold Out!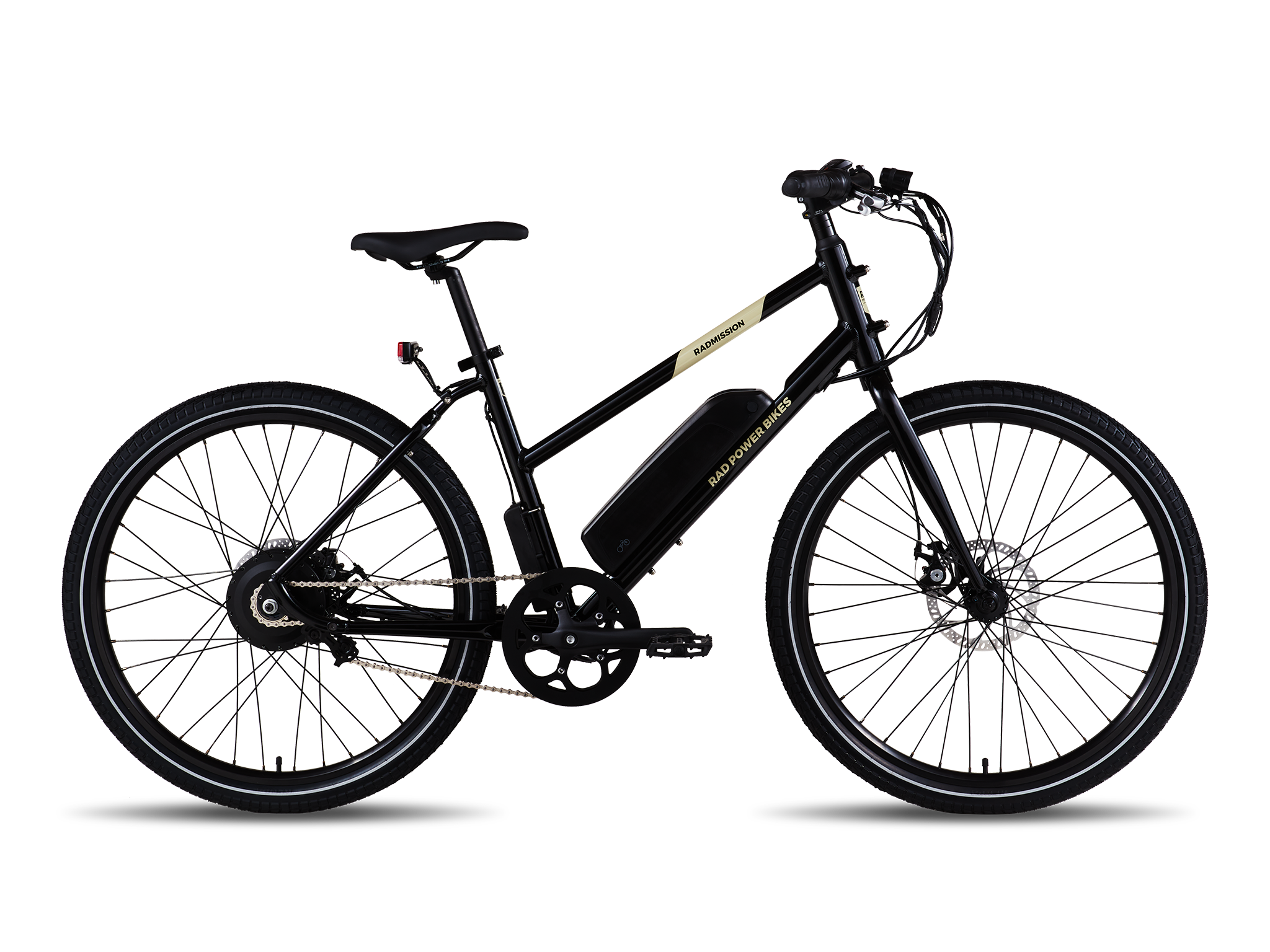 RadMission is the cheapest and lightest e-bike from Rad Power Bikes. And it's also one of the cheapest e-bikes ever this Black Friday. You do NOT want to miss this deal.
Built with a 500W motor, the RadMission is an exception in the Rad Power Bikes lineup. But that doesn't hinder its capabilities, since the RadMission has a 25 to 45+ mile range and pedal-assist or throttle support up to 20mph.
Weighing in at just 48 lbs, the RadMission is exceptionally light for an e-bike, and it's about 15 lbs lighter than other Rad Power Bikes. Riders shouldn't be too bothered by the single-speed nature of the RadMission since the throttle offers extra support along with the motor which delivers 50Nm torque.
With 27.5" x 1.95" tires, the RadMission isn't as well-equipped for off-road as other Rad Power Bikes, but it is more than capable of handling any and all kinds of pavement. Along with all other Rad Power Bikes, Rad Mission comes with integrated lights. It's even available in either mid-step or high-step frames which suit a wide variety of riders.
RadRover 6 Plus $1,499 $1,999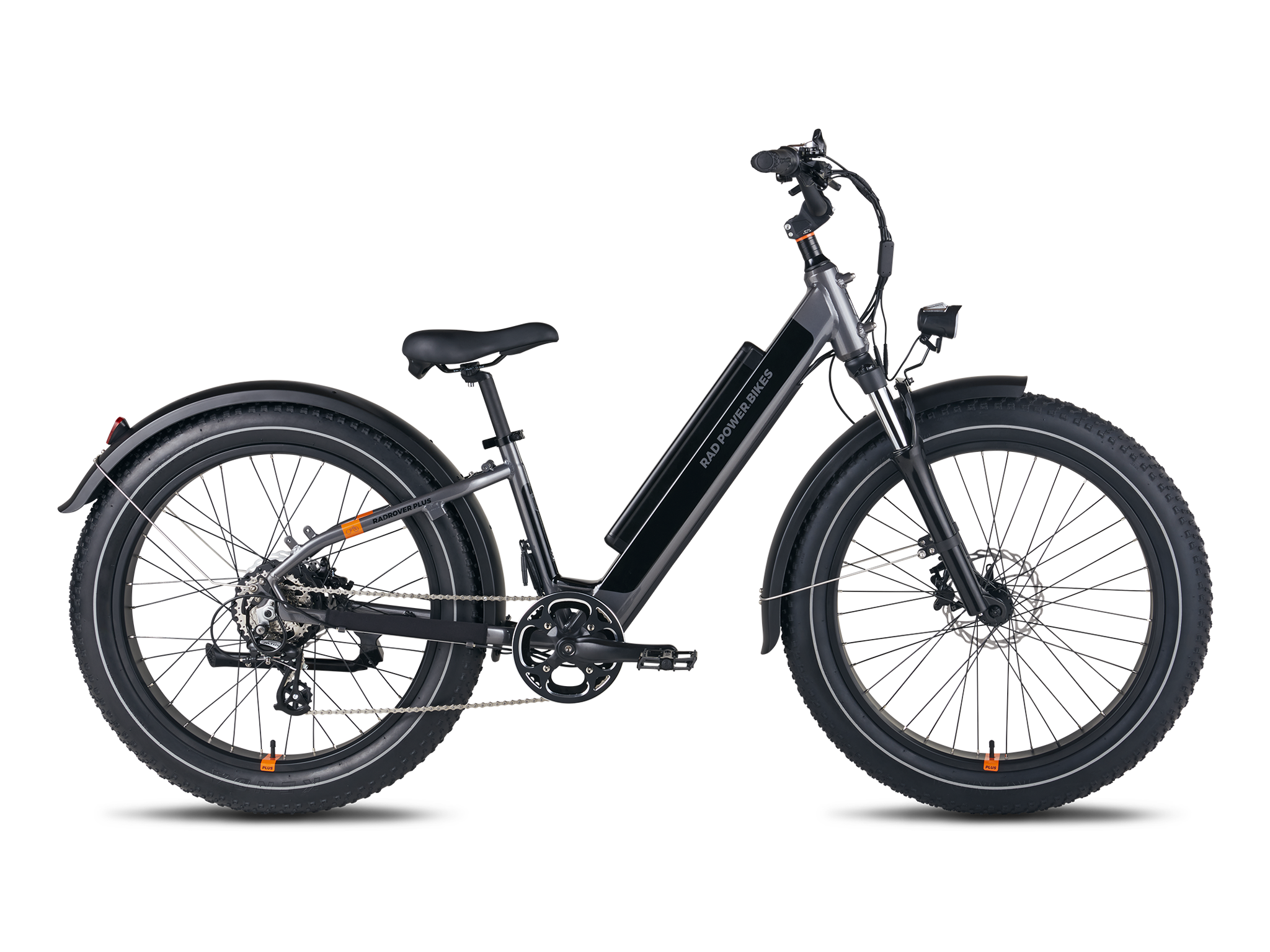 One of the top-of-the-line Rad Power Bikes is the RadRover 6 Plus.
RadRover 6 Plus has the best features that Rad Power Bikes can offer, including a 750W motor and up to 45 miles of range per battery charge.
The RadRover 6 Plus is a cruiser designed for comfort, complete with suspension, updated geometry, and hydraulic disc brakes. Huge 26" x 4" tires make the RadRover 6 Plus as capable off-road as on. Other features include a 7-speed drivetrain, battery-powered lights, and a kickstand.
You'll never find an electric e-bike cruiser packed with as many features at this price point. It's one of the best deals this Black Friday.
Interested in more Rad Power Bikes? See our review to see the full range.
RadExpand 5 $1,499 $1,599
Rad Power Bikes RadExpand 5 is a folding electric bike with a relaxed geometry.
The design is a mix between two Rad Power Bikes Classics – RadRunner and RadCity.
RadExpand's main characteristics are consistent with other Rad Power Bikes models. 750W motor, good quality components, durable folding frame, and a range of up to 45 miles.
The bike folds down to a 29″ x 25″ x 41″ bundle and weighs 62.5 lbs.
See More Black Friday Deals