Salsa Marrakesh is a heavy-duty steel touring bicycle capable of long-term worldwide touring, expeditions, and exploration. Everything about it screams function and durability.
Marrakesh is Salsa's dedicated touring bicycle. It is the only model in Salsa's lineup that's truly designed to haul heavy weights and do long miles while fully loaded.
If you're planning to do serious cycling expeditions, you need a bicycle that's built with that in mind. Luckily, Salsa Marrakesh fits the description and doesn't cost much, which is another reason why it's becoming a tourers' favorite.
Let's take a closer look and see if you've just found the perfect companion for your adventures!
Key Specs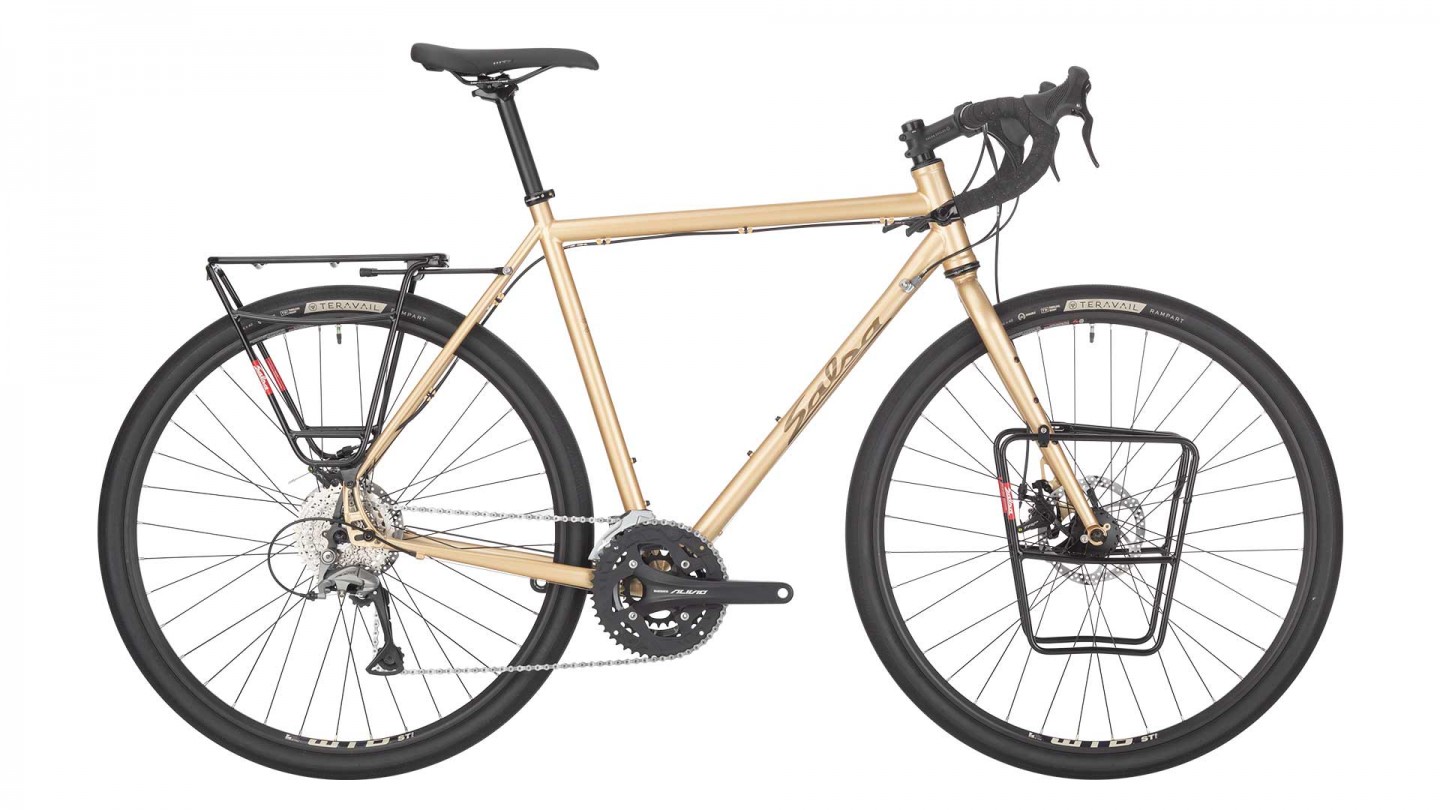 Salsa Marrakesh has a lot to offer to bicycle tourers who are looking for a dependable steel rig that doesn't cost an arm and a leg.
Related: How To Prepare For a Bike Trip
It has pretty much all you need to cover long distances on a day-to-day basis, such as mid-tier Alivio components, 27 gears, disc brakes, front and rear racks, plenty of mounting points, wide tires, and endurance geometry.
Here's a list of the most important specs the new version gets:
Frame: Marrakesh triple-butted Chromoly steel
Fork: Marrakesh Chromoly steel
Crankset: Shimano Alivio FC-M4060, 48/36/26T
Shifters: MicroSHIFT BS-T09 bar-end shifters
Front Derailleur: Shimano Acera FD-T3000
Rear Derailleur: Shimano Alivio RD-T4000
Rear Cogs: Shimano Alivio, 11-36T, 9-speed
Number of Gears: 27 gears
Brakes: TRP Spyre-C (160 mm rotors)
Rims: WTB ST i19 TCS 2.0 700c
Front Hub: Shimano M475 100 mm quick-release, 36-hole
Rear Hub: Shimano M475 135 mm quick-release, 36-hole
Tires: Teravail Rampart 700c x 42 mm, tubeless-ready, durable sidewall
Handlebar: Salsa Cowchipper
Saddle: WTB Volt Steel, medium
Headset: Cane Creek 40
Chain: Shimano HG93
Weight: 30 lbs. 14 oz.
Triple Butted 4130 CroMoly Frameset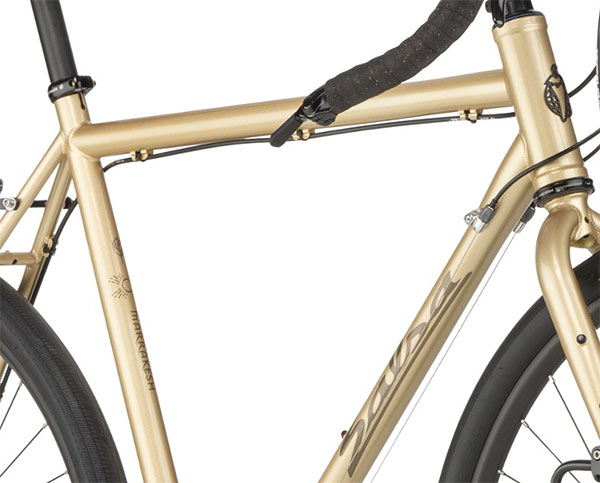 There's no doubt that Marrakesh's main standout feature is its heavy-duty cromoly steel frameset. Salsa made it as sturdy as possible, which came with a slight weight penalty, but that won't make a difference when the bike is fully loaded.
Learn more: Frame Materials Explained
The frame and the fork are butted internally and externally and come equipped with front and rear racks that can carry everything you need for an around-the-world tour. The rear rack has a 60 lbs. weight limit while the front rack is limited to 33 lbs.
Another peculiar thing about this frameset is the alternator dropouts that allow you to install an internal gear hub instead of a traditional derailleur with gears or even run a single-speed setup.
You can also fit front and rear fenders, while the tire clearance lets you run 700 x 40mm tires with fenders or 29″ x 2.0″ beasts without.
Finally, mounting points abound all-around, so you can carry three water bottles on the frame and an additional two on the fork legs. You'll never get thirsty again!
Robust Mid-Tier Components
There's nothing flashy or overly impressive about the components Salsa Marrakesh comes with. However, the drivetrain, brakes, wheels, and tires are dependable mid-tier parts that were tested time and again, proving their reliability and worth.
First of all, the newest iteration of Marrakesh is powered by a Shimano Alivio/Acera groupset that puts a total of 27 speeds at your disposal. Alivio has long been a high-quality yet budget-friendly group so it doesn't surprise us that Salsa opted for it. The duo is paired with MicroShift bar-end shifters that some riders will love and others will wish to change.
Next, the brake set consists of the well-known TRP Spyre-C mechanical disc brakes that bite at 160mm rotors. If you wish, you can fit up to 180mm rotors to maximize the braking surface. But even this way, you'll get more than enough braking power to stop even when carrying close to 100 lbs of added weight.
Loads of Tire Clearance
On to the round parts, Marrakesh traverses the planet on a set of WTB ST i19 TCS 2.0 wheels and Teravail Rampart 700c x 42 mm tires. This is a tubeless-ready setup, so you can say goodbye to unloading your bike to change a flat and losing precious time doing it.
The stock model does not come with fenders, but if you choose to fit them, the maximum tire size you'll be able to fit will be 700c x 40mm. Otherwise, you can squeeze up to 29″ x 2.0″ tires, which is perfect for off-road touring.
Touring Geometry
Even the most expensive and best-equipped touring bicycle would be of little value if it had poor geometry. Bike travelers spend hours in the saddle every day, so maintaining the proper position makes all the difference.
Salsa Marrakesh is characterized by a low bottom bracket that guarantees stability and results in an approachable standover height of 791mm in the 55cm frame size.
Moreover, the chainstay length is adjustable via alternator dropouts which allows you to change the wheelbase and tune handling characteristics.
The front end has 62mm of trail, which is quite a lot, meaning that the bike will feel stable and steer predictably even when fully loaded.
The only potential issue some riders have pointed out is that the front end feels stretched out, so that's something to consider if you have long legs and a short torso. You might consider buying a smaller size to get the right fit.
Cargo Loading Options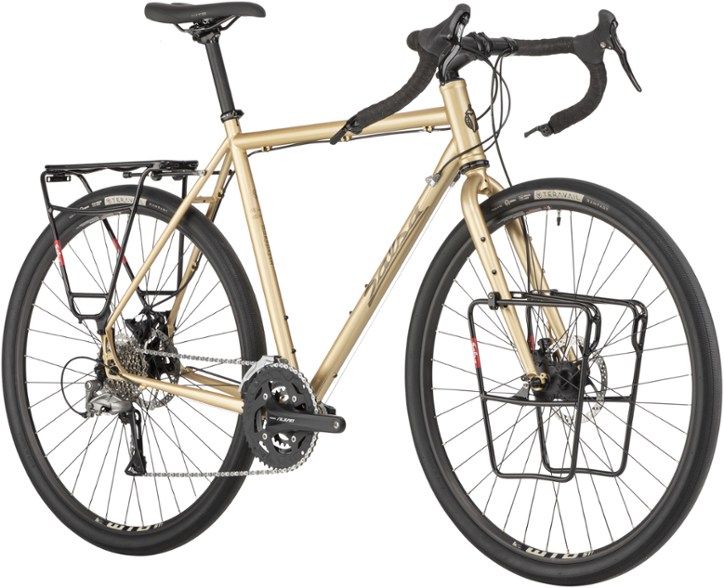 Salsa Marrakesh comes ready for long adventures out of the box. It boasts a Salsa Alternator Low-Deck rear rack with a 60 lbs weight capacity and a Salsa Down Under front rack with a 33 lbs weight limit.
The Alternator Low-Deck rack is designed specifically for Marrakesh's geometry and keeps the weight low and close to the center. In addition, the fork sports both three-pack bosses and low rider bosses, so you can use different types of racks and cages if you like carrying front panniers.
If you need to carry even more stuff, you can always fit a massive frame bag inside the front triangle. You can use it to store a water bladder or keep important bits and pieces within arm's reach.
The frame also fits three water bottles—two inside the front triangle and one under the down tube—and an (optional) additional two on the fork legs.
Therefore, when fully loaded, Salsa Marrakesh can carry everything you need to be self-sustainable on the road for months or years if need be.
See More: Best Touring Bikes
Sizes
Salsa Marrakesh is available in six sizes that fit riders between 4'10" and 6'1″+ tall. Check out the size chart below to find your ideal frame size!
50 CM: 4'10 – 5'2″
52 CM: 5'2″ – 5'5″
54 CM: 5'5″ – 5'8″
55 CM: 5'7″ – 5'10"
57 CM: 5'9″ – 6'1″
59.5 CM: 6'1″ and UP
Other Salsa Cycles Bikes
Salsa Marrakesh is the ideal bicycle for bicycle tourers who prefer carrying panniers and spending long periods on the road.
If you love being on the road but you prefer bikepacking, light touring, or simple daily adventures, you should check out a few other adventure models Salsa offers as well.
Warroad – An endurance all-road bicycle capable of off-road detours and bikepacking adventures.
Journeyman – A 650B/700C affordable aluminum all-road bicycle that's perfect for gravel riding and light touring.
Fargo – A heavy-duty off-road touring bicycle with drop bars and 29″ wheels, available with a steel or titanium frame.
Vaya – A versatile drop-bar 700C all-road bike that can cover anything from asphalt, over light dirt, to gravel.
Stormchaser – A unique single-speed gravel bike that keeps maintenance simple and emphasizes the raw experience of pedaling down a winding scenic road.
Final Verdict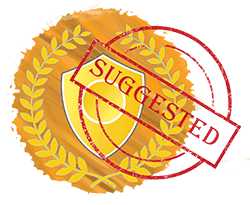 All things considered, it's evident that Salsa has put a lot of thought into designing the Marrakesh touring bike to be functional, practical, and extremely durable.
The triple-butted 4130 steel frameset is up to the task of carrying heavy loads. You can easily do so thanks to the stock front and rear racks.
Moreover, the frameset has enviable tire clearance for expedition touring and you can fit fenders and multiple water bottle cages. The mid-tier components are not flashy but they're tried and true choices that won't make you second-guess your decision of buying this bike.
Therefore, Salsa Marrakesh is one of the best proper touring bicycles for budget-minded travelers who want recognizable Salsa quality without paying through the nose.
There are no comments yet, add one below.