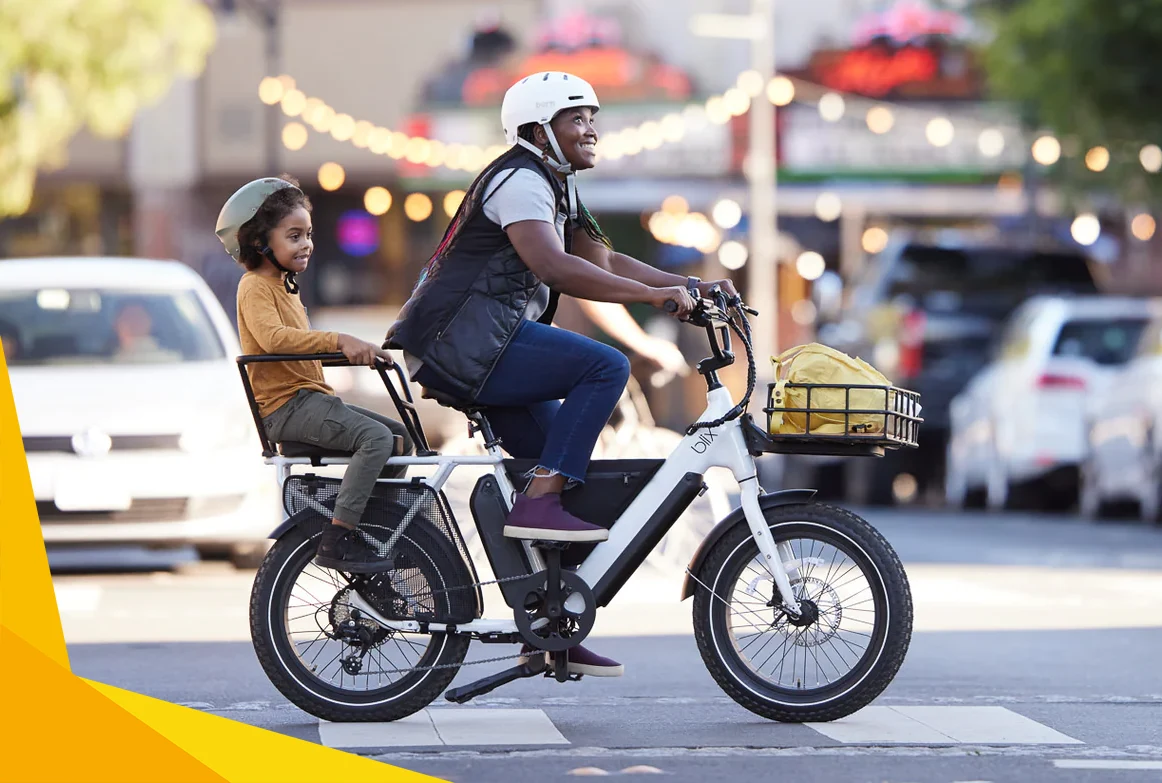 The Blix Bike look is one the most distinct in the direct-to-consumer market. Sleek tubing profiles, classy colors, and highly functional build kits make their e-bikes stand out. Among the lineup of six bikes, you have five different urban builds and a fat-tire off-roader, all with powerful motors.

In this Blix Bike review, we will take a close look at the models currently on the brand's lineup. We'll also provide an overview of the brand and answer your frequently asked questions.
Blix is a company that focuses mostly on urban electric bikes, taking inspiration from the utilitarian Dutch style to create its own unique look.
E-bike companies often disregard style to save money, but Blix goes against this by focusing on aesthetics and selling its bikes at a slightly higher price.
Overview of Blix Bikes
Pontus Malmberg founded Blix in 2014. The company's mission is to make short-distance travel more enjoyable and accessible at an individual level while making both individual and commercial transport more sustainable.
Blix Bikes is based in Santa Cruz, California, a busy coastal city that backs onto mountains, making it an ideal testing ground for all of the brand's bikes.
In busy urban areas, electric bikes like those that Blix offers can make commuting and running errands faster and less expensive. Additionally, it's a healthy way to get outdoors and an alternative to crowded public transit.
Blix positions itself at the upper end of the online-only best e-bike brands, with slightly higher average prices than well-known competition like Rad Power Bikes, Charge, Lectric, Ride1UP, and Aventon.
Blix Bike Lineup
As of September 2023, the Blix Bikes lineup comprises five urban and one fat-tire mixed-terrain build. Of the five city models, there is a utility, cargo, Dutch-style commuter, beach cruiser, and folding bike.
Each of the Blix electric bikes has a step-through frame, smart mounting points for easy accessory installation, an intuitive companion app, and both throttle and pedal assist.
The above features increase the accessibility and user-friendliness of Blix bikes and broaden their appeal. In addition, the high payload capacities and cargo accessory compatibility make them great urban workhorses. For example, the Blix Packa Genie and Dubbel both support 400 lb (rider and cargo), and the Packa is compatible with up to 200 accessory combinations.
Four of the six Blix bikes have integrated front and rear lights, fenders, and a rear rack. The Ultra and Sol Eclipse don't have rear lights, fenders, or racks. Powerful, high-torque motors also characterize their bikes and put them at the upper end of their respective categories.
Next, we'll take a closer look at the individual models.
Blix Sol Eclipse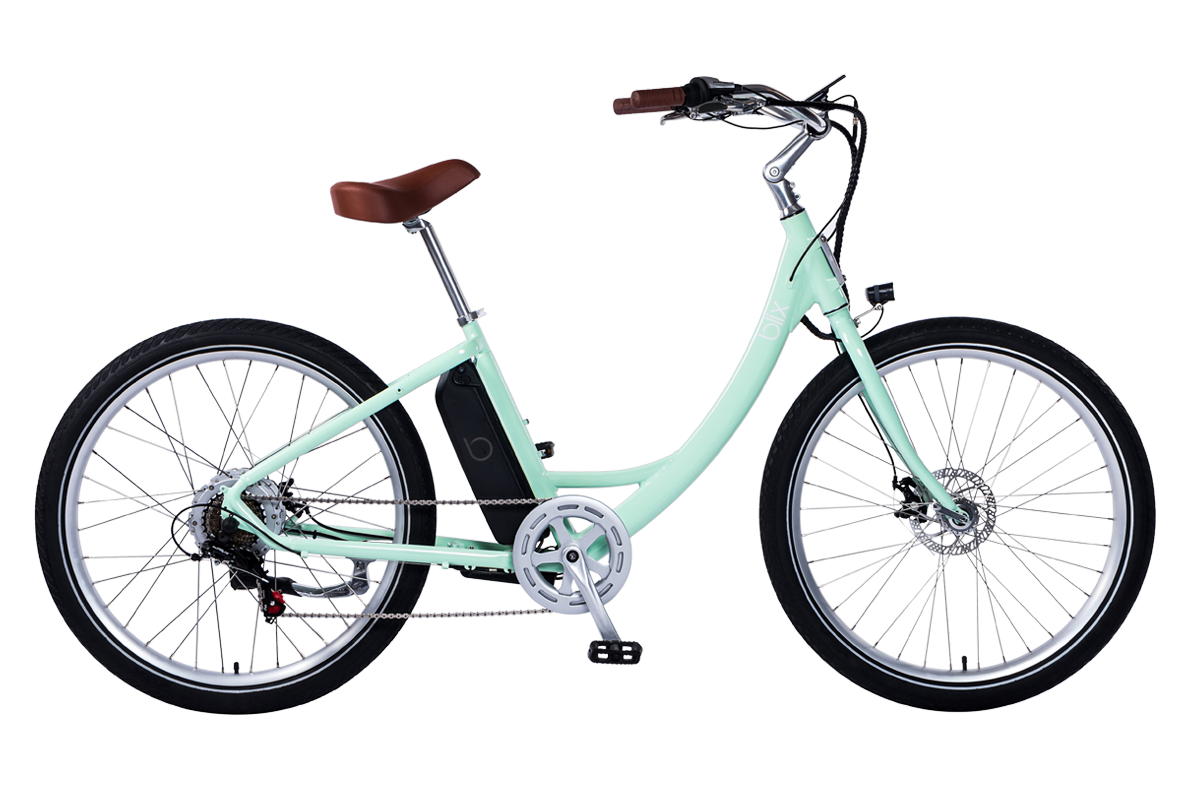 The comfort-focused choice on the Blix lineup is the Sol Eclipse cruiser e-bike, priced at $1,899. This model impresses with its attractive design, accessible ride position, and smooth ride quality.
Electric beach cruisers like the Sol Eclipse are designed for leisurely riding on urban and rural roads and bike paths. They take any effort or strain out of cycling by putting you in a natural, upright position and providing enough power to flatten out hills and neutralize headwinds.
An adjustable stem, long mustache handlebars, oversized padded saddle, steel fork, and 2.4″ balloon tires create this relaxed and smooth ride quality. For power, a huge 750W, 90 Nm motor provides ample assistance to maintain speed on steep hills using pedal assistance or just the throttle.
Unfortunately, this Blix electric bike doesn't have an integrated rear light or fenders, so you must buy a rechargeable taillight to ride safely at night. Also, adding fenders is recommended to keep you dry in wet conditions. The Sol Eclipse is also relatively heavy at 56lb without fenders or a rack.
Consider this Blix e-bike if you want pure comfort without sacrificing power.
---
Blix Vika+ Flex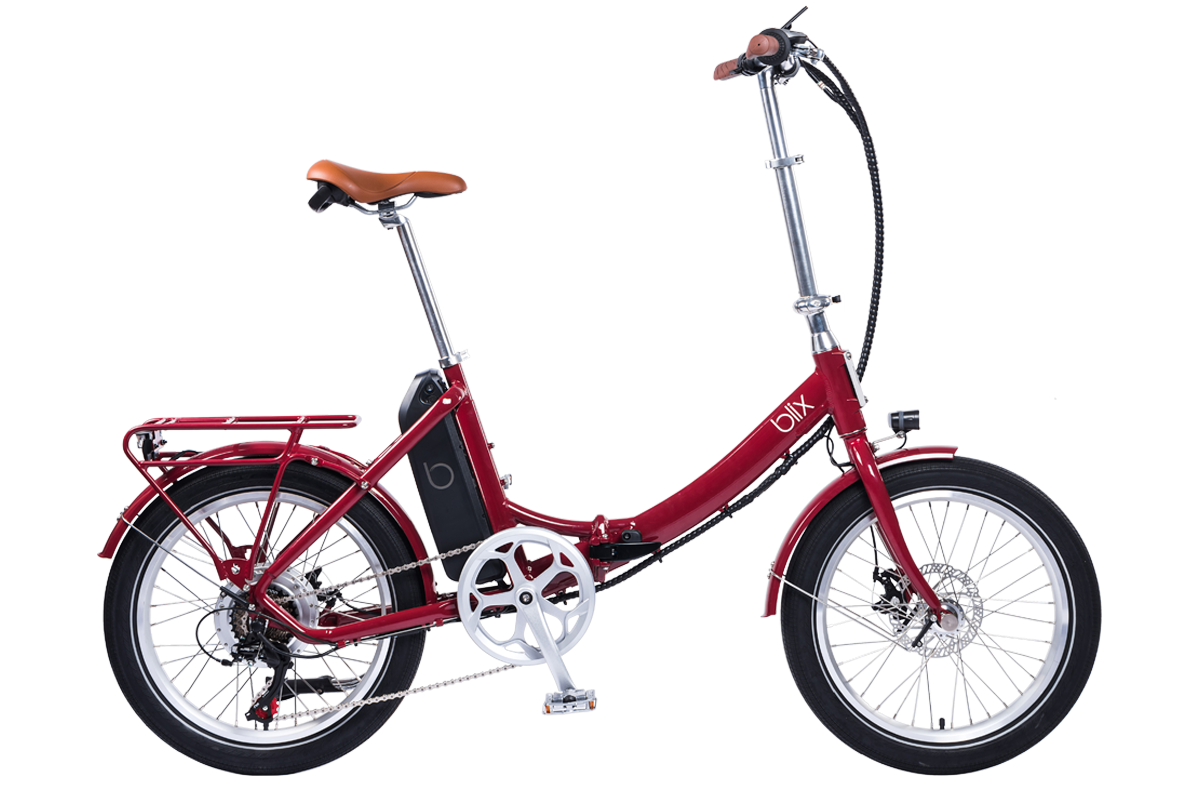 The Vika+ Flex is the oldest model in the Blix e-bike range, released in its first iteration in 2018. This is a folding e-bike designed for convenient transportation and storage.
With a telescoping seatpost and handlebars and 20″ wheels, the Vika+ Flex folds down to just 36″ x 21″ x 28″. At this size, it will fit neatly in the corner of your apartment, at the office, or in the trunk of your car for road trips.
Unfortunately, it weighs 55 lb, so lifting it will be challenging for many people. Therefore, it's not the ideal choice for multimodal commuting. However, when you need to lift the bike, you can remove the battery first to lighten the load.
The 500W motor and 614 Wh battery chosen by Blix are sufficient for a bike of this style and help keep the weight down compared to similarly priced e-folders, which often weigh over 60 lb. Finally, the groupset impresses, comprising an 8-speed microSHIFT drivetrain and hydraulic disc brakes.
Add this Blix folding bike to your shortlist if you want style, practicality, and performance at an affordable price of just $1,899.
---
Blix Aveny Skyline
The Blix Aveny Skyline is the epitome of a European-style city commuter. The high, upright ride position, swept-back handlebars, low-step frame, and equipped setup make this the ideal design for urban riders.
A plush saddle, adjustable stem, 2.25″ tires, and steel fork ensure comfort on bumpy pavement. Unusually, Blix offers this bike in four colors: two with 7-speed gearing and mechanical disc brakes (Slate Grey, Nu Cream) and two with 8-speed gearing and hydraulic disc brakes (Burgundy, Steel Blue).
All colors are priced equally at $1,999. However, mechanical discs would be a let down at this price, so we recommend choosing one of the hydraulic disc versions.
The Aveny Skyline weighs 56.5 lb, which is typical for urban bikes in this price range. It has the same electronics as the Vika+ Flex described above, meaning a 45-mile max range and enough power for most hills. The top speed is 20mph using the throttle or pedal assistance, so it's a Class 2 e-bike.
Choose the Aveny Skyline Burgundy or Steel Blue if you want a sleek and functional city commuter.
---
Blix Packa Genie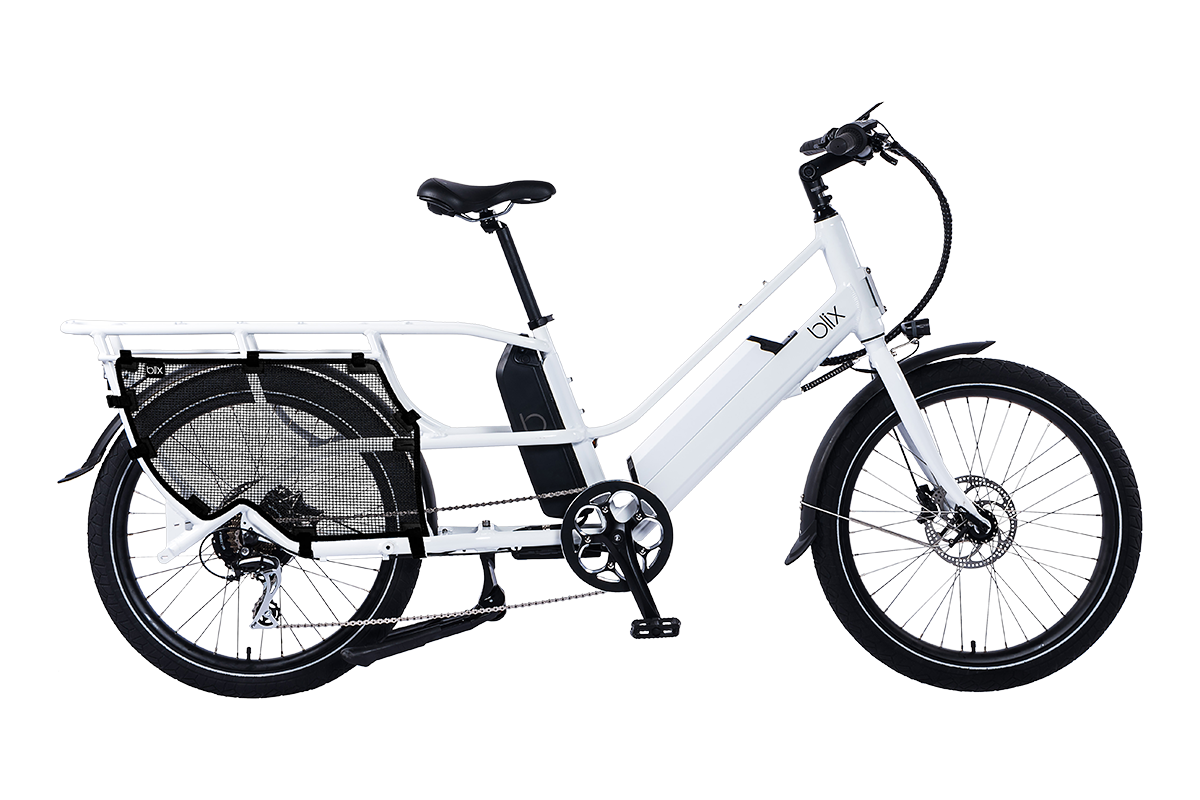 Cargo electric bikes are increasingly popular, benefiting from the trend toward e-mobility devices in urban environments. These light-duty car alternatives are ideal for transporting heavy goods or up to two child passengers around urban areas.
The Blix Packa Genie can support 400 lb of weight, with 200 lb on the long rear rack. Of all Blix bikes, this model benefits the most from the smart mounting points. You can quickly install and switch accessories like a front rack, baskets, and bags.
The company chose a high-power, high-torque 750W motor with a peak output of 1350W and 90 Nm of torque to ensure you can tackle steep hills while fully loaded. The Packa Genie also has large—for a cargo bike—24″ wheels wrapped in 2.4″ tires for stability and comfort.
This is one of three Blix bikes with dual battery capacity. The additional battery costs an extra $400 but increases the riding range to 80 miles. However, it also pushes the Packa Genie's price over the rest of the direct-to-consumer cargo e-bike competition to $2,499.
Choose this Blix cargo bike if you need a model that allows you to change between accessories quickly.
---
Blix Ultra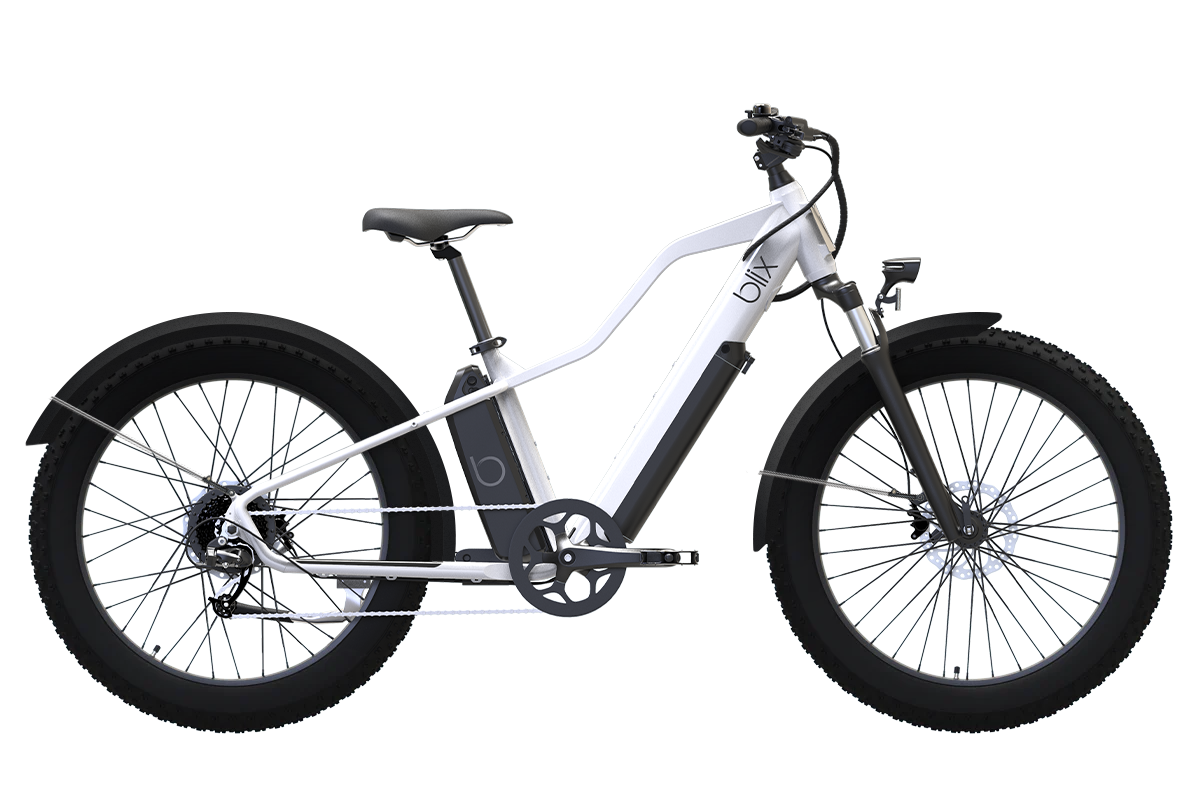 The Ultra is the only off-road-capable model that Blix sells. This e-bike category is extremely competitive, but the Ultra stands out with its dual battery capacity.
Blix chose a set of 4-inch Chaoyang Big Daddy tires, an 80 mm travel fork, and MTB-style geometry to give the Ultra its off-road capability.
A powerful 750W motor and Class 3 28mph speed limit means this is a fast and exciting ride, suitable for experienced riders. If you like to ride at higher speeds, we recommend choosing the dual-battery model to get a more reasonable max range.
In the two-battery configuration, this bike is more expensive ($2,499) than most of the competition. However, the single-battery build costs $400 less. It doesn't come with a rack, fenders, or rear lights, although these Blix bike accessories can be bought from the online store.
All things considered, this is a slightly pricey fat-tire e-bike, so it relies on Blix's reputation for high quality and performance to attract buyers.
---
Blix Dubbel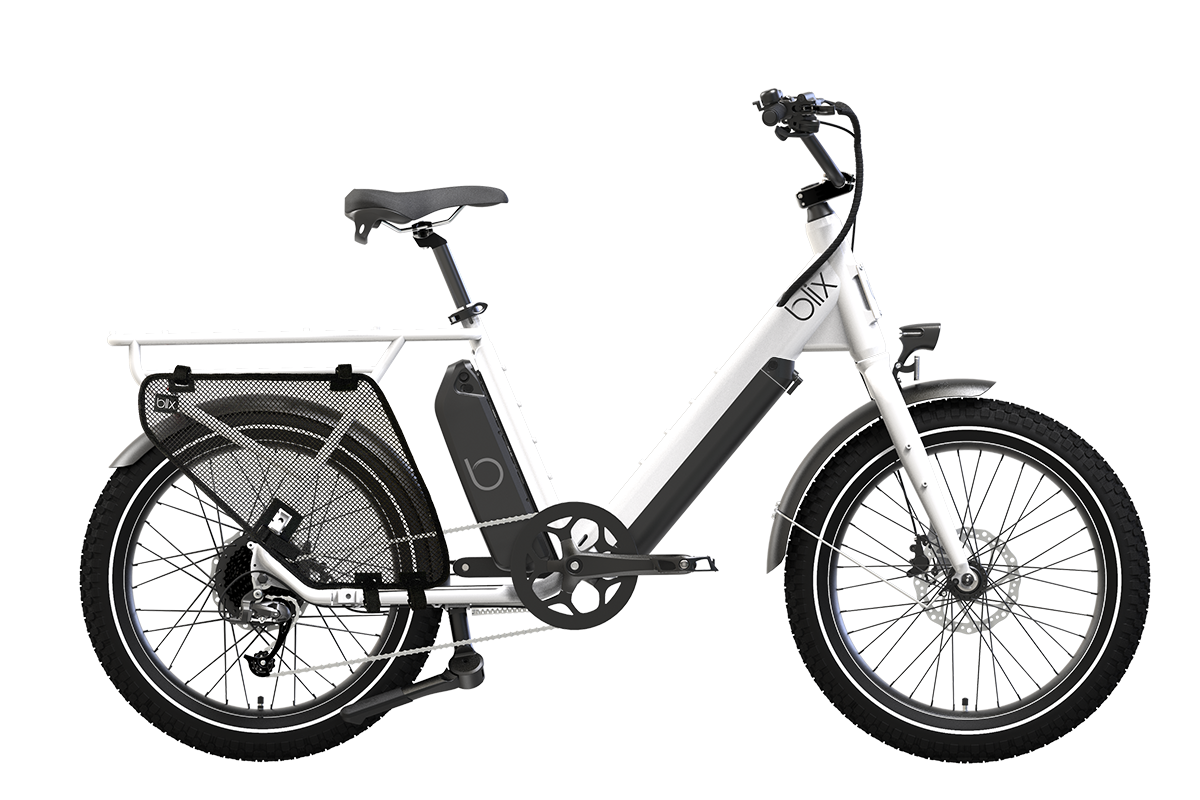 The Blix Dubbel is the newest model on the brand's roster, bridging the gap between the Packa Genie cargo and Aveny Skyline city bikes.
Impressively, the Dubbel can support the same amount of weight as the Packa Genie (400 lb) despite its shorter rear rack. Again, the modular rack system and smart mounting points make it easy to install accessories for hauling gear or a passenger.
This is one of two Blix e-bikes with a 28 mph max speed—the other is the Ultra, described above. This higher limit allows you to put the powerful 750W, 90 Nm motor to the test while tackling steep hills or riding with a loaded bike.
The main downside of this bike, as is evident in the photo above, is the extremely low-hanging kickstand, which could drag on the ground if you're leaning into corners. Additionally, it's a heavy bike weighing 70 lb with one battery ($2,099) or 78 lb with two ($2,499).
Nonetheless, we think this is worth considering if you want a powerful workhorse for carrying cargo but don't want a bulky cargo e-bike.
---
Frequently Asked Questions
Final Thoughts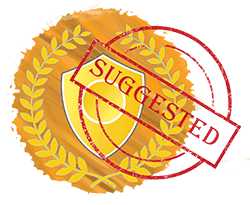 Blix Bikes specializes in urban-style electric bikes priced at the upper end of the direct-to-consumer market.
Across the six-model range, you will likely find a model that suits your needs, whether it is comfortable recreational riding, city commuting, or transporting heavy cargo.
The design of Blix electric bikes is immediately recognizable, and the bikes stand out for the clean aesthetics, powerful motors, and ease of use.
The general quality is reliable, and the bikes perform as expected. However, Blix bikes cost slightly more than those from competitors like Rad Power Bikes, Ride1UP, Aventon, and Lectric. In addition, their customer service doesn't have the best reputation.
We recommend considering a Blix bike if you have a slightly higher budget and appreciate the style and functionality.