Finding a high-quality cheap electric bike for less than $1,000 used to be the same as looking for a unicorn. That's no longer the case as the affordable e-bikes on our list will show you.
Electric bikes have come a long way and e-bike technology is constantly advancing. That means that quality electric components no longer cost an arm and a leg. Instead, they're trickling down to accessible price categories. You can now ride a well-built e-bike without spending thousands.
We've done some thorough research and compiled a list of the best electric bikes under $1,000. We've managed to find fitness, hybrid, folding, and even mountain e-bikes with decent components, dependable electronics, and attractive looks.
Make your pick!
What is the best electric bike under $1,000?
Considering the money to value ratio, Ride1UP Roadster V2 is the best electric bike under $1,000. This is a good-looking cheap electric bike with a seamlessly integrated motor and battery and a low-maintenance carbon belt. It's an excellent choice for commuters and fitness riders on a budget.
Ride1UP Roadster V2
Best Budget Electric Bike
350W motor & 250W battery
Carbon belt drive
See More: Best Electric Commuter Bikes
Ride1UP Roadster is a fast and modern e-bike with aggressive frame geometry and a streamlined appearance. Even though this is a cheap electric bike, the motor and the battery are concealed, so it looks like a regular bike at first glance.
As a class 3 electric bicycle, Roadster will assist you up to 24 mph for around 20 to 35 miles, depending on how you ride. Its gearing is ideal for flat areas, but you'll need some momentum to get up steeper hills.
Aluminum frameset
Dual Pivot V-Brakes
Kenda Kwest 700Cx28C Tires
LCD Digital Display
Ride1UP Roadster is built around a lightweight aluminum frameset, so it weighs only 33 lbs. which is impressive for an e-bike. It comes in two frame sizes suitable for 5'3″-5'8″ (S52cm) and 5'7″-6'2″ (L58cm) riders.
This bike is perfect for commuting in the city, as it has narrow 28mm road tires and high 64T-20T gearing. It has a single-speed drivetrain but with the help of the 350W (nominal) motor, you'll find it easy to ride on flats and over moderate hills.
The best thing about the Roadster is the carbon belt drive that replaces the traditional chain. It simplifies maintenance as it doesn't require cleaning or lubrication. Plus, it lasts longer than a chain. It's a win-win.
If you want a track-style e-bike that looks smooth and rides fast for under $1,000, Ride1UP Roadster V2 is the one.
Engwe T14
Best Budget Folding Electric Bike
Mini folding electric bike
350W motor & 48V/10Ah battery
Despite what some people still think, e-bikes are not only made to be ridden by grannies on bike paths. Not that we have anything against grannies on bike paths, we think they're awesome. Engwe's T14 is a capable mini e-bike with punchy electronics and a folding frame that means you can carry it anywhere you go.
This bike sports a foldable aluminum frame, full suspension, a 350W motor, and a 480Wh battery. Even though it's quite heavy, the motor is sufficiently strong to assist you up to more than 20mph on paved and unpaved roads.
20″ x 2..125″ tires
One frame size
Dual suspension
Mechanical disc brakes
Engwe T14 is a budget e-bike that you can use to commute, ride on bike paths, or run errands.
As a class 2 e-bike, Engwe has both pedal-assist and throttle modes with a 20mph maximum speed. The 480Wh battery will give you up to 50 miles of range.
If you ride off-road, you'll appreciate the dual suspension that's not common on foldable bikes. You'll also be happy about the mechanical disc brakes. In addition to this, you also get fenders, lights, and a rear rack and use it for city commutes.
Nakto
Best Cheap E-Bike w/ Folding Frame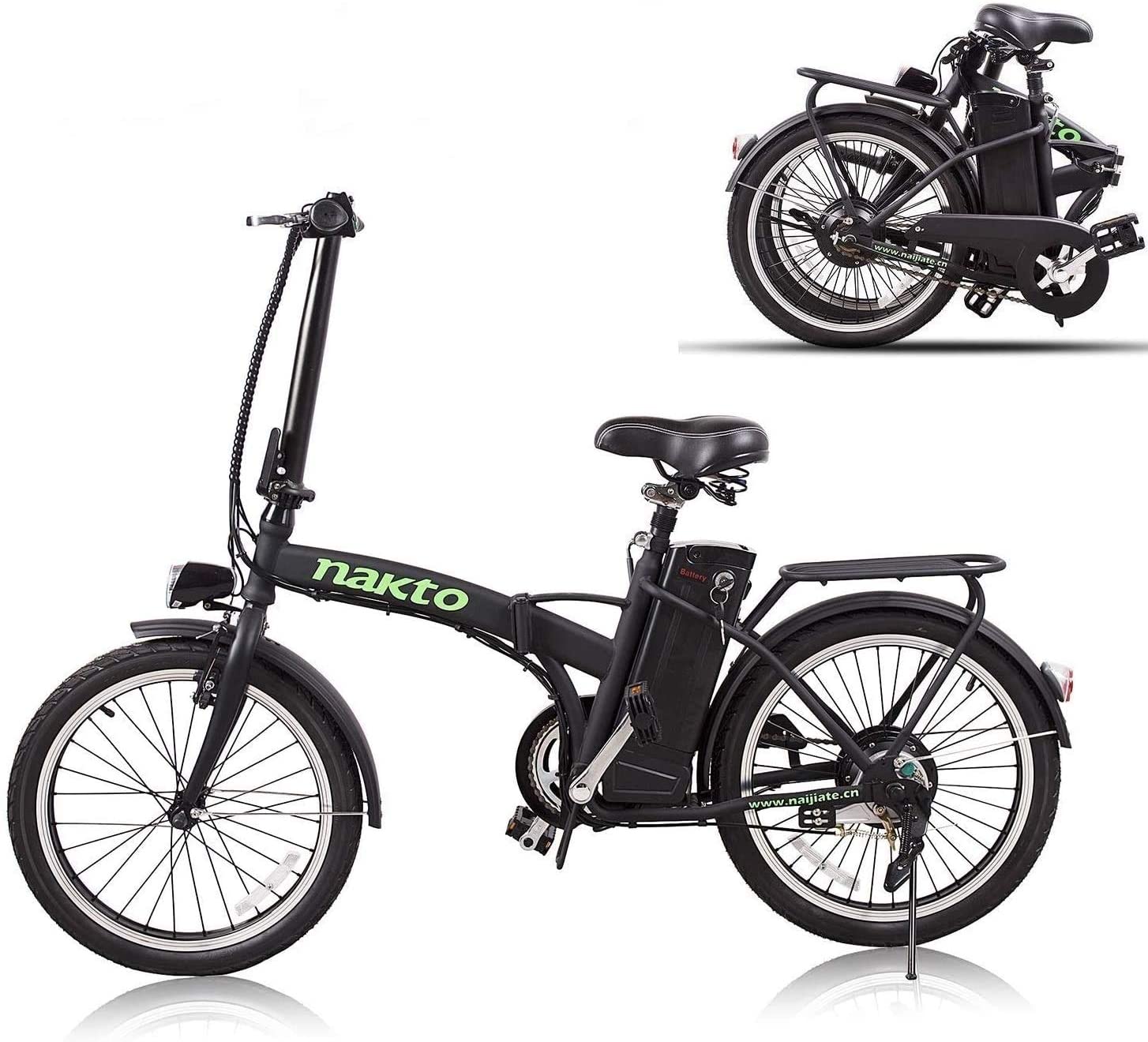 Foldable frame design
250W motor & 360Wh battery
Nakto is a compact yet nimble and fast e-bike that packs great value for the money. It has a foldable frame that transforms this bike into a manageable bundle that you can fit in the trunk, under the desk, or bring on a train.
Nakto is perfect for commuting in urban areas, running errands, or carrying groceries. It has a 300 lbs. weight capacity and an integrated rear rack, so you can carry whatever you need. That's why it is one of the best electric bikes under $1,000.
Throttle and Pedal-Assist modes up to 25 mph
Front and rear battery-powered lights
Comfy dual-spring saddle
Front V-Brake and a rear drum brake
Nakto is an affordable electric bike with some entry-level components, but a decent-value package overall. It sports a 250W rear hub motor with a removable 360Wh battery, which will be enough to help you ride farther and faster on flats and moderate hills.
Nakto features a single-speed drivetrain and a combination of rim and drum brakes, so it's definitely not a mountain goat. But that's not the original intention behind it anyways.
This bike has a maximum assisted speed of 25 mph and a 35-mile maximum range. It comes with 22″ wheels, fenders, lights, and a kickstand, so it's prepared for all adversities.
If you want an affordable electric bike that folds down small, transports and stores easily, Nakto will put a smile on your face.
Sailnovo Electric Bicycle
Best Cheap Electric Bike with Rear Suspension
350W motor & 10.4Ah battery
Compact 14″ tires
E-bikes don't need to be expensive, but they also don't need to be heavy and bulky. Sailnovo is a tiny electric bicycle with an accessible price and a design that lets you carry it anywhere.
It rolls on super-compact 14″ wheels but still manages to go up to 18.6 mph thanks to the 350W brushless rear hub motor. The integrated 10.4Ah battery delivers a 45-mile maximum range, which is more than enough for most daily commutes.
Mechanical disc brakes
Pedal-assist and throttle modes
Front and Rear Lights
Rear Suspension
Even though Sailnovo is an affordable electric bike, it has some advanced features such as mechanical disc brakes and a rear shock. This will give you plenty of stopping power and the necessary comfort for longer rides on pothole-filled city streets.
Sailnovo's design is a big highlight as it looks modern and futuristic. It looks fantastic, performs excellently, and is such a low cost.
The company claims that the 350W motor can deal with 15% hills. While that might be a stretch, you can definitely climb over some moderate hills, despite the single-speed drivetrain.
Sailnovo also sports front and rear fenders and front and rear lights, so you can commute even in the rain or during nighttime. It's a fun little bike with great capabilities at a low price.
Lectric XP Lite
Best Cheap E-Bike for Short Commutes
300W motor & 7.8ah battery
Rear Hub Motor
Can you remember how much fun you had on a mountain bike as a kid? You can relive those moments again with the Lectric XP Lite. It has wide trail-ready tires and front suspension that can deal with some moderate off-road riding.
The XP Lite also features mechanical disc brakes and lighting, so it has everything a proper commuter needs. It costs the same as a regular commuter bike but boasts an electric motor as well.
Pedal-assist and throttle modes
Class 2 e-bike, 20 mph max speed
40 miles of range per charge
Battery-powered front and rear lights
The XP Lite is an affordable electric bike, and is going to take you on not just commutes but even day adventures. The aluminum frame puts you in an upright position, so this bike is excellent for long rides and staying comfortable.
You can fine-tune the assistance you need with five pedal-assist levels and the throttle. If you get carried away, you can easily slow down with the mechanical disc brakes.
The 300W motor has sufficient power to help you fight headwinds and climb reasonable hills. It will give you all the assistance you need.
All in all, the Lectric XP Lite is basic but offers good value for the money. If you have recreational riding in mind, it will meet and exceed your expectations.
Ride1UP Core-5
Best Budget Electric Bike for Casual Riders
750W motor & 48V12.8Ah battery
Pedal-assist
Ride1UP Core-5 is ready for on- and off-road adventures. The bike has multiple pedal-assist levels and tops out at 15 mph. Plus, it's equipped with lightweight aluminum frame and gnarly tires.
Core-5 is built around an aluminum frame, so it weighs around 49 lbs, which is great at this price point. Its battery will power you up to 40 miles depending on how much assistance you use.
Shimano 7-speed drivetrain
Mechanical disc brakes
27.5″ wheels
The Core-5 is not really built for high speeds or rough trails. We'd say the goal it tries to achieve (and succeeds) is comfort. That's not hard considering it has a plush saddle, wide 27.5″ tires, and comfortable geometry.
Its aluminum frame puts you in an upright position and the 750W motor will help you conquer rolling hills or make short work of headwinds. You can either ride with three pedal-assist levels or go full-throttle mode.
Considering that this is an affordable electric bike, it's surprising that Core-5 gets you a 7-speed Shimano drivetrain and an incredibly high level of quality.
Fenders are not included, but you can attach them later on. You do get water bottle cage mounts which isn't seen often on electric bikes.
Still, Ride1UP Core-5 is a simple and affordable yet fun bike for commuting to work and back over the week and recreational rides on the weekend. It's one of the cheapest models we recommend. If you want to pay less than this, you can look for the best electric bikes under $500, but we don't recommend it.
Not sure how to choose the right one? See our guide on how to choose an electric bike to fit all your needs.
Lectric XP Step-Thru 3.0
Best Folding Electric Bicycle
Electric folding bicycle
500W motor & removable integrated battery
Full Review of the Lectric Bikes
The majority of cheap electric bikes are often big and heavy. They take up a lot of space and are not easy to carry up a flight of stairs. If this is something that's important to you, then Lectric XP Step-Thru 3.0 is a great choice. It's an affordable folding electric bike with a practical design and powerful electronics.
The 500W rear hub motor has plenty of torque, and the powerful battery offers a 45-mile maximum range. Moreover, the battery charges fully in a few hours, so you can extend the range by recharging it quickly in a cafe or at work.
Compact 20″ wheels
Mechanical disc brakes
Large display and powerful lights
Front suspension fork
Lectric XP 3.0 has a utilitarian approach. It folds down into a small bundle that easily fits in your car trunk or a corner in your home. Despite the small design, Lectric managed to include a suspension fork that takes comfort to another level.
This bike also boasts a 7-speed drivetrain and mechanical disc brakes, so maintenance is a breeze. The 500W motor will help you maintain speed when the slope goes up, which is why we listed it as one of the best electric bikes under $1,000.
See More: Best electric folding bikes
Lectric has a 28 mph maximum speed that you can achieve with pedal-assist or throttle modes. Therefore, Lectric XP 3.0 is great for urban dwellers who have limited free space at home and want a modern bike that will propel them to higher average speeds.
FAQ
Final Verdict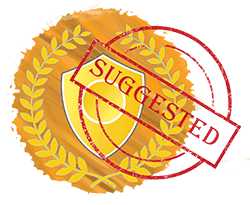 Only a few years back, you'd have to spend some serious money to join the e-biking crowd. However, things have changed for the better, and electric assistance has become significantly more accessible.
As we've shown you on the example of our list of the best electric bikes under $1,000, you can ride an e-bike for the price of a regular bike. These models have entry-level specs, but they perform well and have all the features beginner and recreational riders need. Here you can find the best electric bikes.
Don't hesitate to buy one of these cheap electric bikes if you need a dependable everyday commuter or a fun weekend e-cruiser.