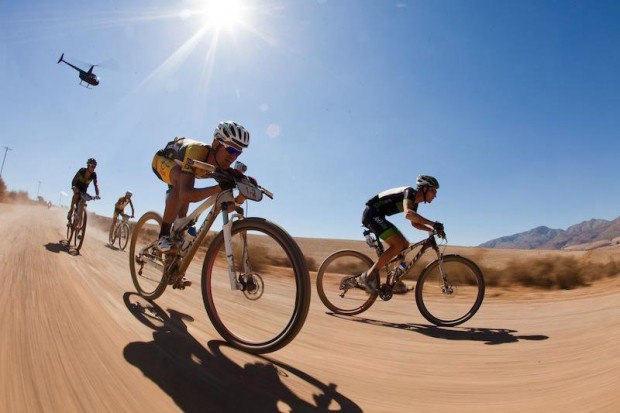 What size mountain bike frame do I need? Yes, that's the big question.
Ordering bikes online is becoming more and more popular due to there not being any shopkeeping or warehouse costs, making the prices better.
And don't worry about the old wisdom of trying a bike before getting it, that is quite definitely overrated. And very highly. Salesmen say this just as a means to get you to invest in a bike. It really doesn't have to do that much with finding the right bike size for yourself.
You should try your bike first! FALSE
Another reason is that salesmen know that there are decent bikes on the online market and the option of getting to sit on one gives them an apparent edge over that market, but in actuality, it isn't by any means necessary to choose a bike with the right size.
Related: Best Mountain Bikes Of 2023
There are many good methods to choose a good bike. I'm going to highlight SEVEN METHODS to help you measure a bike.
Feeling more confident? Good. There are actually three different ways to pick a size: you can calculate it or use the bike size charts below. Let´s start with the easiest. The bike size is measured from where the seat post starts down to the crank. You can also use the bike height chart.
---
#1 – Mountain Bike Size Chart
What mountain bike frame size do I need?
It's easy!
Your height / Bike Size
4'11" – 5'3″ = 13 – 15 inches
5'3″ – 5'7″ = 15 – 17 inches
5'7″ – 5'11" = 17 – 19 inches
6'0″ – 6'2″ = 19 – 21 inches
6'2″ – 6'4″ = 21 – 23 inches
6'4″ and taller = 23+ inches
Or you can use the mountain bike frame size chart below…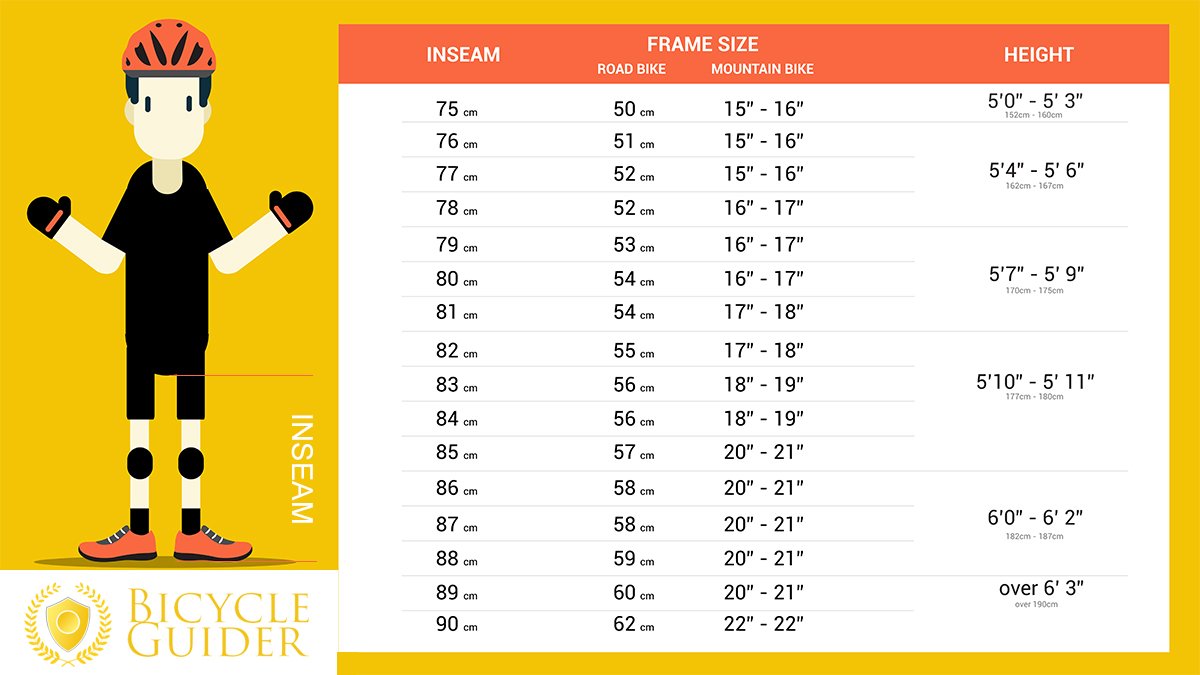 Need Professional Fitting Service? Order From Amazon!
Or you can use the…
#2 – Bike Size Calculator
Take off your shoes and stand with your legs 6″ – 8″ (15-20 cm) apart. Measure the height from the ground up to where your legs come together.
Be sure about the bicycle type you want to choose: Mountain bike, city bike, or road bike. You can read about the different bike types here.
Now you can take your calculator and quickly find the right size:
Right mountain bike sizing– Leg inseam (cm) x 0,66 = Your frame size
For example: If your leg inseam is 76cm, then your right mountain bike size is 50 cm (20")
Review: Best Gravel Bikes To Buy
#3 – Chart
Rider Height
Suggested Mountain Frame Size
Feet & Inches
Centimetres
Frame Size (inches)
Frame Size (cm)
Size
4'10" – 5'2″
148cm – 158cm
13″ – 14″
33 – 37
X-Small
5'2″ – 5'6″
158cm – 168cm
15″ – 16″
38 – 42
Small
5'6″ – 5′ 10″
168cm – 178cm
17″ – 18″
43 – 47
Medium
5'10" – 6'1″
178cm – 185cm
19″ – 20″
48 – 52
Large
6'1″ – 6'4″
185cm – 193cm
21″ – 22″
53 – 57
X-Large
6'4″ – 6'6″
193cm – 198cm
23″ – 24″
58 – 61
XX-Large
Source: Evanscycles.com
Voilà!
Extra: Right Saddle Height
Right saddle height has a very important role. If it's too low, you won't have enough power in your feet. In mountain bike racing, I have experienced that when the saddle falls one inch down from its normal position, I lose about 25-50% of my force.
Stopping to fix it can cost me my position and about 15 seconds too, but then with the correct saddle height, it's not that hard to catch up with the group and even get all the way to the next group ahead. So the right saddle height plays a huge role!
The easiest way to find that height for you is to
Lean against the wall with your elbow sitting on the bike (or let someone help you as shown in the picture)
Push your leg down to the lowest point keeping it parallel to the ground.
Move your saddle up or down until you have a small bend behind your knee. It should be something around 30° but don't worry too much about finding that exact angle.
Go out and ride. Does it feel good? If not, then adjust. Also, you can adjust the seat forward and backward.
Related: Check Out The Best Fat Tire Bikes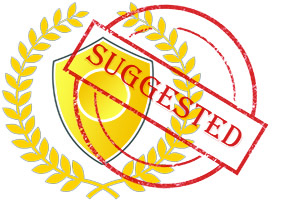 Bicycle Guiders' TIP:
When you have found the right height for yourself, you can use a marker or a sharp object to mark the right position for your saddle as some of them can sink down a bit with time. Some bikes also come with height lines written on the post, that you can check and remember once you've found the right one for yourself.
EXTRA
What If I Got My Bike Size Wrong?
Then tell the merchant, who can easily exchange your bike for the right one. If you don't want to do that, then you can try the following things:
move your saddle forward or backward
buy a longer or a shorter stem. It will change your body position
buy a longer seat post
Give it time to get the feeling right. I remember when I got my first 29er mountain bike. It felt like a ship and seemed difficult to ride it in narrow trails or the forest. But I've become so familiar with it and can ride with full ease and skill, that when I sit on a 26″ mountain bike it seems so completely ridiculous how tiny it is.
---
If you don't know, what to buy, then read those reviews below
Mountain Bike Reviews