Lectric XPremium is the most affordable mid-drive e-bike, and a high-performing one too. The XPremium offers more than you might expect at the $2000 price point, including dual batteries and a 100+ mile range. Add on the XPremium's folding e-bike frame, 4" tires, and a mid-drive motor, and you have one of the best budget e-bikes.
In this Lectric XPremium review, we're going to tell you all about the Lectric XPremium and who it's designed for.
The strong folding frame and wide fat tires help increase comfort and performance in the Lectric XPremium, which the large motor and dual-battery setup is perfect for long-range rides.
At the price of $1,999, the XPremium is the best budget e-bike for commuters, families, and beginner e-bike riders.
Let's take a closer look!
Main Specs
According to Lectric, the XPremium is the ultimate e-biking experience.
You won't find any other 48V dual-battery e-bikes at this price point, making the XPremium one of the best budget e-bikes.
Its folding frame weighs 75 lbs. including the removable batteries which can power the bike up to 28mph. With a twist throttle or pedal-assist features, the Lectric XPremium Lite can be a Class 2 or Class 3 e-bike depending on the settings, along with a host of valuable features such as integrated lights and a large 300+ lb payload capacity.
Here are some of the highlights of the Lectric XP Lite, a powerful, lightweight, and affordable folding e-bike.
Motor: 500W (800W+ peak) mid-drive, Class 2 and 3 capabilities, with 5 pedal-assist levels
Battery: Two 48v 10.4ah lithium-ion
Range: 100+ mile range, 50 miles with throttle only
Charge time: 4-6 hours per battery
Top speed: 28mph
Weight capacity: 330 lbs. (payload) and 55 lbs. (rear rack)
Bike weight: 75 lbs. with 7 lb. battery (x2)
Drivetrain: 7-speed with 32T front chainring
Brakes: 160mm hydraulic disc brakes
Tires: Chaoyang or CST 4" x 20" tires
Accessories: backlit LCD display, integrated front, and rear lights, faux leather grips, removable batteries, kickstand
Price: $1,999
Frame
With the XPremium, Lectric has engineered a brand new frame that includes sleek integrated batteries on the top tube. The entire frame folds in half for easy storage and taking the XPremium on the go.
Compared to other e-bikes, and even Lectric's own frames such as the XP 3.0 or XP Lite, the XPremium is pretty heavy, tipping the scales at 75 lbs. That's going to make it very difficult to transport and move this bike around unless you've been spending some time in the gym.
4″ tires are wrapped around the wheels of the XPremium, creating a soft and cushioning ride for all sorts of terrain. The trade-off is a loss in some handling and cornering speed, though the XPremium is not performance-designed.
Instead, the Lectric XPremium is the e-bike designed for all-road e-biking, hauling luggage, tackling hills, and commuting anywhere. The entire frame folds into 40 x 22 x 32 in. which is easy enough to fit on the train or in the trunk of a car. This includes the integrated batteries, of which there are two on the Lectric XPremium.
With a payload capacity of 330 lbs. and a rear rack that can handle 55 lbs. the Lectric XPremium is designed to handle groceries, books, bags, and more. Included in the overall frame are integrated front and rear lights, a powerful mid-drive motor, and hydraulic disc brakes.
Components
The Lectric XPremium comes with a solid 7-speed drivetrain and 32T front chainring. That's a perfect fit for an affordable e-bike at this price point. This setup will provide ample range to get up and over any hill. And don't forget you have the 500W motor and dual batteries, too.
The XPremium even has a shift sensor which helps make the relationship between the XPremium and its rider smooth and controlled.
With both throttle assistance and pedal assist, the Lectric XPremium offers a range of settings and options for you to use the power, if at all. Each electrical component is IP-65 rated, ensuring the best protection against water, dirt, and road grime.
Even at this price point, the XPremium doesn't skimp on components, and one of those is the upgraded front oil suspension with 80mm of travel.
A backlit LCD display is in the package too. Surprisingly, there is even a dynamic torque sensor that can increase motor responsiveness based on your power or cadence.
At the front of the frame is 25" wide handlebars, which allow for a comfortable riding position while also providing plenty of room for extra accessories. Faux-leather grips are included which are comfortable and stylish, as well as integrated lights and a kickstand.
Despite the modest price of $1,999, the Lectric XP Lite has many of the same premium features that you will find on high-end e-bikes. This includes the heads-up LCD display, integrated front and rear lights, kickstand, hydraulic disc brakes with 160mm rotors, and IP-65 rated electrical components which ensure water and dust resistance.
Motor and Battery
Arguably the standout feature of the Lectric XPremium is its 48v 10.4ah battery. In fact, there's not only one but two batteries on the XPremium.
For $2,000, you'd be hard-pressed to find an e-bike with two batteries. Let alone batteries that are integrated into a folding e-bike frame with fat tires.
Another standout feature is the 500W (800W+ peak) mid-drive motor. This is a rare design for a folding e-bike and especially at this price point.
Most other affordable folding e-bike designs use a rear hub motor. Rear hub motors can be less powerful and efficient compared to mid-drive motors. All that power combines to produce a top speed of 28mph in the Lectric XPremium, with full Class 2 and Class 3 e-bike capabilities.
The Lectric XPremium has five different pedal assist levels, providing a massive range of 50-100+ miles.
Level 1 (the lowest power setting) provides the longest range at a speed of 6-7mph with pedal assist. Level 5 (the highest power setting) can take you up to 60 miles at 20-28mph. With that kind of range, this is bordering on motorcycle-level.
Using the throttle only, you can get an impressive amount of distance out of the XPremium, going up to 50 miles at 20 mph. That is more than enough power, range, and options to get you around the city.
We've seen the XPremium in full flight. It's a dual-battery folding e-bike with a 100+ mile range and a top speed of 28mph. The XPremium even includes integrated lights, a backlit LCD display, and 4" fat tires – all for the low price of $1,999.
Final Verdict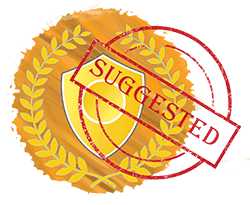 Lectric XPremium is one of the best offerings in the world of e-bikes.
For just $1,999, the XPremium is an affordable folding e-bike with all the components and options. Whether you are commuting to work, getting groceries, or going off-road, the Lectric XPremium has you covered.
The XPremium and hydraulic disc brakes are designed to perform in all-weather conditions, taking you around the city in no time at all, and with the gear, you need to carry luggage or ride at night.
The dual-battery setup makes the Lectric XPremium the folding e-bike with the longest range at over 100+ miles. With pedal-assist and throttle options, you will have more than enough power.
You cannot find a better budget folding e-bike than the Lectric XPremium.