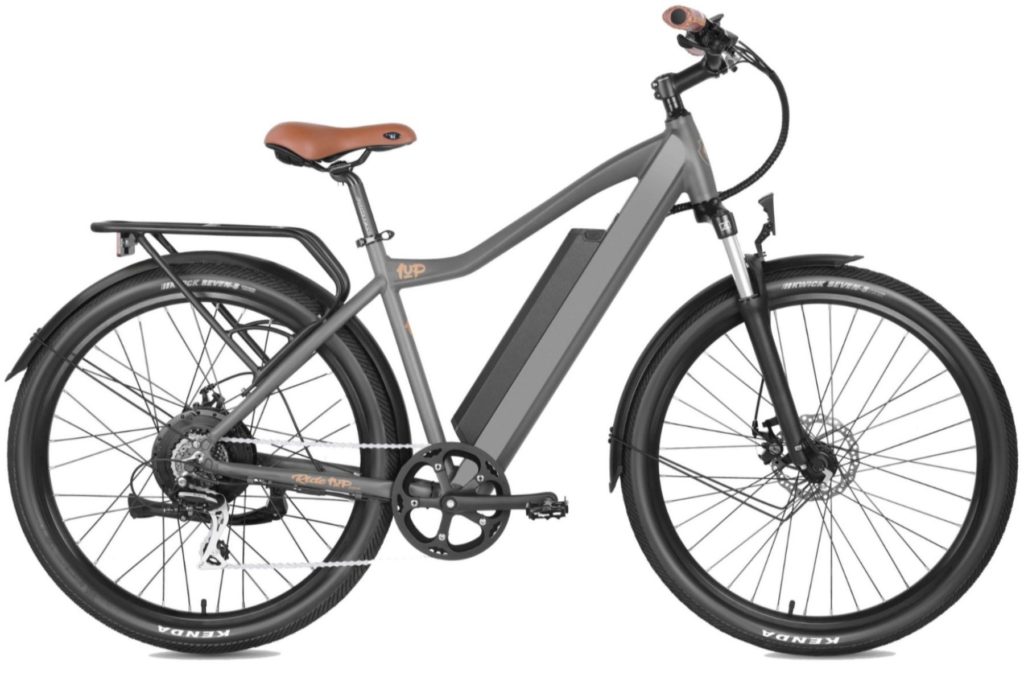 The 500 Series e-bike is the first and still one of the most popular models Ride1UP has made thus far. The secret to its success? Unbelievable value at an even less believable price.
Ride1UP 500 Series is a versatile hybrid e-bike packed with features, including powerful electronics, quality parts, and optional accessories. The result is a streamlined electric bicycle that probably won't win any beauty pageants but will snag the bang-for-the-buck trophy with ease.
It also has a "bigger brother" – the 700 series ($1,695)
The 500 Series is your daily go-to type of e-bike when you have to do a grocery haul, cross the neighborhood to get to a friend's place, climb the nearby viewpoint to catch the sunset, or commute 10–20 miles to work every day.
Could this really be the affordable feature-packed e-bike you've been looking for? Read on to find out.
Key Features
Class 3 e-bike with a 28 MPH pedal-assist and 20 MPH throttle-assisted maximum speed.
Powerful 500W (800W peak) Shengyi rear hub motor and a 625Wh battery.
Step-over and step-through frame designs are available.
Optional rear rack and fenders are available for year-round commuting.
Delivers 25–45 miles of range, depending on your riding style.
Built around a lightweight aluminum frame with a 100mm suspension fork.
Shimano 8-speed drivetrain, mechanical disc brakes, and 2.2″ tires perform well in different situations.
Ride1UP 500 weighs only 53 lb. and has a 275 lb. load capacity thanks to its aluminum frame.
Integrated LED front and rear lights and a detailed LCD display.
Ride1UP 500 Series Full Review
At just $1,495, the Ride1UP 500 Series city e-bike has quite a few aces up its sleeve. It's far from the fanciest bike out there, but the performance it offers is unmatched by the competition.
The stuff that comes to my mind when I say this includes the 800W (peak) motor, 28 MPH top assisted speed, a decent range, customizable design, and a well-built package overall.
Let's take a closer look at the good and bad in our detailed Ride1UP 500 review.
Frame
First things first, Ride1UP 500 is built around a lightweight 6061 aluminum frame with internal cable routing and internally protected & locked electronics. The frame is available in two colors—black and gold. These have the same background but the Gold version has attractive leather-colored saddle and grips.
You can also get the step-through (ST) or the step-over (XR) design, depending on your preferences. The price and the components are completely the same.
The 500 Series frame is paired up with an SR Suntour XCT coil-spring fork with 100mm of travel. We certainly wouldn't take this bike trail riding, but the 100mm fork will greatly improve your comfort on city streets and on gravel and dirt roads.
As Ride1UP says, 500 Series delivers "the most comfortable ride ever."
Motor and Battery
Ride1UP went all-in with the electronic components, equipping the 500 Series e-bike with a very impressive configuration.
Namely, the bike is powered by a 500W Shengyi geared rear hub motor with 56Nm of torque and 800W peak power. What this means is that you will be flying on any type of terrain at a 28 MPH maximum pedal-assisted speed. In addition, the 500 Series also has a throttle with a 20 MPH maximum speed.
A 12-magnet cadence sensor calculates exactly how much power to deliver to the pedals, so the ride-feel is quite natural. You can keep track of all the metrics and adjust the top speed using a large LCD display mounted on the handlebar.
The Ride1UP 500 Series has a claimed range of 25–45 miles thanks to the 48V 13Ah (625Wh) battery mounted on the top tube. It has LG cells, so you may rest assured that it will last for quite some time before it starts losing capacity.
Components
Even though the 500 Series is quite affordable, Ride1UP equipped it with quality Shimano and Tektro components. In the drivetrain area, this bike delivers 8 speeds with a Shimano Acera rear derailleur, which is three levels from the bottom in Shimano's hierarchy. You get a 44T chainring paired with an 11-30T cassette, meaning there's a nice granny gear for some steep climbs.
Tektro Aries mechanical disc brakes are assigned to the task of stopping you and the bike on a dime, which they perform quite well. The brake levers even have an electronic motor shutoff, which will improve battery capacity and safety. This means that the motor will turn off the moment you engage the brakes.
The Kenda Kwick Seven 27.5″ x 2.2″ (650b) are the perfect size to navigate bumpy city streets, jump curbs, or roll along gravel and dirt detours.
Accessories
In terms of accessories, the stock version of the Ride1UP 500 series is quite unimpressive. You get a headlight and a kickstand, but no rear rack, fenders, or rear light. If you want the whole package, you will have to pay $100 more and spend $1,345 for your 500 Series e-bike.
To be honest, this is not too much at all.
You will get custom parts built especially for this bike, so you don't have to worry about compatibility.
If you plan to ride 500 Series year-round or use it for daily commutes, we advise going with the more expensive setup. It will allow you to ride day or night, come rain or shine. The rear rack will also allow you to carry panniers, haul groceries, or fit a child seat on the back.
Consider Also: Ride1Up Café Cruiser
Ride1UP 500 Series Sizing
As we've already mentioned, Ride1UP 500 Series city e-bike is available with a step-over and a step-through aluminum frame. Both of these frames come in a single size that fits riders of different heights.
According to Ride1UP, the step-through (ST) frame fits riders 5'1″–6'2″ tall. The step-over (XR) frame, however, fits riders 5'5″–6'4″ tall.
If you're not too tall, the step-through frame will also fit you better because of a sweptback handlebar that's easier to reach and retain an upright riding position.
Final Thoughts—Is Ride1UP 500 Series MTB a Wise Choice?
Ride1UP 500 Series MTB is a seriously capable e-bike with a surprisingly low price. It packs an impressive value in a streamlined package that emphasizes speed, performance, and comfort over everything else.
Is it perfect? Of course not. It has some entry-level components, such as the Shimano Acera rear derailleur and the rather heavy SR Suntour XCT coil-spring fork. But the truth is that Ride1UP did not cut any major corners with the 500 Series e-bike.
If you want an affordable and dependable electric-assist bike for commuting, fitness, or leisure riding, this is a good choice. You'll get powerful electronics, a natural bike ride feel, a great range, and save quite a bit compared to the other similarly-specked options.
There are no comments yet, add one below.