Ride1UP Café Cruiser is an affordable Class 3 e-bike with all the features and accessories to replace your car for short trips – even with two people. This bike is equipped with so many valuable components and add-ons that you'd be hard-pressed to find elsewhere at this price point.
Over the past few years, the market for e-bikes has exploded. More people than ever are replacing their cars with bikes and heading to the store on an electric bike. With the expanding market comes an increase in demand and thus an increasing interest by new manufacturers to join the market while it's hot.
Ride1UP is one of those companies, and the Café Cruiser is one of their latest projects that is not too dissimilar to their other and wildly successful models.
The Café Cruiser is a powerful Class 3 electric bicycle with adjustable top speed, long-lasting battery, hydraulic disc brakes, suspension fork, wide and multi-surface tires, and even a bigger list of valuable accessories.
What's even more impressive – the Café Cruiser is compatible with Ride1UP's passenger kit, which means that you can add a passenger sitting on the rear of the bike, and take two people instead of one.
Here's everything you need to know about the Café Cruiser!
Key Features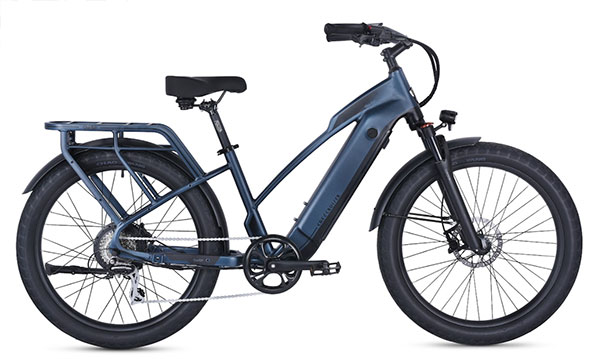 Class 3 electric bicycle with 28 MPH pedal-assist and 20 MPH throttle top speed.
Features a powerful geared rear hub motor with 60Nm of torque.
Boasts a 30–50-mile range thanks to a 48V15ah (720Wh) integrated battery.
The 80mm front suspension fork has a hydraulic lockout which greatly improves comfort.
Zoom hydraulic disc brakes with an electric cut-off sensor to stop the bike.
2" LCD display with advanced settings that let you fine-tune assistance levels.
SandStorm 26"x3" eBike tires are suitable for comfort, cornering, and traction.
Step-over (XR) and step-through (ST) frame designs are available.
Shimano Acera 8-speed groupset enables smooth shifting and climbing.
The stock model includes a rear rack, LED lights, fenders, and a kickstand.
Ride1UP Café Cruiser Full Review
Ride1UP Café Cruiser is one of the most versatile and valuable rides from this San Diego-based electric bike manufacturer. This bike includes more accessories than you'd expect at a low asking price of just $1,595.
Many of the features and accessories on the Café Cruiser are typically found on e-bikes in the $2,000–$3,000 range.
Overall, the Café Cruiser is a comfortable, attractive, and capable e-bike that you can use to commute, buy groceries, drop the kids off at school, and break the habit of using your car for short trips.
Let's take a closer look at the Ride1UP Café Cruiser.
Frame
Ride1UP Café Cruiser comes with an aesthetic aluminum Alloy frame that features internal cable routing and protected and locked internal electronics including the battery.
The frame is lightweight, stiff, and stable. You can get it in three different colors—Midnight Gray Matte, Steel Blue Matte, or Silver Matte.
You can also get the 700 Series e-bike in either a step-over or a step-through frame design, depending on your personal preference. The step-over is the traditional bike style with a nearly horizontal top tube. The step-through fits shorter riders and is a better choice for people with knee or hip injuries.
At the front of the bike, you have an 80mm suspension fork with a hydraulic lockout that will help improve comfort and the overall riding experience. You can use the lockout to avoid losing speed and momentum when you're riding on smooth roads.
Motor and Battery
Despite its size, the Café Cruiser is one of the most powerful e-bikes Ride1UP makes.
This design was intentional since the Café Cruiser is designed to haul cargo and sometimes two riders. If you value speed for urban trips, this e-bike can help you get around as fast as a car.
The geared rear hub motor holds 750W of power and 60Nm of torque. This is the maximum amount you're legally allowed to have in the USA.
That makes the Café Cruiser a Class 3 electric bike as it is capable of delivering pedal assistance up to 28 MPH, and up to 20 MPH with the throttle.
The 720Wh (48V 15Ah) battery is hidden inside the down tube, protected from rain and road grime. It gives you 30–50 miles of range depending on rider weight, terrain, level of assistance, etc.
Read more: How to Choose an Electric Bike
Like many other bikes in the Ride1UP lineup, the Café Cruiser comes with an LCD screen. This one is 2.2" wide and provides many options to fine-tune the pedal assistance by choosing the top speed, the number of assist levels, and the amount of assistance you want to get at each level. You can significantly increase the range of the Café Cruiser's battery by adjusting the settings.
Components
Ride1UP Café Cruiser is impressive in its range of components, especially at this price point.
It has a Shimano Acera groupset which includes 8 wide-range gears at your disposal, giving you plenty to choose from on all sorts of flat, uphill, or downhill terrain. But remember that this is a rather heavy bike, which is pretty much typical for e-bikes.
Therefore, even though these 8 gears simplify pedaling, it would still be hard to ride up a very steep hill without assistance from the motor. So make sure the battery is fully charged before leaving for the store.
The Zoom hydraulic disc brakes are another pleasant surprise as nearly all e-bikes in this price range come with mechanical disc brakes. These hydraulic disc brakes have stopping power, precision, and maintenance that is all much better than cable-actuated brakes.
As for the tires, Ride1UP went with SandStorm 26″x3″ Chaoyang tires on this build. These are very wide tires that guarantee excellent grip in all conditions and even better comfort. This is especially helpful since the Café Cruiser does not have a suspension saddle.
Accessories
As an electric commuter that can take on multiple riders, the Café Cruiser is designed to replace your car for more than one type of trip. With that in mind, the bike comes with all the accessories that you could ask for in a bike designed for cargo-hauling trips and two-person city rides.
There are front and rear fenders, a sturdy rear rack, and a kickstand all on the stock model of the Café Cruiser. And of course, the rear rack is compatible with Ride1UP's passenger kit, which includes an extra seat and support for a passenger behind the main rider. In terms of cargo, the Café Cruiser has a rear rack that is sufficiently large to carry two full-size panniers or a large child seat.
See More: Best Cargo Bikes
The Café Cruiser is also ready for nighttime rides thanks to bright front and rear LED lights operated from the bike's own display. The lights are powered by the Café Cruiser's battery, so as long you have juice in your battery, the lights will be running and you won't need to worry about charging them separately.
Ride1UP also sells additional accessories and replacement parts on their official website. For example, you can get a cargo trailer ($140), a phone mount ($24), panniers ($60), and more.
Sizing
When it comes to sizing, the options are somewhat limited with the Ride1UP Café Cruiser. The bike is available with either a step-over or a step-through frame, both of which come in a single size. However, each size does fit quite a wide range of riders:
Step-through (ST) model fits riders 5'0″–6'4″
Step-over (XR) model is suitable for riders 5'5″–6'4″
Final Thoughts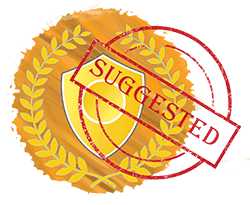 Café Cruiser is an affordable Class 3 e-bike that offers an incredible amount of versatility and value for the money.
Of course, it's not all sunshine and rainbows. A bonus would be to have a torque instead of a cadence sensor. Unfortunately, that would drive up this bike's cost by at least a few hundred dollars.
For the low price of $1,595, the Café Cruiser is almost impossible to find anything else like this in the electric bike market.
The Café Cruiser is a quiet yet capable e-bike with clean lines, modern design, strong suspension, and powerful hydraulic disc brakes. At that price, it's an incredible deal.