Niner RIP 9 RDO is a long, low, and slack trail bike that's eager to descend and pedal away into the unknown. It's available with 29 or 27.5 wheels, and… it's a total ripper.
Niner is no stranger to making bikes that end up being loved and ridden by throngs of people. But its MTBs were never considered to be refined, poised, or delicate—they used to be rowdy, uncouth, and uncompromising.
All of that changed with the introduction of RIP 9 RDO. This is a redefined full-suspension trail bike with less travel but more suppleness and precision. Plus, it's the first bike that Niner decided to offer with 27.5 wheels.
Two years after its initial release, riders of different wakes still use it to snatch podiums, steal KOMs, or just have loads of fun.
Find out what it was that Niner did right and if there's anything that could be done better next time.
Multiple Builds and Two Wheel Sizes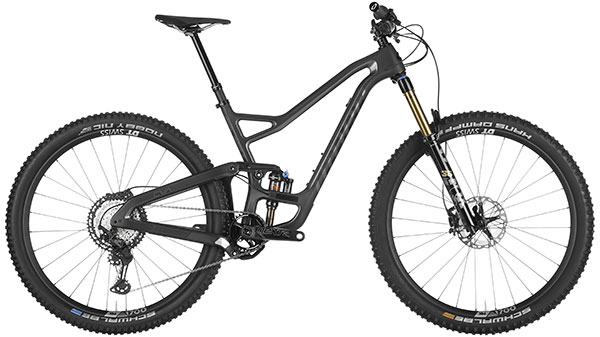 As we come to expect from Niner, the RIP 9 RDO is available in several complete builds that suit different budgets and different types of riders. Depending on the list of specs, you can get this bike for as little as $4,400 or as much as $11,200.
But there's more.
Bike frames that can accommodate both 29er and 27.5er wheels are not a novelty. However, Niner did not want to take that path. According to the brand, "There are inherent compromises in making frames to fit multiple wheel sizes."
Instead, Niner chose to make two versions of RIP 9 RDO—one for each wheel size. That way, they were able to apply their big-wheel know-how to produce a 27.5 bike that offers more standover, faster handling, and less rotating weight.
So if you used to love Niner's approach to building bikes but you weren't a fan of gnarly 29er wheels, now you can finally get the best of both worlds.
Here's a quick rundown of the available complete builds for both wheel sizes:
29er Wheels

27.5er Wheels

Build
Price
Build
Price
2-Star SRAM SX Eagle
$5,000
2-Star SRAM SX Eagle
$5,000
3-Star SRAM GX Eagle
$6,500
3-Star SRAM GX Eagle
$6,500
4-Star Shimano XT
$7,450
4-Star Shimano XT
$7,450
5-Star SRAM X01 Eagle
$9,150
5-Star SRAM X01 Eagle
$9,150
5-Star SRAM X01 Eagle w/ Fox X2 LTD
$9,450
5-Star Shimano XTR w/ Fox X2 LTD
$8,900
5-Star SRAM X01 AXS w/ Fox X2 LTD
$11,200
RDO Carbon Fiber Frame
As its name implies, RIP 9 RDO is built around Niner's flagship RDO carbon frame. RDO stands for "Race Day Optimized" and incorporates the best grades of raw carbon and the best construction techniques.
In the real world, this means more stiffness, better ride tuning, lower weight, increased durability, and higher overall strength.
Niner went a step further and did something that's rarely seen on other trail bikes—it added Rib Cage struts across the front triangle which makes the bike stiffer front to back.
This frame also has flattened top and down tubes, a wider main rocker link pivot, and an enlarged rear triangle. All of these changes come together to decrease bottom bracket deflection, increase absorption of impacts and vibrations, and provide you with more compliance and suppleness.
The frame is also characterized by full-sleeve cable guides, Enduro Max Black Oxide pivot bearings, integrated frame protection, CVA suspension, and a lifetime warranty.
In other words, it's a work of art.
CVA Suspension with a Flip-Chip
Compared to the previous iteration, this version of RIP 9 RDO has 10mm less travel front and back. It sports 150mm of travel in the fork and 140mm in the rear shock. According to Niner, 140mm is the ideal amount for do-it-all trail bikes.
Both 29 and 27.5 versions have different models of Fox 36 forks and Fox Float Performance or Factory shocks. It goes without saying that they perform really well on the trails and provide excellent pedaling support and descending capabilities.
What's unique about this bike, however, is the CVA (Constantly Varying Arc) suspension platform and the Flip-Chip technology.
The CVA platform's job is to eliminate unwanted suspension movement, especially when pedaling, better known as anti-squat properties. At the same time, it lets the shock remain active while climbing and descending.
The Flip-Chip technology introduces Low and High settings that let you slightly alter the geometry. Namely, in the Low setting, the bike gets a 65° head tube angle (66° in High) and the bottom bracket drops by 7mm.
Use the low setting to improve RIP 9 RDO's descending abilities or switch to high settings to improve climbing and pedaling.
A Wide Range of Components
RIP 9 RDO is available in several different complete builds with a range of SRAM and Shimano mid-range and high-end components. Some of them are race-ready, but all of them are trail-worthy.
The most affordable 2-Star builds get the SRAM SX Eagle groupset, whereas the highest-specced 5-Star builds boast SRAM X01 Eagle AXS or Shimano XTR. In between, you can also spot GX Eagle, XT, and X01 Eagle.
On SRAM builds, the brakes are typically SRAM Level or G2 (depending on the price) and XT or XTR on Shimano builds. These are all tried and true brake sets, so RIP 9 RDO does not lack stopping power or precision on any build.
When it comes to the wheels, if you can stretch the budget enough, you'll get carbon DT Swiss wheels with most 5-Star builds. Otherwise, you'll be riding on equally good but not as lightweight Niner or DT Swiss aluminum rims.
In terms of tires, RIP 9 RDO 29ers come with a Schwalbe Hans Dampf/Schwalbe Nobby Nic 2.6″ combo, whereas 27.5er versions roll on a Maxxis Minion/Maxxis Aggressor 2.5″ combination.
Modern Geometry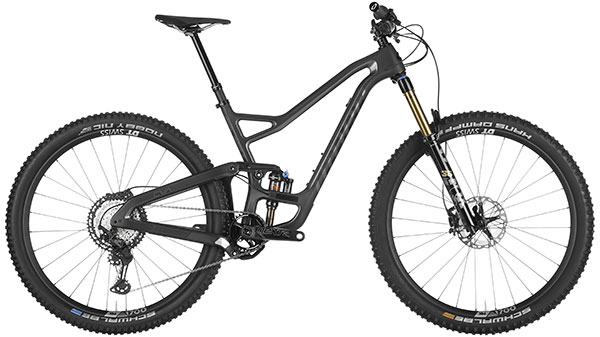 Saying these three words is getting a bit old… but here we go again—Niner RIP 9 RDO is lower, slacker, and longer than ever before. But it's true, Niner completely redefined the geometry to be in line with the current MTB progressive trends.
It did this by lengthening the reach, slackening the head tube angle, and adding more bottom bracket drop. On the other side, this bike now has shorter chainstays and a steeper seat tube angle.
In addition to that, RIP 9 RDO also received the Flip-Chip that gives it two geometry settings. It changes the head tube angle from 66° to 65° from High to Low and changes the BB height by 7mm.
However, Niner refused the temptation to go to extremes. As a result, RIP 9 RDO is nicely balanced and offers excellent climbing and descending performance, without neglecting the pedaling portion of the ride.
For more similar bikes, check out our review of Niner Bikes.
Niner RIP 9 RDO Size Chart
RIP 9 RDO 29er is available in four sizes (SM through XL), whereas the 27.5er comes in three sizes (SM through LG).
Take a look at the size chart below to find the size that fits you the best.
RIP 9 RDO Size Chart

29 Wheels
27.5 Wheels
Small
5'3″ – 5'9″ (160 – 175 cm)
5'3″ – 5'9″ (160 – 175 cm)
Medium
5'8″ – 6'0″ (173 –183 cm)
5'8″ – 6'0″ (173 –183 cm)
Large
5'11" – 6'3″ (180 – 191 cm)
5'11" – 6'3″ (180 – 191 cm)
X-Large
6'3″ – 6'7″ (191 – 201 cm)
Similar Bikes
Niner RIP 9 RDO vs Trek Marlin 6
Comparing RIP 9 RDO and Trek Marlin 6 is like comparing apples to oranges. They are totally different bicycles, with wildly different prices, intended for different types of riding. RIP 9 RDO is a full-suspension rig, whereas Marlin 6 is a hardtail. Plus, RIP 9 is made of carbon while Marlin 6 is aluminum.
If you're a beginner and you want to test waters and learn the ropes of trail riding, Marlin 6 is an excellent choice. But if you are an experienced trail rider and you want to race or just rip descents with friends, you should get RIP 9 RDO.
Niner RIP 9 RDO vs Kona Satori SE
Kona Satori SE is a more affordable aluminum full-suspension trail bike intended for entry-level and intermediate riders. It has 10mm less travel compared to RIP 9 RDO and 10 gears instead of Niner's 12. Both are high-performing trail machines, but RIP 9 is a lot more capable.
If you're just entering the world of trail riding or you don't intend to race, Kona Satori SE is an amazing choice. However, if you're more serious about this sport, RIP 9 RDO is in a completely different ballpark.
Niner RIP 9 RDO vs Diamondback Mission 1C Carbon
These two Diamondback and Niner bikes have some similarities but are otherwise pretty different. Mission 1 Carbon is an all-mountain/enduro bike with 180/160mm of travel, whereas RIP 9 RDO has less travel so it's more suitable for pure trail riding.
Price-wise, the two bikes cost similarly for the same level of specs, though RIP 9 offers more complete builds to choose from. Consider their intended uses when deciding which one to get.
Our Thoughts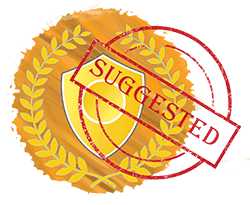 As we've made it clear by now, we love this bike as it brings a breath of fresh air to the trail-riding community.
There's a lot of good things about it and very few drawbacks. One of these being that it's hard to reach the rear shock with a pump due to the horizontal struts.
RIP 9 RDO retained most of its former rowdiness but added a healthy dose of refinement and efficiency as well. It boasts a premium carbon frame, top-tier suspension, and a plethora of build options. Plus, it comes with both 29 and 27.5 wheels.
In short, if you're looking for a do-it-all 29er or 27.5er that can race and conquer trails on the weekend, Niner RIP 9 RDO is one of the best trail bikes money can buy.
There are no comments yet, add one below.