Tern is a cycling brand with a vision of a more sustainable future in which cars are replaced by utilitarian folding electric bicycles. Tern bikes offer all you need to travel less by car and ride your bike more.
Most urban commuters face three problems when they start riding in the city—being able to ride fast enough and long enough, as well as store and transport the bike from one place to another.
Tern understood these struggles early on and took a step that changed the lives of so many people. All you need to eliminate those three drawbacks of urban cycling is an electric folding bike, such as the ones Tern makes.
These are light, practical, and technologically advanced e-bikes with cargo-hauling capabilities that might make you forget you even own a car when it comes to short and moderate trips.
Find out more in our review below!
About Tern Bicycles
Tern is a successful Taiwanese bicycle company
established in 2011
by Florence Shen and Joshua Hon. They are the wife and son of
David T. Hon
, the founder of the folding bicycle giant Dahon.
Tern's complete focus is on making electric folding cargo bicycles that can change the world. Their products are easy to store and transport can carry a lot of weight and have e-assist motors that help people ride more.
The company drew inspiration for their name, logo, and bikes from the Arctic tern, which is a light and small bird that holds the record for the longest migration. These are all characteristics that Tern ascribes to its bicycles. On top of that, the actual logo is an origami figure of the said bird, emphasizing Tern's folding properties.
Today, the company is based in Taipei, Taiwan but has offices in the US, the UK, Finland, and China as well. While its primary products are electric bicycles, it also makes non-electric folding bikes and high-quality cycling accessories.
Tern's dedication to creating a more sustainable future does not stop with promoting e-bikes instead of cars. It goes a step further and decreases its own impact by minimizing packaging and reducing the use of harmful chemicals like chromium.
Therefore, if you care about your health, well-being, and the environment, Tern proves to be an excellent choice.
Models
Even though Tern specializes in building electric folding bicycles, its lineup has a large selection of non-electric folding bikes as well.
One of the things that make these bikes special is that they offer three different folding styles:
FlatFold
Standard Folding
Ultra-Compact Folding
Some models, such as the GSD series, only allow you to fold the handlebar and drop the saddle, which makes them more compact, but not super small. On the other hand, models such as Vektron and BYB fold much smaller, so they're easier to carry and store.
Other unique features include vertical parking, internal gearing, belt drive, telescopic seatpost, dual battery technology, and a lot more.
These bikes are also quite compact as most models roll on 20″ or 24″ wheels, but there are some that have bigger 26″ wheels as well.
Price-wise, Tern's bikes are more expensive than most other folding e-bikes.
However, these are premium products with powerful Bosch and Bafang drive units, high-capacity (dual) batteries, top-tier components, and clever solutions to everyday cycling problems that you won't find elsewhere.
In terms of planned use, the company divides its bikes into four categories:
Commuting
Carrying Kids
Exercising
Carrying Cargo
In addition to that, you can also get models that can carry one or two kids; or a single/double pair of panniers, if you're not a parent.
Let's take a closer look at the individual models to help you find the one that suits your needs the best.
Electric bikes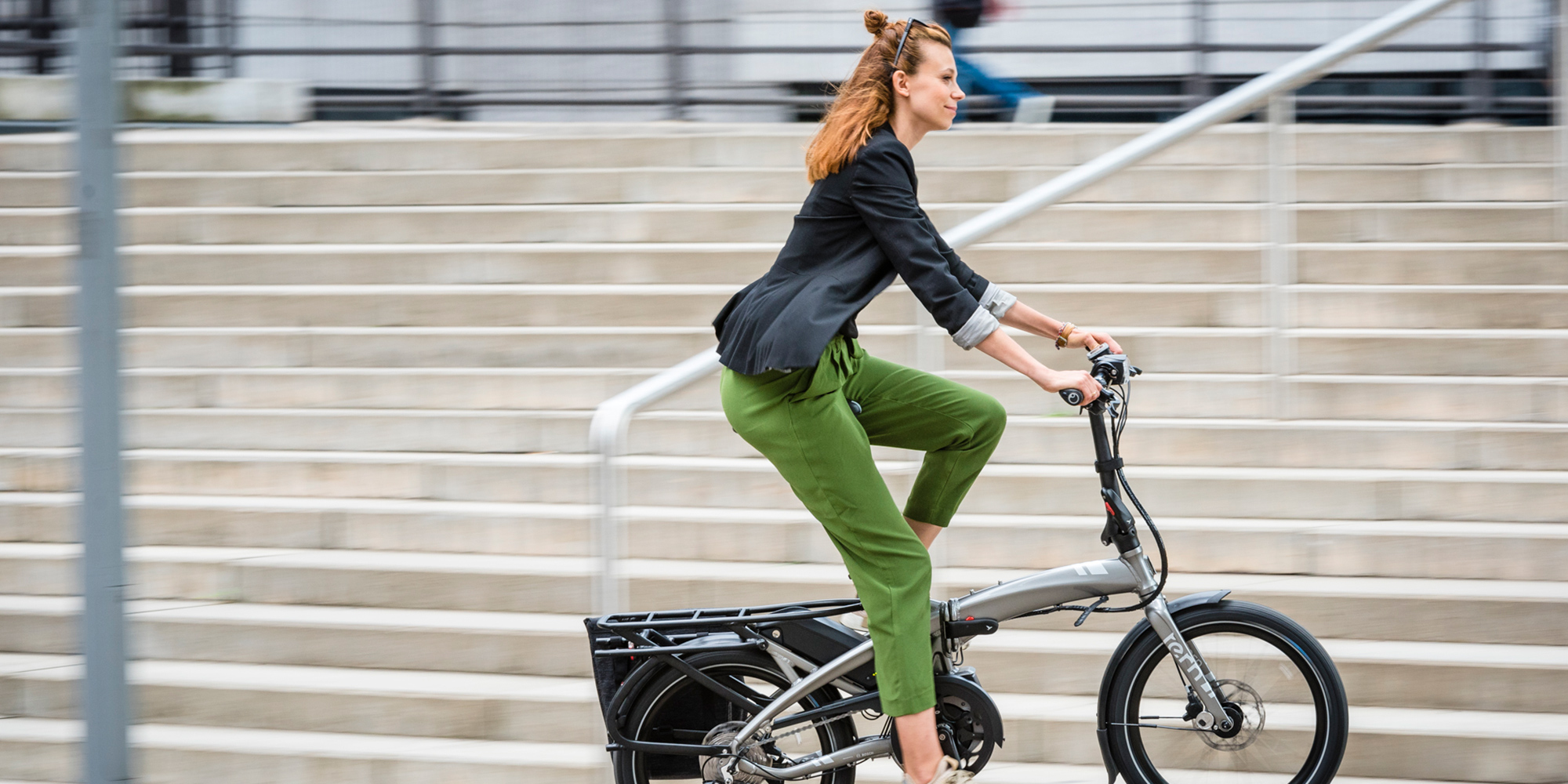 Tern's electric bicycles are state-of-the-art machines equipped with premium Bosch or Bafang electronics. Most of its models are Class 1 or Class 3 bikes that provide pedal assistance between 20mph and 28mph, respectively.
Interestingly, the company does not put throttles on its bikes, so you can use the assistance only when pedaling.
One thing that draws most people to Tern when it comes to electronics is the Dual-Battery Technology. Namely, the GSD electric models have designated places for two full-size batteries that extend the range up to 155 miles. That's quite possibly the most range you'll get from any mass-produced e-bike.
In total, at the moment, Tern makes three lineups of e-bikes:
GSD is the most capable of the three, has the largest cargo area, the biggest weight load, and offers the most range. HSD and Vektron are more compact and thus more practical for riders who are looking for all-around city vehicles.
Naturally, the GSD models are also the most expensive. But if you can't stretch your budget too much, HSD and Vektron will do the job as well, as you can see in our overview below.
GSD
---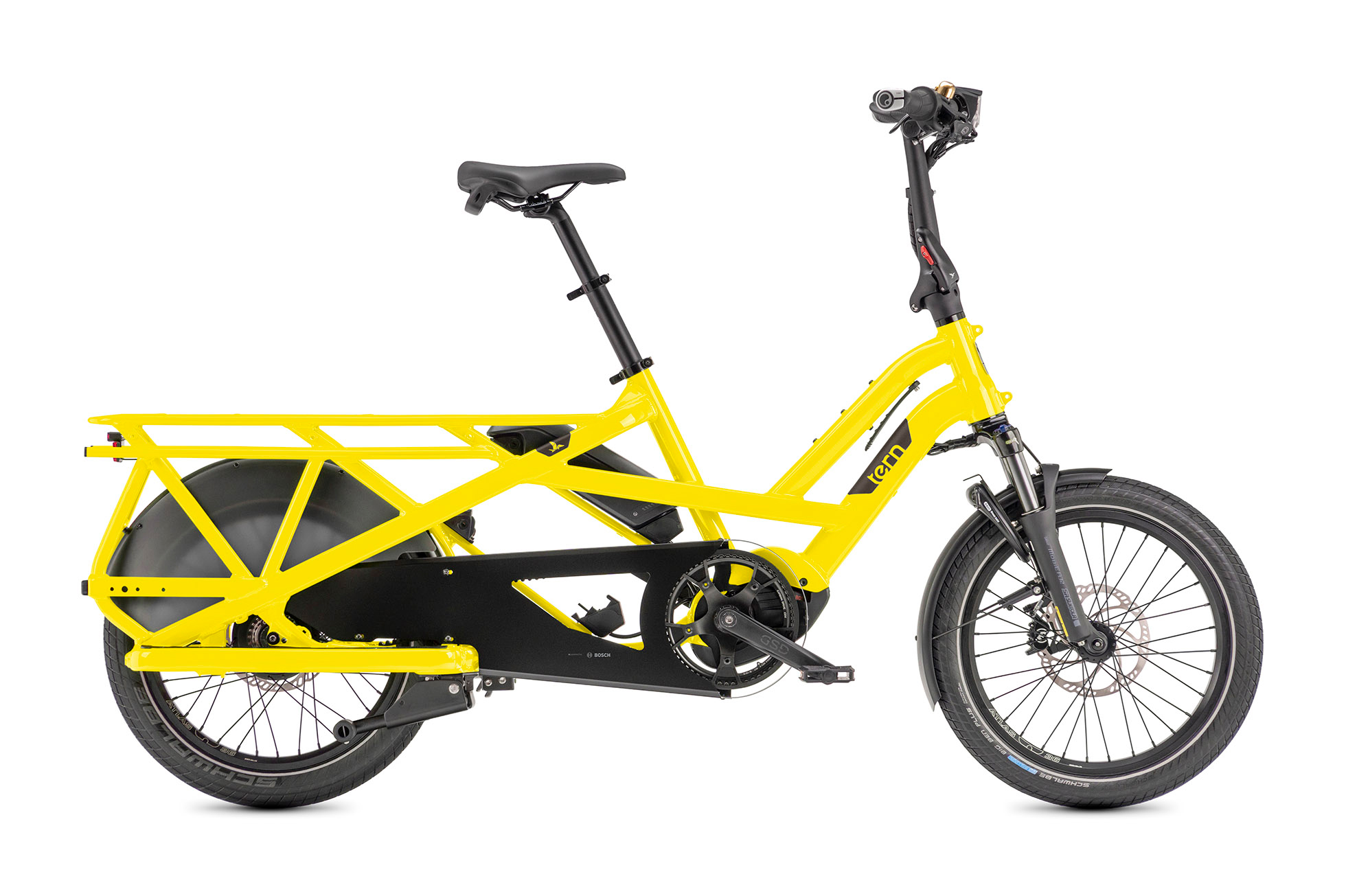 Tern GSD bikes are a dream come true for riders who want to haul heavy cargo, ride fast, go far, and do it without neglecting style or practicality.
FULL REVIEW: Tern GSD
These are sophisticated vehicles that have the same length as a regular bike, but with a lot more capabilities. They're built around lightweight heavy-duty aluminum frames with large cargo areas and custom suspension forks on most models.
GSD has a 440 lbs. (200 kg) maximum weight capacity, which includes the rider and the cargo. That's more than enough to carry two passengers or a huge load on the back.
See More: Best Cargo Bikes
The Bosch Cargo Line Motor will assist you up to 20 mph and the dual-battery system will give you a massive range of up to 155 miles, though most models don't come with the extended battery pack, you have to buy it.
What's also great is that these are one-size-fits-all bikes with adjustable cockpits that comfortably fit riders 4'11" – 6'5" (150 – 195 cm) in height.
The list of highlights also includes integrated lower decks, wheel skirts, FlatFold design, and vertical parking that makes it easier to store the bike.
Hydraulic disc brakes come standard on all models, while some GSD bikes even have Rohloff or Enviolo internal gears and belt drives instead of traditional drivetrains.
The $5,000 – $9,000 price range might put a dent in your wallet, but you'll thank yourself down the road.
HSD
---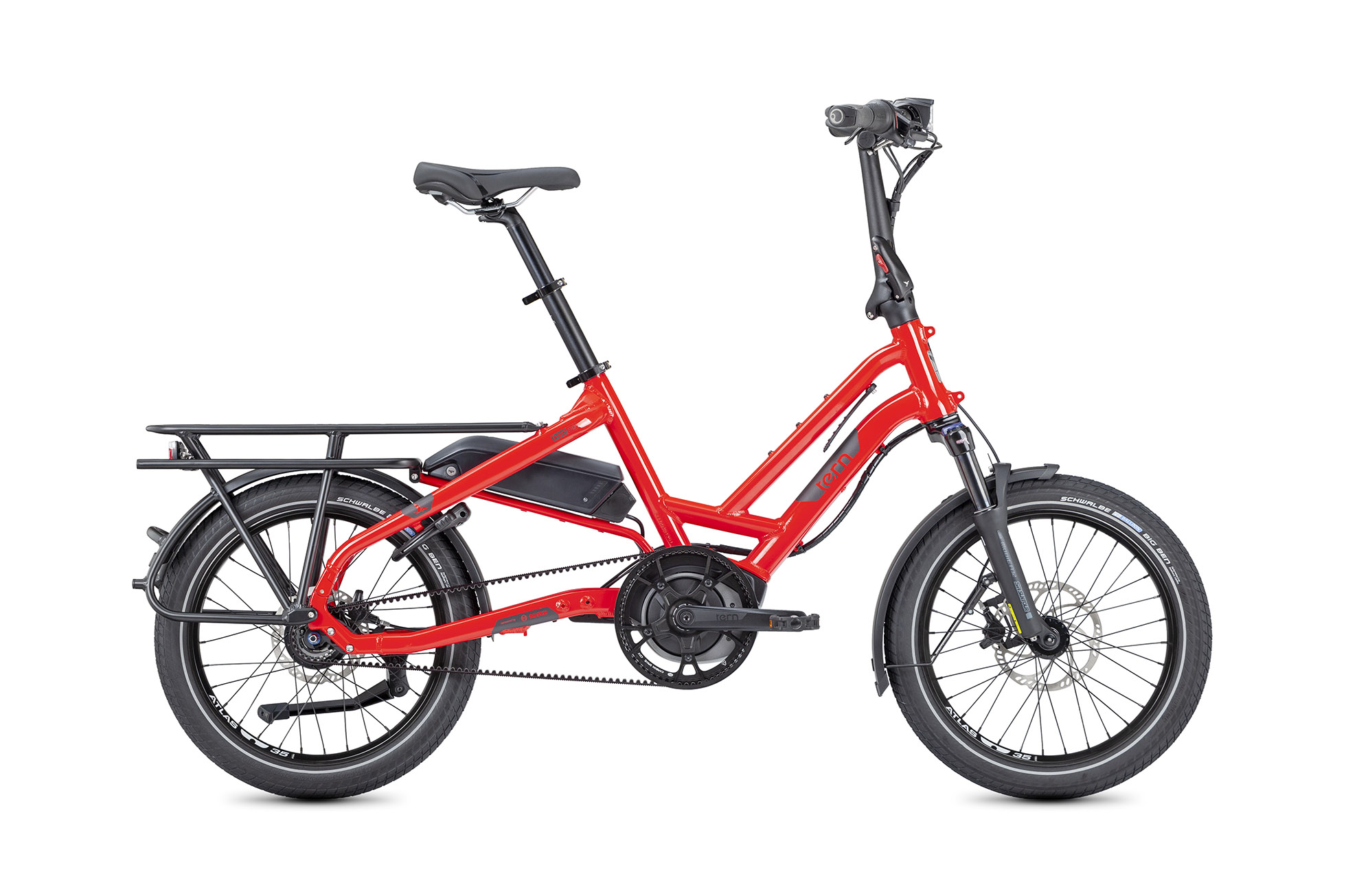 The HSD series is smaller, cheaper, but not less capable than the GSD. These are compact cargo bikes equipped with sophisticated technologies and a FlatFold design that makes storage and transportation easier.
First of all, HSD models come with sturdy aluminum frames that fit riders from 4'11" – 6'5" tall. They are combined with short-travel suspension forks that will eliminate road chatter and vibrations, so you can also ride on unpaved roads.
All models have an integrated rear rack and fenders, as well as front and rear lights for nighttime riding. Though the rear rack is smaller compared to the one on GSD and fits only one child seat, the bike has the same maximum weight capacity – 440 lbs (200 kg).
Depending on the model, the mid-drive Bosch drive unit will give you a kick up to either 20 mph or 28 mph, and the Bosch battery pack will guarantee a range of up to 74 miles. That's plenty for a few days of riding.
In terms of gearing, the HSD lineup provides a choice of traditional drivetrains and internal gearboxes combined with belt drives. If you cherish the simplicity and easy maintenance, we recommend choosing the latter.
See more: Best Belt Drive Electric Bikes
All in all, if you want a bike that's just as capable as GSD but is even more compact, one of the HSD models will put a smile on your face.
Vektron
---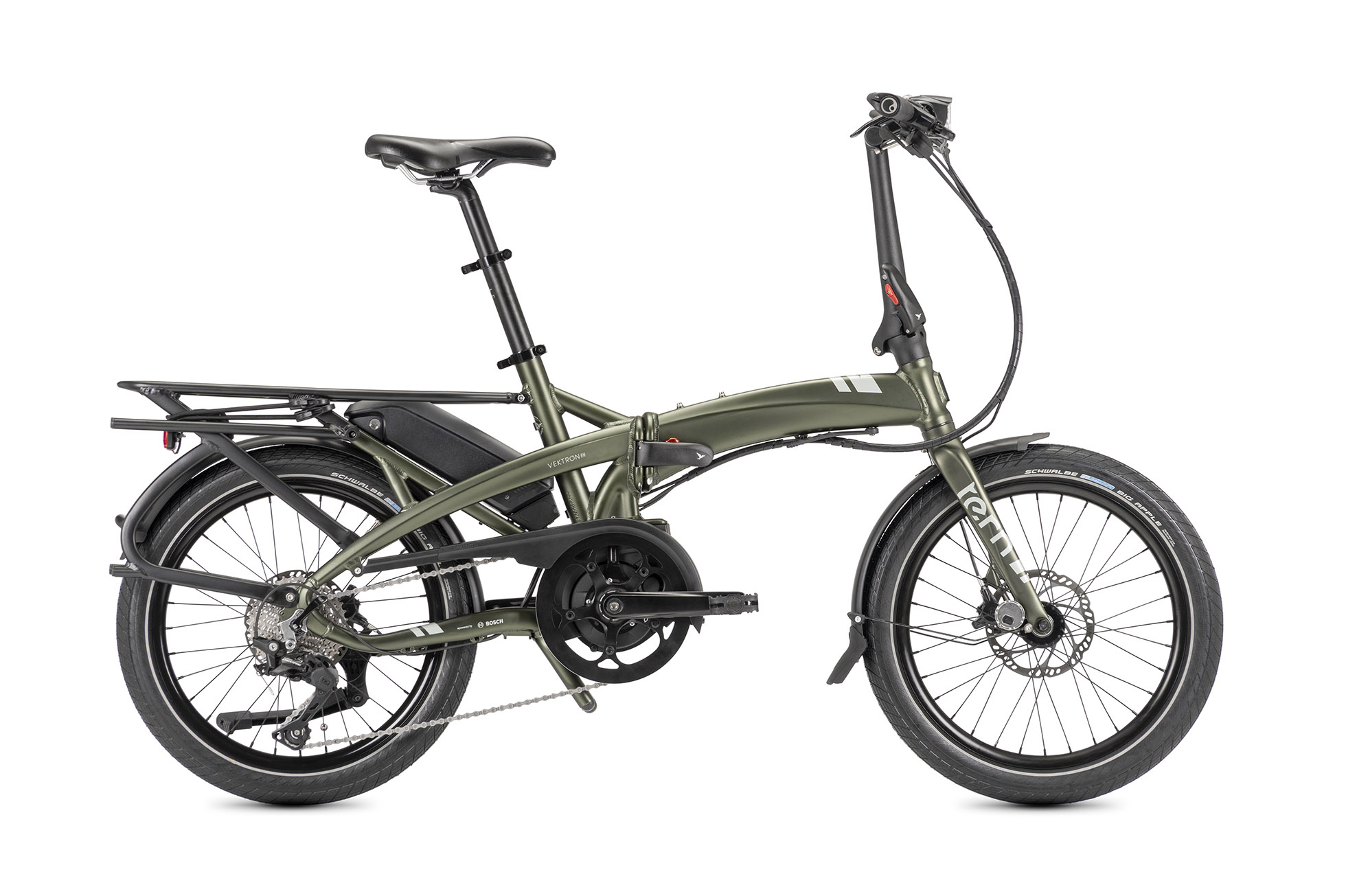 Even though Tern electric folding bikes are not as cheap as other similar bicycles on the market, you can still get them at a budget-friendly price. Just look for one of the Vektron models.
In addition to the lower price, these bikes are also a great choice for anyone who wants a bicycle that folds down really small. Vektron has a mid-frame folding design, so its folded dimensions are much smaller compared to GSD and HSD bikes.
Its electric components are just as capable as those of more expensive models. The reason why it is more affordable is that it incorporates some lower-end parts, such as the derailleurs and brakes. But these still work great for most riders.
The battery ensures a range of up to 70 miles and the bike can withstand loads of up to 275 lbs. which is excellent for commuting, running errands, or casual riding.
Vektron models have integrated rear racks that can carry one set of panniers or one child seat. They also have fenders, a kickstand, and lights, so you won't lack any practicality.
As is the case with other bicycles from this brand, these ones come with one-size-fits-all frames that resize in seconds to fit a wide range of riders.
Get it if you want a Tern that folds down super small and has a price that reflects its size.
Non-electric bikes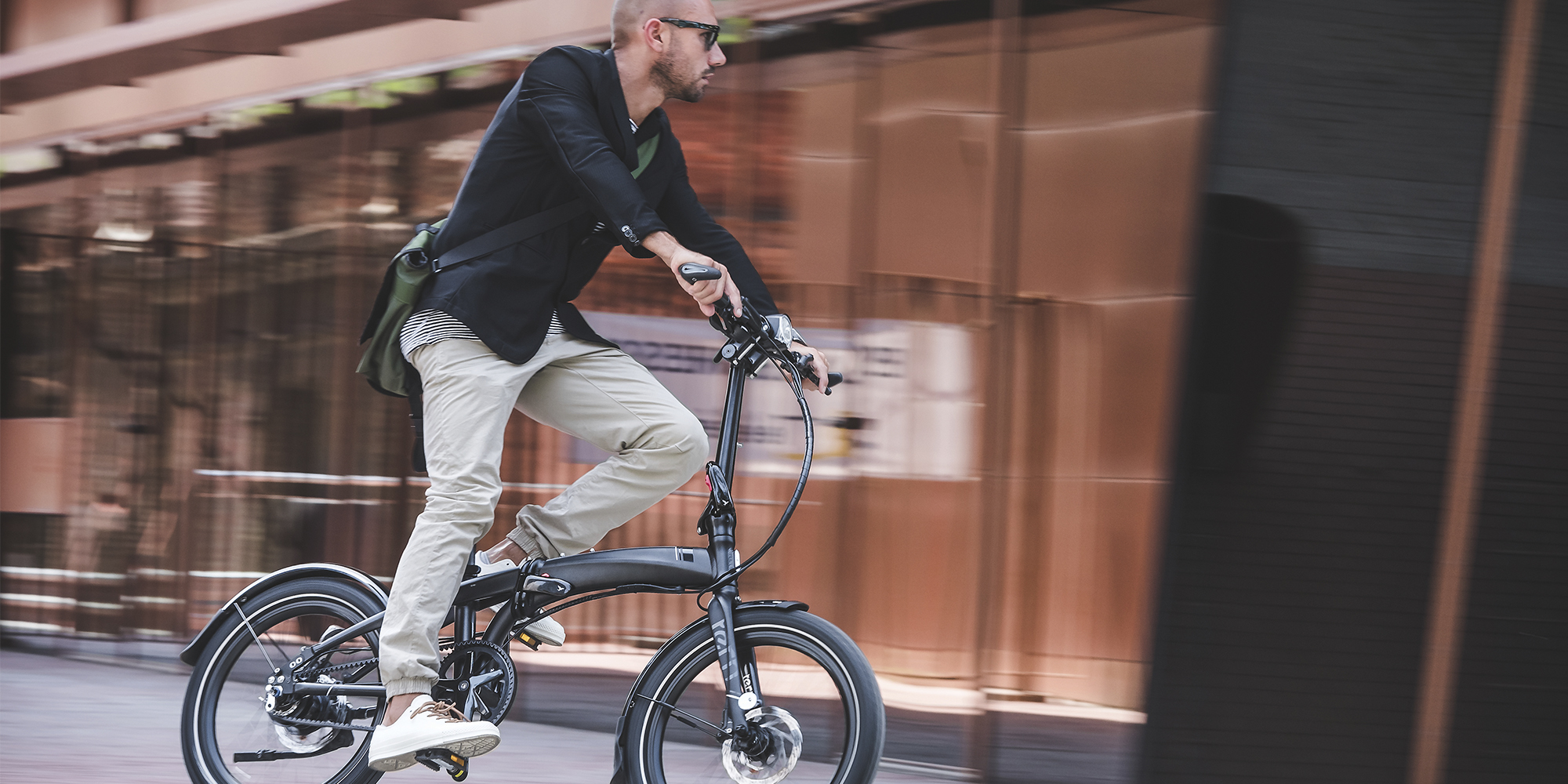 Having an electric motor and battery to give you a helping hand is awesome stuff, especially if you're hauling loads of cargo on the bike.
However, some riders don't need to carry that much stuff around and don't feel that they need a push when the gradient goes up. If that's you, an electric cargo bike would be overkill; instead, you can check out Tern's non-electric folding bikes.
At the moment of writing this review, there are five series you can choose from:
BYB
Verge
Node
Link
Eclipse
As you can see, Tern offers a lot of variations with its non-electric lineup. You get to choose from models with traditional drivetrains or internal gearboxes combined with belt drives.
You can also choose bikes with different folding solutions, depending on how small you need your Tern to fold in order to store or transport it.
Though many models have heavy-duty rear racks, these bikes are not designed to carry as much weight as the electric versions.
Instead, they are best suited for daily commutes, leisure riding, taking your kids to school, or any other errand you might have in the city.
BYB
---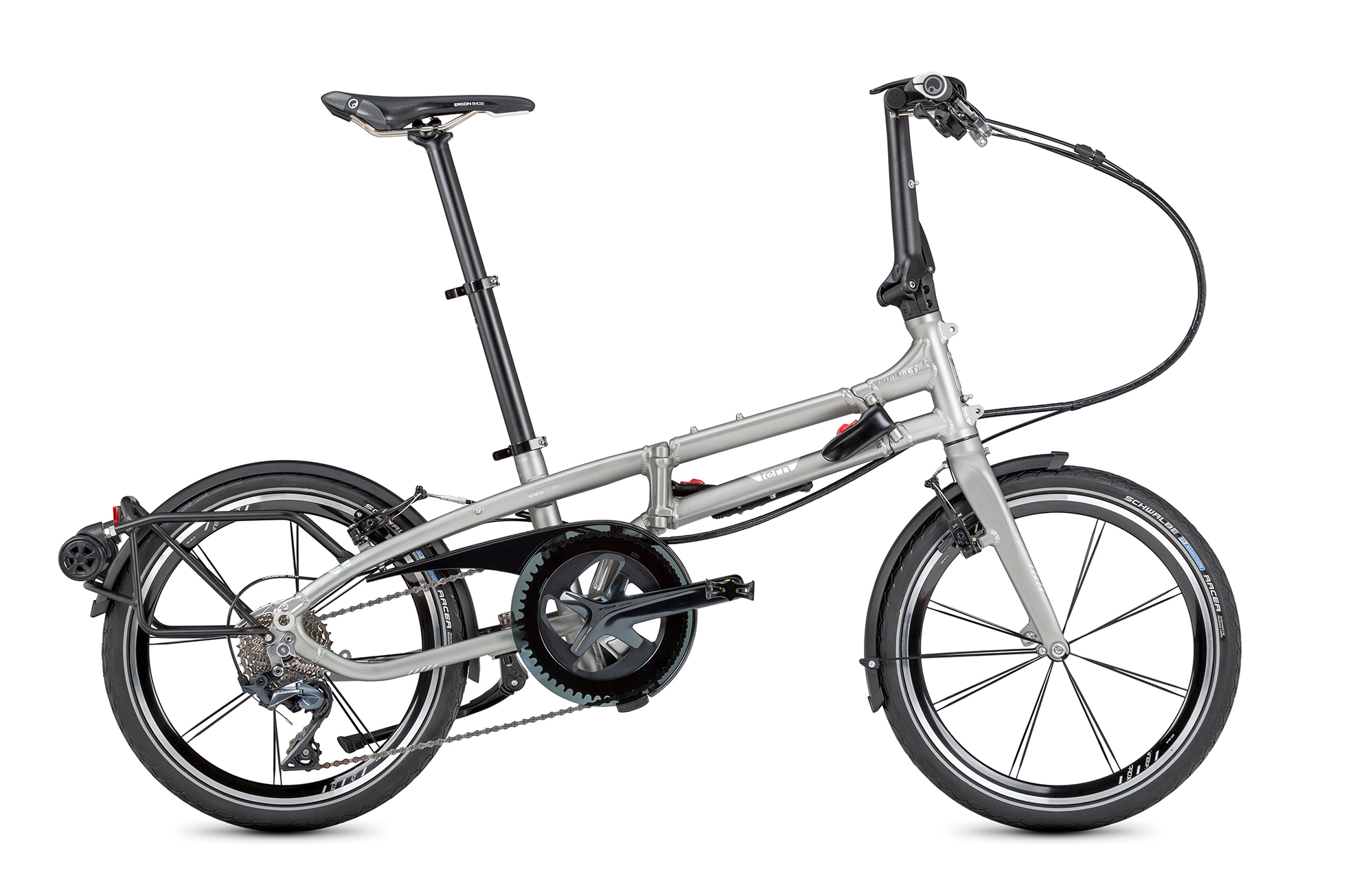 BYB is one of the smallest traditional 20″ folding bikes you will ever see. It's 30% smaller compared to other 20″ folding bikes and features a unique folding mechanism that allows it to fit conveniently in very narrow spaces.
On top of that, it has a Metro Transit Rack with built-in spinner wheels, so you don't need to carry it when folded—you can just pull it like a suitcase. The folding process is very simple and takes seconds to complete.
Even though BYB models are so tiny, they fit riders 4'10" – 6'5" tall thanks to a telescoping seatpost and adjustable handlebar and stem. Moreover, the maximum weight capacity is 265 lbs, but the maximum rider weight is 230 lbs, which is still pretty good.
To bring the price down and make folding easier, Tern BYB bikes have trusty V-brakes instead of disc brakes. You probably won't use these bikes to go very fast, so V-brakes will give you more than sufficient braking power.
At the time of writing this review, the two available models came with a Shimano Acera 1×8 or a Shimano Ultegra 1×11 drivetrain. But these specs can change.
All in all, BYB models are high-quality bikes that fold as small as possible, which is ideal for those who combine different types of commutes or have limited storage space at home.
Verge
---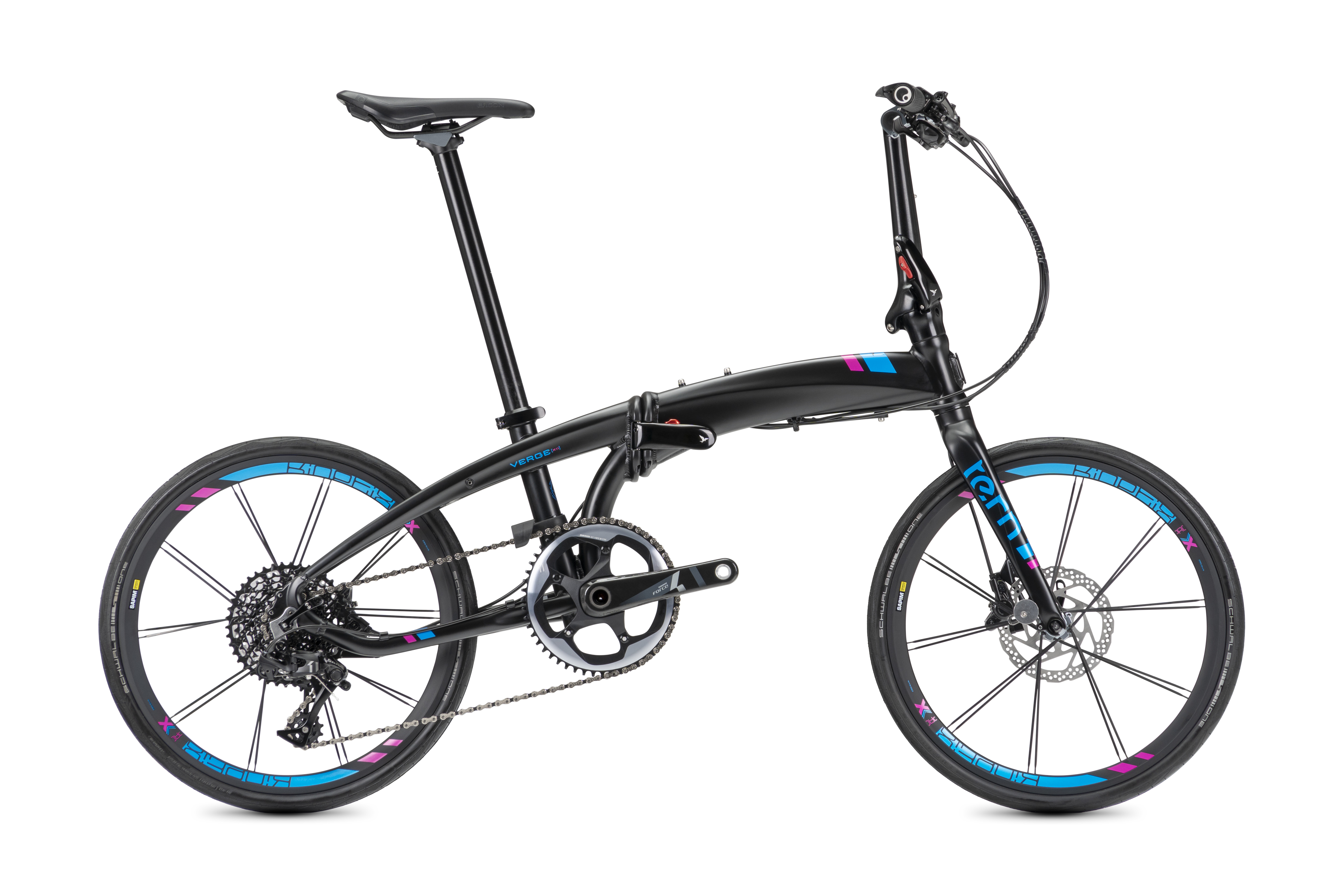 Verge bikes are super commuters built to be light, fast, compact, and practical. Tern describes them as being "tuned for speed," which is easy to agree with once you take a closer look at the features and specs.
Verge bikes are made with lightweight aluminum frames and rigid forks, which is an excellent combination for city riding. Most models have minimal accessories, but some do come with a rear rack, fenders, and lights, which makes them more practical.
What's peculiar about this series is that Tern decided to equip some of the models with 451 wheels. These wheels are 22″ in diameter and typically have thinner tires compared to 20″ wheels. That makes the bikes faster and reduces rolling resistance—perfect for speedy commutes.
When it comes to the gears, you can choose between traditional drivetrains and internal gearboxes with sealed components and belt drives.
Tern Verge bikes also have disc brakes, which is a pretty important feature, considering these bikes are built for speed. Simply said, you'll get all the braking power and precision you need.
So get this bike if you want a simple commuter that folds down small, is easy to carry around and is able to go pretty fast. You'll transform your daily commutes for the better.
Eclipse
---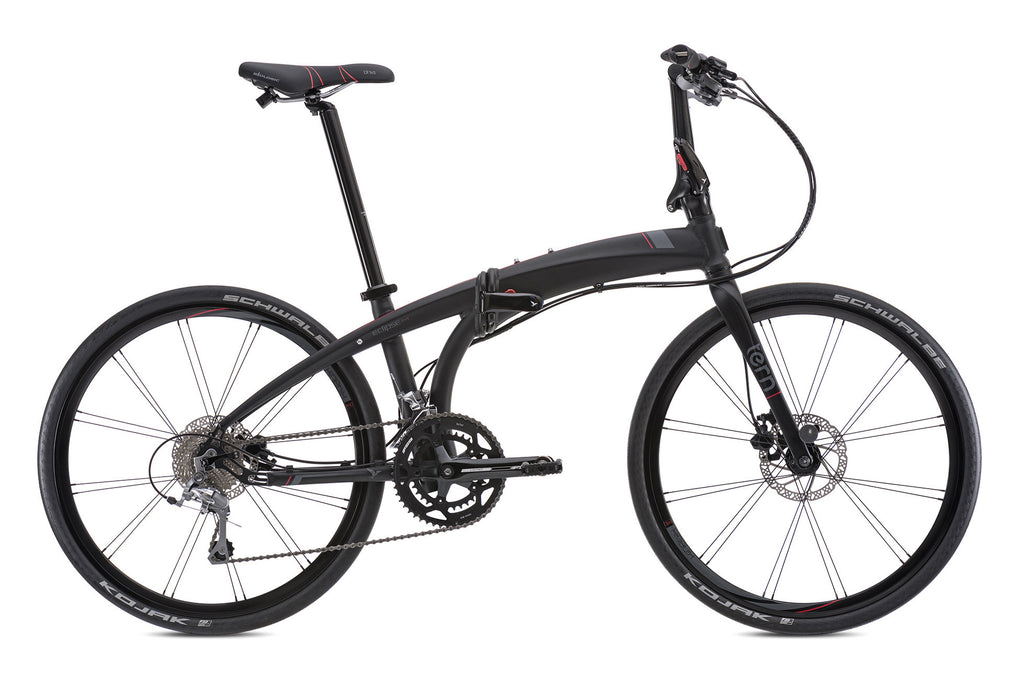 Folding bikes have a reputation for being slow due to their small wheels and upright geometry. But Tern Eclipse bikes are quite the opposite.
These are fully foldable bicycles with fast 26″ wheels and sporty geometry. They'll enable you to get to your destination faster, while still allowing you to easily transport or store them.
The wheels in question have a custom 26" Rolf Paired Spoke design, which lowers the weight and makes them look extremely attractive. These are wrapped with Schwalbe Kojak, 35-559 tires that are ideal for riding on smooth pavement.
These bikes also have road-specific 2x drivetrains, with groupsets such as Tiagra, 105, or Ultegra, depending on the build you consider. They also feature hydraulic disc brakes.
When it comes to folding, Tern Eclipse uses a neat folding solution that takes only 10 seconds to complete. Once folded, the dimensions are 15 × 35.4 × 31.9 in, which is compact despite the 26″ wheels.
In short, Tern Eclipse bikes are some of the fastest folding commuters you can get. They're also a great solution for taller riders who might find smaller wheels constricting.
For more choices, check our top picks for the Best Folding Bikes
Accessories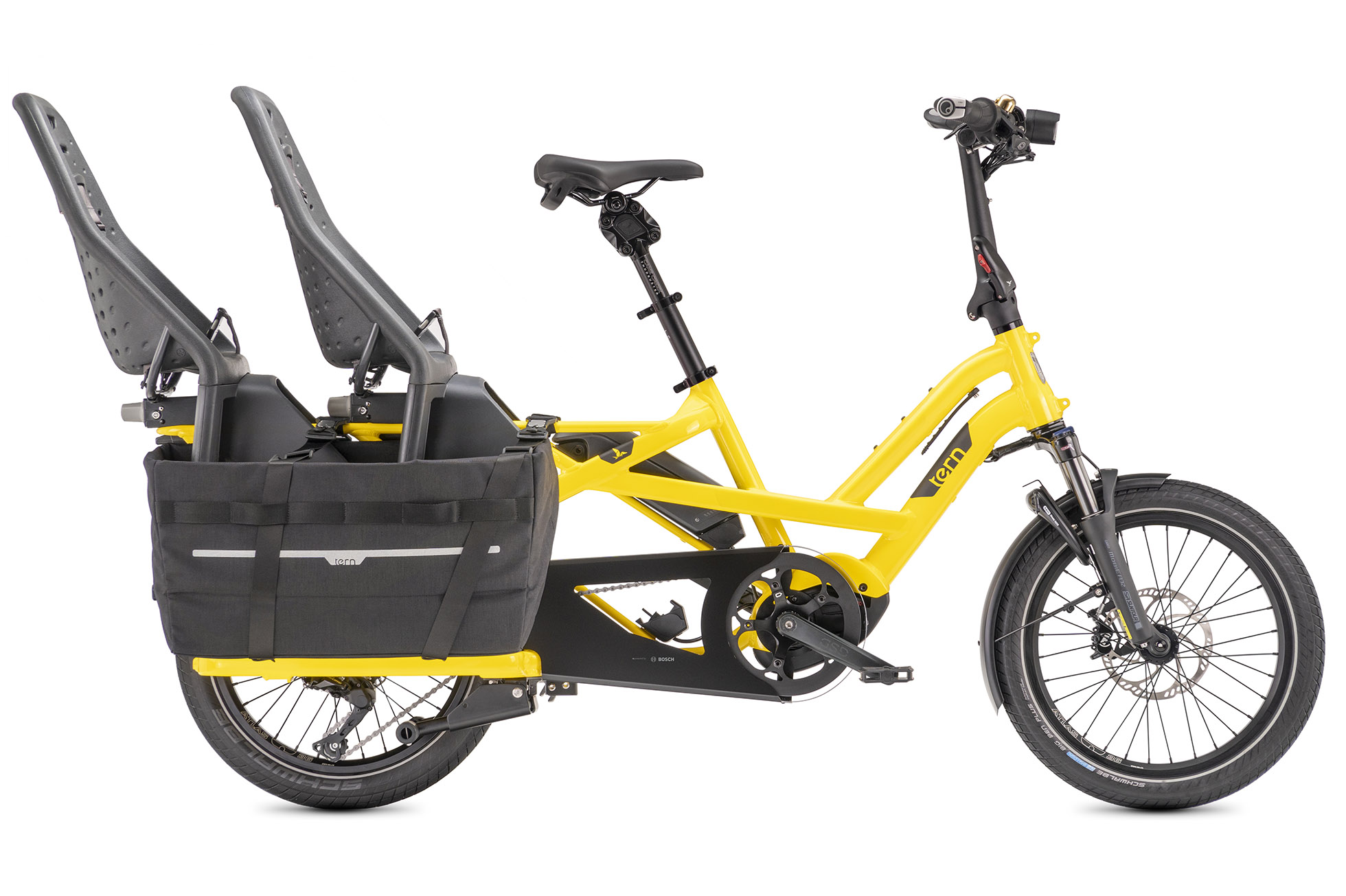 Tern's goal is to make premium bicycles that are well-equipped to meet the expectations of urban commuters. But Tern makes additional accessories to exceed those expectations and meet more specific needs some riders might have.
The long list of accessories you can find on its official website includes:
Front and rear racks
Bags and Baskets
Passenger Seating
Storage & Transport
Parts & Components
As you can see, there's pretty much everything you need to help you carry more stuff, take your kids or friends for a ride, and store and transport your Tern bike with more ease.
The website also includes a filter that lets you find all the accessories that fit your particular Tern model, so you don't need to worry about compatibility.
Some specific accessories that caught our eye as particularly handy include wide decks, a storm shield for kids, AirPorter suitcase, and the comfortable Captain's Chair.
The only drawback is that the prices tend to be a bit steep, but it's worth it knowing the part you buy is going to fit like a glove.
FAQ
Our Thoughts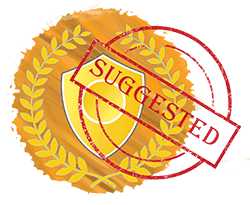 What more can we say about Tern Bikes but that we like most things about them.
The brand has a clear vision and a goal it wants to achieve, and it is working hard toward reaching it. Every Tern bike is unique and serves an apparent purpose.
There are few better (if any) folding electric bikes out there when it comes to the technology and practical solutions they offer.
Tern has turned cargo hauling and urban cycling into an art form full of surprises and quirky features.
The only downside is that, as with any other art piece, you need to pay a lot of money to own it.
But if you do, you'll be able to enjoy it for years to come and, in this case, get loads of practical value out of it as well.