The Diamondback Overdrive is one of Diamondback's most popular hardtail mountain bike lines. The reason is that the bikes are affordably priced and the bang you get for your buck is excellent as well.
In total, there are three models in the Overdrive series, which are either entry-level to high-range models. There used to be a fourth model too (Overdrive 2 X), but it has been discontinued.
The Diamondback Overdrive 29 models are excellent both for the ultimate beginners and for those who already have some experience on the trails and want to upgrade to a better model. As you can guess from the name, all of them have 29″ wheels, which are getting quite popular on XC bikes nowadays.
The three models are:
Overdrive 29 1 — The cheapest, basic, beginner model. Aluminum frame and entry-level Shimano components.
Overdrive 29 2 — Mid-level aluminum model with mid-range Shimano Alivio components.
Overdrive 29 3 — High-level aluminum model. Has a set of decent SRAM SX Eagle components and RockShox Judy Silver TK suspension.
Let's take a closer look at each of these, learn about their features, and determine which one is the most suitable for you!
Diamondback Overdrive Series — Highlights
The Diamondback Overdrive series are affordably priced XC trail bikes. They are aimed towards the average riders out there who are interested in mountain biking for recreational purposes.
All of these bikes have very steep geometry. The head tube angle on all three is 71 degrees, which puts the rider in an upright riding position. The center of the front wheel is right below your hands, so you will have good control of the bike.
Depending on which model you choose, you will either get Shimano or SRAM components. The cheapest model is equipped with an entry-level Shimano groupset, whereas the more expensive ones have mid-range SRAM groupsets.
When it comes to suspension, all three Overdrive models are hardtail bikes. The travel is the same on all models — 100 mm — but the forks themselves differ. A bit more money will get you a higher-quality fork with more possibilities for adjustment.
Disc brakes are a given on all three models, as well as 2.25″ tires. However, a higher price tag will provide you with hydraulic discs instead of mechanical ones. Moreover, the tires differ as well, so if you opt for one of the more expensive models, you'll get more durable tires.
Let's dig deeper.
Diamondback Overdrive 29 1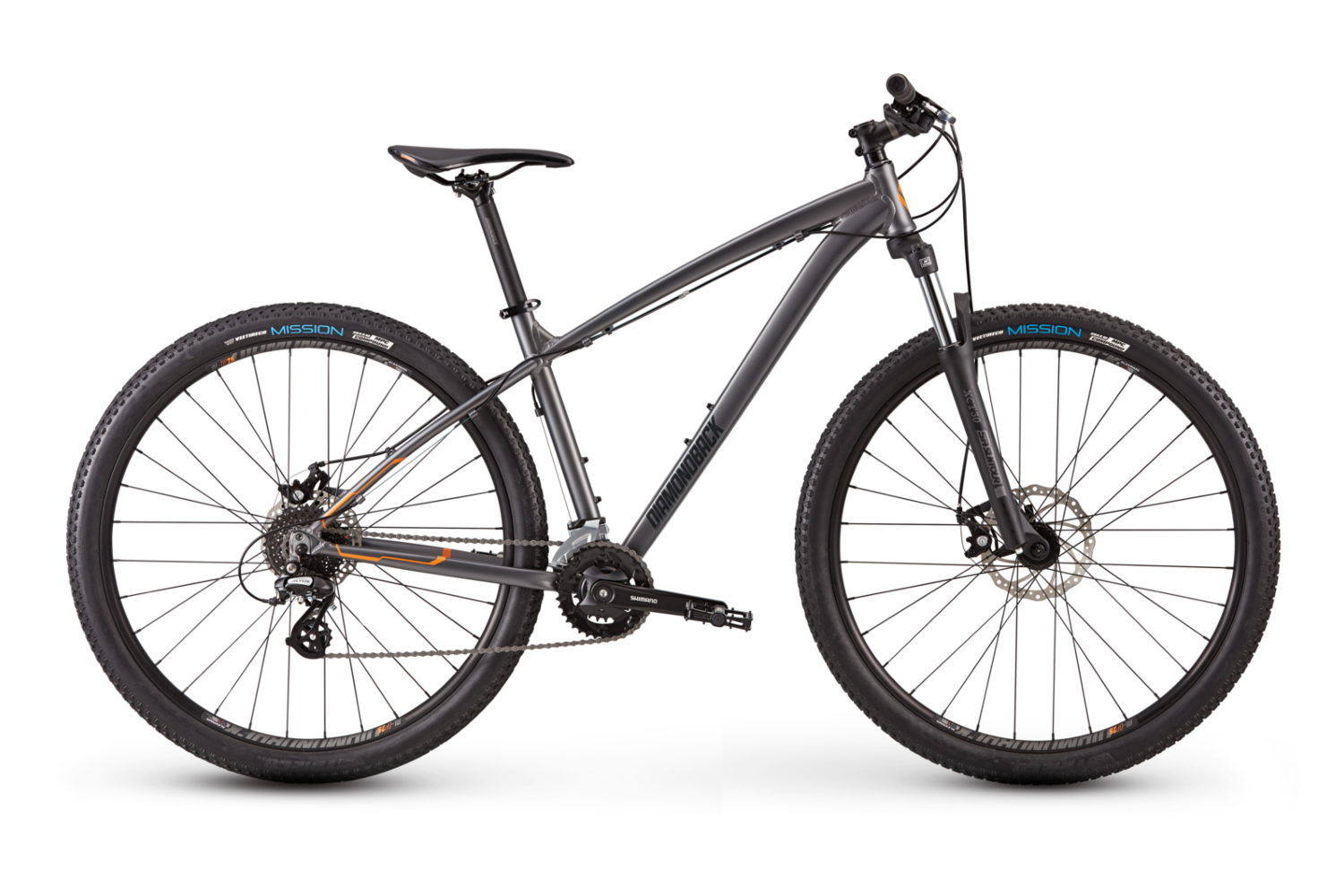 The Diamondback Overdrive 29 1 bike is the cheapest of the three models in the series. However, that does not make it a bad choice. On the contrary, it is proof that quality bikes do not always come with a high price tag. If you are a beginner and you want a bike that will be your entry ticket into the XC world, then this model is a foolproof choice.
Considering that this bike costs around $750, you will be quite happy with what you get. Moreover, with little maintenance and moderate abuse, you will have it and ride it for years to come.
The 6061-T6 aluminum frame is lightweight and robust, and the lines look attractive as well. The lines are smooth and fluid, and the geometry puts the rider into a more upright position. The head tube angle is 71 degrees, which is quite steep.
Thus, you can expect to have a lot of control when cornering and have a good overview of the trail in front of you.
Decent Components
The SR Suntour XCT30 fork gives you 100 mm of travel on a coil spring. This is more than enough for any moderate trail rides. You'll also get some comfort and stability from the wide 2.25″ tires.
A pleasant surprise on the Overdrive 29 1 is the mechanical disc brakes and Shimano Altus components. Disc brakes will give you all the stopping power you need on the trail and Shimano components, even though entry-level, still shift and work smoothly in most conditions.
Therefore, if you are looking to buy your first hardtail mountain bike to ride on the local trails or enjoy some fire roads, Diamondback Overdrive 29 1 is the obvious choice!
Diamondback Overdrive 29 2
The Diamondback Overdrive 29 2 bike is the next cheapest of the three Overdrive models, and it is billed as the classic 29er hardtail. If you are a beginner and you are looking for a slight upgrade from the entry-level Overdrive 29 1, this bike will be a great choice.
There are a few big differences between the Overdrive 29 1 and Overdrive 29 2, including the upgraded RockShox Judy TK Coil Spring fork and Shimano hydraulic disc brakes. Another difference is the drivetrain which is Shimano Alivio 2×9 as opposed to the 2×8 on the Overdrive 29 1.
Like the Overdrive 29 1, this bike has a 6061-T6 aluminum frame that is lightweight and robust, and the lines look attractive as well. Again, the lines are smooth and fluid, and the geometry puts the rider into an upright riding position. The head tube angle is fairly steep 71 degrees.
This means that you will have a lot of control while cornering and a good view of the trail in front of you.
Decent Components
The RockShox Judy TK Coil Spring fork allows for 100 mm of travel, which is the same as the rest of the Overdrive 29 lineup. This model also has wide and comfortable 2.25″ tires like the rest of the series.
A nice addition to the Overdrive 29 2 are the hydraulic disc brakes and Shimano Alivio components with a 2×9 drivetrain.
Overdrive 29 3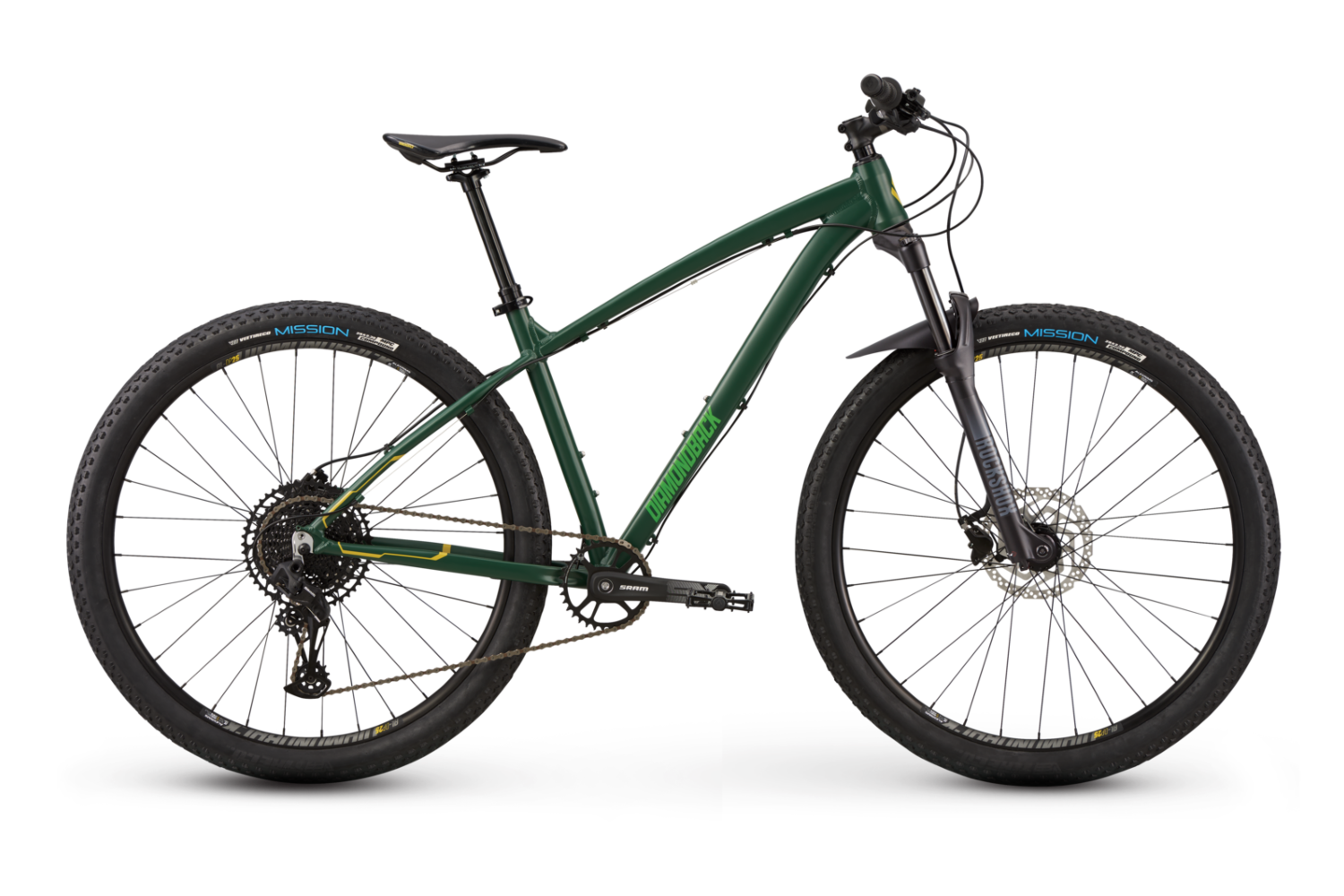 The Overdrive 29 3 is an excellent aluminum mid-level hardtail machine that can smash trails even though it does not have an outrageous price. The frame is made from the same material as the one on the cheaper Overdrive 1 and Overdrive 2 models. This is a standard practice because this aluminum alloy has lots of strength and weighs very little.
I quite like the paint job, even though you cannot choose from several colors.
You're stuck with Forest Green Matte, but it looks modern and fresh. But, good looks are definitely not the only quality of the Overdrive 29 3 model. Compared to the cheaper model, it has a lot of upgrades.
RockShox Judy Silver TK and SRAM SX Eagle
To start with, the fork is much better and will give you a lot more capabilities on the trail. The RockShox Judy Silver TK is an air suspension system with 100 mm of travel. Therefore, you won't need to hold back on the aggressive bits of the single tracks, but you can comfortably attack them.
Moreover, the components and the drivetrain are provided by SRAM. In this particular case, you'll get SRAM SX Eagle, which is a decent mid-range option. The biggest highlight on the Overdrive 29 3 is the 1×12 drivetrain which has a lot of advantages and is usually seen on more expensive bikes.
Overdrive 29 3 is an excellent bike with decent specs and an attractive price. If you're a recreational rider and a trail lover, this will be a good purchase for you.
Good things do not stop there. Overdrive 3 has hydraulic disc brakes, so feel free to ramp up the speed on the flat parts and downhills since you'll easily slow down in time for the corners. When you're in the corner, you can rely on the WEE Rubber Mission 2.25″ tires to give you more grip than you'll need.
In case you're looking for something with a higher spec profile, you should keep reading.
Other Diamondback Overdrive Models (On Amazon)
If you've set your mind on purchasing one of these beautiful bikes, take a moment to see what's available on Amazon as well.
If you type "Diamondback Overdrive" in the search box on Amazon, you will get lots of results for these three models and some other Overdrive models that are not available on the official Diamondback website.
Note that the names on Amazon are usually lengthy and strange, but they tell you what you need to know about the bikes. The most popular models here include:
Diamondback Overdrive Carbon Pro 29
Diamondback Overdrive 2 29
and Diamondback Overdrive Carbon Comp 29
There are many more. Most of them come at a lower price than the three models on the website. So, if you want to save some money, they are worth checking out. Of course, most of them have cheaper components, but there are some models with almost the same spec profile as the current models.
You can get some great deals with fantastic reviews. Many of these are models from previous years, by they come at attractive prices. You can also choose between 29″ models and 27.5″ models, which were previously available on the main website. If you are a shorter rider or if you like the performance of 27.5″ wheels, these will suit you well.
Sizes
When it comes to sizing, the whole Overdrive series is available in four sizes. The sizes as specified by Diamondback are:
S / 16″: 5'4″ – 5'7″
M / 18″: 5'7″ – 5'10"
L / 20″: 5'10" – 6'1″
XL / 22″ or 21″ : 6'1″ – 6'4″ (depends on the model)
A big advantage when it comes to buying Diamondback bikes is that they offer a complete size guide for each model and each size. This is not something that all bike manufacturers do. Therefore, by looking at this table, you will know what the exact dimensions of each part of the frame are.
This can come in handy especially if you did a bike fit before, so you can compare your recommended dimensions to the ones on the Diamondback website and choose the right size. Moreover, you can use an online bike fit calculator to get the same approximate dimensions, which you can then compare with the ones of the model you're interested in.
Assembly
When you purchase a Diamondback bike, it will reach your home partially assembled. This makes the assembly process very fast and simple for you.
If you already have some experience with riding and assembling bikes, you can ride your new Diamondback after around 30 minutes. However, if it is your first time, you can finish the assembly in a couple of hours.
If you need help, Diamondback has made a ton of assembly videos and guides to help you out with the process, so it's difficult to get it wrong. However, if you're not confident in your skills, or you do not want to take any risks, you can simply take your new bike to a LBS, and they'll do it for you.
However, the assembly process is a great way to get to know your bike more, learn how it functions, and become familiar with all of its parts.
User Reviews
Diamondback Overdrive bikes are quite popular because they are intended for mid-level riders, who make the majority of customers out there. Therefore, you can find a lot of reviews of these bikes online. Most of them are positive and point out that the Overdrive series is a great choice both for beginner and recreational riders.
What we can conclude from the majority of the user reviews is that riders like the components and the suspension the most. The SRAM NX and GX groupsets have proved well on the trail. They're precise and smooth and can take plenty of abuse and beating.
RockShox suspension also performs really well according to online reviews. It can deal even with the more demanding parts of the trail.
Read our in-depth guide about Diamondback mountain bikes
Conclusion
Overall, we really like the Diamondback Overdrive series. What we like the most is Diamondback's intention — to provide beginners and recreational trail riders with reasonably priced hardtail bikes. The result is a group of three well-balanced models, which do not make big savings on components and test really well in the real world. We encourage you to take them for a ride and see for yourself.
Which One to Choose?
Now that you know all there is to know about the Diamondback Overdrive series, it's time to choose the perfect model for yourself. This is not difficult to do, as each of these models is unique and has something different to offer.
For example, if you are a beginner and you're looking to buy your first trail bike, the Overdrive 1 is great for you. It has a good build and decent entry-level components. Plus, the price is just right as well. However, if you want a more capable machine to improve your mountain biking skills, Overdrive 3 is a good choice. You won't break the bank, but you'll get high-quality SRAM components.
There are no comments yet, add one below.