Niner MCR 9 RDO is a unique full-suspension gravel bike that redefines what a drop-bar bicycle is supposed to ride and look like. Does it make sense for gravel or is it crossing too many boundaries?
A few brands have played with the idea of adding suspension to their gravel bikes in recent years. However, none of them have taken things as far as Niner with its bold MCR 9 RDO model.
You're looking at a full-suspension, drop-bar gravel bicycle with 50 mm of rear and 40 mm of front gravel-specific travel.
MCR 9 aims to make your gravel grinds faster and more comfortable by keeping the tires flush with the ground for longer. It also boasts a carbon frame, 650B and 700C compatibility, and eight build kits.
Does it work or is it just an overly heavy and complex gimmick? Find out more in our review below.
Main Specifications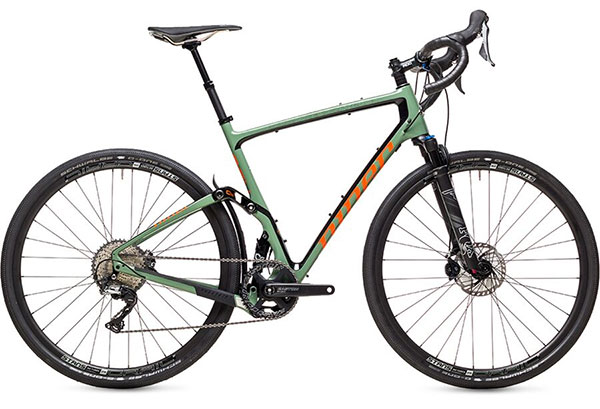 It's pretty obvious that Niner MCR 9 RDO is unlike any other gravel bike. It's jam-packed with performance and comfort-enhancing features that you'd be hardpressed to find anywhere else.
Some of the features you'll appreciate the most include:
50mm of rear CVA suspension and a 40mm Fox suspension fork.
Remote rear shock lockout and fork lockout.
Enough clearance for 700Cx50mm or 650Bx2.0″ tires.
Premium RDO carbon frame.
Full internal cable routing with dropper post routing.
1x and 2x chainring compatibility.
11 mounting points for water bottles, frame bags, etc.
Integrated rear fender.
Lifetime frame warranty.
Seven diverse build kits starting from $5,149.
Pressfit PF30 bottom bracket.
Tubeless tires.
Related: Best Gravel Bikes
RDO Carbon Fiber Frame
The MCR 9 is made around Niner's premium RDO carbon fiber frame, which includes both the main frame and the rear triangle. The rear end is built in such a way as to accommodate Niner's CVA suspension design that places the lower linkage below the bottom bracket.
While this frame is not the lightest (5.75 lb for a 56cm), that's not really what its main selling point is. MCR 9 RDO is all about practicality, comfort, speed, and fun.
You get a total of 11 mounting points that let you attach three water bottle cages, a frame bag, and a top tube feed bag. Therefore, you'll be all set to complete long rides and adventures.
In addition to that, this frameset also boasts full internal cable routing, a press-fit PF30 bottom bracket, and plenty of tire clearance in the frame and the fork.
The only slight downside is that it comes in just three sizes – 53cm, 56cm, 59cm. Very short or very tall riders will find it hard to get the right fit.
CVA Suspension
Niner MCR 9 RDO's suspension uses the CVA technology, which stands for Constantly Varying Arc. This is a short dual-link, four-bar system that was developed and patented by Niner. It controls and eliminates unwanted suspension movement which is especially important while pedaling.
MCR 9's CVA suspension is specifically tuned for gravel riding. The intention behind it is to improve your comfort and help you maintain high speed for longer, instead of allowing you to ride over gnarly stuff or do big drops.
As a result, the power loss caused by the rear shock while climbing and pedaling is minimal on this bike. That's pretty important as you'll probably do a lot of it.
The X-Fusion Microlite RL rear shock will provide you with 50 mm of travel and comes with a remote lockout, so you can disengage it if you're riding on smooth terrain. The Fox's gravel-specific AX telescoping fork delivers 40 mm up front, which is more than enough to improve comfort, speed, and control.
Multiple Build Kits
MCR 9 RDO is not a cheap bike. That is to be expected considering that it is quite unique and pushes the limits of the established gravel riding standards.
The good news is that Niner makes it in seven complete builds, so there are options to choose from even if you have a limited budget.
The builds start with a 2-Star SRAM Apex 1 groupset and end with a 5-Star SRAM Force 1x AXS groupset.
2-Star SRAM Apex 1
3-Star SRAM Rival 1
3-Star SRAM Rival 1 XPLR AXS
4-Star Shimano GRX 800 1x
4-Star Shimano GRX 800 2x
5-Star Shimano GRX 800 1x
5-Star Shimano GRX 800 2x
5-Star SRAM Force 1x AXS LTD
The 2-star build has a mix of Niner and Easton aluminum parts, such as the stem, seatpost, and handlebar. All other builds boast carbon Niner and Easton parts which will save you some weight.
If you want to get carbon wheels, you should go with one of the 5-Star builds that sport Stan's NoTubes Grail CB7 carbon rims. Otherwise, you'll get DT Swiss, Stan's, or Niner's aluminum wheels that are slightly heavier.
However, all seven models roll on the same tires—Schwalbe G-One tubeless—which is a pretty popular choice among gravel riders.
700C and 650B Compatibility
Are you in two minds when it comes to choosing between 700C and 650B wheels? Or do you like one size for one type of riding and the other size for another type? Then Niner MCR 9 RDO is a great bike for you.
The frame and the fork are compatible with both 700C and 650B wheels, so you can swap between them effortlessly.
Moreover, there's enough clearance in the frameset for 700Cx50mm or 650Bx2.0″ tires. That's as wide as tires get on gravel bikes.
MCR 9 leaves the factory with 700C x 40 mm tires, but as you can see, you can go a lot wider than that.
Related: 8 Reasons Why Gravel Is The Hottest Trend In Cycling World
Sizing
Since MCR 9 RDO is a pretty experimental gravel grinder, Niner makes it in only three sizes. The company probably didn't want to invest in more molds, not knowing if this model will be a success or a fluke.
Therefore, this is one of the only downsides we can find, as the frame is only suitable for riders who are between 5'5″ and 6'3″ tall.
Check out the chart below to find your ideal size:
53 CM: 5'5″ – 5'9″
56 CM: 5'8″ – 6'0″
59 CM: 5'11" – 6'3″
Final Verdict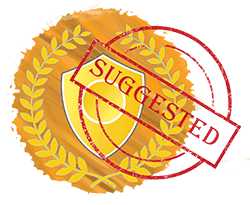 Niner MCR 9 RDO is a super exciting bicycle. The concept and the idea behind it make a lot of sense. Therefore, this will easily become the favorite bicycle for a large number of riders who want more comfort and more speed on rough terrain.
However, Niner still has a bit of work to do on it. For example, the CVA suspension design makes this bike heavier than ideal. The front end is also shorter than it should be, so the bike lacks some control when going aggressive offroad and feels a bit sluggish on paved roads and hard-pressed gravel.
That said, we still like it and recommend it to riders who want a gravel grinder that pushes the limits, looks amazing, and blends the gap between gravel and MTB riding.
Niner MCR 9 RDO
From $4,650
Pros
High-quality RDO carbon frame
Seven complete builds to choose from
Gravel-tuned CVA suspension
Carbon wheels on 5-Star builds
700C and 650B compatibility
Cons
A bit heavy
Only three frame sizes
Geometry needs tweaking
There are no comments yet, add one below.