Cycling can be quite a hobby that improves many different aspects of your life. Not only your health, but your private life can also improve significantly if you take up cycling as a regular activity.
You can look younger and preserve many years of your life by fighting risky diseases if you cycle, for 30-40 minutes every day. Not only that, there are so many effects of cycling that you will notice once you start.
Whether you want to lose weight, keep your heart healthy, save money or want a better commute, cycling can be the best option for you. Here are some of the benefits that cycling has in store for you:
Reduce Signs of Aging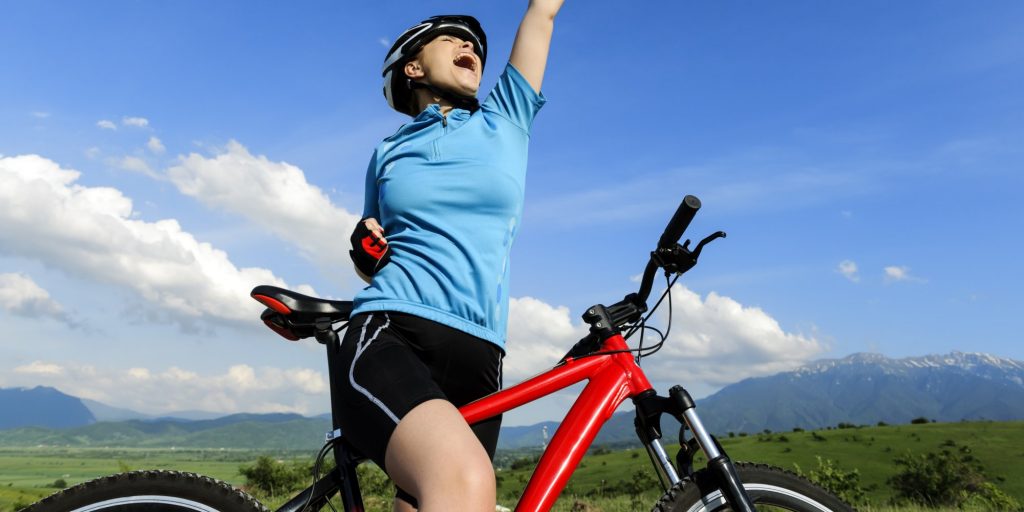 On a daily basis, UV radiations can leave harmful effects on your skin which causes your skin to start showing signs of aging by giving you unwanted lines and wrinkles on your face.
However, a recent study conducted by Stanford University scientists shows that you can reduce these signs by cycling regularly. It is generally known that a proper workout helps you avoid aging for the longest time as your skin produces collagen when you work out on a regular basis.
When you are cycling, oxygen regulates through your blood, thus helping your skin cells to flush out any harmful toxins. Due to these qualities, it is suggested that you take up cycling, which will keep your blood flow on track and keep you looking young.
Lose Body Fat
Cycling is a hobby that comes with many benefits and one of the many is losing weight. Cycling will help you reduce all that extra fat that you are too lazy to work out for.
Many people who wish to get rid of body weight opt for running or jogging as a starting gesture towards their journey, but cycling is a more promising method that will help you shed all those extra calories.
Your metabolism will naturally increase if you adopt the habit of cycling therefore if you want to lose weight; this is an ideal hobby for you.
Read More: Cycling For Weight Loss
Forget about the gym as none of us can follow through the hectic routine on a busy day anyways and start cycling every day to shed fat from your body.
Related: Best Exercise (Stationary) Bikes
Save Money from Fuel
If you are on a budget, you will be advised to decrease the use of a car as it consumes fuel that you have to pay for. But, even when you cut back on private transportation, you will have to pay for other commute methods.
An alternative option is to cycle to your destination and you will save more than you think you can as you will not be paying for fuel every day.
In a nutshell, if you want to cut back on the money that you spend on your daily basis, cycle to your destinations instead of taking your car. You will notice that a significant amount is spent on your daily commute, which you can save for bigger goals.
Mood Booster
We all find ourselves in a mood rut every now and then when something from our work or private lives seem to get to us. We all tend to get cranky and agitated every once in a while and cycling will help you fight it.
Just 30 minutes of cycling can boost your mood and release all the toxins that are making you feel frustrated with life.
Any time you feel like you need a little lift to get back on track put on a helmet and go for cycling. You will notice how your mood will dramatically become calmer and more positive.
Just 30 minutes of cycling can boost your mood and release all the toxins that are making you feel frustrated with life
Healthier Heart Rate
People who cycle regularly also maintain healthier heart rate which keeps them from having heart strokes which is one of the leading causes of death around the world.
It will also increase your cardiovascular health which means that your heart rate will be controlled, thus ensuring a healthy and long life.
Cycling regulates heart rate, among other benefits for your health therefore, start cycling and become healthier.
Save the Earth
This Earth is our home and we need to make some changes that will stop it from getting polluted.
As we are all aware that the Ozone Layer is getting thinner with time due to toxic gases such as fuel omitted from traffic, we should make changes in our lifestyle that will keep it from completely dissolving.
Not only that, if more and more people started using bicycles as their common commute, we will all be safe from environmental pollution.
There will be a lesser hassle if we all adopt a healthier lifestyle by making less use of vehicles that emit gases. It is true that bringing a change is difficult, but we can all play our part and taking up cycling can be a small change that leads towards a great and positive goal.
Strengthen Your Immunity
An apple a day keeps the doctor away is replaced by regular cycling. It has been discovered that people who cycle daily have stronger immunity cells, which keeps them from catching diseases easily.
I also say that one of the best reasons why you should cycle is to strengthen your immunity! People who cycle regularly are fifty percent less likely to get sick than those who don't.
If you are concerned about your overall health then this is the time to take up a hobby that has many positive effects on your health including strengthening your immune system.
People who cycle regularly are fifty percent less likely to get sick than those who don't.
Healthier Mind
For me, it's one of the most important reasons to cycle!
Cycling will also increase your brain activity, thus making it sharper and active. You will be surprised to notice how much cycling can change your thinking ability.
Cycling builds new brain cells, which naturally heighten your thinking ability that can positively trigger your work and creative abilities. You will feel like your management ability has been polished once you start cycling on a regular basis.
Make New Friends
You will notice that there are many people who go for cycling on the same routes as you. Not only that, you can join groups of cycling, which means that you will make new friends and get to meet more and more people.
Your social circle will widen through people who are all looking for positive goals to achieve. Making new friends and cycling, combined will give you a new perspective towards life.
If you want to expand your social circle, joining a cycling club can be a great option.
Better Relationships
When you are cycling on a regular basis, you will feel more calm and satisfied with the people around you. We ruin most of our relationships when we are always in a bad mood and unwilling to make the effort to try to be happy around those who love us.
But cycling will generally have a positive comment on you which will naturally improve the way you deal with your relationships, whether it is with a loved one, your friends or your parents as well.
Improved Work Efficiency
You will also be able to distinguish your positively changed behavior at work.
Cycling will increase your brain's efficiency and management skills and you will be able to work with more concentration at a faster pace. If you make sure to cycle 30 minutes each day you will notice the sense of newfound energy. Having more energy allows you to stay fresh during your work hours and handle your tasks more effortlessly.
So if you are tired of getting complaints from your boss, start cycling and improve the quality of your work.
Stronger Lungs
When you are traveling by bus, you are at risk of inhaling more accumulated toxic gases than those who are outside whether they are on a bike or walking.
When you are traveling by bicycle, you will not have to breathe in the gases that are released from all the traffic around you. It will keep your lungs from severe damage.
In 2001, it was noticed that on the same route, car drivers were exposed to more airborne damage than cyclists. Even though cyclists had a higher respiration rate.
A Great Pass-time
Any time you are bored and run out of interesting things to do, you can just hop on your bicycle and go for a ride. Not only will it boost your mood but you can also entertain yourself by taking your favorite routes.
You will pass your time as well as keep yourself fit by doing something that excites you as well as helps you with many health issues. You can always ask a friend to accompany you to make your time even more thrilling as you guys take up on the world and enjoy cycling.
Get Rid of Insomnia
Have you ever had a sleepless night of tossing and turning in bed until it was dawn? We all know that it can get tiring to stay awake with our thoughts that further take a toll on our physical and mental health.
If you are sick of such nights, cycling, once again, is your way to fight it. A study shows that the average time that takes insomniacs to fall asleep was reduced once they started cycling for 20-30 minutes each day.
This goes to show that you can also fix your sleep by becoming a cyclist and keeping track of your routine.
Rather than being cranky in the morning after a sleepless night, turn things around by hopping on your bike and riding for about 30-40 minutes for better sleep.
Fight Cancer
Among increasing your immunity and helping you fight many other diseases, cycling can also reduce your risk of getting cancer.
Your body will naturally be more active against the production of cancerous cells. Women who cycle regularly have a 34% less chance of getting breast cancer. Therefore developing the habit of cycling regularly can be really beneficial.
You can cycle to your work every once in a while so that you don't have the excuse of not having time for cycling. If you want to stay healthier and increase your body's ability to fight the ugliest disease, become a regular cyclist.
Improve Posture
Many people forget their posture when they are on their quest to lose weight. It's is necessary to make sure that you are keeping your posture. Cycling will not only help you lose weight but also help you come back in shape with a flexible body.
Related: Effect of Cycling on Body Shape
You will start slouching less and less as your body becomes accustomed to sitting without support. You will also feel your abs and other muscles strengthen to support your body and posture.
Snack Any Time You Want
When you are cycling regularly, you can eat any time you want to as you have the perfect excuse now. Since you will be losing weight on a daily basis, you can munch on a salty taco and ice cream every once in a while but that does not mean you stop taking proper calories and nutrients.
You can definitely cheat and skip your diet plans when you have taken up on a healthy way to keep your body fit and in shape.
Skip Dieting
Dieting can end up feeling your body agitated and also once you stop, your weight will shoot up. If you really want to lose weight then you must take up an activity that has caused noticeable reduction and cycling can be one of them.
Instead of starving yourself and denying yourself the most important nutrients and calories, start working out in a way that will entertain you as well.
Losing weight does not have to be boring at all and dieting books cannot tell that to you.
So if you want to improve your weight reduction process, just start cycling and skip dieting. I started riding my mountain bike and lost 10 pounds!
Increase Sex Drive
Cycling can increase your sex drive. You can improve the quality of your relationship with your partner. Even men over the age of 50 have 30% less chances of losing their potency than people who don't cycle.
If you want to boost your sex drive so you could focus more on the quality of time you are having with your partner, cycling can really help you out. Many men convert to taking pills and potions which can actually be harmful to health. Why not use cycling and target so many aspects of your life in a positive manner including sex drive.
Fight Exhaustion
It sounds almost crazy to go cycling when you are already feeling exhausted. We promise you will be surprised to see how physically active you feel after 10-15 minutes of cycling.
You will not only feel physically energized but mentally activated as well. So if you are planning to focus on work for the rest of the day it will be no hassle. Instead of letting exhaustion take over, fight it by doing something that will refill your energy tank in no time.
One of the best reasons why you should cycle is also the good feeling after the training!
Longer Life Span
Cycling will also add years to your life. As mentioned at the start, cycling will make you look younger but at the same time. It will also add many years to your life so that you live for longer.
Since your body will be fighting against many diseases that can be harmful to your health and life, you will have a longer time to live.
If you wish to have a long and healthy life then cycling should be your regular activity. Make sure to cycle for at least 30-40 minutes daily to increase the length of your life.
Better Digestion
With time your metabolism decreases. That means food takes more time to digest and absorb in your body. However, with cycling, you can trigger your digestion system and it will take less time to digest food thus keeping your bowels clean. If you often have diarrhea then you will be glad to know that cycling will get rid of that in no time as well.
The most important part is that you remain regular. This way your body knows that you are making an effort to keep it healthy and active.
Make sure to cycle for at least 30-40 minutes daily to increase the length of your life.
Participate in Charity
Once you have taken up cycling as your hobby, you can also participate in competitions that are held for donating and charity programs and through that you will also be able to help people out.
Children, old people, homeless people all can benefit from charity companies which arrange such competitions to raise money for those who need it.
A Healthy Addiction
Cycling can really be addictive once you start hitting the track regularly. But there are no side effects that make it healthy and safe for you to be addicted to it.
If you are looking to improve your life, fall in love with something that will actually be beneficial for you in long term. Many smokers and alcoholics have fought their struggle of quitting their addiction by taking up the hobby of cycling.
It's an important reason why you should cycle! At the most, you might feel physically drained but in the end you will only feel stronger and energized so there's no harm in getting addicted to riding.
See More: Benefits of Cycling
Let us know, what's your favorite reason to ride!
Related: