Do you enjoy hunting but walking long miles is not your cup of tea? Bakcou electric hunting bikes have your back! Reach remote hunting spots in a fraction of time and without breaking a sweat.
Part of Best Bike Brands
Hunting is typically known as an activity that requires a lot of walking and even more patience.
However, people with limited mobility caused by a stubborn injury or old age might have a hard time meeting the first requirement. You may also just dislike walking long miles with heavy gear on your back. Who are we to judge!
Well, Bakcou is a USA-based company that specializes in making hunting-specific e-bikes designed to get you and all your gear to faraway places over rough terrain.
Travel on 4″+ tires and carry 300+ lbs of gear to remote unspoiled spots. Leave no scent behind and make minimal noise. Haul your prize back home with ease. Get all the bragging rights!
If this sounds good to you, we recommend learning more about Bakcou e-bikes and finding out why so many hunters love them in our review below!
Overview of Bakcou Bikes
Bakcou is an electric bike company that is devoted to manufacturing heavy-duty electric hunting bikes.
The company was founded by lifelong friends and hunting enthusiasts Bryan Child and Dave Andre. They share a love for the backcountry and the desire to reach remote areas in an environmentally friendly way.
That friendship and enthusiasm have resulted in the creation of some of the best electric hunting bikes in the world.
Bakcou e-bikes are powerful, durable, capable, equipped with hunting-friendly accessories, and outfitted for the rough and rugged terrain.
Some of the advantages of having a hunting electric bike such as Bakcou include:
Covering large distances with minimal effort.
Leaving no scent on the trail, compared to cars, dirt bikes, and ATVs.
Move quietly and stay out of sight.
Carry up to 300 lbs. of gear on the bike (including you) and haul even more in a trailer behind.
Overcome injuries that limit your abilities.
Check trail cameras, traps, and remote spots quickly.
Do something good for the environment.
Bakcou E-Bikes Lineup
Bakcou is a relatively young e-bike company, which means it doesn't have a huge lineup of models available.
At the moment of writing this review, there are four unique models on offer, plus three step-through variations of those bikes. A total of seven builds to choose from.
All Bakcou hunting e-bikes share some unique features that set them apart from the competition. Such as:
Hardtail or full-suspension design
Fat or plus-size tires
750W or 1000W motors
Up to 1200Wh battery capacity
Powerful hydraulic disc brakes
Wide-range gears
300 lbs. carrying capacity
25–30 mph top speed
Find out more about the individual models in our quick and informative reviews below!
Flatlander
750W rear hub motor
Up to 1000Wh of battery capacity
Bright headlight & integrated rear rack
The Flatlander is Bakcou's most affordable model. It's built around a high-grade aluminum frame that's available in step-over and step-through variations. The latter is ideal for shorter riders, as are the 24″ wheels.
This bike is called the Flatlander because its 750W rear hub motor is not as powerful as the mid-drive motors fitted on other Bakcou bikes. Therefore, it won't climb as well as the other models.
However, its 4″ wide tires and front suspension will still get you over long stretches of rough terrain with ease. This bike features a GT MRK 100mm air fork, powerful hydraulic disc brakes, and a 9-speed Shimano Alivio drivetrain.
These are all high-quality components that perform reliably, which is what you need when you're in the middle of nowhere.
Bakcou Flatlander is also available with a 17.5Ah, 19.2Ah, or 21Ah battery, so you can get up to 1000Wh of capacity, which translates into a range of up to 82 miles.
Buy if: We recommend this bike to hunters with a limited budget who don't plan to climb much but wish to cover long distances in a short amount of time.
Mule
750W/1000W mid-drive motor
Up to 1200Wh battery
26″ or 24″ wheels
The Mule is one of Bakcou's most popular models because it offers the best value for the money. It's the most affordable model with a mid-drive Bafang motor and comes with a step-over or a step-through aluminum frame.
The Mule is a versatile hunting e-bike that lets you toggle between 750W and 1000W of power (depending on your needs and the local e-bike laws), with a 1500W max power output. That makes it an excellent climber in all conditions.
This bike also comes with a pretty decent 48V 17.5Ah battery, but you can upgrade it with a 19.2Ah, 21Ah, or even a 25Ah pack. That translates to up to 1200Wh of capacity!
In terms of other components, the Mule and Flatlander have a lot in common. You get quad-piston Tektro hydraulic disc brakes and a 9-speed Shimano Alivio drivetrain. You can climb and come to a stop even if you are fully loaded with gear.
Depending on your preferences, you can also get the Mule with 26″ or 24″ wheels. The step-over model comes with bigger wheels, whereas the step-through is available with both wheel sizes.
Buy if: Your favorite hunting spots require you to travel through tough terrain with a lot of climbs.
Storm
750W/1000W mid-drive motor
Front and rear suspension
Heavy-duty rack and fenders
Bakcou Storm is one of the best-equipped electric hunting bikes out there. If your favorite hideouts require you to tread through steep, rugged, and technical terrain, then this is the best choice you can make.
The Storm is a full-suspension fat bike with 120mm of travel and gnarly 26 x 4″ Maxxis Minion tires. Therefore, it has serious off-road mountain biking capabilities.
When you come upon a steep hill or you're fully loaded with gear and fresh meat, the 1000W/160Nm mid-drive Bafang motor will take care of all the hard work. The 48V battery can pack up to 25Ah of capacity for a range of up to 82 miles. That means you can go deep into unspoiled hunting territory!
The Storm has the same powerful quad-piston hydraulic disc brakes as other Bakcou models, plus a 9-speed SRAM drivetrain.
On top of that, it also boasts a heavy-duty rear rack, fenders, and a kickstand, which significantly improve its practicality.
Buy if: You live in an area with rough terrain that would be challenging for a hardtail bike and requires big guns.
See More: Best Electric Hunting Bikes
Carbon Alpha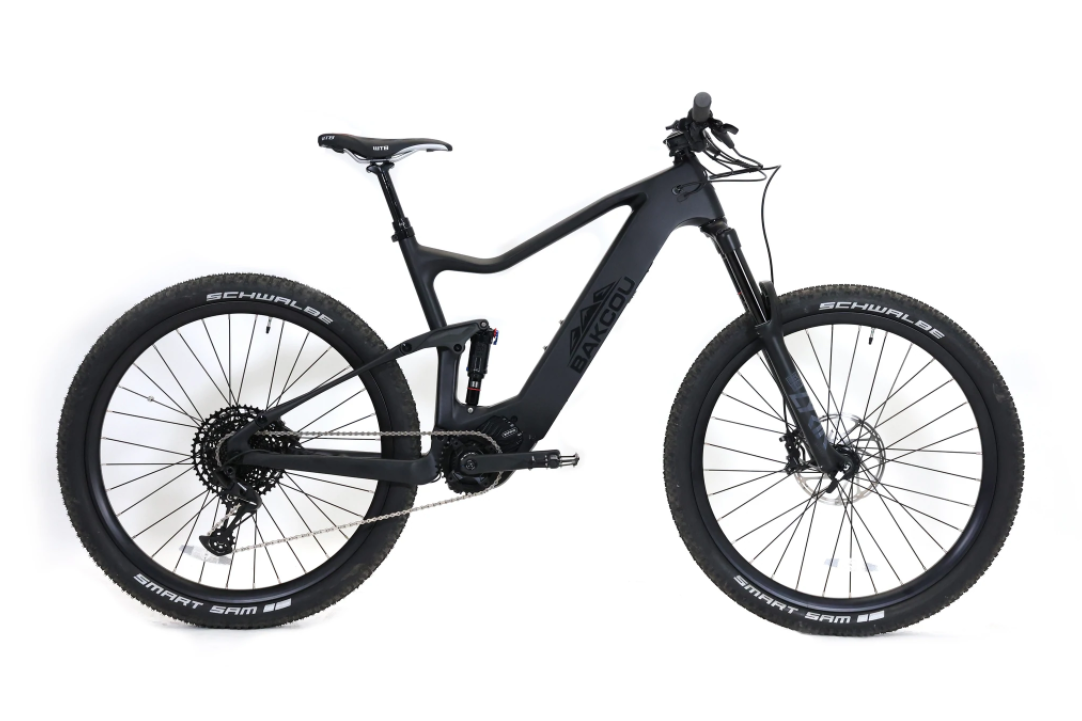 500W mid-drive motor
RockShox full-suspension
12-speed SRAM SX Eagle drivetrain
Most electric hunting bikes provide practicality and accessories at the expense of weight and speed. If you're used to traveling light and fast, then you should look into the Bakcou Carbon Alpha hunting bike.
This is a lightweight full-suspension mountain e-bike with a carbon frame. It has no accessories whatsoever, so anything you carry will have to go on your back or inside frame bags.
Related: Best Electric Mountain Bikes
The Carbon Alpha has a 500W mid-drive motor and an integrated 14Ah battery, so you'll get up to 60 miles of range.
Unlike the other models above, this one has 27.5 x 2.8″ tires that are faster than fat tires, but almost as capable over rough terrain. The front and rear RockShox air suspension will make up for the comfort and grip lost with the wider tires.
This high-end package also includes SRAM G2 RS quad-piston hydraulic disc brakes and a 12-speed SRAM SX rear derailleur. These are high-quality parts that will let you climb and descent like a proper mountain biker.
Buy if: You're used to traveling light and want to be in and out of the hunting territory fast while staying unnoticed.
Interested in even more hunting bikes? Take a look at our reviews of Rambo Bikes and QuietKat.
FAQ
Our Thoughts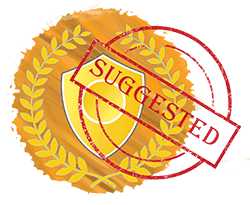 There are more and more e-bike companies on the market that offer electric hunting bikes. This is great news for the hunting community.
So is there anything that sets Bakcou bikes apart from its main competitors such as Rambo, QuietKat, or Rungu? Is there a reason why you should make Bakcou your first choice?
Bakcou bikes' main advantages are large batteries and powerful mid-drive motors on most models. Two models also have a full-suspension setup, which will come in handy on long rides on rough terrain.
However, they are not the cheapest electric hunting bikes out there, so if you're on a tight budget, you might look elsewhere.
All in all, we definitely recommend Bakcou hunting e-bikes to anyone looking for powerful and reliable electric bikes with a long range and an even longer list of hunting-specific features.