If you are looking for quality mountain bikes to handle the more challenging terrains, Rocky Mountain is the best place to find one.
Part of best bike brands and best mountain bike brands
Rocky Mountain bikes are also good for trail riding with frames that can handle just about anything. With new model mountain bikes hitting the market every year, you can be sure to get the most durable and best fit for you.
But let's take a closer look at the brand and their bikes, shall we?
Rocky Mountain
Rocky Mountain is located at the foot of Vancouver's North Shore Mountains, known to have one of the world's most rugged and diverse natural terrain.
Engineers at the Rocky Mountain Development Centre have direct access to test their cycles and different designs in this terrain. Since 1981, they have been developing high-quality and performance mountain bikes for those who love mountain biking.
Whether you like riding local trails or going on nature adventures, Rocky Mountains will give you the bike you need.
Rocky Mountain Lineup
Some of the bikes you can find at the Rocky Mountains include XC mountain bikes, Trail bikes, Enduro bikes, big mountain bikes, electric bikes, adventure bikes, and youth bikes. The design and technology of these bikes make them stand out from their competition on and off the track. The unique design and technology developed by engineers at Rocky Mountain are what sets it apart from the rest.
With the foundation of bicycles being their frame, you need it to be light and durable. Rocky Mountain uses extensive manipulation of the shapes and advanced carbon fiber processes to construct its frames. Both top-of-the-line models and economic models feature carbon or aluminum materials. These materials provide the stiffness, durability, and ride quality you need when mountain biking.
When it comes to bike geometry, you can choose a longer bike that provides more bike stability or a compact bike that is more agile. Cyclists using a lower bike increase their control when maneuvering corners, while users with a steeper bike can climb more efficiently. Balancing these key variables has enabled Rocky Mountain designers to create bikes according to unique cyclists' needs.
Other features on Rocky Mountain bikes include the Ride-9 Adjustment System that allows riders to fine-tune their geometry and suspension using a pair of Allen Keys. There are nine configurations-hence the name. You can also use the Ride-4 adjustment system that has four configurations.
Suspension is important in bikes to give riders more control and increase their traction. Rocky Mountain bikes optimize their suspension to avoid problems and let you ride smoothly even when rough bumps are on your trail. These bikes have Smoothlink suspension that is efficient when you are pedaling and riding across different gears.
Adventure
Solo
The Solo Rocky Mountain bike is built for adventures and can handle more than the pavement. With massive Tubeless-ready WTB ST i21 rims and WTB Venture 700x40c tires, you can ride anywhere and everywhere. The Rocky Mountain gel grips make it comfortable to maneuver the bike through corners on the trail.
This model features an aluminum frame with a carbon disc fork. It also features SRAM Apex 1 shifters and SRAM Apex 1 hydraulic disc brakes for superior braking power when necessary. The 30.99mm Rocky Mountain seat post is the right height for comfortable riding on this mountain bike.
This Solo 50 model is available in different sizes, from small to extra-large. It also offers adequate clearance when biking with wide 700c and 650b tires. You get to use the quality WTB Volt 143 saddle and Rocky Mountain gravel road flare handlebars for additional control on this bike.
The Solo 50 gravel bike from the Rocky Mountains features a solid 6061 aluminum frame with a carbon fork. You can also go for the Solo 30 or Solo 70 Rocky Mountains bikes.
Mountain
Slayer
The Slayer mountain bike from the Rocky Mountains is meant for fast riding. You can pedal this mountain bike on any descent, efficiently turn corners and ride harder than you have before. For efficient climbing and descending, adjust the saddle using the OneUp Dropper post, which quickly lifts and lowers.
This mountain bike features a smooth wall carbon front triangle with a FORM alloy rear triangle for additional durability. With a quality Shimano XT 1×12 speed drivetrain, you can enjoy superior shifting in rough and smooth trails.
It also includes a Ride-4 adjustment system so that you can fine-tune the geometry to enjoy the ride quality you wish. The tubeless-ready rims and tires on this bike offer better traction for a smooth riding experience. You also don't have to worry about flat tires when riding on challenging terrain.
You can choose between the Slayer Alloy 30, Slayer Carbon 90, Slayer Carbon 70, or the Slayer Carbon 50 mountain bike.
Altitude
For aggressive trail riding, there is no better option than the Altitude. The Altitude bike model is meant to be fun while being competitive on today's racetracks. This Rocky Altitude bike weighs 14.56 kgs with a Smoothwall carbon fiber frame and is available in all sizes, from small to extra large.
It features a Shimano XTR drivetrain and powerful Shimano XTR 4-piston brakes to stop. The WTB Silverado race saddle is also comfortable for riding long distances.
You get the Ride-9 adjustment system with over 9 positions to adjust the geometry of the bike. Alongside this feature, this model rolls on 29″ wheels that offer better traction for mountain biking.
This bike is suitable for both short and tall riders with the wheel size split on the medium Altitude frame. At Rocky Mountains bikes, you can choose the Altitude Carbon 99, the Altitude carbon 70, or the Altitude Carbon 50 mountain bike.
Blizzard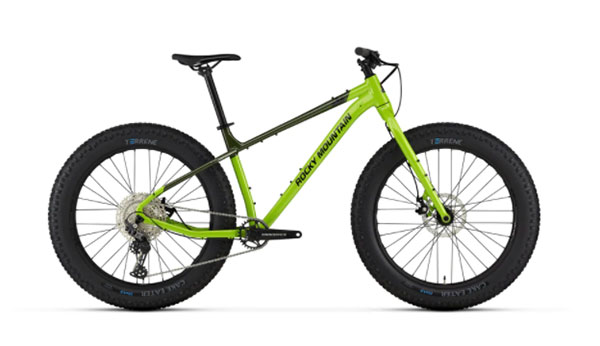 The Blizzard fat bike is designed for fat biking with 26″ wheel sizes to tackle various terrains. These bikes feature alloy frames with internal cable routing and range from small to extra large to fit most riders.
With the 4.8-inch Maxxis Minion tires, you can still ride your bike on the sand and in the winter. The tires are aggressive to increase traction and dampen vibrations from the trail. The setup of this bike is comfortable with a short stem and wide 780mm handlebar for ease when maneuvering.
The Shimano MT200 hydraulic brakes work well when fat biking, so you can focus on enjoying your ride. It is equipped with an SRAM 12-speed drivetrain for a wider selection of gears and a quieter operation. You can get the Blizzard 10, the Blizzard 50 with 275 inches, the Blizzard 30, or the Blizzard 20 mountain bike from Rocky Mountains bikes.
Electric Bikes
At Rocky, you can find all-mountain electric bikes to ride faster and further than ever before. Rocky Electric bike models available include the Altitude Powerplay, Growler Powerplay, Instinct Powerplay, and the Instinct Powerplay BC Edition bikes. Sizes are available from small to extra-large so all cyclists can find the best fitting model to ride.
These adventurous bikes feature the Rocky Mountain Powerplay Drive System from Rocky Bikes to maintain geometry and riding characters that made Rocky models famous. The motor designed in Canada is compact to provide instant power response and fast charging. These electric bikes also charge very fast to get you back on the trail. The batteries weigh around 2.5kgs.
You can fine-tune the geometry of this e-bike with the Ride 9 adjustment system that has nine configurations with a pair of Allen keys. Rocky e-bikes are performance mountain bikes with large 27.5″ to 29″ tires that offer a firm grip when riding on rough terrains. The electric components on these bikes have a warranty of 36 months if they are damaged while in use.
Altitude Powerplay
The Altitude Powerplay is a groundbreaking e-bike designed for Enduro with 27.5″ wheels for wide trails. This bike is well known for its precise handling, quality design, and enjoyable ride quality. You will enjoy the smooth wall carbon frame that delivers the stiffness, durability, and ride quality you are looking for in your next e-bike.
This e-bike model features the Dyname 3.0 drive system designed by Rocky Bikes, which is sleek and powerful. It is a powerful electric assist to push boundaries when mountain biking with the Altitude Powerplay. The compact motor is low mounted to allow Rocky to design these electric mountain bikes according to their handling standards and proper geometry.
The Smoothlink suspension on the Altitude Powerplay is efficient when pedaling. Riders can quickly fine-tune their suspension with the Ride-9 adjustment system thanks to the two interlocking chips that can make gradual, incremental changes. This is a capable e-bike to have you riding faster and more frequently.
For more mountain bikes see our list of the best mountain bikes available, and the best mountain bikes for under $2000.
FAQ
Our Thoughts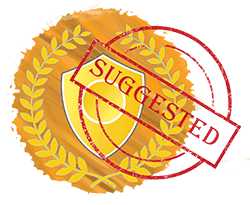 Rocky Mountain bikes have been creating quality bikes since the 1980s. With unique designs and current technology, you can find a bike for the riding you need.
Whether you are mountain biking, trail riding, or riding during the winter, there is a mountain bike at Rocky Mountain bikes for you. There are various bikes to handle various terrains like the XC bikes, Altitude bikes, Enduro bikes, and fat bikes.
These Rocky Mountain bikes are durable with quality tire clearance to make mountain biking fun and exciting.