Everesting is the ultimate cycling challenge that more and more people are trying to complete. Climbing 8,848m on a bicycle in one ride is not easy, but it can be done with the right knowledge.
Reaching the top of Mount Everest is the biggest accolade a climber can put next to their name.
Cyclists can't literally climb the highest mountain on the planet, but they can match its altitude by going up and down a local hill of their choice.
What is known as the world's toughest cycling challenge started in 1994 when George Mallory climbed up Australia's Mount Donna Buang 10 times, accumulating 8,848m in elevation.
In 2014, the Hells 500 club was formed, making the challenge official.
Soon after, the Everesting.cc website was set up as well, where riders can verify their attempt, see the hall of fame, and connect with other adventurers.
What is Everesting?
---
Everesting is the ultimate test of your climbing ability. It is a challenge that requires the rider to climb 8,848m (29,029 ft) in one ride, on a single hill.
For example, if you choose a 5km climb with 250m of elevation gain, you will have to go up and down that same hill 35 times, ramping up a total of 350km.
That sounds like a tough ride no matter how fit you are!
You can make as many pauses and breaks as you wish, but you have to complete the challenge in a single go, which means you can't sleep through the night and then continue in the morning.
The average Everesting completion time ranges between 15 and 25 hours. However, the current record is 6 hours and 40 minutes.
If you want to check whether your favorite local hill is suitable for an Everesting attempt and see how much time and energy you'd need, you can check it using the Everesting Lap Calculator.
Why Is Everesting Rising in Popularity?
---
The Coronavirus outbreak at the beginning of 2020 meant that almost all cycling races had to be canceled for health and safety reasons.
That left a lot of professional cyclists in prime form with not much to do but stay at home and practice social distancing.
Their solution? Complete an Everesting challenge.
In normal circumstances, around 150-200 riders worldwide complete an Everesting challenge in a month.
In May 2020, nearly 1,200 riders around the globe entered the Hells 500 hall of fame.
It's not only professional riders that are doing it. Everyone is affected by the Covid-19 situation, so fit riders everywhere are taking up the toughest climbing challenge.
For many riders, the original Everesting is no longer challenging enough.
So people are now doing double, triple, and even quadruple Everestings in one go!
Everesting will surely continue to rise in popularity and cyclists will begin to push it to even more extreme limits.
The Main Everesting Challenge Rules
---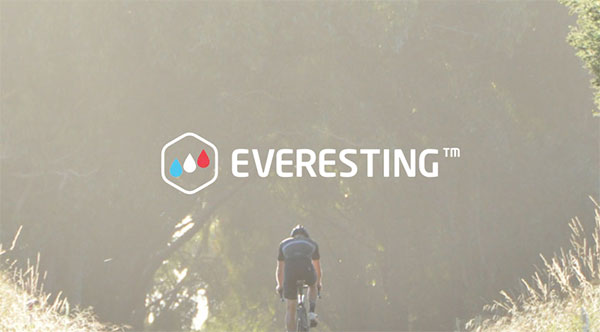 Completing an Everesting attempt is not something you can do randomly on your own.
Technically, you could, but it would not be an official attempt and your name would not enter the Everesting Hall of Fame.
In order for an attempt to be official, you need to record it on Strava or complete it on Zwift if you wish to do it indoors.
Some of the most important rules you need to make sure to follow include:
The process starts by choosing the hill you want to climb. It should be a hill with as little elevation gain on the descent, which would classify as kinetic gain. It's best to aim for a constant, steady climb.
Your total elevation gain at the end of the ride should be at least 8,848m (29,029 ft).
There is no maximum time limit to complete the attempt, but it needs to be done in a single ride. You can take rests, but your break time is factored into your total time.
You must ride your bike down the hill, you cannot be driven down. Also, no section of the ride can be walked.
Your attempt will be verified through proof of the laps repeated on a particular hill (Strava segment). You can record your ride with a cycling computer, fitness watch, or smartphone. Devices with an altimeter or barometer are not necessary.
All bikes except electric and recumbent are allowed. Exceptions can be made for special circumstances.
In order for your Everesting attempt to be dubbed successful and official, you must follow ALL rules without exceptions.
So make sure to plan everything thoroughly and in detail before the day of the challenge.
The last thing you want is to climb 8,848m and realize that you've overlooked something and that your attempt is not valid.
How to Submit an Everesting Attempt?
After you complete your Everesting challenge and ramp up at least 8,848m of elevation gain, your work is not over.
Well, the harder part is, but there are still a few things you need to do.
You should submit your Everesting attempt to the Everesting.cc website for verification by connecting your Strava account.
After that, the app will automatically scan all of your activities to find the ones that have at least 4,000m of elevation gain and qualify for a Hells 500 attempt.
The Everesting team will then manually review your attempt and let you know if they deem it valid within a week.
Only then can you start bragging around that you are one of the Everesting finishers.
Related: Cycling During Covid-19
Step-by-Step Guide to a Successful Everesting Attempt
---
Riding the height of Mount Everest in one go is tough! It's definitely achievable, but you must not leave anything to chance if you want to maximize your chances for success.
If you're struggling to wrap your mind around this challenge, here's a step-by-step guide with tips that will help you plan your attempt and not overlook the most important things.
Step 1: Choose the Right Hill
The most important thing when planning your attempt is choosing the right hill.
It should neither be too steep nor not steep enough.
If you choose a hill with a 10%+ average gradient, your knees and your whole system will suffer (it's still possible to do it, though).
However, if you choose a gradient with less than 5%, you'll probably have to ride 400+ kilometers to complete it.
Also, make sure that the hill you choose has little traffic, smooth asphalt, some shade along the way, and safe turning points at the beginning and the end of the climb.
Step 2: Plan Your Nutrition and Hydration
The second most important thing that will determine whether you succeed or fail is how well you fuel and hydrate.
Bring as much food and water as you need and don't forget to consume it regularly.
You should use foods and drinks that you've tried and tested before and avoid experimenting.
It's best to aim for around 50-60g of carbs per hour and gauge how much liquid you need to take depending on the temperature and humidity.
Step 3: Have a Base Camp Somewhere on the Road
Set up a base camp at the beginning or at the end of the climb.
This can be a car, a tent, or anything else that suits you.
The base camp should be a place where you can rest, recharge your device's batteries, relax, and refuel your body.
Make sure to stock it with everything you need to keep you going the whole time.
Step 4: Prepare to Ride in the Dark
If you're an average rider and not a trained athlete, you'll likely need at least 15 hours to complete the Everesting challenge.
However, 20 to 25 hours is a lot more realistic.
Depending on where you live, that means you'll probably have to ride in the dark.
Bring front and rear lights and reflective clothing to stay safe and see where you're going.
Make sure your lights are charged and you have spare batteries.
It is also a good idea to bring spare lights in case your first set fails.
Step 5: Find Some Support
Completing an Everesting challenge on your own is doable, but it's much easier if you have a few riding buddies to support you along the way.
Your cyclist friends can take turns to accompany you up the climb and take your mind off the suffering when the going gets tough.
It's also a good idea to have some family or friends at the base camp just in case you need help or support at some point during your attempt.
Step 6: Record with More Than One Device
When the Everesting challenge was made official in 2014, athletes were required to record their attempt on a device with an altimeter or barometer.
That's not necessary anymore.
You can record your ride using a smartwatch, smartphone, or a GPS cycling computer.
Related: Best Smart Watches & Best Cycling Computers
It's a good idea to record the attempt with at least two devices just in case one of them breaks down or fails you.
This way, you can still record and finish your attempt.
Step 7: Choose the Right Time
The success of your attempt will also largely depend on the time of the year and the weather.
You can finish the challenge in winter, but summer sounds like a much better choice.
Ideally, you should do it when the days are longest, as you'll probably ride all day long and into the dark.
Refer to the weather forecast to choose the perfect day — slow winds, warm weather that's not scorching hot, and no rain.
It's best to start as early as possible, even before daybreak, to maximize the amount of time you have before sunset.
Step 8: Pace Yourself!!!
This might be one of the most important tips, which is why we're keeping it for the end. Don't go too hard at the beginning!
You should pace yourself as best as you can.
If you have a power meter or a heart rate monitor, find a pace that you can sustain for the entire day.
If you're going based on your subjective feelings, start easier than you think is necessary to save some fuel for later in the day.
Other Hells 500 Climbing Challenges
---
If you think that Everesting is too big of a bite for your current fitness or that it isn't challenging enough, there are other official Hells 500 challenges that you can try to complete.
Half Everesting
If you think it's too soon for you to attempt to climb 8,848 meters, you can attempt to complete the Half Everesting Challenge, also known as the Basecamp Challenge.
The rules are completely the same as for the full challenge. The only difference is that you are required to climb a minimum of 4,424 meters (14,514ft).
Everesting 10K / 10K Roam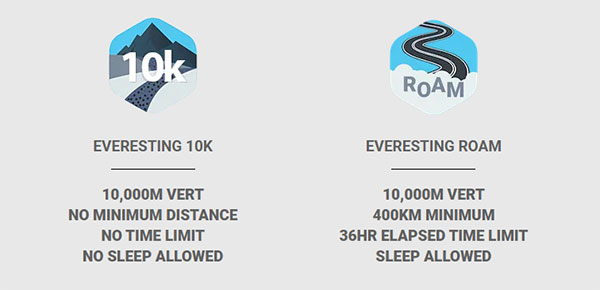 If you need a bigger challenge than climbing the height of Mount Everest, you can take up the 10K challenge.
There are actually two ways that you can choose from to complete it: Everesting 10K and Everesting Roam.
Everesting 10K follows the same rules as the original. You need to complete the challenge in one ride, on one hill, and without sleep.
There are no minimum distance and minimum time limits to complete it.
Everesting ROAM still requires you to climb at least 10,000 meters, but you don't have to do it on a single hill.
Also, your ride needs to be at least 400km long and you must finish within 36 hours. You can use those 36 hours any way you want, even to take a nap.
vEveresting
vEveresting is basically the same as the original Everesting challenge but it is done indoors, virtually, on Zwift. You have to complete it on one hill, in one go, and with no sleep breaks.
FAQ
Typically, an average rider can complete the Everesting challenge in between 15 and 25 hours on a bike.
But that depends on many factors, including the level of fitness, weather, wind, gradient, and so on. There are no time limits, so you can take as much time as you need.
Everesting on a bike is a challenge that requires cyclists to climb a minimum of 8,848m (29,029 ft) in one ride, on a single hill, without any sleep breaks.
There is no time limit and no minimum distance requirements.
Everesting is very hard! It is one of the hardest challenges a cyclist can do. No matter how fit you are, your legs, mind, and your entire body will suffer.
Your legs are likely to give up completely after some time, which is when you will need to dig deep and force yourself to keep going.
There are no comments yet, add one below.