Cannondale CAAD13 is a line of budget-friendly aluminum road race bikes that offer unprecedented value and technology for amateur racers and recreational speed addicts.
Cannondale's CAAD series, built around their Cannondale Advanced Aluminum Design (CAAD) frames, has long been a go-to choice for budget-minded road racers who wanted to get high performance without having to worry about cracking their carbon frame in a crit race.
CAAD13 is the newest iteration of this smooth aluminum racer. It is lighter than ever before, more aero, and yet preserves the unique performance and feel Cannondale has aimed to achieve for a long time.
The CAAD13 series is available in several builds, with rim or disc brakes, quality Shimano and SRAM groupsets, and in a variety of colors.
The prices start at $1,800 for the Shimano 105 model and top at around $5,700 for the flagship Disc SRAM Force eTap AXS build.
Let's do a quick overview of the available CAAD13 models and see whether or not they'll satisfy your adrenaline addiction.
CAAD13 105
MSRP $1,800
Cannondale CAAD13 105 is the cheapest and the most basic model in the CAAD13 line. However, that does not mean it is not capable of causing some serious damage to your opponents in amateur races.
This bike comes with the newest Shimano 105 groupset, offering 22 gears on a 2×11 drivetrain. The groupset also includes Shimano 105 rim brakes, which are considered to be the best in this class.
CAAD13 105 has Fulcrum Racing 900 wheels with the same front and rear QR hubs, wrapped in Vittoria Zaffiro 700c x 28mm tires. Depending on where you ride or race, you can go narrower than that.
If an 18 lbs. aluminum racing bike with a carbon fork sounds good to you at this price, that's because it is, in fact, a pretty good deal.
CAAD13 Women's 105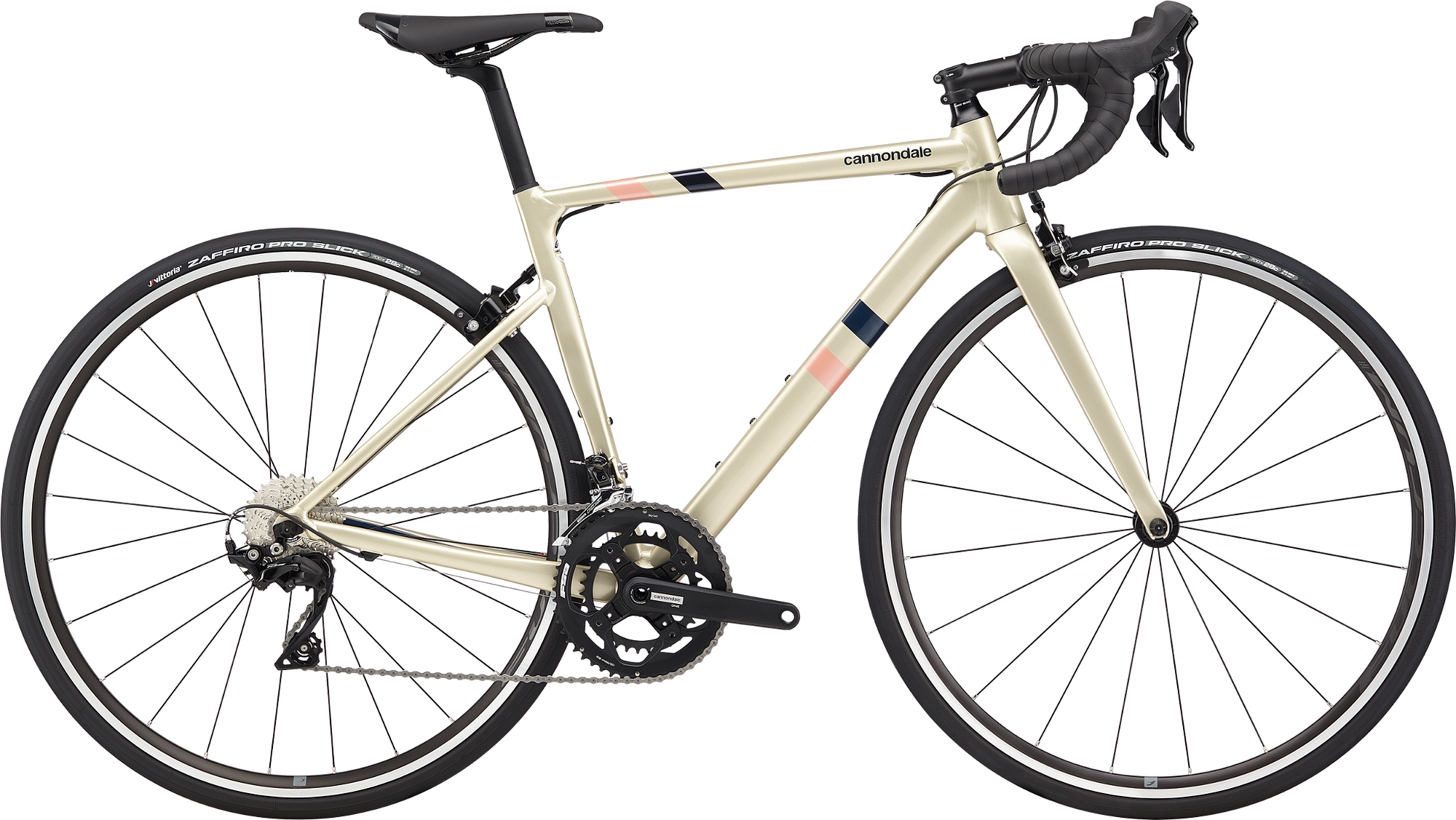 MSRP $1,800
Cannondale's CAAD13 105 model is available in women's iteration as well. In all honesty, though, the two are pretty much the same bikes. We'd say the men's model is unisex, so don't be afraid to get it if you are a woman and it's the only one available.
In terms of components, everything is completely the same. Shimano 105 groupset, 105 brakes, Fulcrum wheels, and Vittoria Zaffiro tires.
The differences can be seen in the saddle and the stem. The saddle on the unisex model is Prologo Nago, whereas the women's model comes with Prologo Kappa Dea.
Stem length is also different — the stem is slightly shorter on the women's model to shorten the reach. But the geometry of the frame is pretty much the same.
The bottom point is that both versions are excellent bikes and you won't make a mistake whichever you end up choosing.
CAAD13 Disc 105
MSRP $2,300
If you're a member of the team hydraulic brakes on road bikes and you don't mind the minimal weight penalty to get them, then consider the CAAD13 Disc 105 model.
This bike is built on the same platform as the cheaper rim version but comes with some significant alterations. The brakes, in this case, are Shimano 105 hydraulic discs, which offer a lot more braking power in all riding conditions.
The Shimano 105 groupset and the drivetrain are completely the same, but the wheels and tires are different. On this bike, you'll be riding on a set of RD 2.0 wheels with Formula hubs and Vittoria Zaffiro Pro Slick 700c x 25mm tires.
The disc version of this bike weighs around 18 lbs, which is a pretty negligible weight increase considering the possibilities disc brakes provide.
So, if you want more braking power and slightly better wheels and brakes, the CAAD13 Disc 105 model is for you.
CAAD13 Disc Women's 105
MSRP $2,100
The story with Cannondale CAAD13 Disc 105 women's version is pretty much the same as with the CAAD13 105 distinction we made above.
The men's and women's models are the same bikes, save for the saddle, stem, and the paint job. However, they cost the same as well, so you wouldn't be making a mistake getting one or the other.
If you are a woman, it's worth choosing the women's model because of the women-specific saddle and the shorter stem. If you prefer this paint job, that's an additional plus.
But don't be afraid to get the men's model if it's the only one available online or in your shop. The changes you'll (maybe) have to make will be minimal.
Shimano 105 group, 105 hydro disc brakes, RD 2.0 wheels, and Rubino Pro tires all come in this good-looking package.
If you want to race as an amateur or just ride very fast for your own pleasure, women's version of Cannondale CAAD13 Disc 105 is an excellent choice.
CAAD13 Disc Force eTap AXS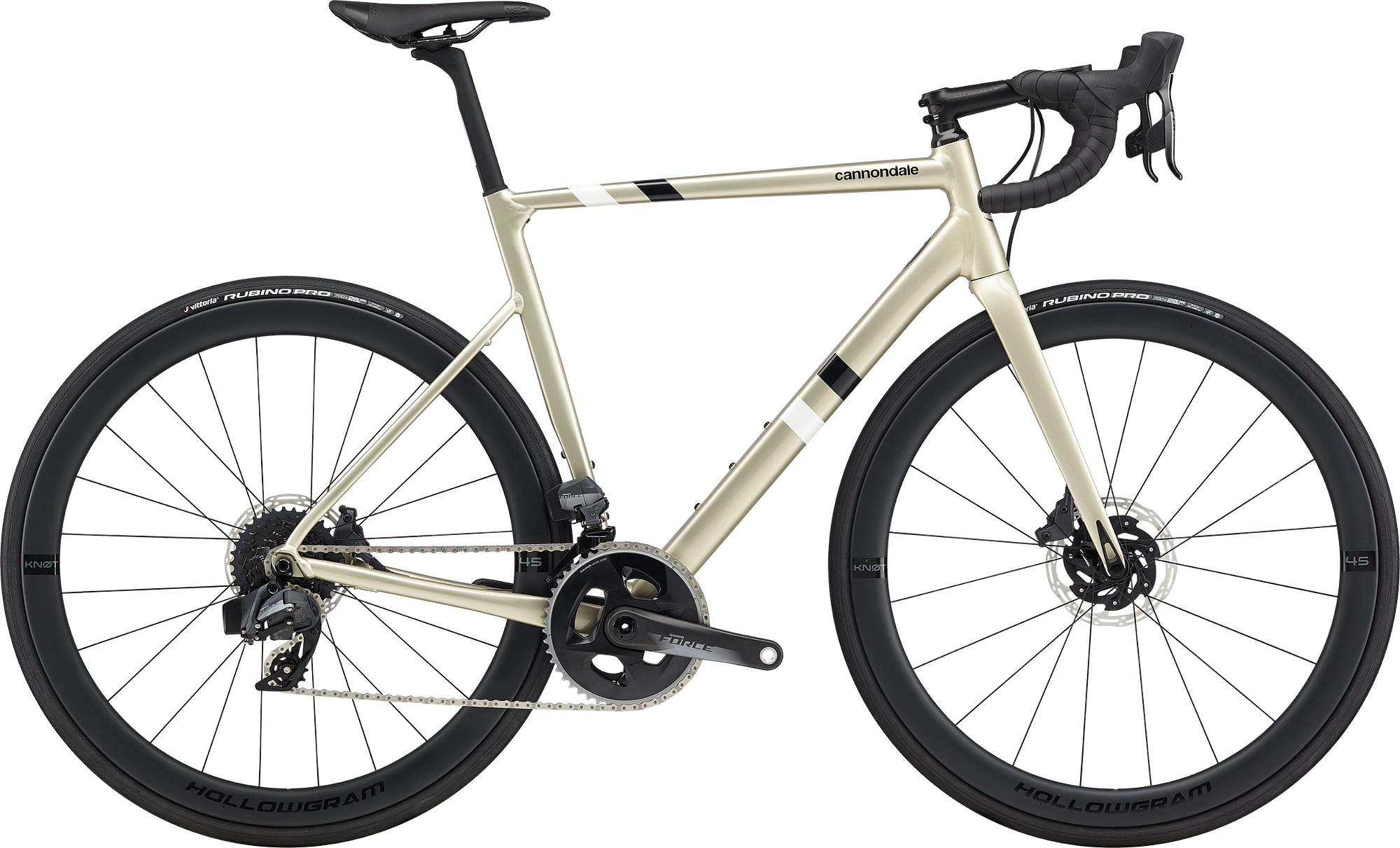 MSRP $5,700 – $6,000
If money's not an issue, then why hold yourself back? Cannondale CAAD13 Force eTap AXS is the best aluminum race bike. Period.
The electric SRAM Force eTap AXS groupset this bike comes with shifts smoothly and crisply and is a breeze to set up and adjust. It's the best shifting technology money can buy right now.
The drivetrain is a 2×12, with a 10-33T cassette, so speed will definitely not be a problem. But braking won't be an issue either, thanks to SRAM Force hydraulic disc brakes.
This CAAD13 runs on HollowGram 45 carbon wheels which are light, stiff, and incredibly fast, wrapped in Vittoria Rubino Pro tires.
So if you want the best aluminum racing road bike money can get, that weighs just 18.7 lbs, CAAD13 Disc Force eTap AXS awaits you.
CAAD13 Ultegra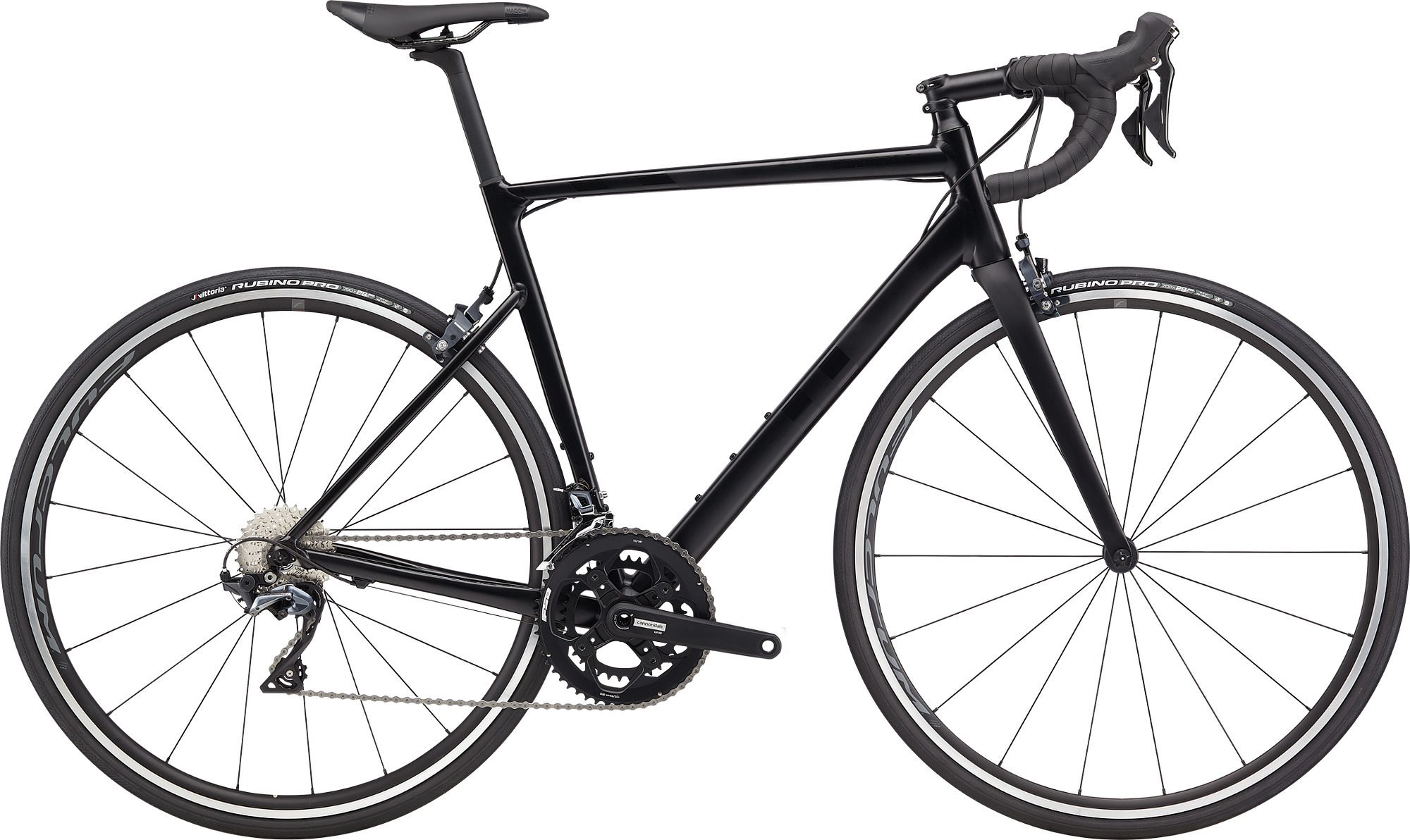 MSRP $2,400
The Shimano 105 groupset is race-ready, but Shimano Ultegra is where proper racing performance really kicks in. The Cannondale CAAD13 Ultegra bike is faster, smoother, lighter, and more efficient than the rest of the pack.
This model comes with a set of Shimano Ultegra rim brakes that offer excellent weight saving compared to disc brakes. They still provide fantastic braking power if you're not riding in wet conditions all the time.
The Shimano Ultegra groupset puts 22 gears at your disposal, with a 52/36T Cannondale 1 crankset and an 11-30T Shimano 105 cassette.
The Fulcrum Racing 600 wheels are light and offer low rolling resistance, and the same can be said for the Rubino Pro tires.
At 18 lbs. 1.6 oz., CAAD13 Ultegra is a light and fast bike, built around an aluminum frame and a full carbon fork. If you have the legs to do it, you can definitely win races on it.
CAAD13 Disc Ultegra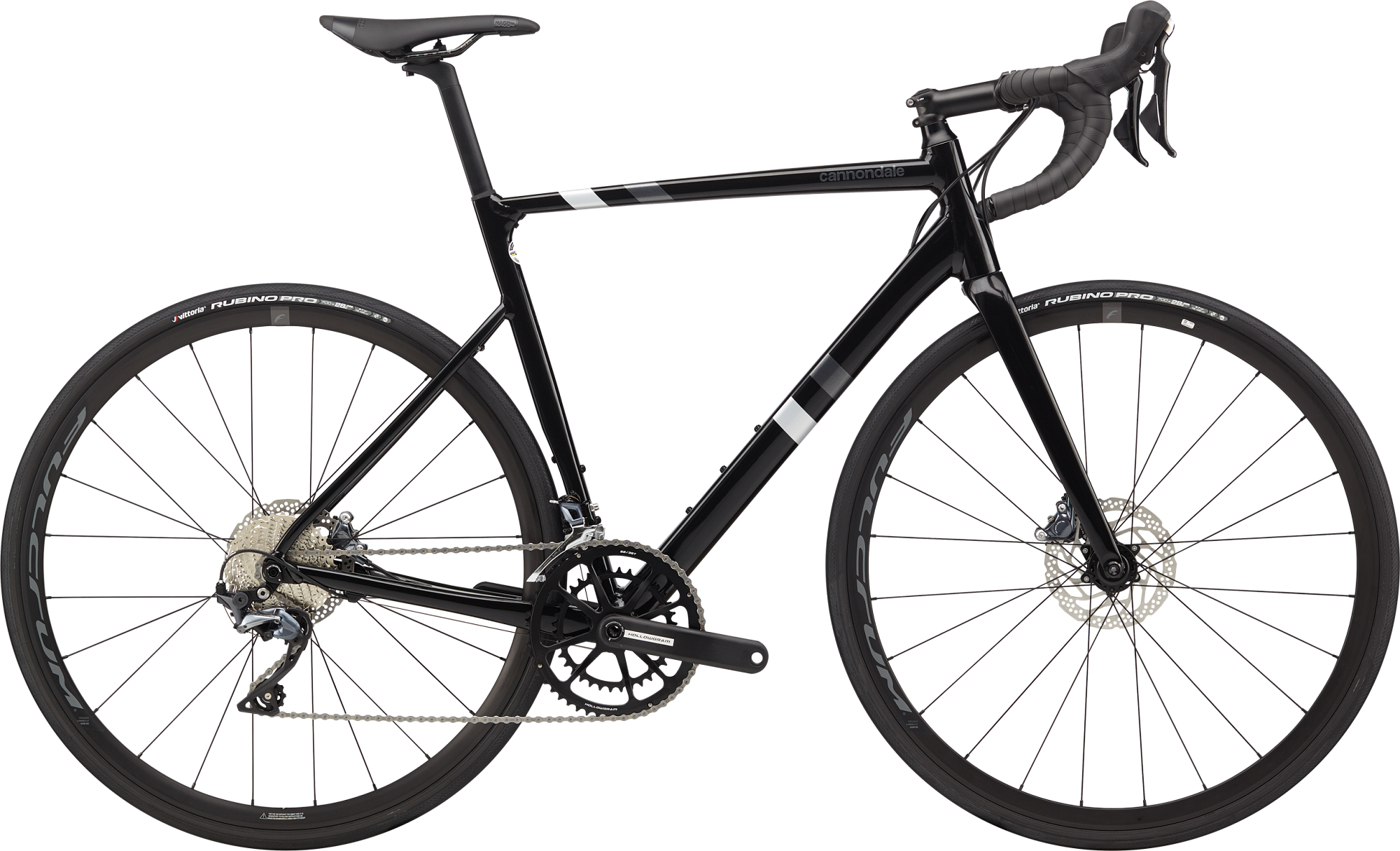 Last but not least is the Cannondale CAAD13 Disc Ultegra bike. This model has a lot in common with the rim brake version we reviewed above.
But if you want the ultimate braking power to nail crit corners and tight descents, we recommend you consider the version with the disc brakes.
Shimano Ultegra hydraulic disc brakes are one of the best in the industry. Combined with the 2×11 Ultegra drivetrain, they'll easily put you ahead of the competition.
The wheels and tires are unchanged, as well as the smaller components, such as the saddle, stem, seat post, and so on.
We love the contrasting white and gray stripes provide on the otherwise all-black frame on CAAD13 Disc Ultegra, so you should take that factor into consideration as well.
---
Sizes
Cannondale provides one of the best sizing profiles of all cycling brands out there. That's the case with the CAAD13 series as well.
Getting the correct size when you have EIGHT frame sizes to choose from is pretty easy. Take a look at the chart below to make the right decision based on your height:
| | | |
| --- | --- | --- |
| 44cm | 157cm – 165cm | 5'2″ – 5'5″ |
| 48cm | 160cm – 170cm | 5'3″ – 5'7″ |
| 51cm | 165cm – 175cm | 5'5″ – 5'9″ |
| 54cm | 170cm – 180cm | 5'7″ – 5'11" |
| 56cm | 177cm – 187cm | 5'10" – 6'2″ |
| 58cm | 182cm – 193cm | 6′ – 6'4″ |
| 60cm | 187cm – 198cm | 6'2″ – 6'6″ |
| 62cm | 195cm – 205cm | 6'5″ – 6'9″ |
As you can see, the Cannondale CAAD13 line of bikes is an excellent choice for both very short and very tall riders. Not many bike brands offer fits for cyclists that are over 2m tall.
Final Verdict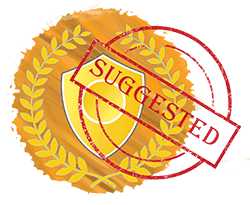 One of the questions some might ask is why get an aluminum race bike if you can get a full carbon bike for pretty much the same price? There are many good reasons.
If you are an amateur racer and you are still learning the ropes, riding a carbon bike is risky. If you fall (which will happen at one point), you risk shattering your carbon frame into pieces. That's not going to happen with aluminum.
Cannondale's CAAD13 line of aluminum racing bikes starts at a very reasonable price point and gives you excellent speed and performance. Aluminum technology has come a long way, so these bikes are pretty light as well.
So if you want a racing bike that you can use and abuse and be sure that it will last you for years, without sacrificing any performance, one of the CAAD13 models is a foolproof choice.