Thule Chariot Lite 1 and 2 are lightweight and sporty bike trailers that meet the requirements of parents who like to cycle, walk, jog, or ski in their free time. If you're looking for a premium bicycle trailer that's easy to use and light to pull, Thule Chariot Lite lives up to its name.
This bike trailer is part of our Best Bike Trailers review
Thule Chariot Lite is a high-end bike trailer available in single and double variations. It's completely weather-proof, fuss-free to use, comfortable to sit in, and safe for your wee little riders.
Chariot Lite is very similar to Chariot Cross when it comes to design and functionalities. However, the two differ in the number of functions available for the passengers, as well as the size of the storage.
If you want a bike trailer that you'll barely be able to feel when going for a bike ride and you plan to be active around the clock, then Thule Chariot Lite is a pretty safe choice, in our opinion.
Full Specs:
| QUICK INFO | Door Pass Through | Maximum Child Height | Recommended Age | Maximum Child Weight |
| --- | --- | --- | --- | --- |
| Thule Chariot Lite 1 | 25.6 in | 43.7 in | 6 mo. – 4 years | 50 lb |
| Thule Chariot Lite 2 | 31.5 in | 43.7 in | 6 mo – 4 years | 2 x 50 lbs |
Storage Compartment
One of the things that could certainly be better on this bike trailer is the storage compartment. It does not have a flat bottom, like many bigger competitors do, but is essentially a pocket sewn into the rear end of the trailer.
Thule Chariot Lite's storage compartment is a large pocket without a flat bottom that is impractical for large and heavy items, but can carry most parents' and kids' daily necessities.
You can't carry too much stuff in it, and it is not very practical for bulky or heavy items that you'd like to put firmly on the floor. However, you can still easily carry toys, clothes, food, most groceries, and so on.
Ventilation
Thule has put a lot of thought into improving the ventilation of their trailers. Thule Chariot Lite now has two ventilation vents in the footwell which allow air to pass through the cabin.
As a result of this upgrade, the air inside the cockpit is not stuffy or humid even when the rain cover is secured firmly over the door. Condensation is also unlikely to form on the rain cover during long rides thanks to the unobstructed airflow.
Seats and Trailer Bottom
---
When it comes to the passenger experience, Thule Chariot Lite is not the most comfortable trailer out there. The reason is that it lacks the amount of padding you can get with Thule Cross or Burley D'Lite, for example. Don't get me wrong, they're still reasonably comfortable, but they won't feel like the couch at your home.
Another thing that's important to mention is that the seats do not recline on the Lite model. This might be a problem on longer rides if your kids like taking a nap while they ride. Otherwise, if your children are active participants in your adventures, it shouldn't be an issue.
The bottom is made of rubber that's easy to clean, which is a big plus, knowing how messy kids can be.
Harness System
---
Even though Chariot Lite is a light bike trailer, Thule has not skimped on any safety features. This trailer has a top-notch five-point harness system that keeps kids tightly in place. The straps have a soft padding, so they feel comfy when secured.
Make sure to clip the harness every time you go for a ride, no matter how short it might be. Along with wearing a helmet, it's the most important safety precaution you can take.
Folding
---
One of the main features that Thule emphasizes when advertising Chariot Lite is the Compact Fold. The folding mechanism is easy to use and the trailer folds down to compact dimensions.
Thule's Compact Fold system makes it easy to fold and unfold Chariot Lite in just a few quick steps.
To fold it, all you need to do is drop the handlebar and then press the two blue buttons in the middle of the trailer and let it collapse on itself. After that, you can take off the wheels and the tow arm and put them inside the trailer. That way, Thule Chariot Lite is easy to load into the trunk or store somewhere in your home.
These are its folded dimensions:
| | | |
| --- | --- | --- |
| | Thule Chariot Lite 1 | |
| | 34.2 x 25.6 x 15 in | |
Hitching
---
The hitching system is another big plus when talking about Thule Chariot Lite. This compact bike trailer attaches to the bike via a special adapter that fits on your bike's rear axle.
The tow arm attaches to this adapter with a ball-like point, which allows the trailer to stay upright if the bike leans or tips over. The tow arm is kept in place with a safety pin and a special rubber cover as an additional safety measure. Of course, a safety strap is included as well, which you should wrap around your bike's frame and secure on the tow arm.
Conversion Kits
---
As we've mentioned above, Thule Chariot Lite is one of the best choices for adventurous and athletic parents. As such, it comes with three conversion kits you can install.
Apart from using it as a bike trailer, you can also use it with a strolling kit (included), jogging kit and skiing kit (needs to be purchased).
Strolling Kit
The strolling kit is included in the original packaging and consists of two additional wheels. These wheels are 8″ in diameter and rotate freely 360 degrees.
Thanks to Thule's VersaWing system, you can quickly switch between different conversion kits and take them along with you when they're not in use.
When you take the strolling wheels off, they can be attached in the same adapters from the top side, so they won't take valuable storage space inside the trailer.
Jogging Kit
The jogging kit is not included with the trailer, but you can purchase it for $130, which is not too much if you plan to jog frequently. It consists of one wheel, two special arms that attach to be trailer's frame, two safety straps, and a quick-release thru-axle.
This kit is very easy to install and fits in a special storage area in the back of the trailer when not in use. If you plan to go on jogs or brisk walks, the strolling kit is simply not going to cut it.
Ski Kit
Last but not least is the Ski Kit which is a must-have for parents who like winter sports or live in areas that are under snow during winter. It consists of two skis that attach instead of the rear wheels, two long tow arms and a hip strap.
At the moment, the price of this kit is $325, which is steep but worth the money as it will allow you to go on year-round adventures with your littlest family members.
Is Getting Thule Chariot Lite a Good Investment?
---
The big question everybody is asking and probably the reason why you're reading this review — Is Thule Chariot Lite worth the money? The answer is Yes. But, there's a "but".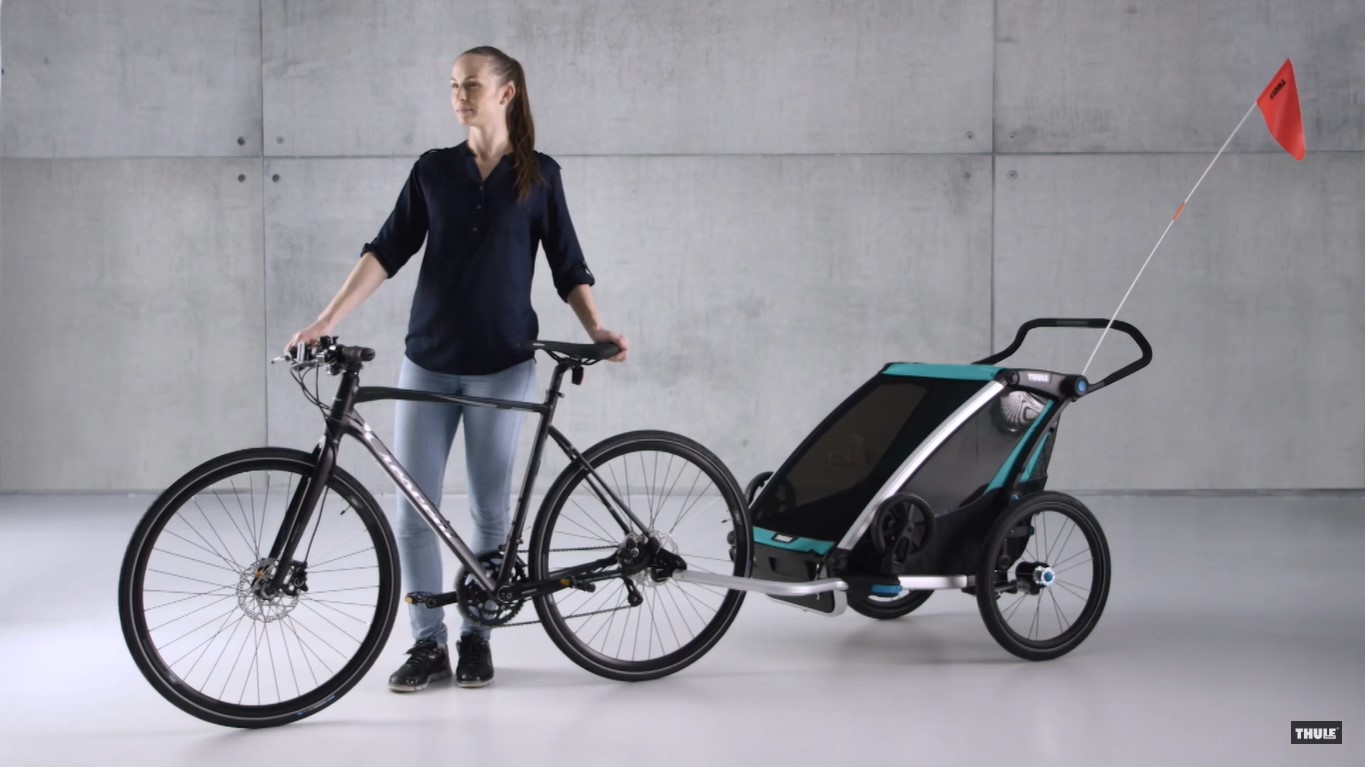 Before buying this premium bike trailer, you should first think about your priorities. If your main priority is the comfort and the experience of the passengers, then there are better choices out there.
On the other hand, if your main focus is on mobility, low weight, speed, sports, and adventures, then definitely go along with the purchase.
Thule Chariot Lite is a phenomenal bike trailer for active parents with a focus on low weight and multi-sport activities. It's not such a great choice for parents focused on kids' comfort and lots of storage area.
The main reasons why we think Thule Chariot Lite is a good investment are:
Excellent money to value ratio.
Low weight.
Modern design.
Premium, high-quality materials.
Durable construction.
Three conversion kits.
Ridiculously easy to use.
Compact folding system.
So if you are a parent that fits the description above and you find these features useful and tempting, then Thule Chariot Lite definitely has a place in your family.
Recommendation for Upgrades
---
If you like your Thule Chariot Lite bike trailer but you want to extend its practicality and give it new functions, then you could consider purchasing some upgrade accessories. Here are a few that you should consider.
Infant Sling
The infant sling is a neat accessory to have if you have an infant that you wish to take along on strolls. It installs on top of the original seat and provides lateral support for babies and a lot more comfort. It's suitable for infants between 1-10 months old. At this age, we'd say using it is a must!
Brake Kit
If you plan to go on downhill strolls or jogs, it's a good idea to invest in a handbrake kit. It consists of two braking mechanisms that attach to the rear wheels and a brake lever that goes on the handlebar. Once you install it, there's no need to take it off, it can stay on for all activities, including biking and skiing. It's suitable for both right-handed and left-handed parents.
Lock Kit
Thule Chariot Lite is a beautiful bike trailer. It would be a shame if somebody detached it from the bike and stole it! To prevent that from happening, you can get the lock kit and secure the trailer to your bike. It fits on the trailer's conversion system and prevents people from detaching the tow arm.
Thule Organizer
If you struggle with organizing your stuff when going on strolls on jogs, you can add a zippered pocket with a built-in cup holder to your Chariot Lite trailer. It installs to the rear of the trailer in a jiffy and offers plenty of well-organized storage area for your water, keys, wallet, smartphone, and such.
Seat Padding
If you read the rest of this review, you already know that Thule Chariot Lite does not come with padded seats. If you still want to give your kids a premium experience, you can buy the seat padding accessory. It installs on top of the original seats and gives your kids great support and lots of comfort on longer rides.
FAQ
---
Bottom Line
---
What's left to say about this exquisite bike trailer is that you will not be making a mistake if you have your priorities right. If you're an active parent who won't let anything stand between them, sports, and adventure, then Thule Chariot Lite is the right trailer to buy.
Let us know about your experiences with Chariot Lite and your opinions about this compact and lightweight trailer!