Using the correct bike tubes will change how your bike rides, and it can be highly beneficial to your cycling.
When it comes to cycling, you have a huge choice of different spare tires to choose from.
A common mistake many cyclists make is using the incorrect bike tube. It might be the right size, but is it correct for what you want to achieve while on your bike?
In this article, we'll tell you what you need to know when it comes to picking the correct tubes and give you some recommendations of the best bike tubes.
Jump to specific types: Mountain | Road | Gravel | Classic | Fat
Importance of Bike Tubes
Bike tire tubes have a very important purpose, that might sometimes go unnoticed. They have the job of keeping your tires inflated and help keep your bike rolling to the best of its ability.
Bike tire tubes sit between the wheel rim and the tire and are inflated to give the tire shape and create a surface for the bike to roll on.
Related: Bike Tire Pressure Explained
Like tires, inner tubes come in all different shapes, sizes, and even materials.
You would struggle to use a mountain bike tire tubing on a road bike and vice versa.
Using the right tubes can even give you performance benefits and make your bike lighter and faster, or you can make it heavier and slower.
It's vital to pick the correct one for your bike to ensure it will work properly and you will get the best reliability and performance out of your ride.
---
---
Co-op Cycles Presta Standard
Size: 27.5" / 29" / 27.5"+
Valve: Presta
Material: Rubber
The Co-op Cycles Presta tubes are a good start to our list. These are budget tubes, and as far as value for money goes, they offer great value for such a small price. The bike tubes come in several different sizes, which makes them suitable for mountain bike tires with different diameters and tire thicknesses.
Related: Presta Valves Explained
Although these bike tires are made from rubber, they are very thick and offer protection on the inside of your tires from pinch flats.
Co-op Cycles' bike tubes are easy to fix, and getting them into the tube is a fairly easy job, providing you put a little air in first.
These tubes are easy to use with a repair patch kit, which is great for bikepacking and long-distance riding. A lot of modern-day tubes don't take patches well, but you don't need to worry about these.
A possible downside is that these bike tubes are on the heavier side, but that comes down to preference.
Tubolito Tubo MTB Plus
Size: 27.5+ 2.5" to 3″, 29+ 2.5" to 3″
Valve: Presta
Material: Thermoplastic Elastomer
If you are looking for high-performance tubes for your mountain bike, then the Tubolito Tubo MTB Plus bike tubes will be perfect. They are made of Tubolito's own thermoplastic elastomer, which is similar to butyl but has much better puncture protection and is designed to slowly release the air, not bust.
They are also incredibly light. A typical inner tube comes in at roughly 260g, but these can save up to 100g per wheel (for 29ers). The Tubo MTB tubes combine low weight with increased toughness.
Like we mentioned, there are two options available – for 27.5″ wheels and for 29″ wheels. These bike tubes do come whit a small drawback, patching these might be a bit of a challenge.
Despite this, as far as performance goes, these are some of the best MTB tubes.
Slime Self-Sealing Smart Bike Tube
Size: 29" – 1.85" to 2.20"
Valve: Presta
Material: Rubber / Slime
With the advancement of tubeless setups, people are looking for a solution that could offer the self-healing properties of a tubeless setup with bike tubes. The Slime Self-Sealing Smart tube is exactly that.
This tube has the ability to self-seal back up and repair itself, so you don't have to change the tube.
That means you can carry fewer spares and also is going to be much more reliable if you plan on taking no spares out when riding. It's a clever idea, and many cyclists swear by these tubes.
Self-sealing bike tubes do come with a few drawbacks though. Big slits can't heal and can be messy. Another downside is the weight – 397g for each tube.
---
---
Foundation Road Presta Bike Tube
Size: 700c
Valve: Presta
Material: Rubber
If you're looking for great value and seem to get a lot of punctures, the Foundation road bike tubes are going to be an excellent buy for you. They are on the cheaper side and offer pretty good value.
They come in all shapes and sizes, for tires from 19c to 48c, which is a big range. The tubes are available with different valve lengths.
Another great feature of these tubes is they can be used with extenders and have removable valve cores.
As far as weight goes for a rubber tube, these road bike tubes are very light, the smaller tubes being 106g and the larger ones being 146g. They also work excellently when it comes to using patches too.
Turbolito Tubo Road Tube
Size: 700c
Valve: Presta
Material: Thermoplastic Elastomer
The Tubolito Tubo road tubes are perfect for performance. Tubolito tubes came into the market a few years ago and are the go-to for many semi-professional racers who run tubes but still want to be competitive.
The bike tubes are made of thermoplastic elastomer, unlike many of the other tubes on this list, and offer incredible weight-saving properties coming in at only 38g per tube. Tubolito also offers a good range of sizes. The sizing goes from 18c to 28c and has valves that range from 42mm to 80mm.
The performance-oriented bicycle tubes perform well, but do come with some drawbacks as they are difficult to patch if you have any issues.
Road Slime Presta Tube
Size: 700c
Valve: Presta
Material: Rubber / Slime
Just like in our mountain bike selection, we have a slime tube equivalent for your road bike.
The Slime Self-Sealing road tube has the ability to self-heal and let you carry on riding without stopping (if the hole is not too big). It's s convenient technology and means you can carry less when riding. It can save a lot of time that would go on repairing flats. These self-sealing tubes fit tires from 28c to 35c and run a short 30mm valve but can be equipped with extenders.
They are convenient, but come in much heavier at 170g, which means you have more weight on your wheels, and the size range is quite small.
If you are not worried about a little extra weight and run tires from 28c to 35c, then they are an amazing upgrade for your bike.
---
---
Co-op Cycles Presta Tubes (650b)
Size: 650b
Valve: Presta
Material: Rubber
Co-op Cycles Presta Tubes offer good value, so this is a great all-around tube for any kind of riding. When it comes to gravel tubes, it's our top pick.
650b tires are gaining popularity. These bike tire tubes offer a lot of variety, plus, they are very lightweight too, coming in at roughly 100g grams.
The bicycle tubes come with a 48mm valve which will work for most gravel bikes and work well with extenders too, and are easy to patch.
Learn More: Bike Repair Kits
There's very little not to like about these bike tubes.
Turbolito CX/Gravel Bike Tube
Size: 700c
Valve: Presta
Material: Thermoplastic Elastomer
If you're looking for a racing tube for your gravel bike, Tuboltio has you covered here too. Weighing only 35g (per one), these bike tubes claim to be the lightest and smallest gravel bike tubes in the world.
These tubes come in 700c, but can be used on both 700c and 650b tires that are 30-47mm wide. One thing to note is that these tubes are only compatible with disc brakes, so that could be a deal breaker for some.
The tubes offer low rolling resistance, which can be handy during races. These are truly bike tubes that are oriented for performance.
---
---
Giant Thorn Resistant 26"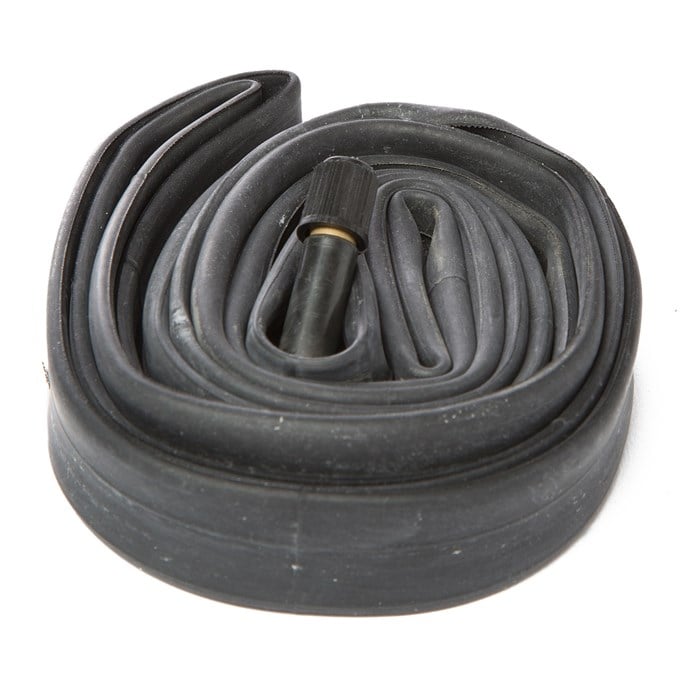 Size: 26" 21c to 41c
Valve: Schrader
Material: Rubber
26" is a classic size that we see less and less on the market these days. Thankfully, there are still some options available, like the Giant Thorn Resistant Tubes. 26″ tires are typically seen on hybrid bikes and on some older mountain bikes.
Giant has taken a standard tube, thickened the walls heavily, and beefed up the rubber so that when a thorn does get through, it struggles to puncture the tube. They are suited to larger tires and cover anything from 21c to 41c, which is an old mountain bike and hybrid sizing.
These bike tire tubes are not the lightest, and if you do have some very aggressive thorns, they can break. The patch kit will work great on these though, and they will give you many trouble-free miles.
---
---
Bontrager Fat-Tire Tube
Size: 26" 3.8" to 5"
Valve: Presta
Material: Rubber
The Bontrager Fat Tire bicycle tube is perfect when you need a replacement tube for your fat bike. We all know fat bikes can be a huge amount of fun, but a bigger surface area also means more danger.
The Bontrager Fat Tire tube is super thick at 0.9mm and made of strong rubber, it also has a huge range to fit all standard fat bikes from 3.8" to 5" wheelsets. They also use a Presta valve which can be used on classic and is the standard on modern fat bikes.
Obviously, with the thickness and the incredible size, you know they are going to be heavy but surprisingly only come in at 427g. They are very easy to patch (because of the thick rubber), so you won't need to buy one every time you get a flat.
Sizing
When it comes to sizing, it's vital that you get the correct size for your bike's tires. This can be challenging to find out the correct size as over a bike's life, it gets different sizes of tires put on.
Without the correct tube, you can end up getting more punctures, pinch flats, and struggle to fit it on the wheel of the bike.
So how do you find the correct size of a bike tube? The first measurement you need is the wheel diameter. This could be 29" on a mountain bike or even 650b on a gravel bike. That's the first thing you need to find out.
Secondly, you're going to need to find the width to ensure it's not too small or big for the tire.
All this information will be written on the side of the tire, either something like 700c x 42c, or you might find a code instead, such as 42c x 622. The 42c is the width, and the 622 or 700c is the diameter.
Learn more: Bike Wheel Sizes Explained
Materials
Bike tubes come in many different types of materials. Some are super lightweight. These kinds of tubes are made out of materials such as thermoplastic elastomer or latex.
These will help lighten your bike but don't offer a huge amount of protection.
The other main type is standard butyl rubber tubes, which are heavier but offer much better protection and are much easier to patch, so if you're not worried about bike weight or speed, these are perfect.
Price
As you can see in this article, the price of tubes can hugely differ, and it comes down to a few factors.
The first is that using lightweight materials such as thermoplastic elastomers and latex will hugely bump the price up because they are much harder to manufacture.
You can see a performance tube for as much as $40 on the current market, which is nearly as much as a tire itself. Unfortunately, performance isn't cheap.
If you use butyl rubber inner tubes, you will find them to be much cheaper for many reasons. Firstly the material is very cheap to buy, and the tubes are very easy to produce.
Cheaper butyl rubber tubes can be patched easily, meaning you can repair them. They are heavier compared to performance tubes, but if you are not worried about racing, does it matter?
FAQ
There are no comments yet, add one below.