Rad Power's RadRover is an electric mountain bike with fat tires and handy accessories that make it useful both in the city and in the country. It's available with a step-over and a step-through frame, and we'll tell you all about both models in this RadRover review below!
The affordable fat tire electric mountain bike that everyone has been waiting for is finally here. RadRover is a versatile aluminum e-MTB with 4″ tires that make it feel like you're riding on a cushion of air.
If you're looking for a comfortable commuter or a leisure two-wheeler, you'll be interested in reading the rest of our detailed review below.
---
RadRover 5 can best be described as an electric utility vehicle that can serve a practical purpose. Yet, that does not mean that it can't be fun if you want it to be.
It has nimble and quick-to-respond 26″ wheels, massive 4″ tires, a suspension fork, and practical accessories like fenders and lights.
The step-over and step-through iterations are pretty much the same, other than the different frame designs. We'll get into these differences in more detail soon.
Key Specs:
Brakes: Tektro Aries (MD-M300)
Crank Set: 42T, 170 mm ProWheel Pioneer forged alloy, dual-sided aluminum bashguard
Derailleur: 7-Speed Shimano Acera
Fork: RST spring fork with lockout and preload adjustment, 80 mm travel, 135 mm hub width
Frame: 6061 aluminum
Cogs: DNP 7-speed freewheel, 11-34T
Headset: Semi-integrated, 1-1/8″ straight steerer tube
Rims: Double wall, 36H
Saddle: Velo Plush with lifting handle
Tires: Rad Power Bikes by Kenda Juggernaut 26″ x 4″, K-Shield puncture-resistant liner
---
RadRover 5
---
Rad Power's RadRover 5 is the type of bike that can do anything you want it to.
Use it to commute around the city, take it off-road, or fit it with racks and bags to haul luggage or cargo.
Rad Power is a company that puts a lot of thought into their bikes, with great attention to detail. Even though these are affordable e-bikes that come with some disadvantages (such as high weight), they still offer a good bang for the buck.
All Rad Power bikes are packed with useful accessories that you usually have to pay to get from other brands. These include both comfort and safety features, such as fenders, lights, a kickstand, a lockable battery, and so on.
Here's why you should consider getting it.
750W Bafang Motor and High-Capacity Battery
RadRover 5 is an electric bike, so its electrical components must be its best selling points. This bike boasts a super-strong 750W geared rear hub motor that develops 80 Nm of torque. In English, that means you can power through loose terrain with ease and conquer any hill, no matter how steep it is.
The geared motor is better compared to its direct-drive counterpart when it comes to riding uphill. This particular unit has a 5:1 planetary gear reduction, so you'll have plenty of pull even on very steep hills.
The bike runs on a 672 Wh battery that provides 45+ miles of range. Plus, you have pedal-assist and throttle modes available, so you can ride RadRover like an e-bike or like an electric scooter. In addition to that, there's also a "Walk Mode" that you can turn on when you have to push the bike up a ramp or a very steep incline.
The battery can be easily removed from the frame and comes with a lock and a frame. You can put the lock into three positions—Locked ON, Locked OFF, and Unlocked. This way, you can turn the battery off and leave it on the bike without worrying that someone will turn it on and drain your charge.
Detailed Backlit LCD Display
RadRover also boasts a modern backlit LCD display with advanced features. It shows you your speed, distance, battery status, pedal-assist level, and more. You can control what you see and change the settings of the bike using the controller with three buttons located on the opposite side of the handlebar. These are super-easy to use, even with gloves on, so you'll figure out how to operate the bike in no time.
Fat 4″ Puncture-Resistant Tires
The first thing that will catch your eye on this bike is the 4-inch wide Kenda tires. They look massive and come with high-profile knobs, so they are more than capable for off-road rides. On paved roads, they will improve comfort, no matter how heavy the rider is.
These tires are puncture-resistant as well, so flats are a thing of the past for the owners of RadRover 5. They also feature reflective sidewalls, so other riders and motorists will easily see you from all sides, even when it's pitch-black outside.
7-Speed Shimano Acera Gearing
Shimano Acera components are one of the weak points of this bike, as it is an entry-level groupset. But you should keep in mind that this is one of the most affordable utility e-bikes out there. Considering the price, Acera provides good value, reliable shifting, and durable and consistent performance. Seven total gears are not much, but it will get you home with a few grains of sweat if you run out of battery.
The 11-34T freewheel is paired up with a 42T crankset, so you have a good range of easy and moderately hard gears to ride on all types of terrain. The freewheel adds a bit more weight than a cassette, but it costs significantly less, which is why Rad Power opted for this option.
Integrated Front and Rear Lights
Your visibility when riding this bike is greatly improved by integrated front and rear lights. Not only that, but the rear light works as a brake light, so it activates any time you engage the brakes.
Visibility is also improved by reflective sidewall striping, which makes it easy for others to spot you when they approach you from the side.
Thanks to its thoughtful design, the front light is visible from the side as well, so you'll be visible from afar without any problems.
Comfort and handling are greatly enhanced by an RST suspension fork with 80 mm of travel. It comes with lockout and preload adjustment functions, so you can dial it to your personal liking. You can also completely disengage it for more efficient pedaling on paved roads.
This is an entry-level fork, so it is quite heavy and it's not suitable for real trail riding. However, it will make your rides significantly more comfortable if you ride on dirt, gravel, and forest roads. It's awesome when going over curbs as well.
If you like equipping your bike with accessories and features that make it unique and more suitable for your needs, you'll like RadRover a lot.
This fat electric bike already comes equipped with fenders, a kickstand, and lights out of the box. However, if that's not enough for you, you can simply add more.
RadRover can be equipped with a rear rack and a front rack, baskets, bags, panniers, and even a child seat on the back. One of the downsides is that the bottle cage mount is located on the bottom of the downtube, which is far from ideal. You will struggle to get the bidon out while you're riding.
---
RadRover Step-Thru 1
---
What makes RadRover Step-Thru 1 different? We'll let's see further in this review.
Riders who need a frame design that's easier to use and want to stray away from a more traditional approach can choose this version.
This RadRover model features a Low-Step frame design with a standover height of just 20.25″. This will make it easier for riders to get on and off the bike, especially with a child seat mounted on the back, or panniers on the rear rack.
Two Available Color Schemes
Unlike RadRover 5, the Step-Thru version is available in two colors: black and white. The white version is our favorite because it comes with brown faux leather saddle and grips that fit it like a charm. It's ideal for people who worry about style.
Performance-Oriented Build
RadRover Step-Thru did not lose any of its performance features. This is still a utility bike that's easy to use and fun to ride. It has a front suspension, mechanical brakes, 7-speeds, powerful motor and battery, and fenders and lights. It packs a strong punch if you need a practical and affordable package.
It's also compatible with all of the same accessories that you can fit on the step-over model. Plus, its bottle cage mount is located on the upside of the downtube, so you can easily reach it while riding without having to stop to drink water.
Sizes
---
RadRover 5 and RadRover Step-Thru 1 can only be ordered in one frame size.
However, they are built around a one-size-fits-all frame that's intended for different riders.
RadRover 5 fits people between 5'4″ – 6'2″ tall, with an inseam length between 26.5″ and 34″. 
RadRover ST 1 fits riders between 5'4″ – 6'2″ with a 25.5″ to 34.5″ inseam length.
Check out Rad Power's size chart below for more info.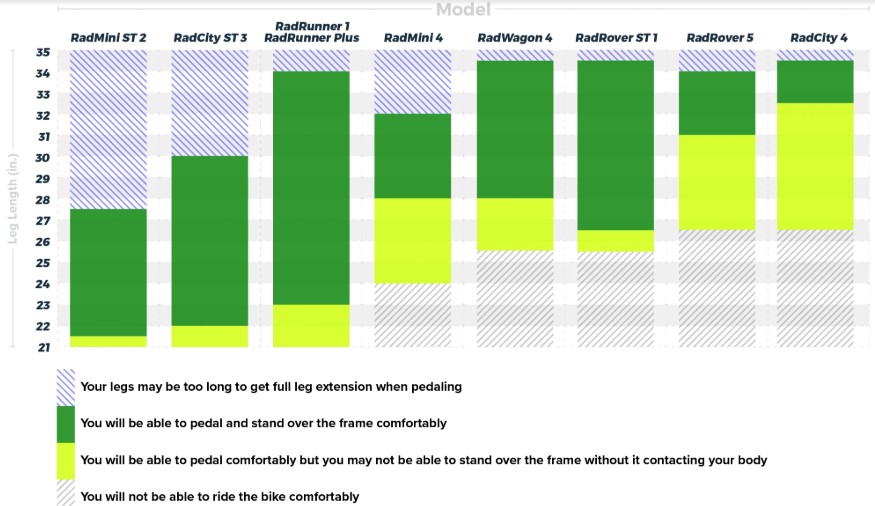 Warranty and Shipping
---
Rad Power Bikes offers a one-year warranty on their bikes. This includes the frame, the fork, and all other components fitted on the bike. The electric components such as the motor and the battery also come with a one-year warranty.
Of course, the warranty will only cover manufacturing defects in materials and workmanship; it will not cover normal wear and tear.
If you live in the continental USA, you are eligible for free shipping with all Rad Power bikes. Unfortunately, the company does not ship to Alaska and Hawaii at all. The shipment time usually lasts between 2 and 6 business days.
Other Models
---
You don't think RadRover is the right bike for you? Check out other Rad Power models:
RadMission – New electric single speed
RadWagon – A Cargo e-bike made for city riders who carry a lot of cargo or ride with kids on the regular.
RadRunner and RadRunner Plus – Tiny but powerful city bikes with wide tires that are easy to handle and commute with.
RadMini (& Step-Thru) – Electric folding fat bikes with massive 20″ wheels, aimed toward commuters who want to combine cycling with public transportation.
Final Verdict
---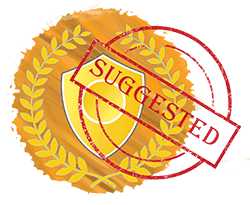 To sum what we have said so far, RadRover is a fun and versatile electric vehicle that can be ridden as a pedal-assisted e-bike or as an electric scooter.
If you are struggling to continue cycling because of a nagging injury or you don't want to arrive at work drenched in sweat, RadRover is a good option.
E-bikes deter a lot of potential buyers because of the high price, which is one area where this bike has a big advantage — it's dirt cheap.
Get it to see what the e-bike craze is all about and enjoy some fast and dynamic on and off-road rides.