How much does the price tell you? What to think and how to choose a bike online?
Let me explain
How do you decide on a bike that is the right fit for you? Which parts should you focus on when picking a bike? Plenty of Amazon Cheap Bikes are worth every penny and some may not be! Let´s make things simple in this article.
I was also concerned with these and many other questions when I was buying my first bike from Amazon back when I was a kid. There were a lot of low-quality bikes on offer, which didn't deserve their name or price. I also clearly remember a few of my friends, who thought themselves lucky when they were given new bicycles for Christmas or for their birthdays. And I also remember their disappointments that followed soon after, when their bicycles felt apart. Their parents didn't want to pay too much and they didn't know how to choose a bike online. The cheap bike can be the good bike!
Here are the basic things that I've learned over the years, about choosing a dependable new bicycle that befits you:
1. Which type of bike to choose?

First of all, you need to know what type of bike to choose. It depends on where you ride the most and what´s your riding style. Because there is no one bicycle type, that is right, it is more and more popular to have two or more different kinds of bikes.
The most popular combination is that of the MTB and Road bike. But having a Cruiser and MTB, is also a good blend. So take your time and think, where you ride the most. There is a wide selection of Amazon bikes luckily.
2. What is the Right Size for Me?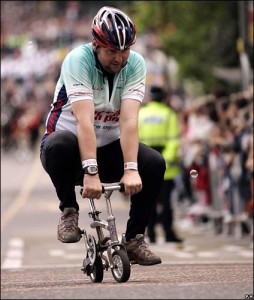 No matter what type of bike you choose, make sure to pick the right size. You can see our easy bicycle size chart here. There is also an easy leg inseam method of choosing the right size bike. Amazon helps you with you in choosing the right frame size. Be careful to not confuse it with wheel size. You must think about 26″ vs 27.5″ vs 29″ wheels when choosing MTB. The 29″ wheels are heavier and slower to accelerate but have more rolling momentum and roll over obstacles easily.
27.5″ is suggested for smaller riders who wouldn't feel comfortable
on the 29″ ones. So 29″ are perhaps the best, you can usually choose a mountain bike. There´s no actual reason to choose 26″ for a new bike, which you will realize pretty quickly when you try the bigger wheels.
3. How Much Should I Pay For My Bike?
Depends of how much and where you would like to ride. We all know the saying that you get what you pay for. It is very often the same with bicycles. While it isn't written in stone, when you have decided on your preferred bicycle type, as a rule a higher price translates into better performance and durability. How to get a bike when you have on choose from cheap ones? They are not meant for racing purposes. You can´t choose a bike for racing with the same price as a bike, that is meant just for cruising.
Related: Best Road Bike Under $1000
Furthermore a "Sunday cruising bi
ke" don´t cost as much as one, that sees long training times and competitions. Beyond bicycle types, you should also think about which class would best suit your plans – cruising, training or racing. I personally started racing with an entry-level $600 bike that definitely was not meant for racing but I managed to do it! There´s also good cheap bikes for racing.
Mountain Bike – How to choose
How to choose a mountain bike and how much should I pay for it?
You can get it approximately from $350 to $500, which while you can handily use for soft riding, isn't suitable for the mountains. For that, you need a bike from $600 to $1500. Above that start the racing bicycles. The prices on Amazon can often be around 30% lower.
A decent hard-tail mountain bike (with front suspension) you could get for around $1000 and with Full-Suspension for $2200. Road bike prices start a little higher for the same levels.
How to choose a Hybrid or City Bikes? What do they cost?
You should expect to pay starting from somewhere around $250. If you are an everyday cyclist and are in the market for something dependable for long-term use then $400 would be a good starting price. There really are no classes of Cruiser bikes but as usual, the more it costs, the more it lasts.
Which Components Should My Bike Have?
When you choose a bike, you need to know that components are the most important place. It is mostly the components that make up the price of the bike and that which can fail you when choosing a cheaper bike. Brakes, discs, Cassettes, Derailleurs etc are all very important to get right. The biggest manufacturers of bicycle components are SRAM and Shimano. They offer different quality-classes. One person can be happy with something very inexpensive, while another may break their X0 or XTR.
Entry level bikes mostly have Shimano Alivio or Deore, and the road bikes – Claris to Tiagra. In our reviews, we don´t make the decision hard. We analyze the components and let you know, for whom the bike is suitable.
Carbon components are lighter and they cost more. Those parts are almost always used for racing due to their lightness and the advantages that can bring.
As always the most important thing is to choose a
bike best suited for how you tend to use it. How to choose a bike – components?
SRAM vs Shimano
Shimano
When it comes to MTBs for Sunday-riders Shimano has Alivio, Deore or other word-written-name quality-classes. For heavier riding you should look into the Trail class and Shimano offers SLX and (Deore) XT for this purpose. If you like to push your bike to limit, then XTR class is for you. How to choose the bike components? Think for your purpose – For the beginner, Deore is enough.
For road bikes, the group-set (collection of parts) hierarchy for Shimano is Claris – Sora – Tiagra – 105 – Ultegra – Dura Ace from cheapest to the best.
SRAM
For Sunday riders – X4 and X5. If you pedal harder and love to race, then you should look for SRAM X7 and X9. for ultimate performance don´t look under SRAM X0 or XX. SRAM parts are more often used on well-known brand bikes. For road bikes, classes are Apex – Rival – Force – Red. For beginner, Apex and X5 is enought, Rival or X7 is perfect.
Most of Amazon bikes have Shimano details. Campagnolo also offers group-sets but on very few bikes. Additional Info about Sram and Shimano parts on Diffen.com
Brand – How to choose a bike brand?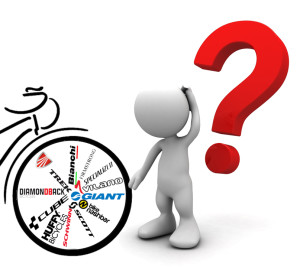 No clear answer. We all know Scott, Trek, Giant, GT and Specialized from our childhood. Times have changed, and the Bicycle-world with it. Those brands have become huge brands over the years, which is why you have to pay a lot (25-50%) just for the name, plus extra for their consultants, warehouse costs etc. On the other hand, there are many good young manufacturers with no name recognition, who have proven themselves to produce quality Amazon bikes with good components.
But at the same time a good deal of those no-name bikes are garbage. So it is very important to analyze every bike. Diamondback, Tommaso, Momentum, Kestrel make solid bikes. But not all of their models are good. And there are also other decent lesser known manufacturers. You can´t solely rely on user feedback, because most of them are made in the first month. Bikes normally start to break down after months. So it can be a hard decision to make and you must know what to pay attention to. The easiest way to make a decision you won't come to regret is to look at our suggested bikes and comments about them.
On Amazon, Diamondback offers up to $5000 bike. It means they know how to do good bikes. If you don´t know how to choose a bike size, then see this.
What if the bike doesn't fit me?
Actually, saying that you should try your bike first, is an over-rated suggestion and has no real meaning, being more of a myth! Why´s that? Because there are several ways to adjust your bike. Main aspect that plays a role in comfort is the height of the saddle, a height of the frame, angle and length. And for the handlebar, you should look at its height, angle and stem height. They pla
y a bigger role than all of us can imagine and they cure 99% of the cases, when the rider doesn´t feel him- or herself comfortably.
Need further advice or convincing? Then here is the TOP TIP: I chose between two carbon fiber road bicycles – the one from Amazon was 2015 Kestrel Talon. I got it and tried about 50 miles after which it started to feel uncomfortable. Then I tried the bike I suggested to my friend – Nashbar Carbon 105. It felt pretty good at the start and I decided to use this bike in 125 mile race.
The beginning was good, but after 40 miles my hands started to die and my back became numb. After 60 miles I used my Crank Brothers Multi Bicycle Tool to lower the seat and move it backwards a bit. I also I changed the handlebar angle and kept riding. After having made the changes my problems disappeared. When the race was over I took my bike and adjusted it properly and got the feeling right. Took the new setting on a 150 mile race with no further issues. So – the main things can be fixed easily by riding and adjusting when need be. And if you are part of the 1%, who doesn't find a solution that way, you can still send the bike back.
Bottom line
Don't be afraid of cheap bikes! Choosing a bicycle can be fairly difficult, as you can see. And when choosing from a shop, you pay 25-200% extra. And you don't want to buy one that won't last and end up paying extra for the repairs. Make your decision wisely, and know that we want to help you with it because we, as avid enthusiasts of bike riding, believe that every person should have (at least) one GOOD bicycle! If you see this picture, then can you know, that you can trust this bike! Choose, ride with us!
Hope you now know how to choose a bike.
And now, Get the best bikes on the market 🙂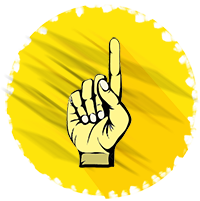 Be the next reliable bike owner, read below:
Other
&nbs